Many times, owing to the malfunction of the storage device or due to accidental deleting the data, there are times when you need to recover data in Windows 10 operating system. Most of the people are not familiar with the process of recovering data under Windows 10. Owing to this very reason, they often think that it is not possible. The truth is that there are plenty of tools for windows 10 data recovery. Today we would share with you five such tools which would help you in recovering data from Windows 10.
1. Magoshare Data Recovery
This is one of the best data recovery tools for Windows 10 data recovery. It can recover all types of files including photos, videos, audio, documents, emails from Windows 10 hard drive or storage media device. It is much easier to use than other data recovery tools. If you are looking for a tool for Windows 10 data recovery, Magoshare data recovery is your good choice. It takes only 2 steps to recover all deleted, formatted or lost files under Windows 10.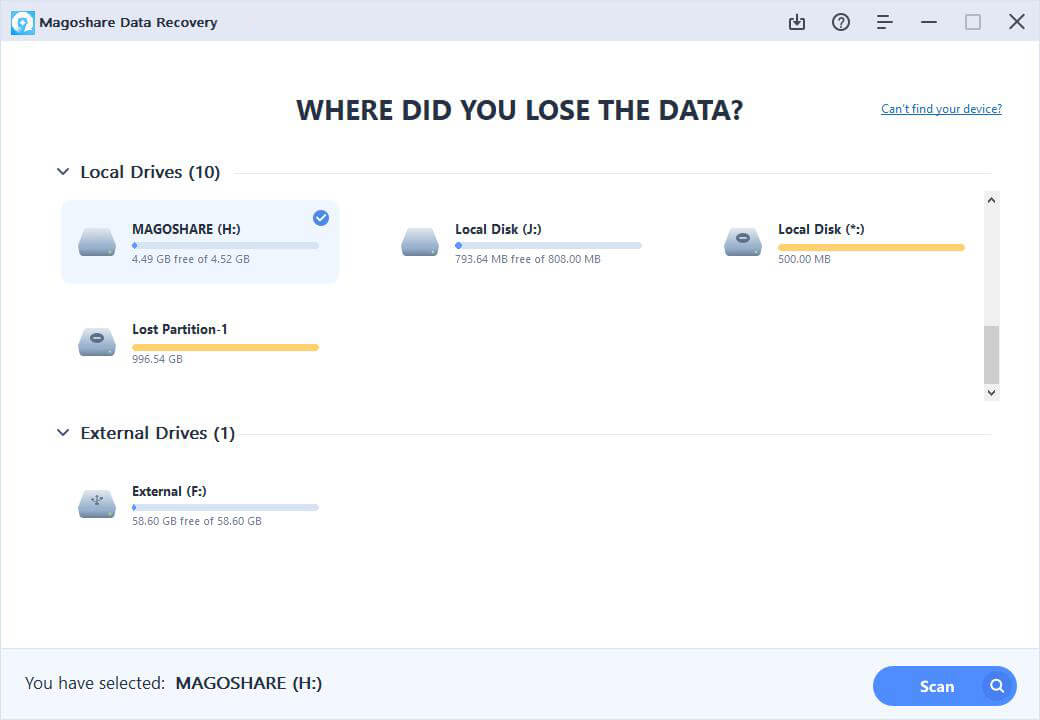 2. PhotoRec
PhotoRec is a recovery tool which uses the command line. This ensures that you do not have to go through the file system and you can directly bypass it in order to recover the files which you want. However, if you have formatted the drive, the software cannot help you in recovering the files.
3. Recuva
Recuva provides you with a lot of different tools which helps you in recovering the data from the damaged storage devices as well as the formatted storage devices under Windows 10. It can even help you in recovering the files which are stored in the temp folder of Microsoft Word. Even if the data has been lost due to a power cut, then also the software can help you in recovering the data.
4. Testdisk
Testdisk consists of different applications including Photorec. This application 1st tries to set the file system right instead of recovering each and every file separately. It basically 1st tries to repair the file system on your Windows computer. Only when that is not possible, it tries data recovery through PhotoRec.
5. Undelete my files pro
Undelete my files Pro; consist of multiple data recovery tools for Windows 10 data recovery. You can easily recover the deleted files and also you can create a disk image which would help you in case you are accidentally damaging or overwriting the disk while recovering the data. This ensures that you are able to get the files back in the current form.
So, whenever you are looking for windows 10 data recovery tools these are the 5 software which you can use and which are very effective in recovering deleted data. But before you recover all your lost files from Windows 10 system, please don't put new files to your hard drive or media device, in case that the new files would overwrite the disk space of the lost files. Just immediately download Windows 10 data recovery tool to get lost data back as soon as possible.