APFS File Shredder | APFS Disk Wiper | APFS Data Eraser
In most cases we don't need to permanently delete files or securely erase data from APFS file system. But, if we want to sell, donate, recycle, reuse, or lend our Mac computer which has installed macOS 10.13 or later to other people, it is necessary to permanently delete sensitive data in APFS to prevent the data from being recovered by data recovery software. In order to permanently erase data in APFS file system, APFS file shredder or data eraser is the indispensable tool.
APFS file shredder – data eraser – disk wiper
Magoshare software offers secure & efficient file shredder/data eraser/disk wiper – AweEraser for Mac for Apple File System. It can help us permanently shred files or erase sensitive data in APFS file system. With advanced data erasure technology, APFS file shredder & disk wiper is capable of permanently erasing targeted data from hard drive, USB flash drive, memory card, digital camera, etc. It also can erase hard drive, solid-state hard drive in APFS file system.
Data erasure needs vary from deleting a file to erasing entire hard drive. In order to meets various data erasure needs, AweEraser for Mac offers 3 options to destroy data in APFS file system.
Option 1: shred files in APFS file system
Most of us have some files which contain sensitive information of us. This option allows us to selectively and permanently erase files/folders in APFS. We just add or drop the files/folders to the erasure area, then shred the selected files/folders with AweEraser for Mac. The erased files/folders are lost forever, can't be recovered by data recovery software.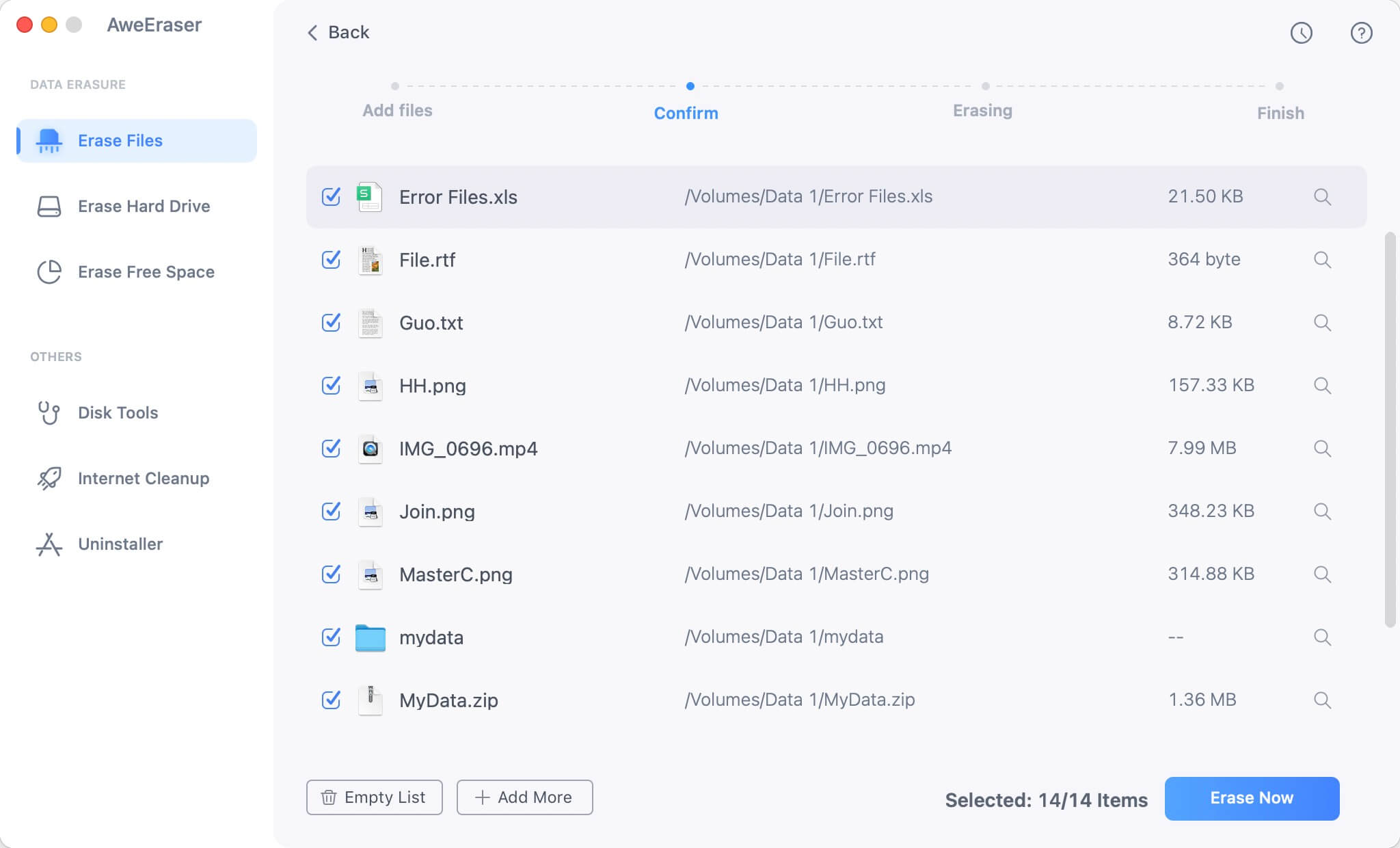 Option 2: wipe hard drive in APFS
If we want to erase all data on a hard drive/device, this option is perfect. It will help us erase entire hard drive or device in Apple File System. All the data on the selected hard drive will be permanently erased. Then AweEraser for Mac will format the hard drive. Now our hard drive or device could be able to reused, resold, donated or recycled.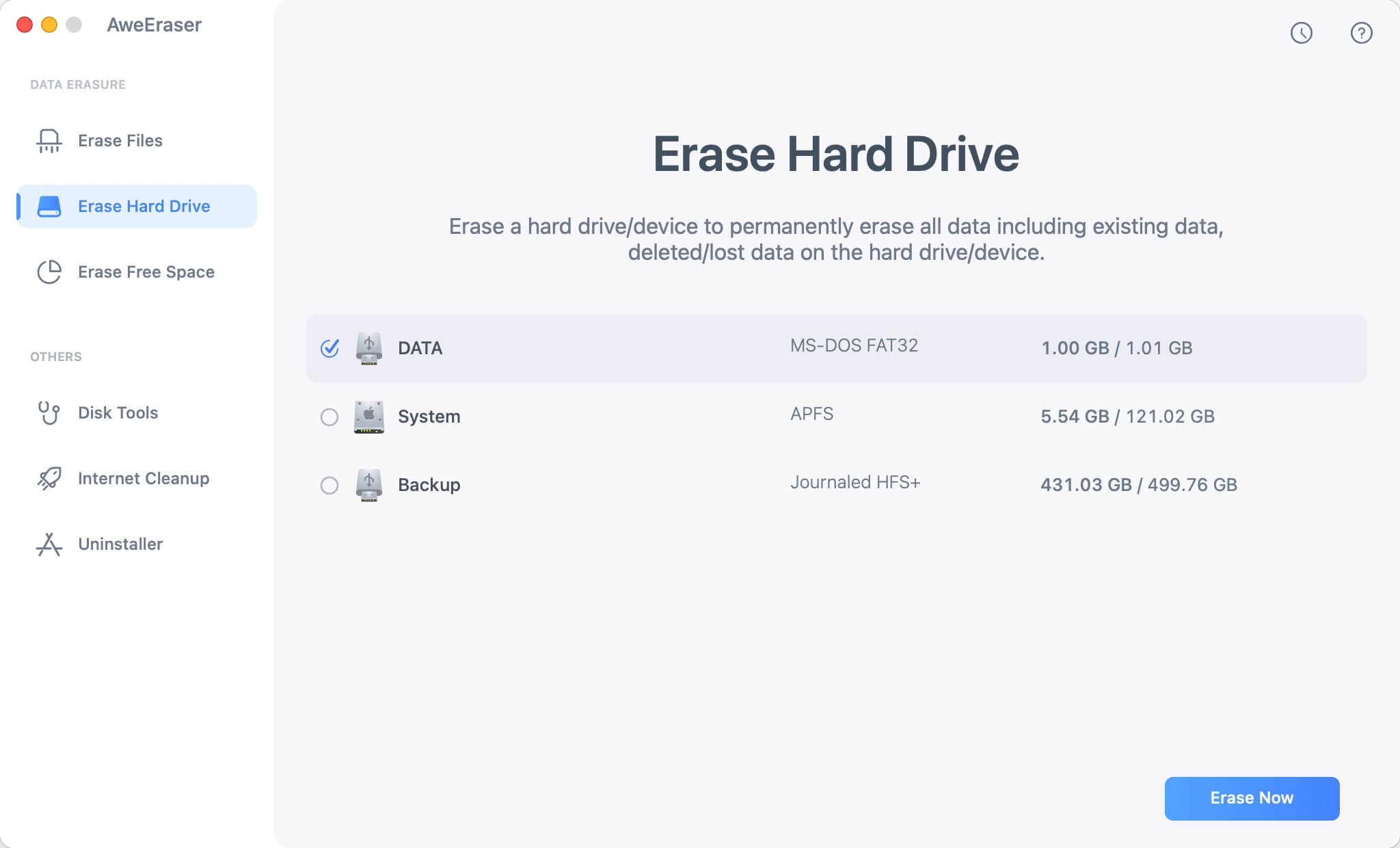 Option 3: erase free disk space in APFS
This APFS file shredder & disk wiper also can erase the free disk space of a hard drive to permanently erase the deleted/formatted/lost data on the hard drive, without affecting the existing data on the hard drive. It is the best solution to erase trash bin in APFS file system.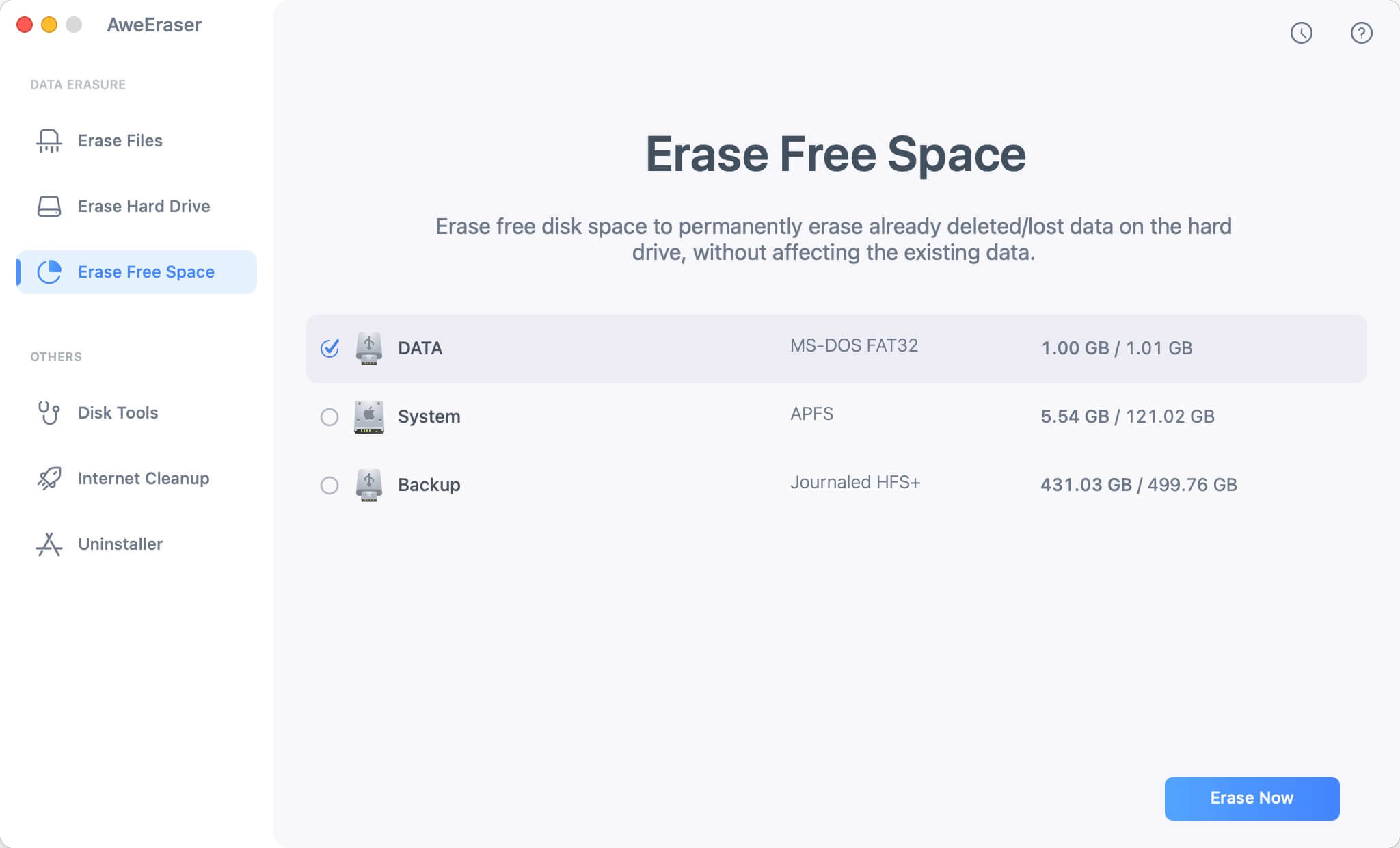 APFS file shredder & disk wiper – AweEraser for Mac provides 100% safe data erasure solution. The data erasure methods are certified data erasure standards. It will never cause any damage to the hard drive or device. This powerful data erasure software also supports to thoroughly uninstall applications, clean up internet histories, cookies, etc.
As the erased data will be permanently lost, please think carefully before you run it to shred data. It is recommended to back up the data to another hard drive before data erasure.