How to Recover Deleted Files from Mac Trash?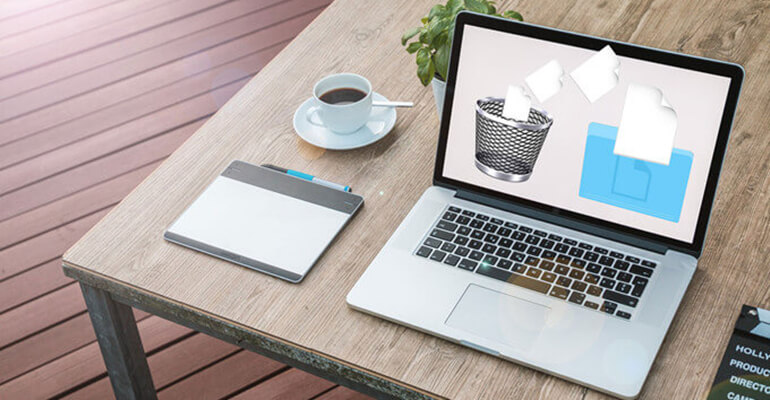 Summary: How to recover deleted files from trash on Mac? How to recover permanently deleted files on Mac? In this article, we will introduce some easy methods to help you recover Mac trash bin data. You even can recover lost files after erasing Mac trash bin.
To free more space or clean up the junk data, some users will choose to delete some files directly. However, it's common to deleted important files by mistake some times. If you deleted some files wrongly, don't be panic. There are some methods and Mac trash bin recovery software to help you recover the deleted files.
Recover deleted files with file recovery software
The easiest and most effective way to recover deleted data is to use data recovery software. With data recovery software, it can help you recover the lost data in any data loss cases, including the deleted files. If you deleted any pictures, video clips, documents, archives, music files, and other files, you can use a third-party file recovery tool to get them back. Magoshare Data Recovery for Mac is one of the best software in the market. Also, it's a fast way to recover the deleted files even you emptied the Mac trash bin.
To recover deleted files with this reliable and professional data recovery software, you can just follow the wizard directly. With only a few clicks, you are able to retrieve the deleted files easily. You can do as follows step by step to use the software to recover deleted/lost data.
Step 1. Download the software - Magoshare Data Recovery for Mac first and install it on your Mac. Here is the download for the software.
Step 2. After launching the software, you will see all the connected drives on the computer. Choose the drive from which you deleted the files.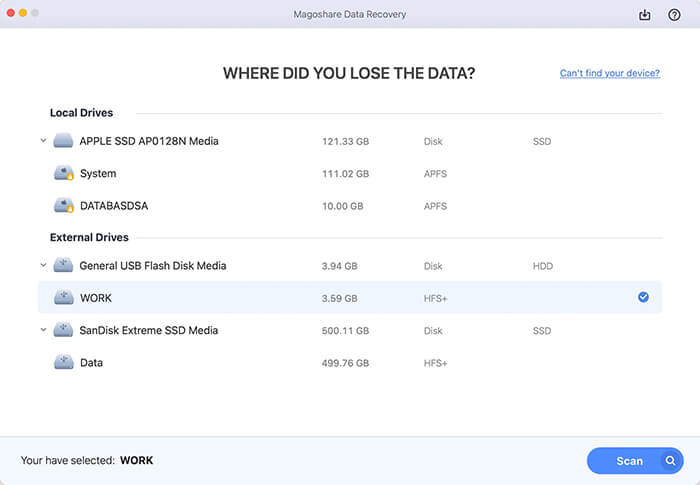 Step 3. Please click the Scan button and then it will start the scan process to search for the deleted/lost data.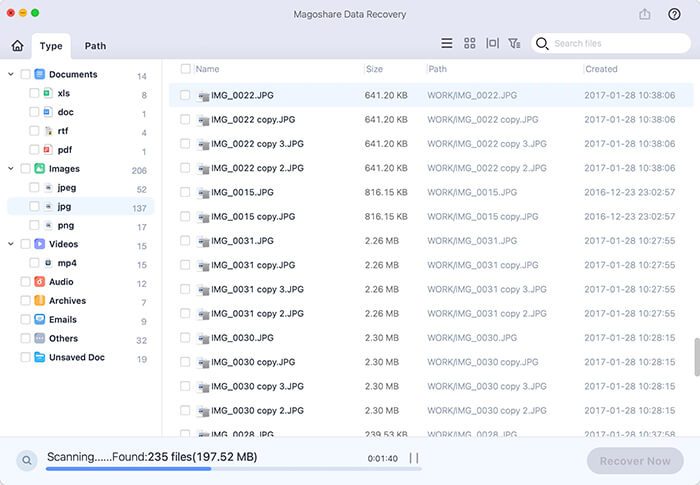 Step 4. Once the scan is finished, please check and locate your deleted files. Please ensure to recover the deleted files to another drive.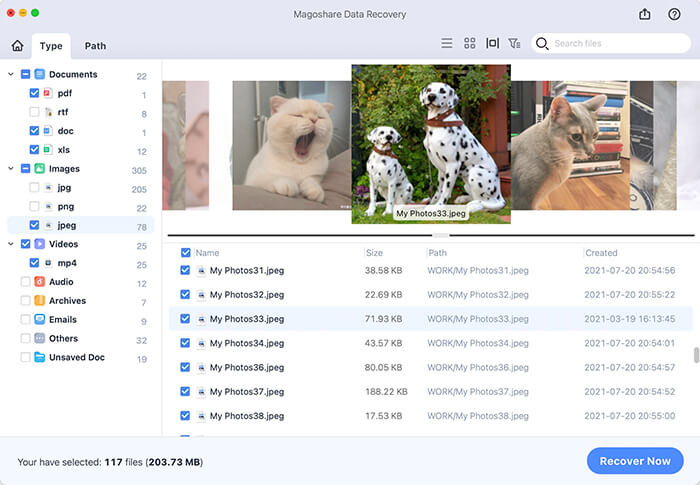 Other solutions to recover deleted files on Mac
There are some other cases you can recover deleted files without using third-party data recovery software. Here we will show you the scenarios and solutions for you one by one.
Method 1. Undo the last deleting operation
If you deleted a file wrongly and you are aware of it immediately, you can undo the deleting operation directly by clicking Command + Z keystroke combination. However, this will not work if you have emptied the trash bin after deleting the file. Also, it can only be used once to undo the last command and it cannot help you undelete the files that were deleted some time ago.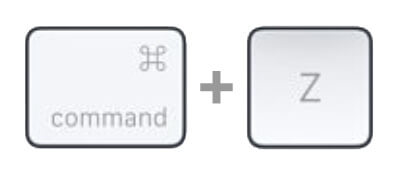 Method 2. Restore deleted files from Mac trash bin
You can also restore the deleted files from Mac trash bin if it's not emptied. It can restore the files that are deleted sometime ago. You can do as follows to restore the files from Mac trash bin.
1) Open trash bin by clicking the Trash icon in the Dock.
2) Check and locate the deleted files that you want to undelete.
3) Right-click the file(s)/folder(s) and choose "Put Back" to restore the files. You can also drag the files to another location directly.
Method 3. Restore deleted files from Time Machine backup
Once the files were permanently deleted or the trash bin was emptied, you are not able to restore the files simply. However, you don't need to use data recovery software if you ever backed up the deleted files with Time Machine. It's a very easy and reliable way to restore data in any data loss case. Things will become very simple if you have Time Machine backups for your deleted/lost data. Here you can do as follows to restore the data from the backup(s).
1)If you backed up your data with Time Machine, please first connect the drive that has the backup(s).
2)Start Time Machine from Apple icon > System Preferences > Time Machine.
3)Scroll the time line from the right side to locate the backup that contains the deleted data. Choose the files that you deleted, click the Restore button to restore the files directly.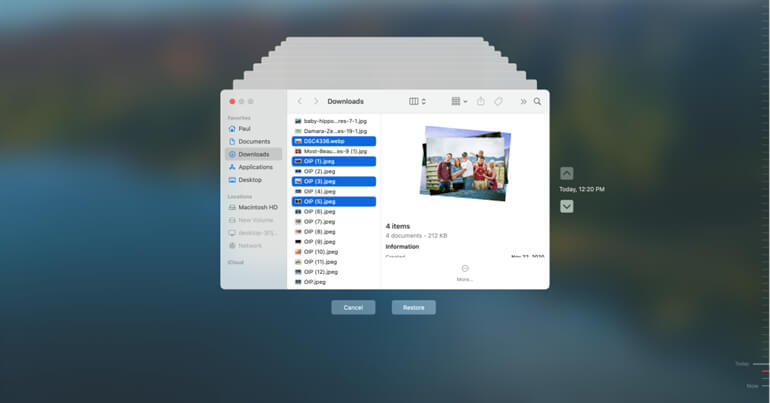 Besides, if you have ever uploaded the files to a cloud server, like iCloud, Google Drive, Dropbox, etc, you can just log in the cloud website to download the wanted files directly. You can also restore or extract files from backup if you use some other third-party backups software.
Final words for the article
After deleting some important files on Mac, please first calm down and check if you can find the files in Mac trash bin first. Or you can check if you have backup for the deleted files. If the files are not available in trash bin or backup, you can still have a try with Magoshare Data Recovery for Mac. This comprehensive data recovery software guarantees a very high recovery rate for the deleted files. Besides, the software is also able to recover lost data in other data loss situations and you can have a try if you lost data in any cases. If you want to permanently erase trash bin to prevent data recovery, you should use a data eraser software to wipe the free disk space of your Mac so that all deleted data will be erased forever.