How to Recover Lost Messages from iPod Touch?
The iPod touch resembles an iPhone; it uses multi-touch interface and it connects only through Wi-Fi. It can be used as a music and video player, digital camera, games, web browser, etc. It runs using iOS operating system like the iPhone and iPad. Using the Messages app on the iPod touch, we can send photos, videos, texts, and audio messages and even it is possible to personalize them with animated effects. But, what happen if we lose important messages from iPod touch? Well, if that happens, we can recover them using several alternatives. Here, we will describe how to do that using a powerful data recovery software, Magoshare iPhone Data Recovery.
How to retrieve lost messages from iPod touch?
When deleting or losing messages from iPod touch, they are not gone permanently, so it is possible to recover them if we need to do so. There are numerous data recovery programs, which can be useful to retrieve the data we need. Sometimes, it may be confusing and difficult to choose a good recovery option and that is why we will help you decide. Magoshare iPhone Data Recovery software is a powerful option since it can help us recover all kind of data from diverse devices like iPhone, iPad, iPod touch, laptops, desktops, digital cameras, and others. It is easy to use and we can retrieve contacts, notes, photos, messages, and more than that. It sounds quite easy and we only have to follow a series of steps:
Step 1: Download and install Magoshare iPhone Data Recovery Software.
The first step we have to follow is downloading and installing this software on the computer. Then, we have to open it to proceed with the recovery process.
Step 2: Connect the iPod touch with the computer.
The second step is connecting the iPod touch device with the computer. Magoshare iPhone Data Recovery will show the iPod touch on the main interface.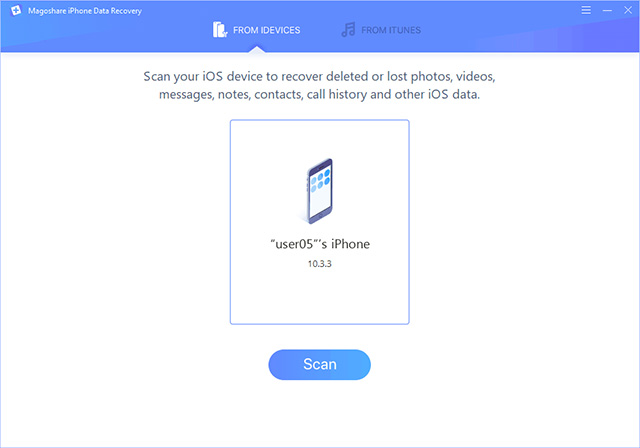 Step 3: Scan the iPod touch.
Here, we have to click on the Scan button and Magoshare iPhone Data Recovery software will scan the iPod touch in order to find the deleted or lost data, in this case messages.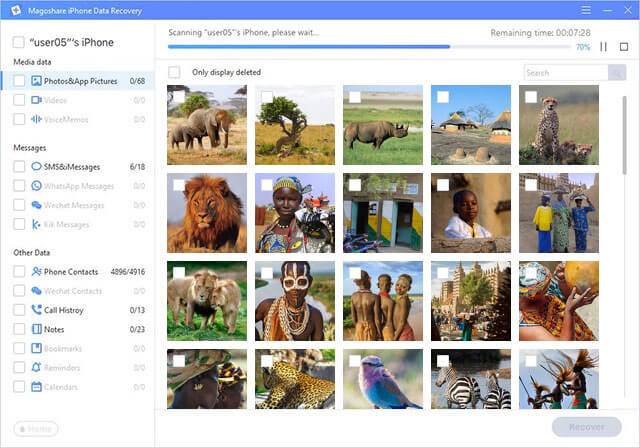 Step 4: Preview and recover lost messages from iPod touch.
Once the scan process finishes, this software will display all the deleted data in the iPod touch. We have to choose the data we need back, like for example messages, and then click on Recover button. Remember, we should preview before and then recover the messages we want.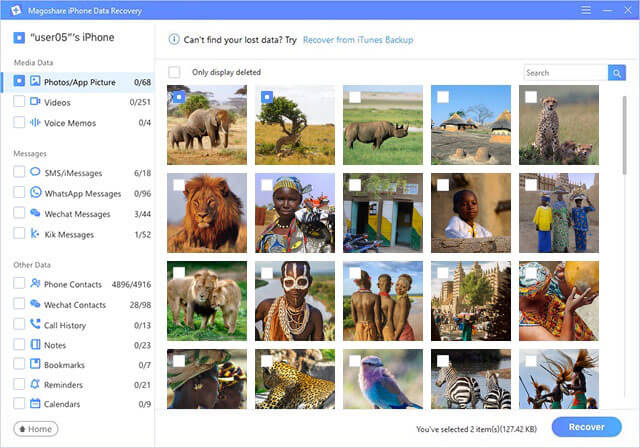 Once we have followed all the mentioned steps, we will have recovered deleted messages from our iPod touch and finally we need to save them. As we can notice, the process is very easy and it is possible to retrieve different kind of information such as videos, photos, images, messages, contacts, etc. Through this article, we have focused on recovering lost messages from iPod touch, but we can also use Magoshare Data Recovery software to get data back from other devices like for example: iPhone, iPad, desktop, laptop, among others.