How to Recover Deleted Photos from SD Card on Mac?
Using SD cards for saving photos and images is more and more common as smart phones have taken over the market and have amazing cameras. These devices, as we all know, use these tiny memories for saving data, including thousands of pictures.
But, as they're used in some other devices such as Bluetooth speakers or digital portraits, they can be easily damaged in the constant exchange. Also, if any viruses or damaged files enter the card, format would be necessary and all the pictures would be lost. If you're a millennial, you'll understand how painful this might be. Luckily for everybody, there's a solution for recovering deleted photos from SD cards on Mac. Next, we'll explain to you how to do it.
Data-recovery programs are the best way to recover files from accidental or intentional erasure. They're so convenient because almost all of them have a FREE version (that also can be upgraded to PRO), they can access even damaged drives and the user needs no technical knowledge at all for using them.
All you have to do to use these programs is downloading them into a Mac computer that works fine. Then, just follow the respective procedure for connecting to the device of your preference (these programs can work with all kind of storing devices such as SD cards, memory cards, hard drives, USB drives, smart phones, etc). If you're looking for recommendations, we've proven Magoshare Data Recovery for Mac and it covers the expectations pretty well. After you download the software just follow these simple steps.
Easy steps to recover deleted photos from SD card under Mac OS
With Magoshare Data Recovery for Mac, the DIY Mac data recovery software, any user can easily restore deleted photos from SD card under Mac OS. Here are the main steps.
Step 1: Connect the SD card with the Mac.
First of all, connect the SD card with the Mac computer which has installed Magoshare Data Recovery for Mac. Then run the software from Launchpad.
Step 2: Select the SD card.
After running Magoshare Data Recovery for Mac on your Mac computer, it will quickly recognize the SD card. Then select the SD card and click on "Scan" button.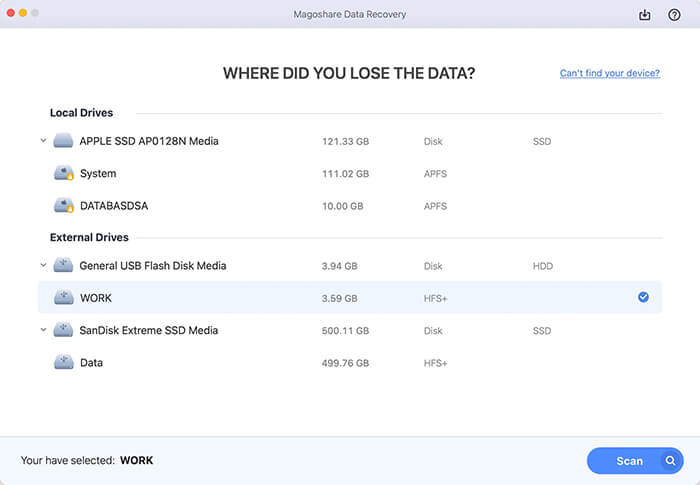 Magoshare Data Recovery for Mac will deeply scan the SD card to find all lost files. It even can help you scan the corrupted, inaccessible or virus-infected SD card to find all photos/other data.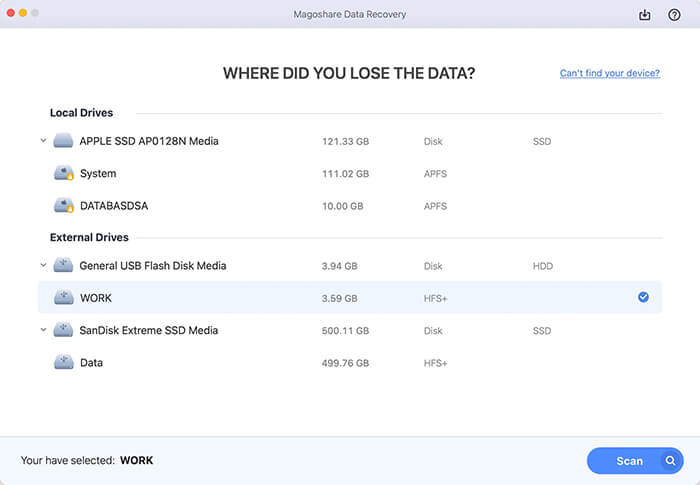 Step 3: Preview and recover deleted photos.
Once the scan is completed, you can preview all photos. Then select the wanted photos and save them to your Mac computer.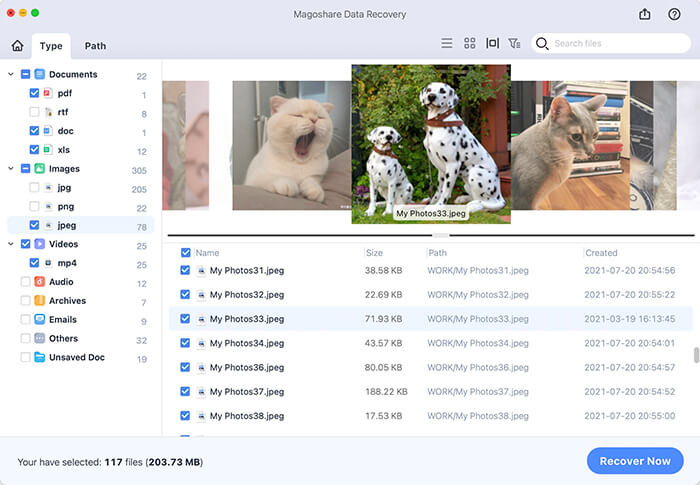 To prevent the deleted photos from being overwritten by new data, please don't put new files to the SD card before you recover all deleted photos. Just immediately run Magoshare Data Recovery for Mac to scan the SD cad, you will soon get all deleted photos back!
This is the guide of how to recover deleted photos from SD card on Mac. Magoshare Data Recovery for Mac also can help you recover lost files from hard drive, memory card, external hard drive, digital camera, etc. Free download Magoshare Data Recovery for Mac here: