Permanently Delete Videos on Camcorder, Avoid Data Recovery
Permanently delete videos on camcorder before you sell or dispose it
Did you ever experience that in some camcorder, deleting the files wasn't easy? Sometime after you delete your photos or videos from the storage media (you're using on your camcorder), the photos or videos are still there when you use a data recovery application to scan it.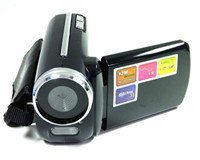 Furthermore, you may able to delete your videos or photos from your camcorder, but if you're planning to sell your camcorder, you have to make sure your videos or photos is gone permanently and anyone couldn't recover it. Well, you know the reason is that you may store some personal videos that you didn't want anybody to view the videos. Nowadays, users can easily recover deleted or formatted data from a camcorder with data recovery freeware. So, before you sell or give your camcorder to other people, you'd better permanently delete sensitive videos/photos on the camcorder rather that just deleting your videos/photos.
So what you should do to solve this problem? (Especially for you who want to sell your camcorder). Just read on.
Permanently delete videos on camcorder with AweEraser
AweEraser is easy-to-use, secure and powerful data erasure software. It will logically erase data from hard drive and digital device. This data erasure tool is 100% safe, will not affect the operating life of the camcorder. If you want to permanently delete videos from camcorder or other media device, AweEraser is a reliable option.
But before we get started, here are few things you need to prepare:
1. Make sure you backup all the videos you don't want to delete. You can back up the videos on your PC, or you can also upload it to cloud storage service you're using. Remember, the videos will be permanently deleted. Although you can select which files you want to delete, let's try to be safe by doing a backup of all important videos or photos on your camcorder before you follow this method.
2. Remove the storage media from your camcorder, and connect it to your computer. Make sure your computer can read it, and it's connected properly. Then download and install AweEraser on your computer.
After you're prepared all those things above, let's get started with this simple guide on how to permanently delete videos on the camcorder. Please note that AweEraser offers three data erasure tools. You can choose one of them to help you permanently delete videos/photos from camcorder, depending on your needs.
Tool1: permanently delete videos on camcorder.
This tool can help you selectively and permanently delete existing videos/photos from the camcorder. Just select the videos/photos, then click on "Erase" button to permanently shred/delete the selected videos and photos.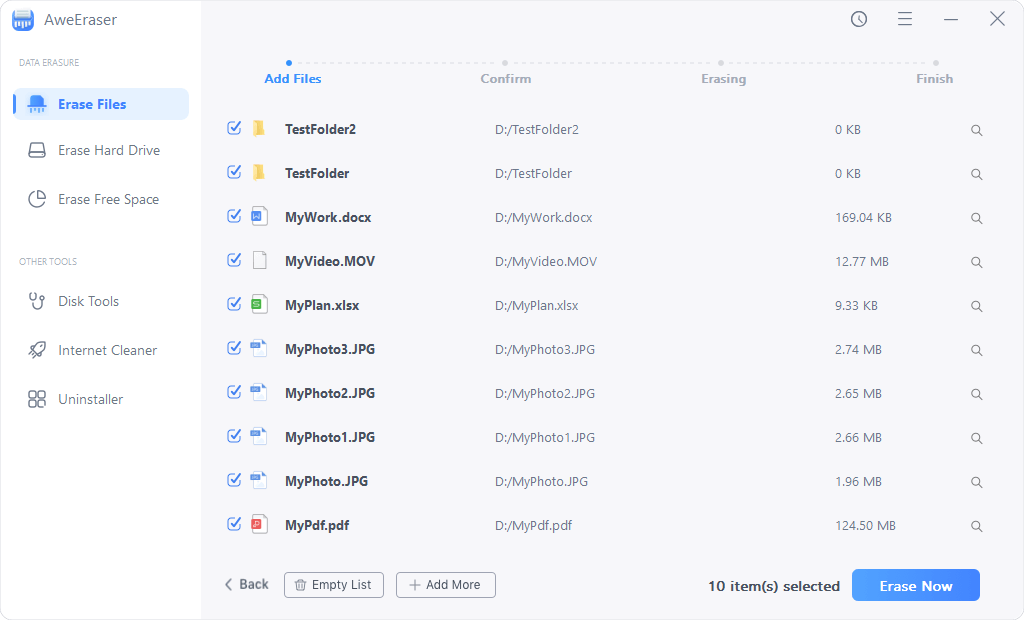 Tool2: permanently delete all existing / deleted videos on the camcorder.
This tool will help you wipe the entire camcorder, and it will permanently delete all data information on the camcorder, including the existing videos, photos and the already deleted videos, photos.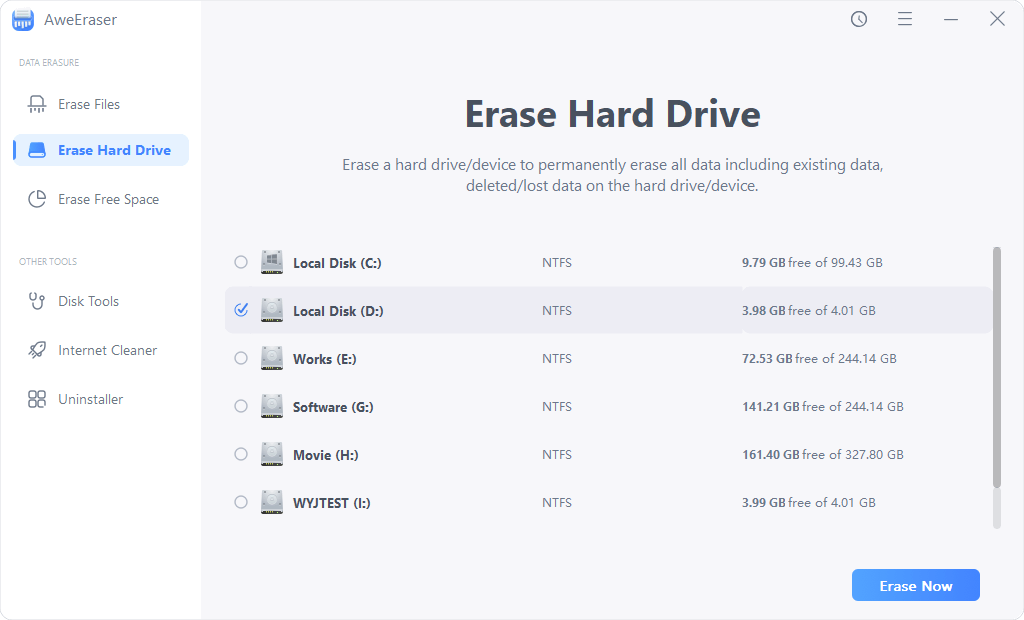 Tool3: permanently erase already deleted videos.
If you only want to permanently make the already deleted videos become unrecoverable, this tool is perfect for you. It will erase the free space of the camcorder to permanently erase the already deleted/lost videos and other data on the camcorder.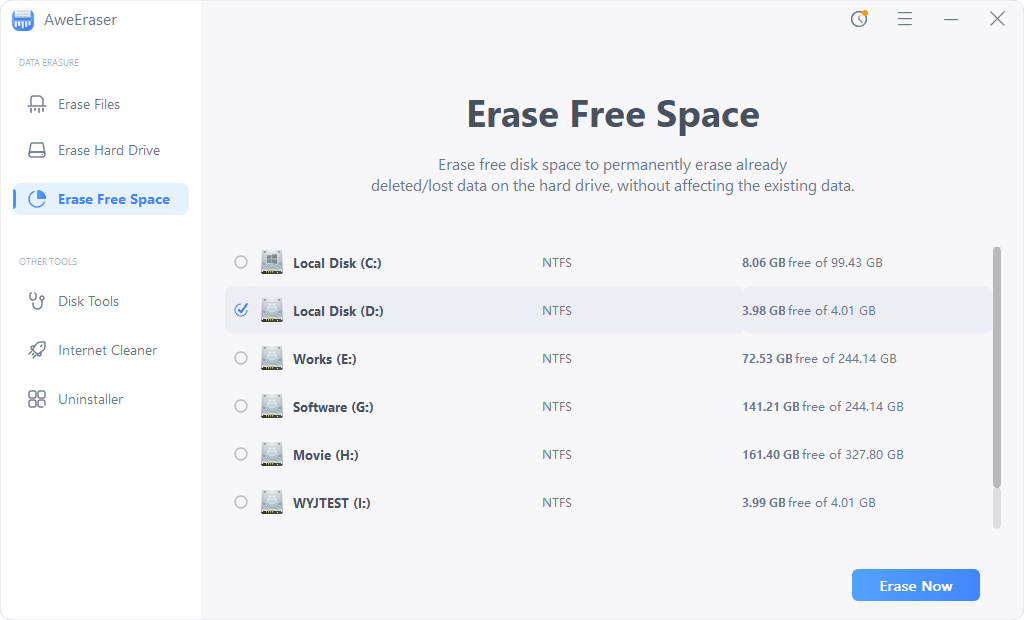 Once the targeted videos/photos are erased from the camcorder by AweEraser, they are lost forever, can't be recovered by data recovery software or other data recovery method. It not only can help you erase videos from camcorder under Windows OS, but it also supports to erase data from camcorder on Mac.