Permanently Uninstall A Program with AweEraser on Windows PC or Mac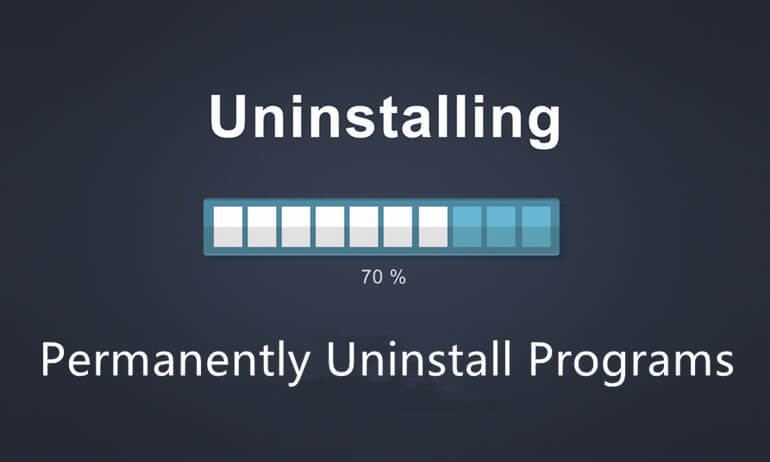 Windows OS or Mac OS allows you to easily delete a program. Some free uninstallers or cleaning software also can help you quickly remove programs from your computer, some of them even can delete all associated files of the uninstalled programs. However, as we know that data recovery software is able to find and recover all types of lost files from your computer, the uninstalled programs and associated files still can be recovered by data recovery software.
In some cases, you may need to permanently remove a program from your computer. For example, before you sell an old computer, you may need to permanently uninstall all sensitive programs including financial programs, work programs, etc. Here, just follow the guide below to help you securely and permanently remove a program from your computer.
Steps to uninstall a program permanently with AweEraser
AweEraser is a safe, powerful and easy-to-use data erasure program. This award-winning data erasure program is able to help you easily and completely shred files, wipe hard drive, erase deleted data...With it, you are able to permanently uninstall a program on PC or Mac.
Step 1. Download and install AweEraser on your computer.
AweEraser is 100% safe data erasure software. It can be installed on both Windows OS and Mac OS. Now, download and install it on your computer. Then open it.
Step 2. Choose tool - Uninstaller.
Run AweEraser on your computer, then choose the tool - Uninstaller. It lists all programs on your computer. Then select the program(s) you want to uninstall, and click on Uninstall button.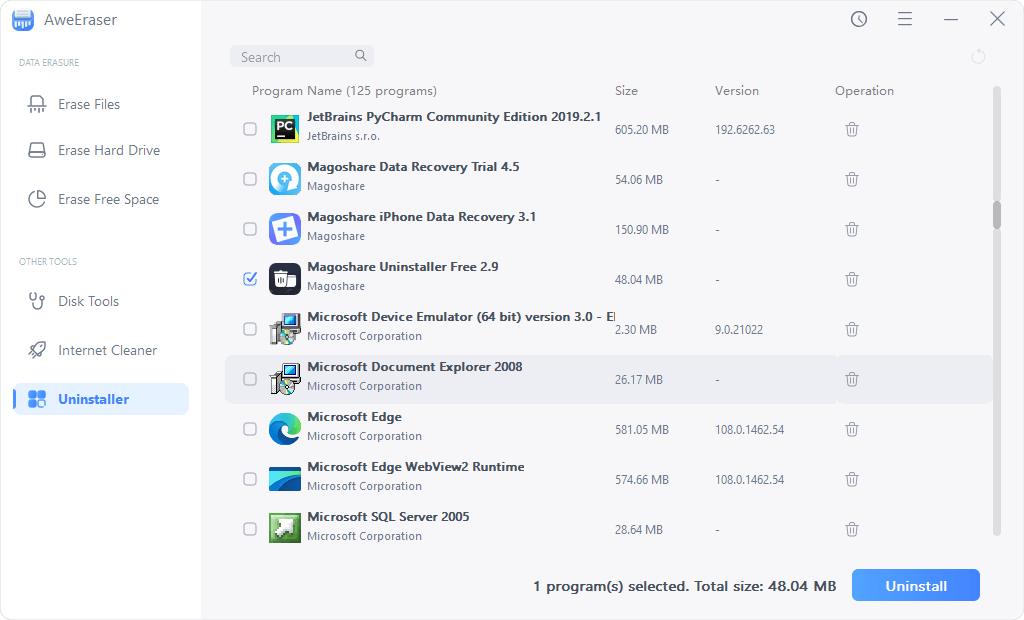 AweEraser will uninstall the selected program and delete associated files. If some related files are still on your computer, delete them manually.
Step 3. Empty the recycle bin.
Once the uninstall progress gets finished, just empty the recycle bin on your computer. If you also want to permanently delete some other files on your computer, just delete them and empty the recycle bin.
Step 4. Choose mode - Erase Free Space.
Erase Free Space mode is able to wipe free disk space of your hard drive and permanently erase all deleted data. Just choose this mode.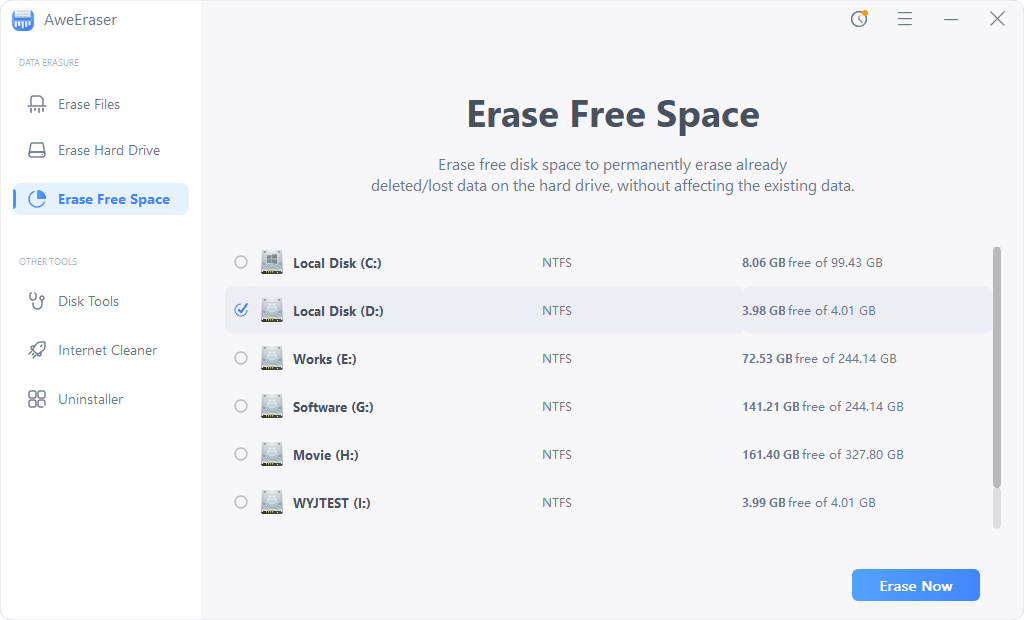 Step 5. Wipe free disk space.
Select the hard drive where you installed the program. Then click on Erase button to erase free disk space of the hard drive, all deleted data data including the uninstalled program will be permanently erased.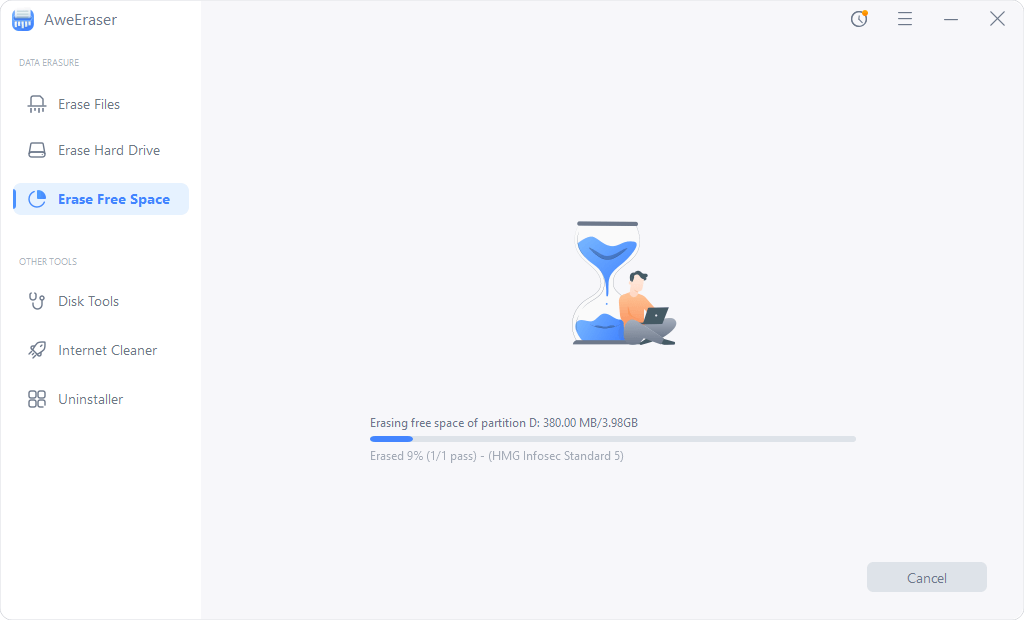 Once the process gets finished, the deleted data is gone forever, can't be recovered by any data recovery software.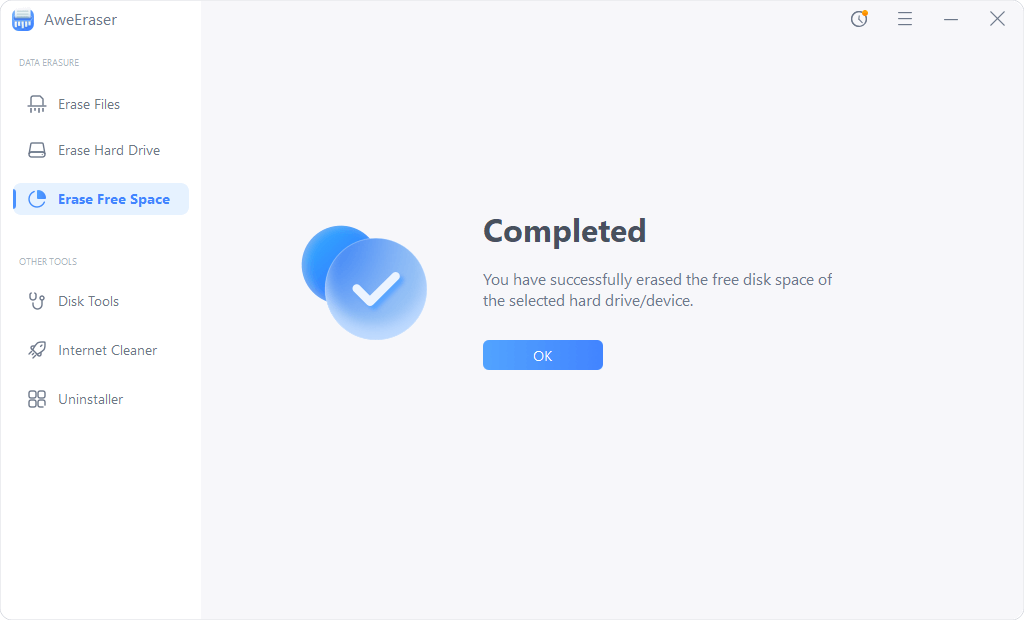 With the steps above, you can permanently uninstall programs on PC or Mac. Once the program is uninstalled via the method above, the program will be gone forever, leaving no chance for data recovery. It is recommended to permanently uninstall sensitive programs before you sell, donate or dispose of old computers.
AweEraser is a 100% safe data erasure software. It will not cause any damage to your hard drive or system. It also can help you permanently erase data from external hard drive, memory card, USB flash drive, digital camera, etc. It can help you permanently shred files, wipe an entire hard drive, erase deleted data, uninstall programs, clean up browsers' traces, etc. Download AweEraser here: