How to Recover Lost Data after Reformatting GoPro SD Card?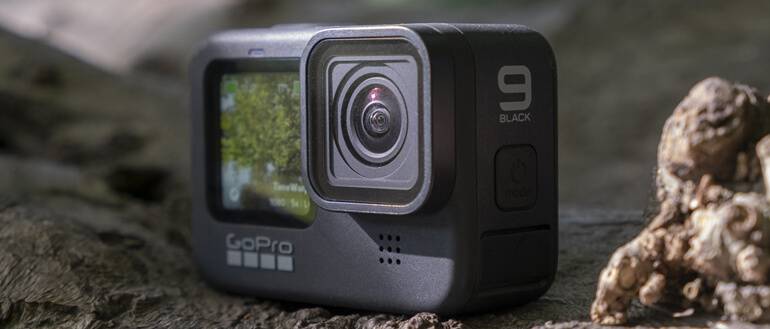 "I have a GoPro HERO9 Black camcorder containing some important videos and photos. But recently I mistakenly formatted the SD card. Then, I find all these saved videos and photos are deleted. Is it possible to recover them back?"
Is It Possible to Recover Data after formatting GoPro SD Card?
YES, it is possible to recover deleted photos & videos from formatted GoPro SD card.
As you know that all GoPro cameras use memory cards called micro SD cards to store the recorded video footage and saved photos. These SD cards are mostly bought separately, or in some instances, are included in a GoPro bundle. Even if you have accidentally formatted the card, you still have the chance to restore the deleted videos and photos.
Why is GoPro SD Card Recovery after Format Possible?
When you format an SD card, the deleted files are not deleted permanently and it is still present on the card but invisible. Your computer or GoPro camera only marks all storage space as empty. This, in turn, allows other apps and devices to overwrite it. So, before you overwrite it by adding new data on the memory card, you can recover your deleted data from the formatted GoPro SD card.
Important Tips for Successful GoPro SD Card Format Recovery:
First, it is suggested that you must stop using the GoPro SD card, preferably, take it out of your camcorder immediately and do not record or click photos from it. If you continue using the card, there's a high risk of overwriting the data you're trying to recover, which will make it much more difficult to recover (or practically impossible).
Then, apply appropriate GoPro SD card data recovery software to recover the deleted or lost photos/videos as soon as possible.
Best GoPro Camera SD Card Format Recovery Tool
But what is the Best GoPro SD Card Recovery Tool? Our experience tells us that Magoshare Data Recovery is the best blend of usability and functionality there is. This camera recovery tool will help you to recover deleted GoPro video with ease. It not only restores photos and videos but recovers other stuffs as well.
Now, download and install Magoshare GoPro Camera SD card data recovery software, the latest Magoshare Data Recovery, either the Windows or Mac version for your computer. And follow the steps below to retrieve your formatted videos and photos.
Steps to Recover Deleted Files from a Formatted GoPro SD Card
Step 1. Connect the GoPro SD card to your computer.
First of all, run Magoshare Data Recovery on your computer, then connect the GoPro SD card to the same computer via USB cable or card reader. Magoshare Data Recovery will show all hard drives and devices on this computer. Just click to select the GoPro SD card to start data recovery.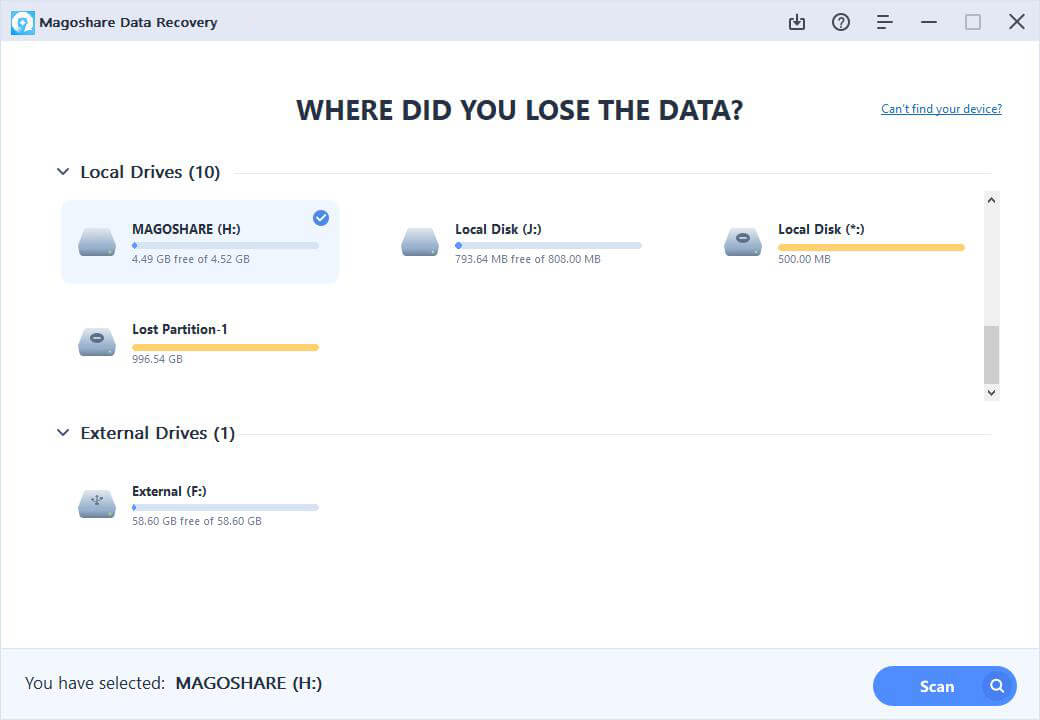 Step 2. Scan the formatted GoPro SD card to find lost videos and photos.
Magoshare Data Recovery is able to find all types of lost files from formatted GoPro SD card. Click on Scan button to start scanning.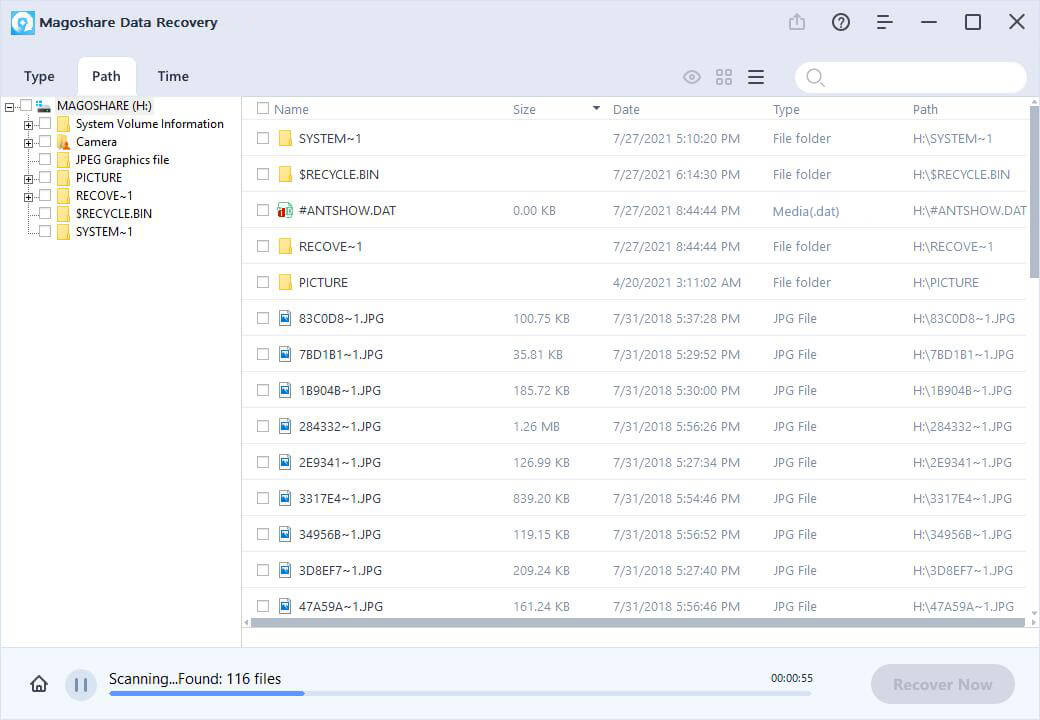 Step 3. Preview and recover lost files from the GoPro SD card.
Magoshare Data Recovery will deeply scan the SD card, and then find every recoverable file. Once the scan is completed, you can preview all recoverable files. Then select the wanted files and save them.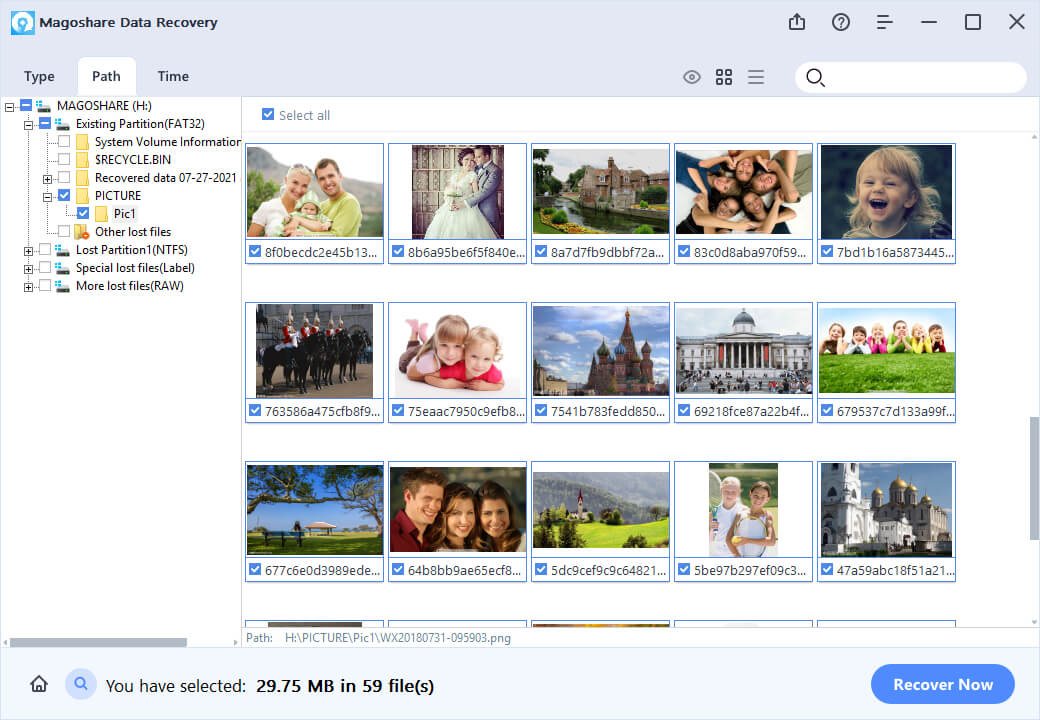 After all these steps, you can successfully recover deleted videos and photos from your formatted GoPro SD card.
Tips for Keeping Your GoPro SD Card Data Safe
Here we concludes some common reasons that result in GoPro data loss and call for software. Now check the following GoPro data loss situations and learn how to keep your video and photos safe.
Abrupt interruption during video read/write operation in the GoPro camera. So please turn the camera off before removing the card.
Ejecting the SD card from computer abruptly or using force eject. So please remember to safely remove the SD card every time.
Ignoring 'memory card full' error message that may lead to SD card corruption. So please download and backup your photos and videos from the microSD card ASAP when this error occurs.
GoPro SD card error such as 'NO SD' or 'SD ERR' on camera's LCD screen. So please always format the card in the GoPro. Formatting the card regularly will keep GoPro SD cards healthy. Don't forget to backup your data before formatting!
Attempting to remove SD card while the video is playing or during file transfer or copy process. So please never remove the card while data is being transferred.
Finally, have a backup card handy, just in case. It's the most efficient way to keeping your GoPro data safe.