Emptied Recycle Bin Data Recovery
Do you need to find a good emptied recycle bin data recovery solution? Well, you have just come to the right site. Here, we will show you a simple way to recover all lost data no matter if they were deleted by accident or intentionally. People often have different causes of their data loss, such as system crash, virus infection, accidental deletion, formatting without having any previous backup, and others. Some of these people might think all these files have gone forever, but this is not completely true because they can be restored if you use a powerful data recovery program.
When a computer user wants to recover lost data, he or she would check the recycle bin. If the lost data is still in the recycle bin, it can be easily restored. However, if the lost data is not in the recycle bin or the recycle bin has been emptied, the user should find a data recovery software to get lost data back!
Easy steps to recover lost data from emptied recycle bin
When people delete their files, they go to the recycle bin, so you can retrieve them directly from there. After some time, users decide to empty the recycle bin, so files disappear. The good news is that you can get some of them back if you want, but how can you do it? Well, the answer is very simple. It is necessary to download and install a good data recovery software. You can find a lot of these programs on the market, so you can find some information about their features and advantages before selecting one of them.
Magoshare Data Recovery is a great software to recover lost files from emptied recycle bin or any other locations, including local hard drives, external hard drives, smartphones, MP3, MP4, USB flash drives, digital cameras, memory cards, and other possible locations. This software helps users retrieve their information in a very quick way. Just follow these steps:
Step 1: Download and install Magoshare Data Recovery.
First, you have to download and install the software. Then, you need to open it on the computer to begin data recovery process.
Step 2: Choose the hard drive where you delete your files.
After you empty the recycle bin, the deleted files are still on the hard drive where you delete them. Just select the hard drive where you delete your files.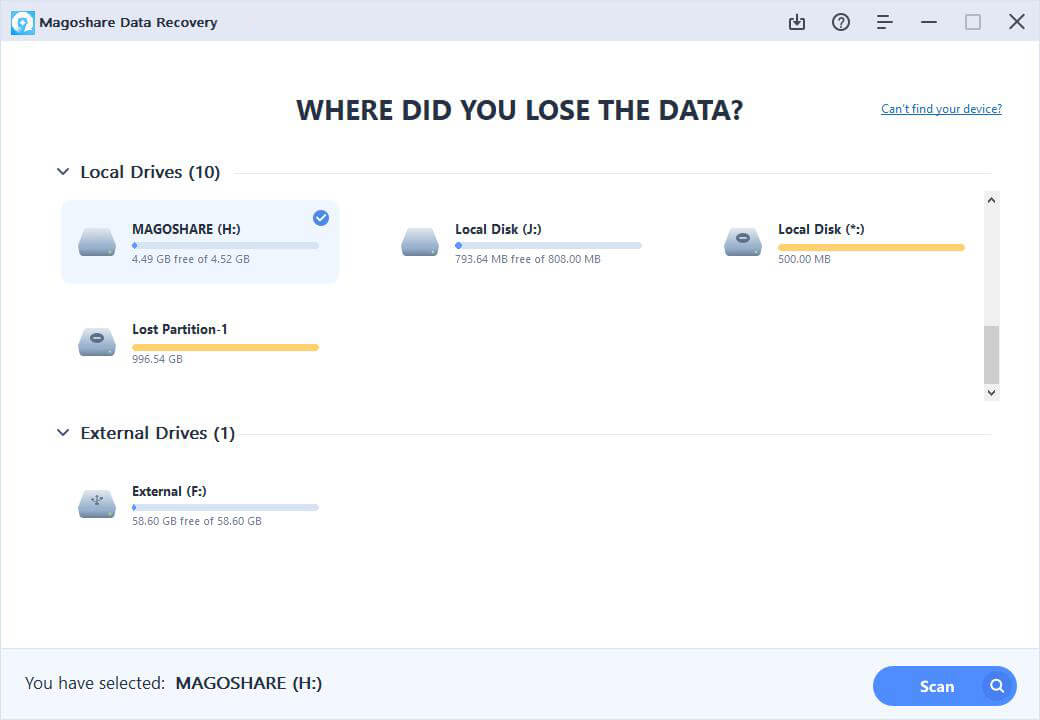 Step 3: Scan hard drive to find deleted files.
Third, Magoshare Data Recovery will scan the hard drive. Here, you have to click on the Scan button. It is better to wait until the process is complete and what it happens, a list with all the recovered files will be shown.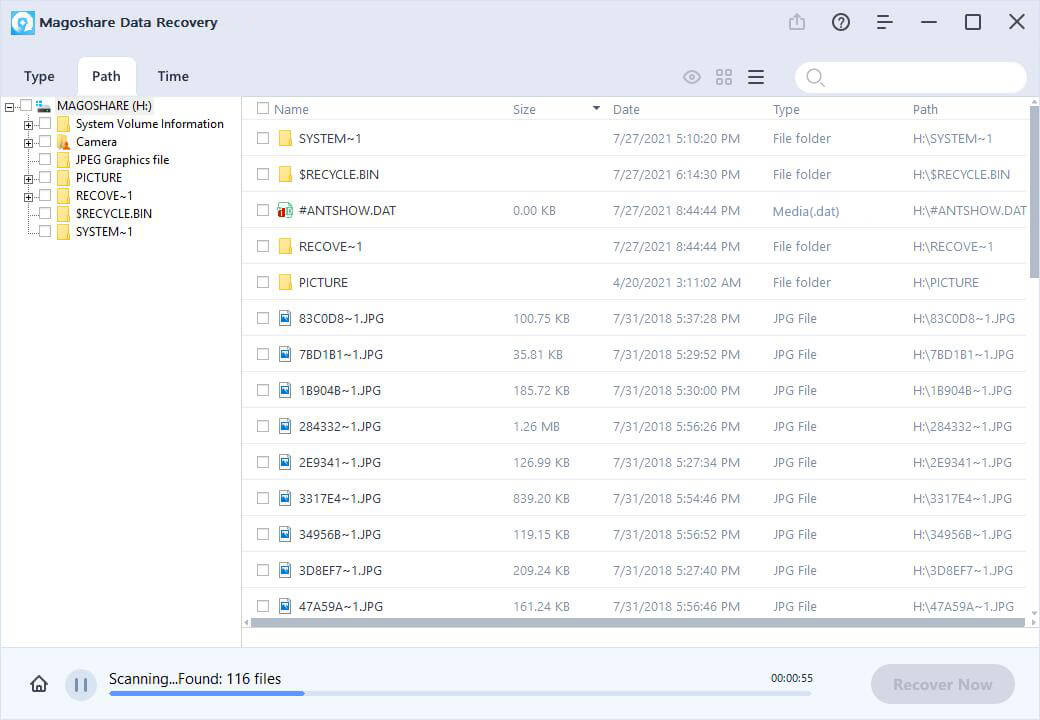 Step 4: Preview and recover lost data from recycle bin.
Finally, you can preview and recover all the files you want. Just click on the Recover Now button to save them. You can make a data backup using another drive or you can only save them on your computer.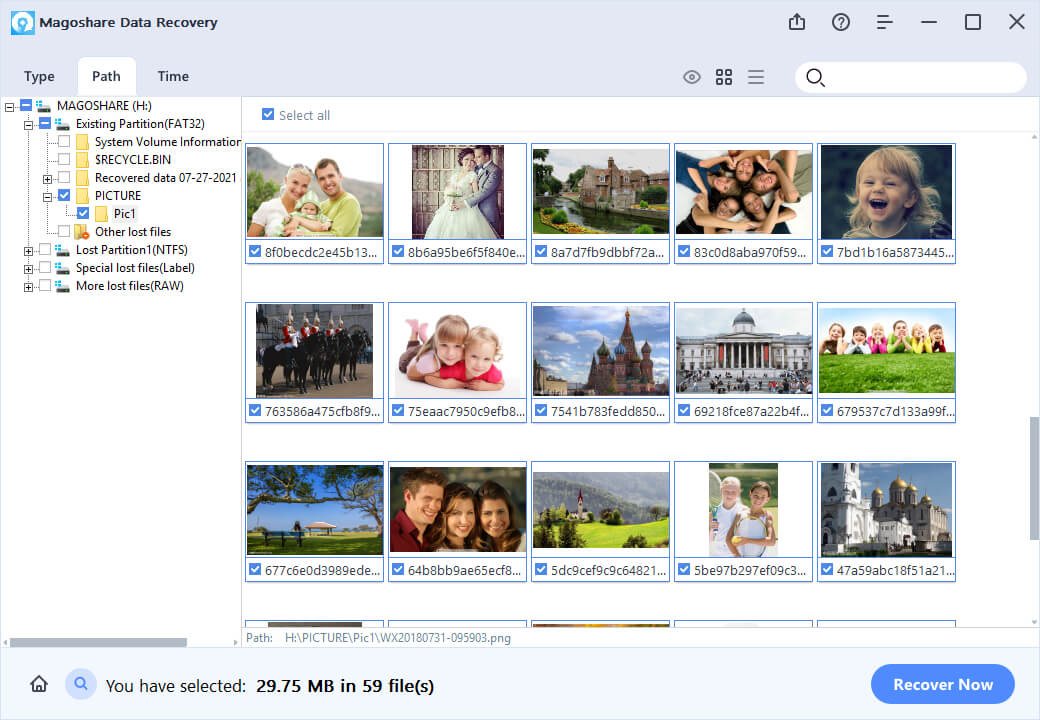 As you can see, Magoshare Data Recovery is a very easy to use software and the best of this program is that all lost files can be easily restored. It is useful for recovering deleted or lost photos, videos, archives, music files, PDF files, Word documents, images, contacts, e-mails, messages, and more. If you lose important data, just download, install this software, follow a few steps and all lost files will be back.
How to erase recycle bin to prevent data recovery?
When you are going to sell or donate your computer, you'd better permanently erase your data from recycle bin to prevent data recovery. Data erasure software can help you securely and permanently erase deleted data. Here, follow the steps below to erase recycle bin.
Step 1: Download data erasure software.
AweEraser is a powerful data erasure program. Download it here. It offers certified data erasure methods to help you permanently erase recycle bin to avoid data recovery.
Step 2: Choose mode - Erase Free Space.
If you want to permanently erase deleted files on a hard drive, just choose mode - Erase Free Space. This mode will wipe the free disk space of the hard drive and permanently erase deleted/lost data on your hard drive.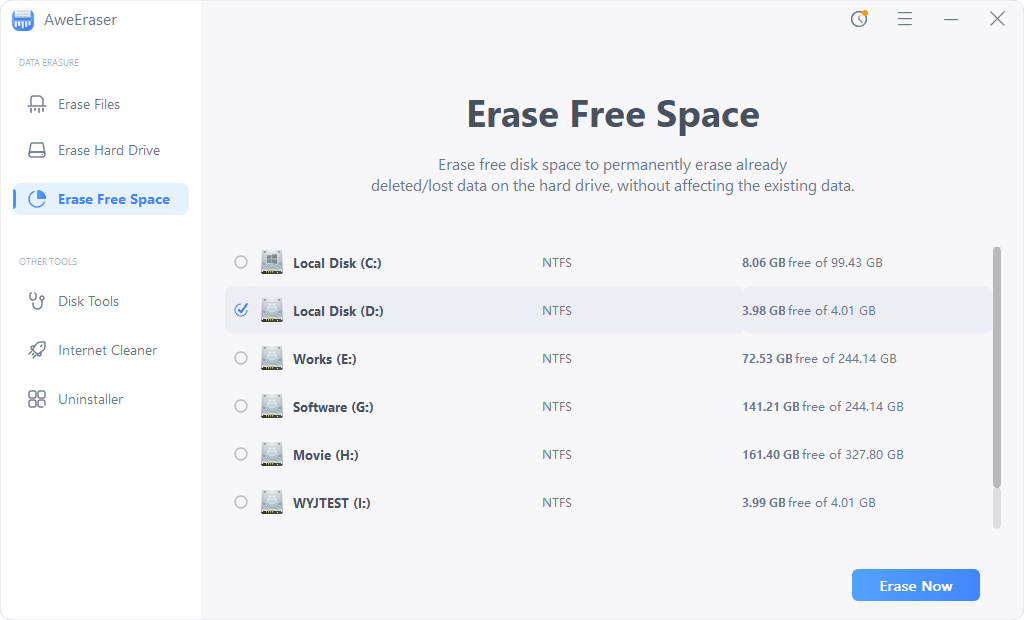 Step 3: Permanently erase already deleted data on your hard drive.
Just click on Erase button to permanently erase free disk space of your hard drive and permanently erase all deleted/lost files on your hard drive.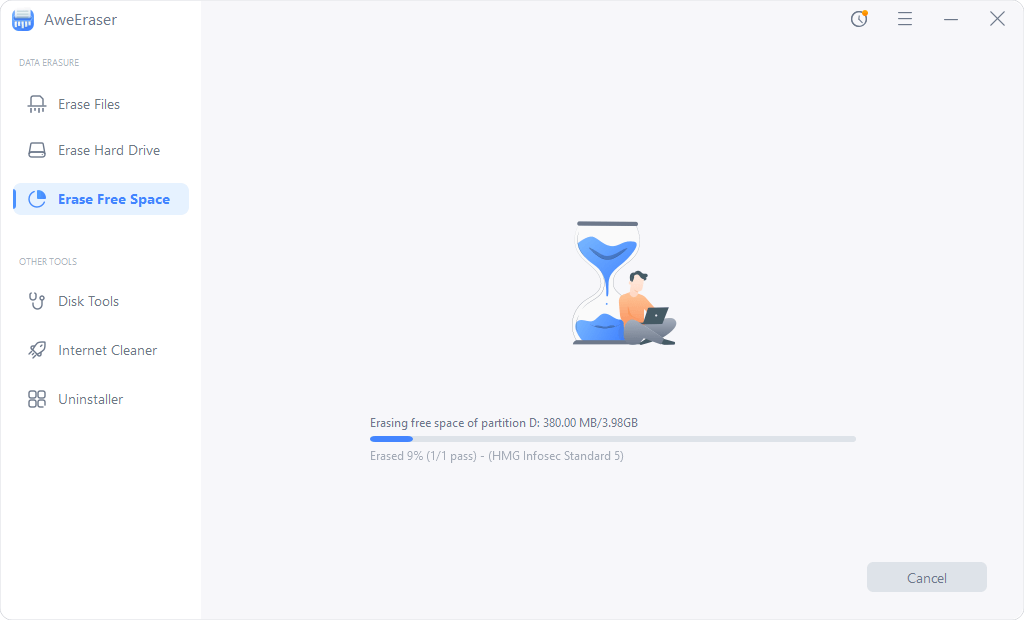 Once the deleted data is erased by AweEraser, it will be lost forever, can't be recovered by any data recovery software.