How to Recover Deleted Pages Documents on Mac?
When working on Windows, we all know that the processor software is Word, there's where we all create our text documents unless they're just notes. Well, when we work on a Mac computer, this processor is not Word, but "Pages".
When our hard drive fails and our Pages files are lost, chances are that really important information is lost with them. If you are lost trying to recover deleted Pages documents on Mac, let us tell you that you can't do it directly, but you still can do it. All you need is a data recovery software, a functional computer/monitor, and other storing device or hard drive.

Data Recovery software: recover your deleted Pages documents on Mac for FREE
These data recovery programs work by scanning your Mac hard drive, even if it's damaged or was formatted or if you just accidentally deleted some files. No matter the kind of file or format your lost data has, these programs recover almost any piece of information so you can have access to it again.
The best part is that they're FREE but, if you need further features, you can also upgrade them to PREMIUM and recover, i.e unlimited amount of data at once (free version usually have a 500 MB limit, which is a lot when it comes to Pages documents, actually).
Also, you can scan not only hard drives but also USB drives, memory cards, SD cards, cameras, and all kinds of storage devices to find Pages Documents under Mac OS. Magoshare Data Recovery for Mac, for example, is one of the best data recovery software which can help you completely recover deleted Pages Documents on Mac after emptying the trash bin. Once you've found and downloaded the data recovery software you want to use, it's time to run it and start recovering your deleted Pages documents on Mac.
Recovering your deleted "Pages" documents on Mac
Scanning
The first step to take when installing the software and running it is to select the drive you want to scan – the one where the Pages documents were placed before the erasure -. When you've located it in the software screen, click on it and then hit the "Scan" button. According to the software you can perform a deep scan to find all deleted Pages Documents on Mac.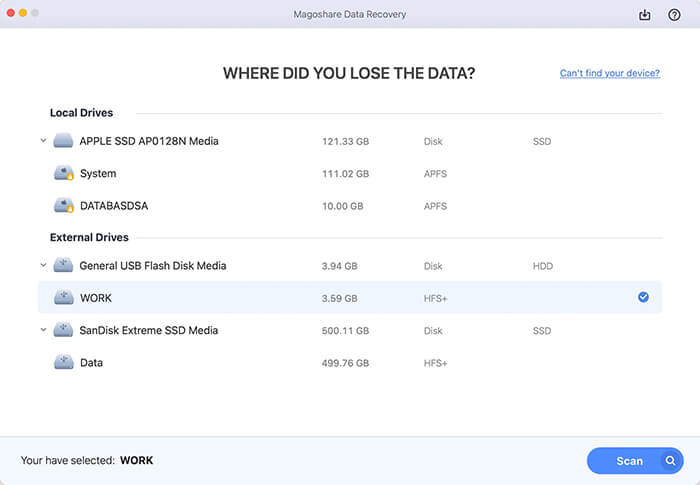 Scan the hard drive.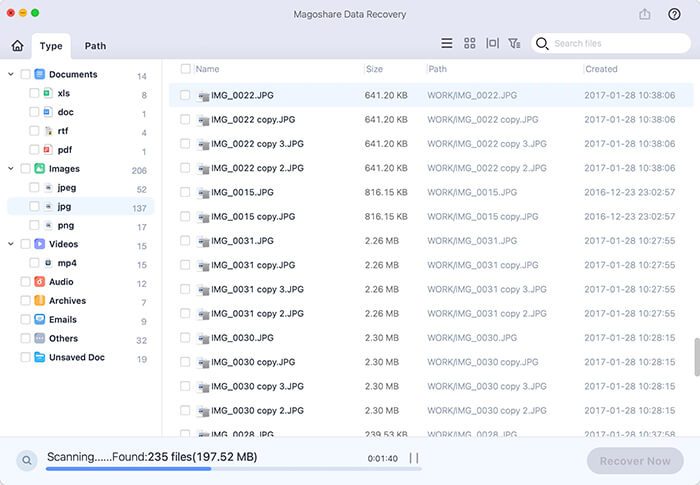 Recovering
After the scan is finished, you'll see the files that were deleted on a preview screen. Make sure you check on them all as the names can change. When you're sure you've selected all your desired Pages Documents, hit on "recover now" button. Just remember to connect a different drive to save your files so you don't lose all your efforts on recovering deleted Pages documents on Mac.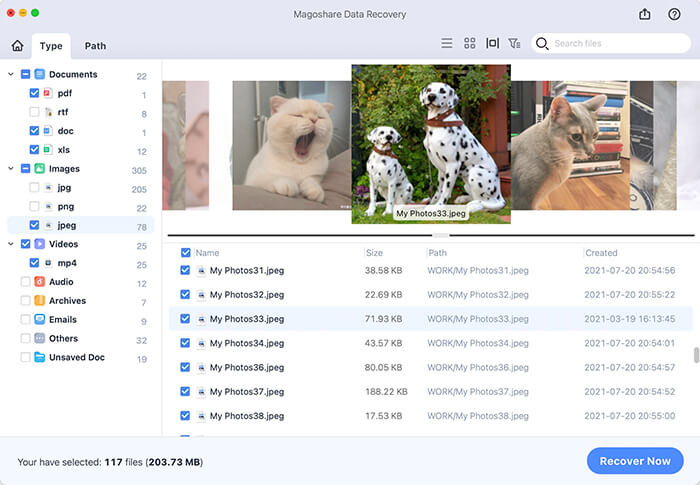 After deleting the Pages Documents and emptying the Mac trash bin, don't put new files to your Mac before you get all lost Pages Documents back. No overwriting! Just immediately run Magoshare Data Recovery for Mac scan your hard drive under Mac OS, it can quickly find all the deleted Pages Documents.