How to Clone Portable Hard Drive to Mac SSD?
Do you need to clone portable hard drive to Mac SSD? This guide will help you do it. There are different reasons that make people decide to clone their portable drives and these are some of the reasons: free up space on their portable drives or make a data backup. It is a good decision because you could lose your data due to system failure or any other issues. Others decide to copy their information before permanently deletion to make sure it will not be used by other users. This last idea could be because you are planning to give your drive away or sell it to another person.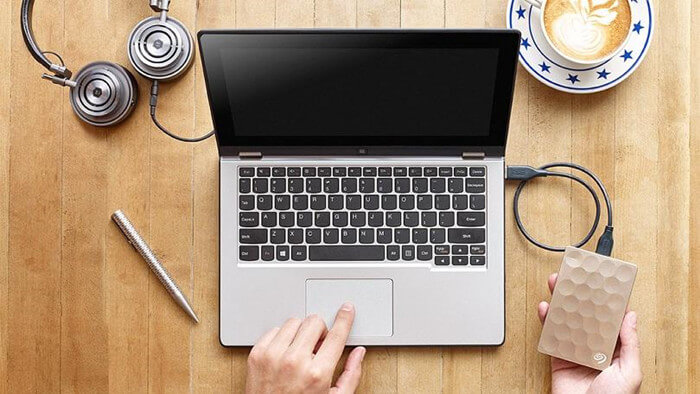 How to clone portable hard drive to Mac SSD?
Cloning portable hard drive to Mac SDD may sound like something very difficult, but it does not have to be as complicated as you think. There are diverse disk cloning programs you can use. Many of them offer better features than others, including price, speed, reliability, ease, among others. Through this guide, we will give you some important information about one of the best disk cloning programs. It is known as AweClone and it is compatible with Windows and Mac, so you can download it on your computer depending on your operating system.
AweClone for Mac is a great choice and many people recommended it, showing their complete satisfaction after using it. It offers two different modes, copying all your data hard drive or creating a disk image. You are free to choose what you consider the best for you. It is very easy to use and allows users to migrate all their valuable information to another hard drive. Just follow these steps to clone portable hard drive data to Mac SSD:
Step 1: Download and install AweClone for Mac.
First, you need to download and install AweClone for Mac. Then, run it on your Mac. Also, make sure both drives (portable hard drive, Mac SSD) are connected to continue with the next step.
Step 2: Choose source and destination hard drive.
Second, you have to choose portable hard drive as the source drive and SSD as the destination drive.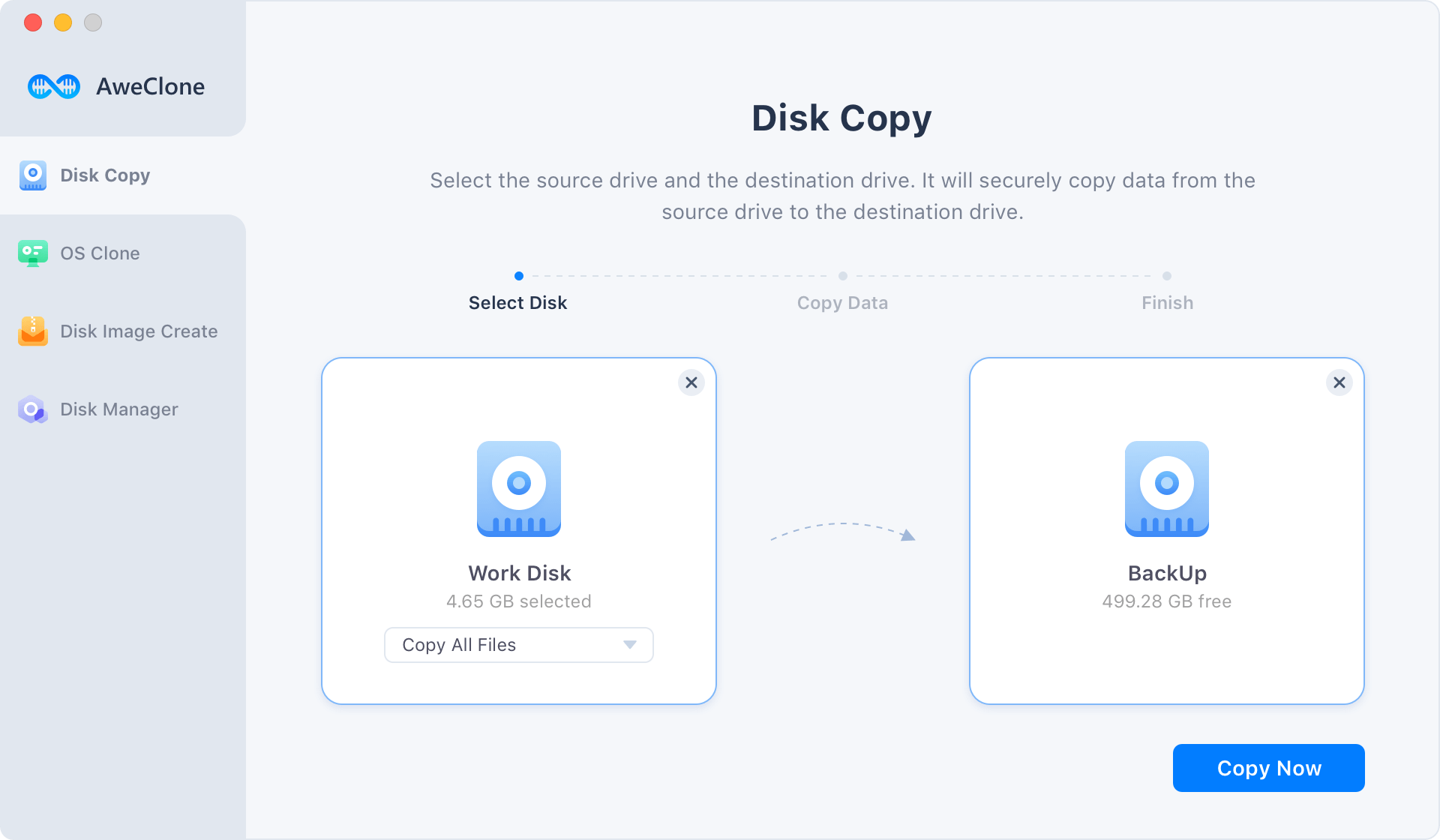 Step 3: Clone portable hard drive to Mac SSD.
Finally, AweClone software will begin the cloning process. Just click on the Copy Now button; then you have to wait until it finishes and verify everything is saved on destination solid state drive.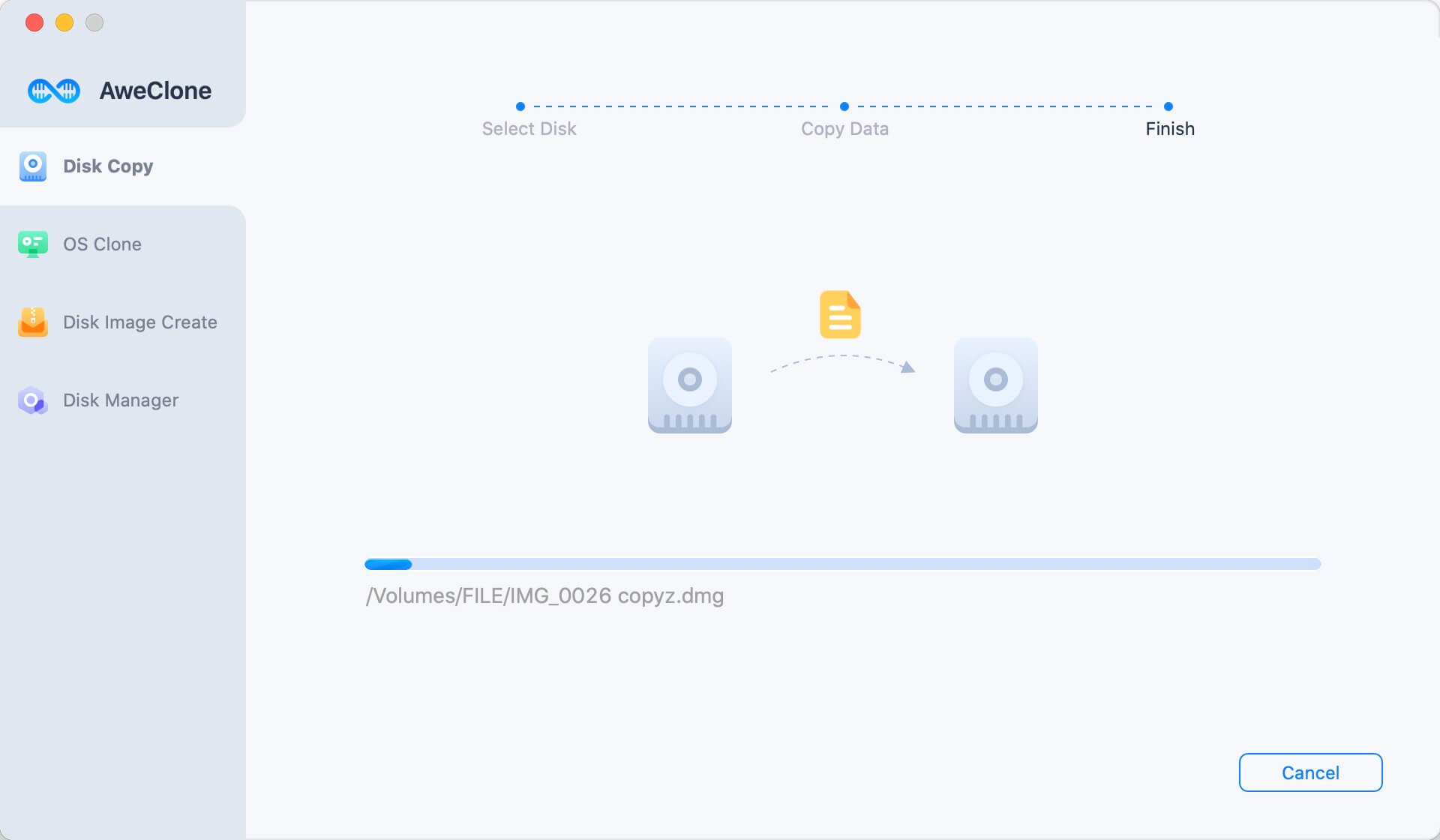 AweClone for Mac is an excellent and quick option to successfully clone your data from portable hard drive to Mac SSD. You can migrate all your data from one drive to a secondary hard drive, like a solid state drive, or if you prefer, you can use the second mode this software offers. This mode allows you to create a disk image and it could also be a quick process. After having installed AweClone on the computer, choose both drives again and then click on the Create Image button. It is recommended to check this new image, just to be sure it was successfully created. To conclude, we can say that AweClone can securely copy all your important information.