What Is Disk Copy?
Quick Navigation:
Disk Copy - a Mac hard drive copy tool
Disk Copy is an application that may be used on Mac OS and Mac OS X to create, copy, mount, and convert disk images. It can make disk images from various media, including CDs, DVDs, floppy disks, and hard drive partitions. Disk images created in Mac OS X 10.1 and 10.2 can be burned on CDs and DVDs or mounted on the desktop.
Transfers the data from the source drive to a disk in the destination drive, which can be formatted or unformatted. When run without further options, the disk copy will use the current drive as the source and destination disk.
The disk copy tool lets one copy an entire diskette's data to another. You shouldn't use the disk copy command if you don't have a floppy diskette. Diskcopy is a third-party utility that may be downloaded as diskcopy.com and used on most versions of Microsoft Windows.
Syntax Of Disk Copy Windows
The syntax of the disk copy command is as follows:
Syntax For Windows Vista And Later
diskcopy [: [:]] [/v]
Here, identifies the source data's disk drive. /v Makes sure a precise copy is made. Copying speed is decreased when this option is selected. The /? command displays a help menu at the prompt. Floppy disks 1 and 2 must be of the same format. It is acceptable to use the same device for both drive1 and drive2.
Syntax For Windows XP And Earlier
DISKCOPY [drive1: [drive2:]] [/1] [/V] [/M]
Here /1 Only make a copy of the first disk side. /V makes sure a precise copy is made. And /M insists on memory-only multi-pass copying. Both floppies need to be of the same size and type. The drive1 and drive2 drives can be the same if you choose.
Disk Copy Observations
After the disk copy completes a copy operation, if the source disk already has a volume serial number, it generates and displays a new volume serial number for the destination disk.
Diskcopy requires disks of the same type to function; hence it can only be used with removable disks like floppy disks. Diskcopy will not work on a hard drive. Diskcopy will give you an error if you try to use a hard drive connected to your computer as drive1 or drive2. Before proceeding, the disk copy command will ask you to insert the source and target disks and await the pressing of a key. Disks sometimes suffer from fragmentation when little chunks of space are interspersed amongst their existing contents. The time it takes to locate, read, or write files can be increased on a fragmented source disk.
For this reason, any fragmentation on the source drive will be replicated on the destination disk when using a disk copy. Using the copy or xcopy command to copy your disk will prevent fragmentation from being copied from the source to the destination. Due to the sequential nature of copy and xcopy, the new disk will not be fragmented.
If the Drive2 argument is not specified, the disk copy will utilize the current drive as the destination. If either of the drive settings is left out, the disk copy will utilize the active drive. Diskcopy will notify you to switch drives if the active one is the same as Drive1.
Start disk copy from another drive besides the floppy disk drive, like the C drive. Diskcopy will notify you to swap floppies if the drives in drives 1 and 2 are identical. If the data on the disks exceeds the capacity of the computer's memory, the disk copy will have to read the data in chunks. Diskcopy requires the original disk to be inserted twice, once to read from it and once to write to it as the destination. The procedure is repeated until the entire disk has been duplicated.
Features of Disk Copy
DiskCopy includes a lot of pretty cool functions, including the following:
Only those partitions that you want to copy will be copied.
The partition style of the destination disk can be anything you want; it does not have to be the same as the partition type of the source disk.
Even if the source disk is not currently booting up, making the target disk bootable is possible.
Complete disk/partition management options. The Utilities tab in DiskCopy offers options for managing disks and partitions, and the tab was introduced in version 1.1.1 of the software.
Cloning a single partition at a time. Copy the contents of one partition exactly to another, with the option to also make the copy bootable.
Disk Copy Software - AweClone
Another disk copy software - AweClone can help you copy hard drive, clone HDD/SSD, move Windows or Mac OS, etc. This easy-to-use disk cloning tool can help you clone HDD to SSD or create a bootable clone backup on Windows or Mac OS.
AweClone - Disk Clone Software
Create bootable clone for Windows or Mac.
Copy HDD, SSD, and external storage device.
100% safe and very easy-to-use disk copy tool.
AweClone for Windows - 100% safe disk copy tool to help in cloning a disk or a hard drive partition from one location to another. It also can help you create bootable clone for Windows 11, 10, 8.1, 8, 7, Vista and Windows Server.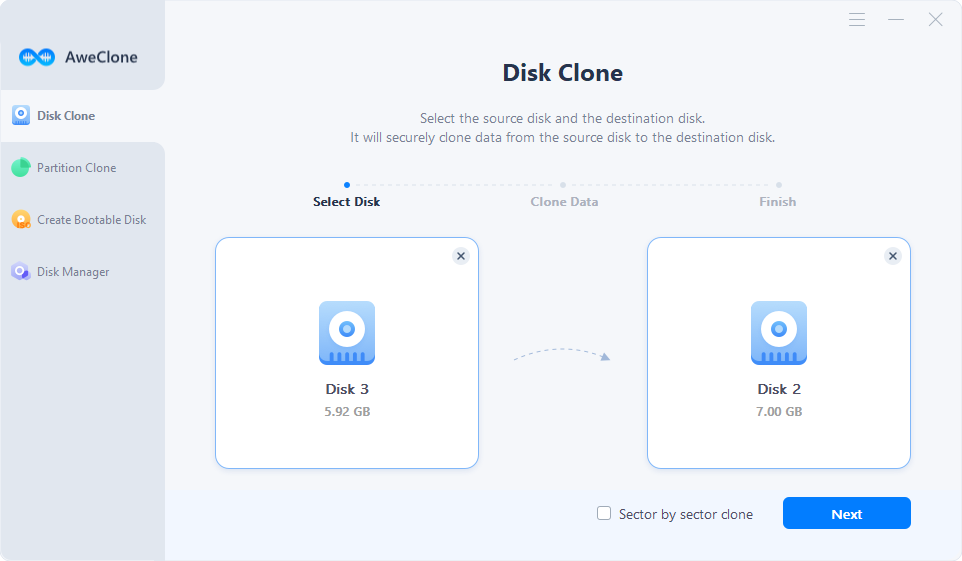 AweClone for Mac - a great disk cloning tool for Mac which can help you copy hard drive, create disk image and create bootable clone for Mac. It is fully compatible with Intel-based Macs, Apple T2 Security Macs and Apple silicon Macs.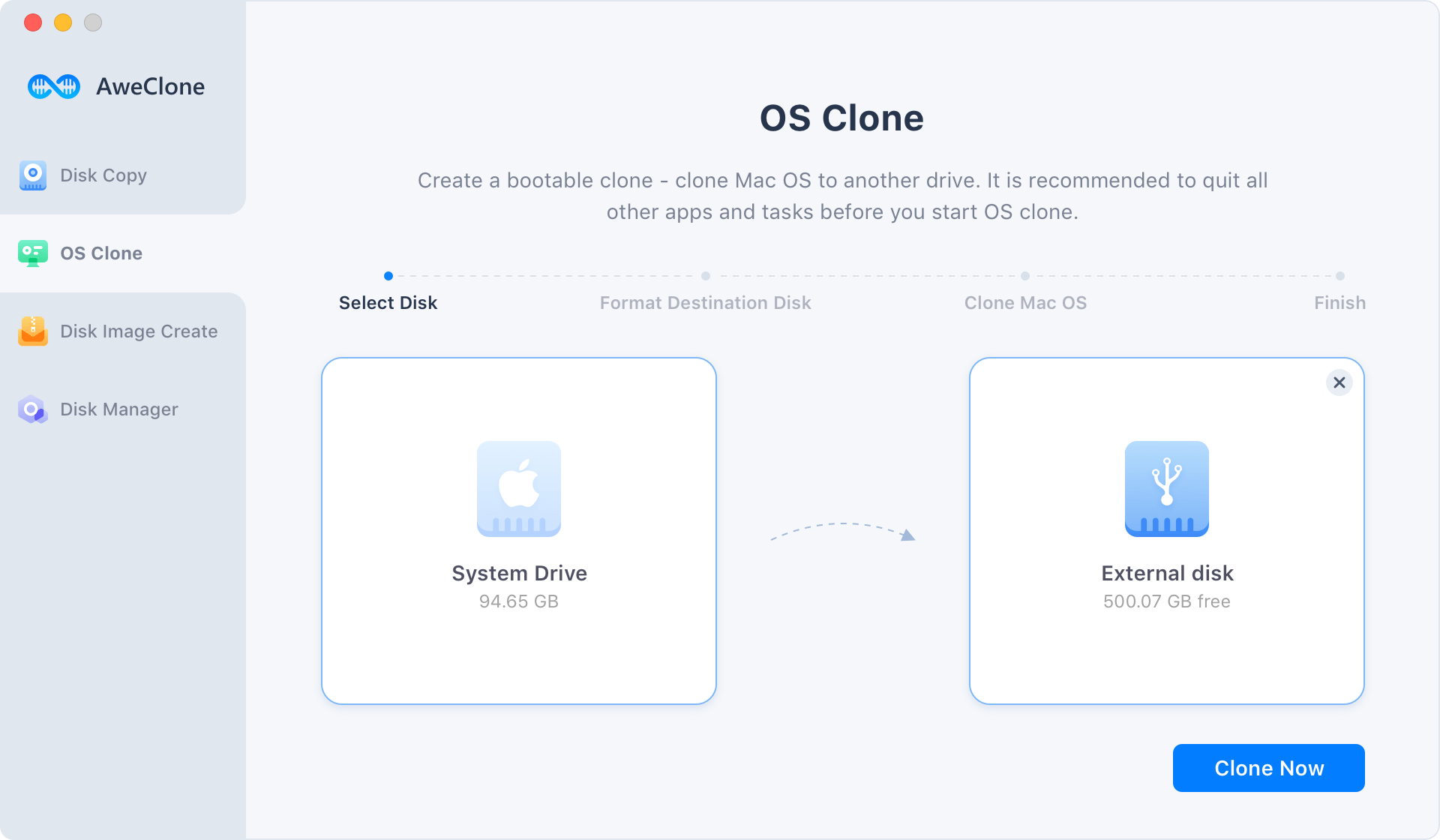 FAQs about Disk Copy:
Conclusion:
DiskCopy is a disk and partition cloning application that is intuitive and easy to use. It is ideal for moving data to a faster storage device and backing up data. A user can duplicate the contents of one diskette onto another diskette by utilizing the disk copy application. The disk copy command should not be used for anything other than a floppy diskette, as this is the only supported target.