How to Clone A Hard Drive With Seagate DiscWizard on Windows or Mac?
Quick Navigation:
Yes, there is a Seagate disk cloning tool, called Seagate DiscWizard. It is designed for managing and cloning Seagate-related hard drives on Windows PC. In this article, we will show you how to clone a hard drive with Seagate DiscWizard, and introduce an alternative to Seagate DiscWizard to help in cloning any type of disk drive on Windows or Mac OS.
---
What can Seagate DiscWizard do?
Seagate DiscWizard is an all-inclusive and well-integrated software package whose primary function is to protect your computer's data from unauthorized access. It allows you to create a complete or selective image of your hard disc with all installed software, configuration settings, and operating system.
Data you no longer require can also be erased securely with the help of this software. To use Seagate DiscWizard for backup or cloning purposes, you must have at least one Seagate or Maxtor device connected to your computer.
Data and your stored apps and settings can be easily recovered with the program's included capabilities. Seagate DiscWizard can be used to restore both the system and any lost data in the event of a failure that has prevented access to your information or disrupted system operation. Here is a detailed discussion about cloning a hard drive using Seagate DiscWizard.
How to clone a hard drive with Seagate DiscWizard?
Creating a bootable clone for your computer or hard drive is the best way to protect your data. To move content from one hard drive to another, you can use a disk cloning tool to help you. If you have a Seagate external hard drive, you can use Seagate DiscWizard to help you complete the clone job.
The clone function of Seagate DiscWizard makes it possible to copy everything from the old disk to the new one, including the operating system, programs, and data. In addition to cloning individual partitions, the clone function can copy the entire disk.
There is no way to make a copy of a dynamic disk. However, you can only clone the primary disk. Here is how to clone a hard drive using Seagate DiscWizard.
Get Seagate DiscWizard and open it.
Select the Tools menu item from the sidebar.
Go to Tools, then Clone Disk.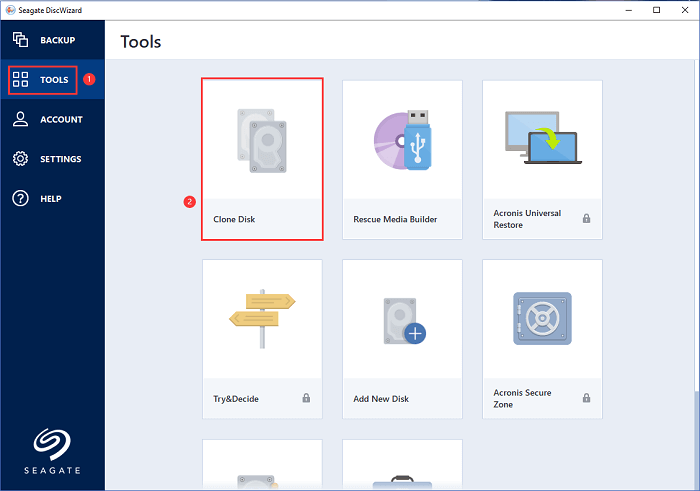 Pick between an automatic and a manual clone. To proceed, click the Next button.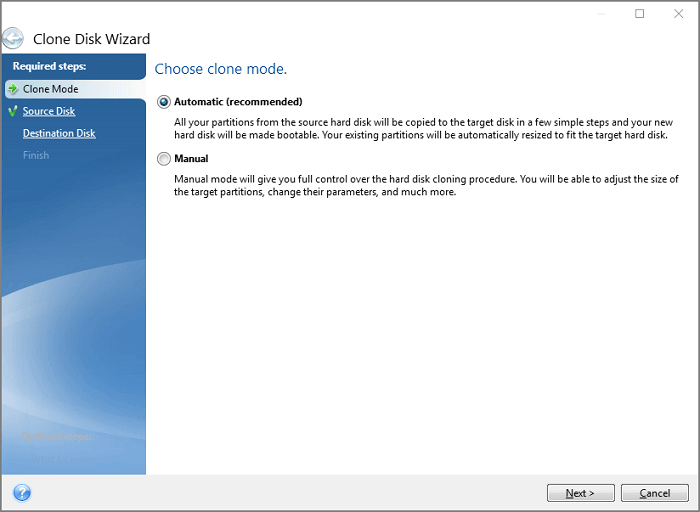 Next, choose the source hard disk from the available drives. Select the target disk and move forward with the cloning process.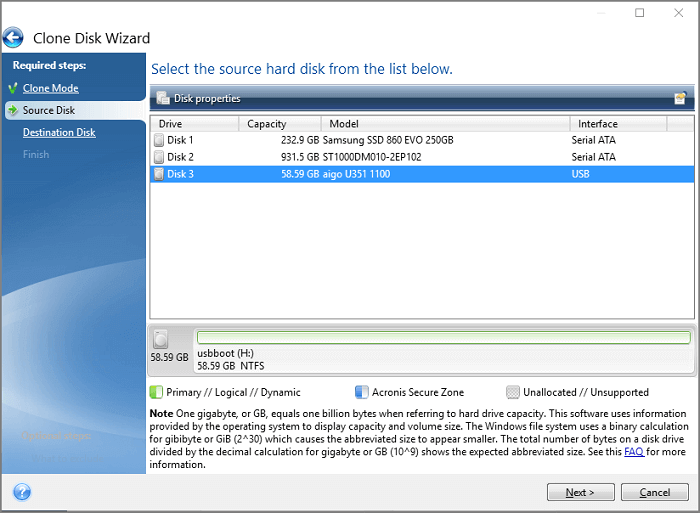 After that, select a disc to use as the final destination, then hit the Next button. Click the OK button when prompted.
Remember that the destination SSD must have more space than the original HDD. Some of the larger files on the HDD could be deleted in preparation for a clone to the SSD.
The next step is to decide which cloning technique is necessary. Select a desired mode. To proceed, click the Next button.
Finalize this process by clicking the Next button.
Seagate DiscWizard Functions
Seagate DiscWizard is a set of utilities that can manage hard disks made by Seagate or Maxtor. The software can generate a disk image backup of your entire hard drive. Mounting this image as a temporary drive in Explorer will allow you to recover the files and folders you require selectively.
Creating a recovery disk that can be booted from is also possible. If your hard disk crashes and Windows won't load, you can restore your most recent backup and back to normal by booting from here. Maybe you upgraded to a newer, more extensive hard disk.
Seagate DiscWizard has a feature that allows you to install a new hard disk. Creating a bootable clone of your hard disk is possible by copying its partitions to a fresh disk. It would help to exercise extreme caution when using DiscWizard, like any other program for managing hard drives.
For example, if you accidentally restore a backup to the wrong drive, you could lose a lot of information. However, Seagate DiscWizard's functions are all accessed via wizards that are both straightforward and easy to understand, making it a more secure option than many of its rivals.
Best Seagate DiscWizard alternative - AweClone
AweClone is a comprehensive disk cloning tool. Compared to Seagate DiscWizard, AweClone has more powerful features. It supports to clone all types of drives including Microsoft, HP, Samsung, Seagate, Apple, Western Digital, Toshiba, etc. It not only can clone a hard drive on a PC, but it also supports to clone hard drive on a Mac.
AweClone - Disk Clone Software
Best disk cloning software for Windows and Mac.
Clone HDD, SSD, USB flash drive and other external storage device.
Create bootable clone for Windows OS and Mac OS.
Clone a hard drive on Windows:
Open AweClone on your computer. To create a bootable clone for Windows PC, just choose disk cloning mode - Disk Clone. You can connect an external hard drive to your computer and select it as the destination drive, select the computer disk as the source disk. Click on Next button and quickly clone the computer disk to the external disk.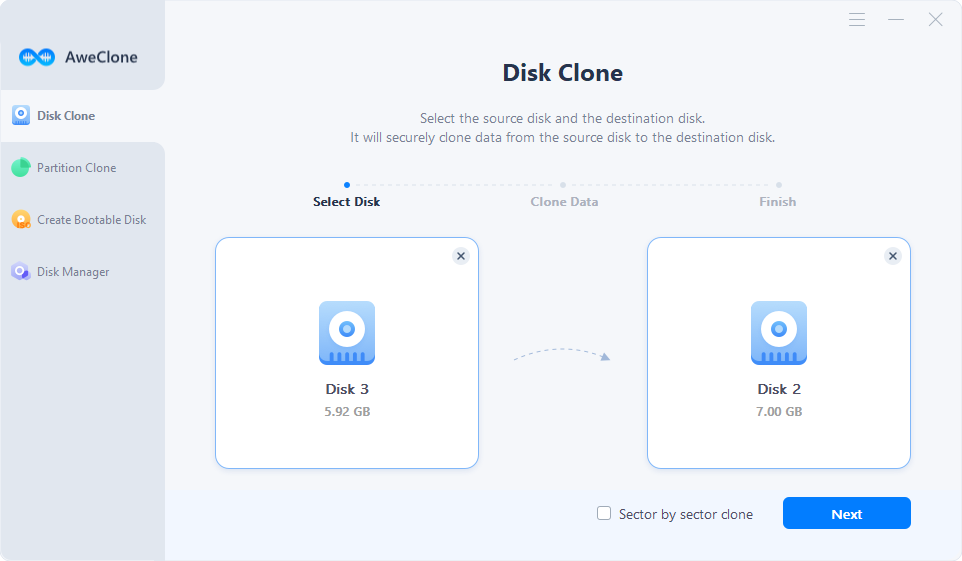 Clone a hard drive on Mac:
Connect an external hard drive to your Mac, then open AweClone and select the mode - OS Clone. OS Clone is able to create a bootable clone for your Mac.
Select the external hard drive as the destination drive, then click on Clone Now button. It will clone all data including macOS, apps, settings, files from the Mac startup disk to the external hard drive.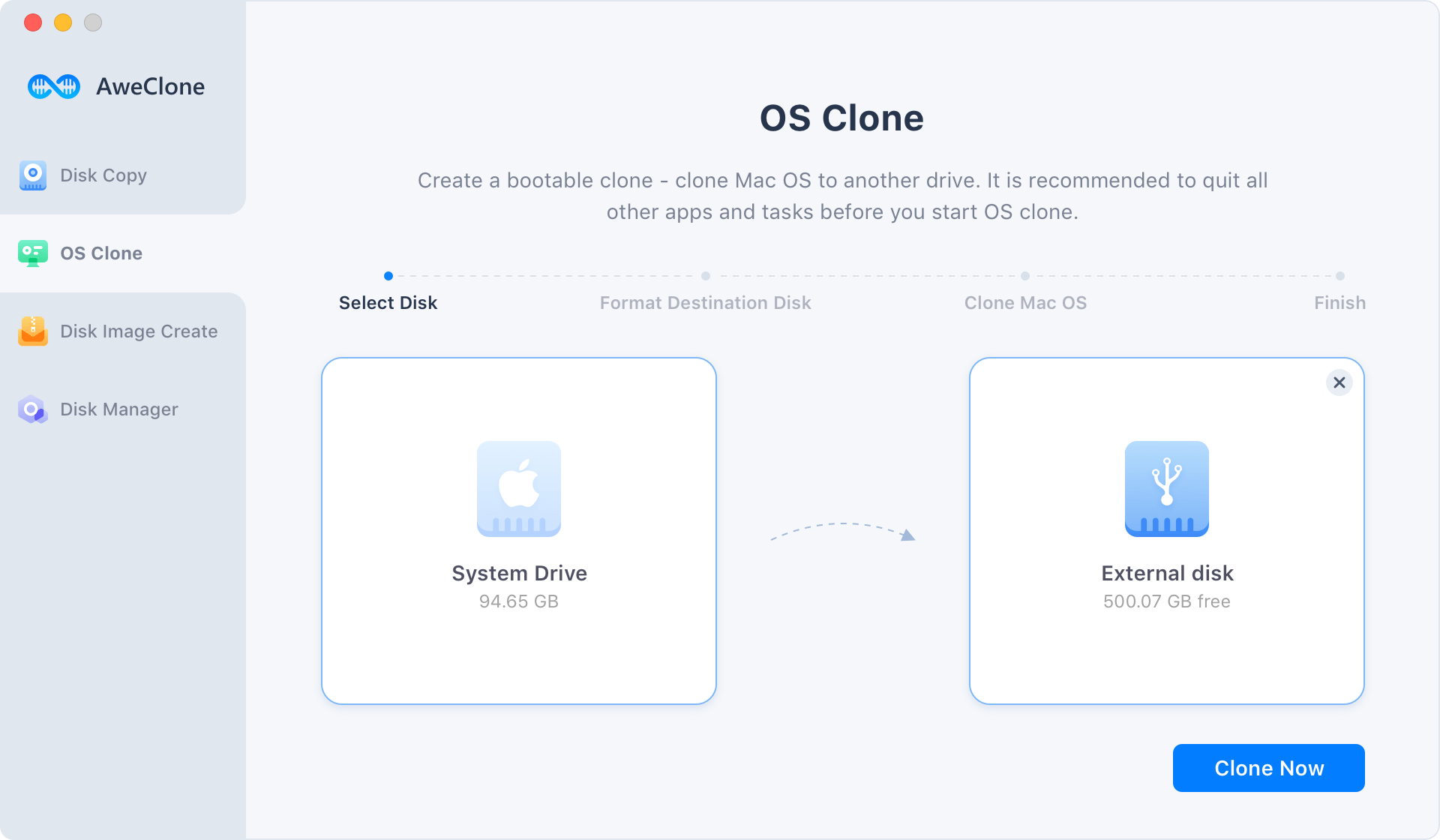 FAQs About Seagate DiscWizard Disk Clone:
Conclusion:
In this article, we discussed how to clone your hard drive with the help of Seagate's DiscWizard. Use this data in any critical situation; it is provided for your convenience. Seagate DiscWizard's user interface and operation are well-suited to those familiar with Windows. You must get your computer functioning again and stick to the straightforward guidelines DiscWizard provides.