Your Apple ID Has Been Locked, Fix It
It is annoying to receive a message stating, "Your Apple ID has been locked for security reasons. To unlock it, you must verify your identity." Until you successfully unlock your Apple ID account, you won't be able to log in or use it for Apple services like iCloud, the App Store, or Apple Music.
The question "Why does my apple id constantly get locked?" is one that troubles a lot of people. Why is my Apple ID locked? In this post, we'd like to explain why Apple ID is locked for security purposes and how to unlock Apple IDs even without a password. Therefore, if your Apple ID has been locked, don't miss this in-depth article.
Why Was My Apple ID Locked for Security Reasons?
You will see "This Apple ID has been locked for security reasons" if your device has locked your Apple ID. How come my Apple ID is locked? Apple automatically locks or disables Apple IDs when they suspect unwanted access.
Because of the odd user conduct listed below, Apple ID has been locked for security reasons:
Using a variety of tools to quickly access iCloud data on the same account using multiple tools.
Utilization of tools from a third party built using iCloud open-source code.
Too many incorrect sign-in attempts have been made using your Apple ID.
Too many times, someone attempted to enter your security questions incorrectly.
Information from other Apple ID accounts was frequently incorrect.
Therefore, your Apple ID will be locked if you or someone person enters your password or other account information incorrectly too frequently. If Apple ID is locked for security reasons, how do you unlock it? Just keep reading to learn the tested techniques to unlock your Apple ID!
What to Do if Your Apple ID Has Been Locked for Security Reasons
1. Unlock Your iPhone and Change Your Password
To regain full access to your device, you must first unlock it and change your password. You can unlock your device using iForgot, two-factor Authentication, or a recovery key.
Check if you still receive security alerts and warnings and change your account password. Make sure your old password and the new one are unique. You must create a brand-new password.
Remember that your account will be locked if you make too many unsuccessful login attempts. As a brief reminder, if you or someone else inputs the incorrect password, answers to security questions, or other account details, your Apple ID immediately locks.
2. Enable 2-Factor Authentication
You shouldn't be shocked if your Apple ID suddenly becomes locked for security reasons if you haven't enabled 2-Factor Authentication. Install 2FA and see if the security alerts still occur.
Go to Settings on your iOS device, tap your name, then tap Password & Security. To activate the choice, tap Turn On Two-Factor Authentication.
Go to System Preferences by selecting the Apple menu on your MacBook. Then, select Password & Security after clicking on your Apple ID. Look for and enable the Two-Faction Authentication option.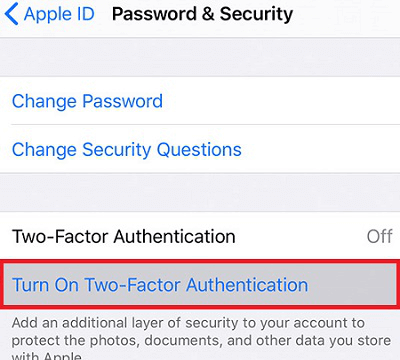 3. Fix Apple ID locked for Security Reasons via Apple iForgot
If my Apple ID is locked, how do I unlock it? Verifying your identity using iforgot.apple.com unlock is one of the simplest ways to unlock an Apple account. This is a legitimate option if your Apple ID is blocked for security reasons. The procedures to fix Apple id locked for security concerns are listed below:
Start by visiting iforgot.apple.com.
To continue, enter your Apple ID, which is restricted for security reasons.
Following that, you must answer a few security questions as part of the verification procedure. Apple merely wants to confirm that the Apple ID you submitted belongs to you.
To unlock your Apple ID, adhere to the steps displayed on the screen.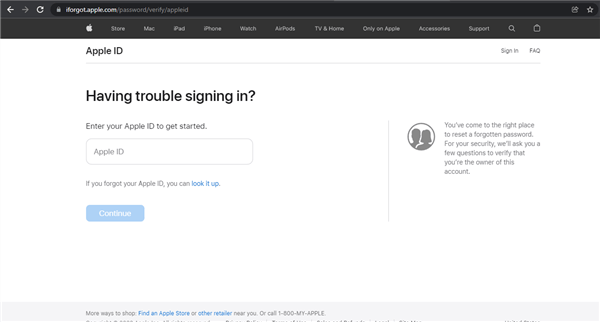 4. Ask Apple Support
Even if the techniques above would undoubtedly be successful in unlocking your Apple ID, if the problem persists after trying them, you can get in touch with Apple customer care. You can go to the website getsupport.apple.com and describe your issue. A customer service representative or an Apple employee will contact you and provide instructions for unlocking your Apple ID.
Some Possible Tips to Prevent This Issue from Happening Again
It can be frustrating when your Apple ID has been locked for security reasons. As a result, we're going to provide you with some helpful advice to assist you in stopping this issue from happening again:
Only sign in to your Apple ID via Apple.
Every day, many people fall victim to fraud. Mocked-up websites, hoaxes, and phishing emails all ask for your Apple ID login information under the guise of being legitimate Apple websites. If you're not confident that these sign-in requests for your Apple ID are coming exclusively from Apple, avoid responding to them. If not, your private information might be made public.
Don't ever give your Apple ID account to others.
If you share your Apple ID with a lot of people, there's a reasonable risk that one of them will try to be "that guy" and disable your account by intentionally entering a passcode incorrectly or trying to get illegal access numerous times.
Enable two-factor authentication/two-step verification.
These methods for recovering accounts are much simpler than answering a series of security questions. To increase the security of your Apple ID account, enable these settings on your iDevice.
About your Apple ID
Never provide anybody else with your password, security questions, verification codes, recovery key, or any other information relating to the security of your account. Apple will never request any private information from you.
You should pick a secure password to keep hackers and other users from accessing your Apple ID.
Make guessing your security questions challenging.
Never use the same password for your Apple ID and other websites.
Never reuse your Apple ID password; constantly update it.
Create and use a strong Apple ID passcode.
Simply having a strong and difficult-to-guess passcode will stop people from getting illegal access to your Apple ID and fiddling with your account settings.
Conclusion
Use two-factor Authentication, a recovery key, or the iForgot service to unlock your device if your Apple ID has been locked for safety reasons. Change your password after that. Activate 2-Factor Authentication if you haven't done so before. Log out of your account on your primary devices, turn off your non-essential Apple devices, and log back in.
Hot Magoshare Products
Easy steps to recover deleted, formatted and lost data from local disk and external device.
Free Trial
Securely and permanently erase data before selling, donating or giving away PC and digital device.
Free Trial
Clone boot disk, external disk, USB flash drive, memory card and more on Windows PC.
Free Trial