Fix WD My Passport Unreadable on macOS
Don't freak out if your Mac displays an error indicating "the disk was not readable" when you try to connect an external drive containing crucial files. Even if the drive fails, we can guarantee that your data will be recoverable. In addition, the drive can be fixed and normally used again.
You could not be able to recover the data from an external hard disk manufactured by Western Digital (WD) unless you know the specific WD hard drive's model. Your data is kept on your hard drive's revolving platter, which is covered in a ferromagnetic material.
This coating preserves the data indefinitely. When working with a WD hard drive, the magnetic head is used to either write data to the platter or read data off of the platter. These records are kept orderly within a series of logical blocks or sectors.
The fact is that such files are stored on the hard drive ensures that the metadata associated with them will be retained in macOS. When you delete a file, the metadata information associated with that file is updated in macOS. For various reasons, a warning message will appear when you attach a storage device to a Mac running macOS.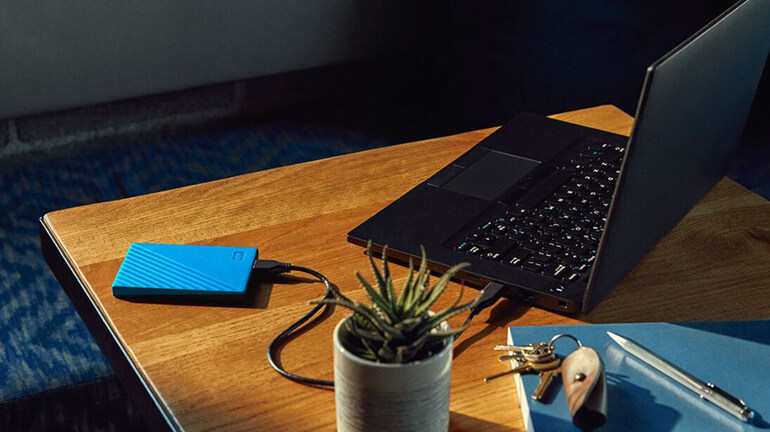 How to WD My Passport Unreadable on macOS?
Before we get into fixing an unreadable disk, we'd like to take a moment of your time to stress the need for frequent backups. And a solid data recovery program to ensure the safety of your contents, whether they are kept on an internal or external USB drive.
Take Proper Action to Remove the USB Drive
Suppose you routinely remove external drives from your computer in an incorrect manner. In that case, the data on those drives, including USB flash drives, SD cards, memory cards, external hard drives, and many more, is at risk of becoming corrupted.
If the USB flash drive is currently being used, removing it abruptly and repeatedly could one day cause it to become corrupted. Therefore, whenever you need to remove an external drive from your Mac, you should always use the "eject it safely" option in the Disk utility menu.
Check the Volume for Errors
A built-in tool in Mac OS, First Aid can be used to diagnose and fix file system issues on a wide variety of external drives. So, you can run it to fix the WD/Seagate/SD card/USB flash drive not being recognized by your computer. Don't stress! When this happens, formatting the drive will make it function as if it were brand new.
But it would help if you realized that wiping a drive would remove everything stored on it. It would be wise to back up its data before removing it. The disk you inserted was not readable by this computer's new hard drive, so there's no point in accessing the data stored there. The drive can be formatted directly.
Format The WD External Hard Drive
Select the "Wipe Hard Drive" mode, select the WD external hard drive from the drop-down menu, and click the "Erase" button. The WD external drive will be formatted, and all of the data and errors that are now stored on the external hard drive will be removed.
It is important to remember that once the WD external hard drive has been formatted on a Mac, you will no longer be able to access any of the data stored on that WD external hard drive. Therefore, before formatting the WD external hard drive, you need first retrieve the stored data.
Retrieve Your Data from The Inaccessible Drive
In another case, the WD my passport portable hard drive may appear on Mac OS after being connected to a computer, but its contents remain inaccessible. If the WD my passport external HDD has an unknown file system, you can use Magoshare Data Recovery for Mac to retrieve your data from the inaccessible drive.
Magoshare Data Recovery for Mac
Unformat WD My Passport drive.
Recover inaccessible and corrupted data from WD My Passport drive.
Step 1. Open Magoshare Data Recovery for Mac, then connect the WD My Passport drive to your Mac, select it to start data recovery.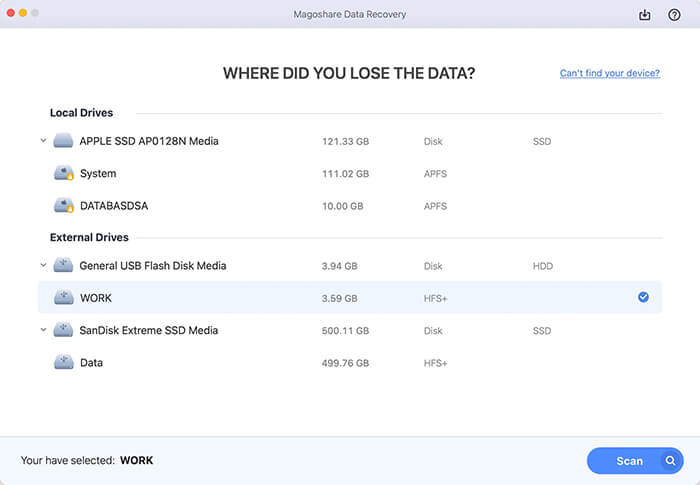 Step 2. Click on Scan button. Magoshare Data Recovery for Mac will deeply scan the WD My Passport drive and find every recoverable file.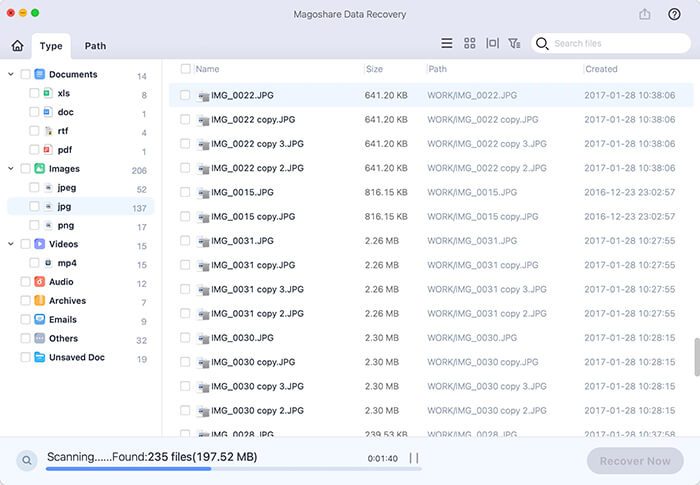 Step 3. Once the scan is completed, you can preview all recoverable files. Then select the wanted files and save them.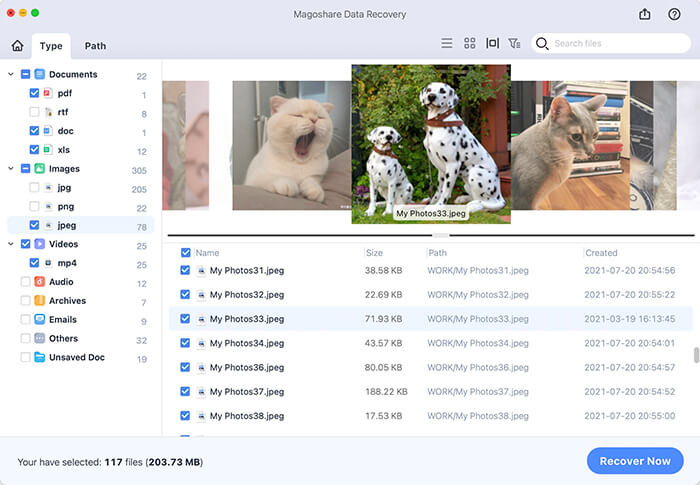 Then you can try formatting the external hard drive to the APFS/HFS+ file system, which is compatible with Mac OS. If you have an external drive that you want to use with a Windows computer, you can connect it to a Windows machine and convert the file system from RAW to NTFS.
Conclusion:
When connected to a Mac, external hard drives formatted as My Passport for Mac have the same potential for going unnoticed as any other external hard drive. This article shows how to repair the problem of your WD drive not being identified in various situations. This article is a thorough resource for finding a solution to the problem of the WD Passport not being identified.
Hot Magoshare Products
Securely and permanently erase data before selling, donating or giving away Mac.
Free Trial
Clone startup disk, external disk, USB flash drive, memory card and more on Mac.
Free Trial