How to Permanently Erase Private Data before Selling My MacBook?
I have an old MacBook. I have been using this MacBook for almost 3 years. In the beginning of this month, I bought an iMac desktop. So I no longer need the MacBook and I have transferred my documents from the MacBook to my new iMac. I am planning to sell this MacBook on eBay.com, hoping a good price. But, before I sell or deliver the MacBook to the buyer, I have to make sure all my data has been erased and reset the MacBook to the factory status. My secret tool is AweEraser for Mac. It helps me to quickly and securely erase all my private data before selling my MacBook.
In this article, I will tell you the easy solution to permanently erase private data before selling MacBook or other Mac computers. First of all, you also need to download AweEraser for Mac on your Mac. You may wonder what the AweEraser for Mac is. AweEraser for Mac is one of the most powerful Mac data erasure software. You can download and install it on any of your Mac computer.
Three solutions to permanently erase data before selling old MacBook
AweEraser for Mac offers military level data erasure standards. So, before you erase data from MacBook, please make sure your useful data has been backed up to other hard drive or iCloud. Once your data is erased by AweEraser for Mac, the data would be lost forever. No method or software can recover the erased data because any trace of the data has been permanently destroyed and erased by this powerful Mac data eraser.
Data erasure with AweEraser for Mac will never cause any physical damage to your MacBook. After erasure, you will get a brand new MacBook. If you don't want to erase the entire hard drive, no worry, AweEraser for Mac offers you three flexible data erasure modes.
Mode 1: Selectively erase files from your MacBook.
This mode allows you to selectively erase files/folders from your MacBook. You just need to add the files and click on "Erase" button. AweEraser for Mac will permanently erase the targeted files/folders.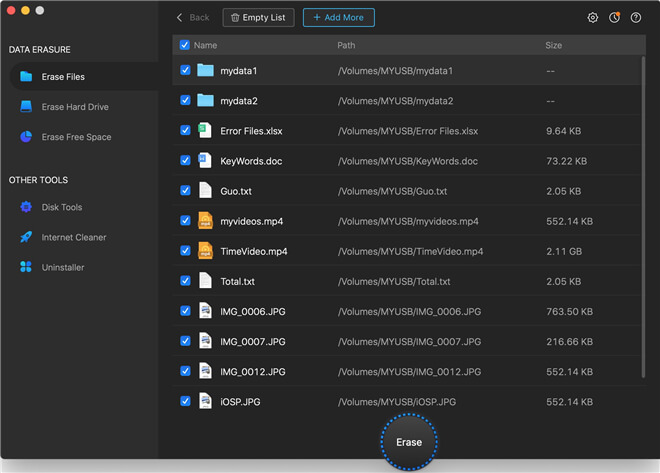 Mode 2: Wipe entire hard drive.
This mode can't erase the OS hard drive, but it can help you erase entire other hard drives on your MacBook. If you choose this mode, AweEraser for Mac will permanently erase all data on the selected hard drive. No trace left.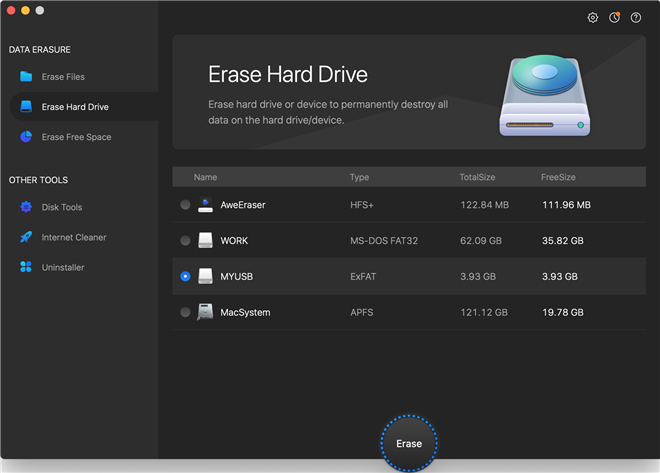 Mode 3: Erase Free Disk Space
This mode can help you permanently erase already deleted or formatted data and history traces on your hard drive. It will not affect the existing data on your MacBook.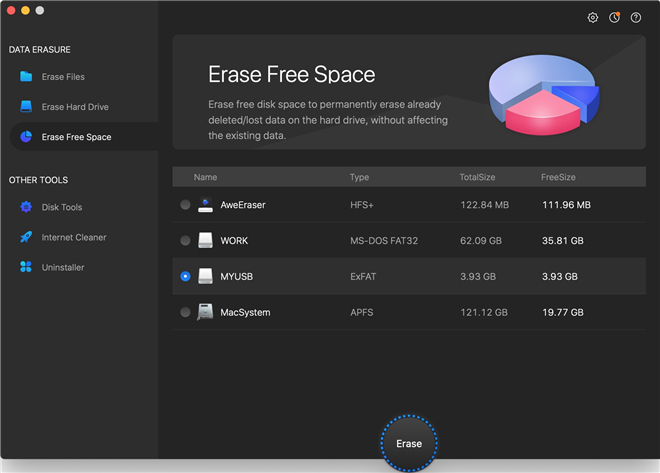 AweEraser for Mac can help you securely and permanently erase private data before you sell old MacBook. After erasing your private data on the MacBook, you will get a brand new MacBook and have a better chance to sell it at higher price. You don't need to worry about other people may recover your data because your data is lost forever. It is strongly recommended to permanently erase private data before selling old MacBook or other Mac computer because data leakage may have serious consequences.