Top 5 File Shredder for macOS 10.12 Sierra
How would you feel if public or suspicious bodies use your confidential information? To permanently delete sensitive data and avoid data recovery on your macOS 10.12 Sierra, you need a file shredder for macOS 10.12 Sierra. When you remove files, whether, from the trash bin or hard disks of your Mac, you cannot permanently erase your data, without leaving a great space for data recovery. File Shredder for macOS 10.12 Sierra is intended to wipe and delete files on macOS 10.12 Sierra permanently. And in this article, I'll present to you the first top 5 Mac shredder files to get rid of data in macOS 10.12 Sierra.
AweEraser for Mac file shredder for macOS 10.12 Sierra is a powerful Mac File Shredder and Disk Cleaner. You can permanently delete files/folders under macOS 10.12 Sierra. This Shredder file for macOS 10.12 Sierra can safely remove data and overwrite the disk space of deleted files to prevent file recovery. Before selling your Mac, or lending a Mac to others, you can use this file shredder to delete files permanently. Download AweEraser >>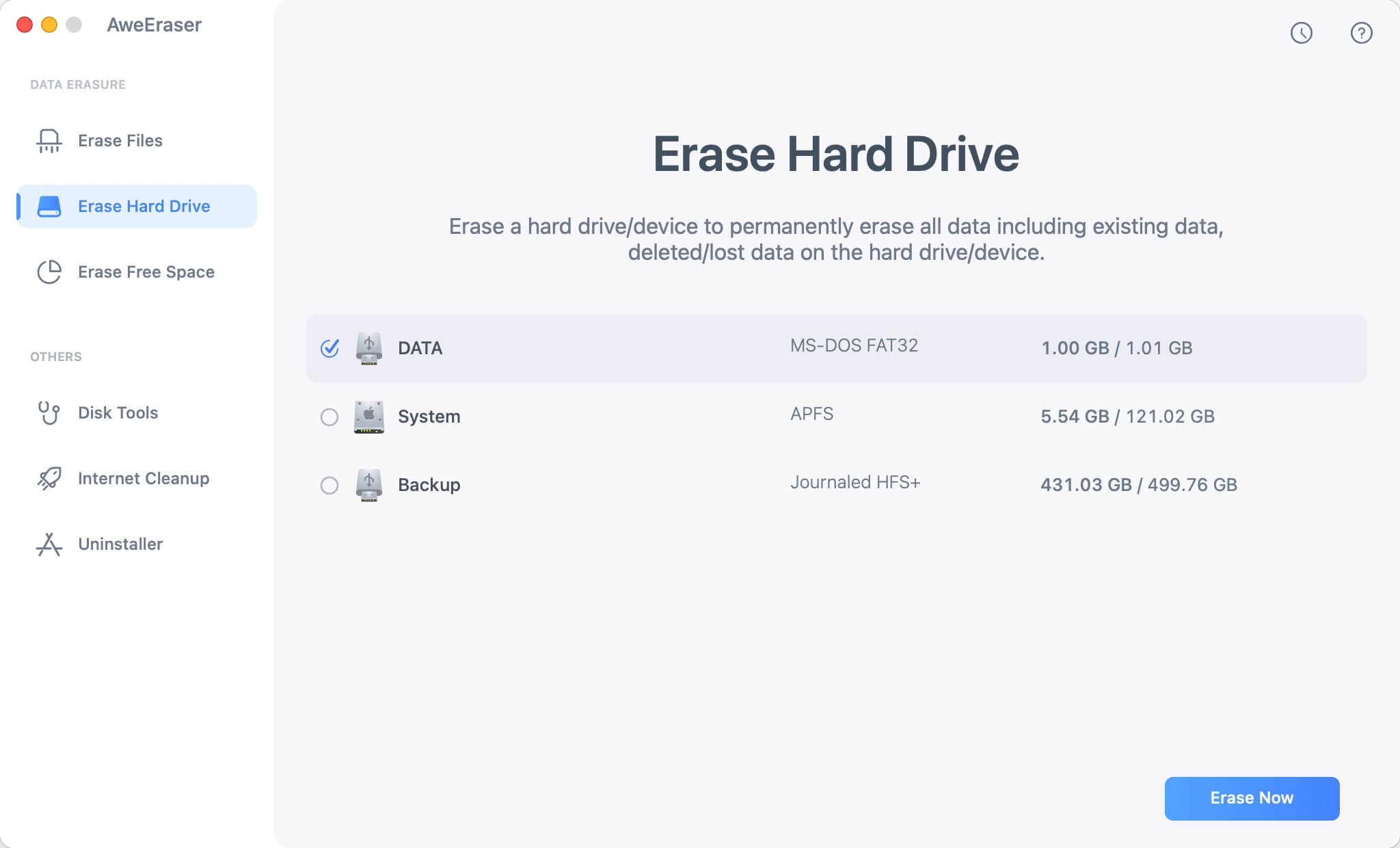 Stellar Wipe Mac is a file deletion program that allows you to remove confidential data on your hard drive completely. The Stellar Wipe uses a robust removal algorithms and ensures that your deleted files remain unrecoverable. The user interface is comfortable and friendly to use. It thoroughly removes system traces, recent file history, Internet browsing data, instant messaging information, and browsing data. You can as well delete a specific file or a complete folder. It also allows you to schedule a cleaning process.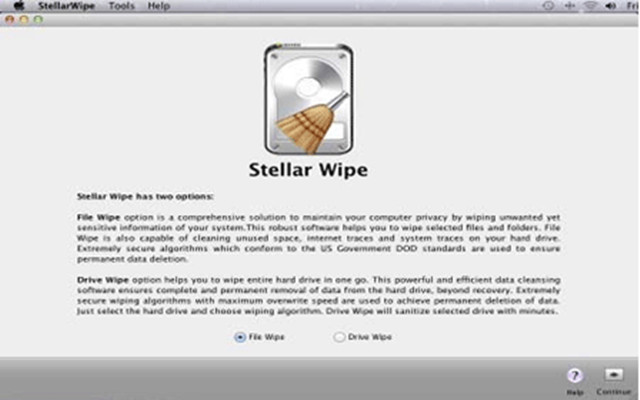 The all-in-one application, CleanMyMac is one of the best apps that permanently deletes files on your macOS 10.12 Sierra. It helps cleans data permanently from your hard drives so that no third-party software can recover the files. CleanMyMac, not only discards data but overwrites them. The application can also act as a smart cleaner, and Uninstaller. On the other hand, CleanMyMac helps protects your privacy.
Permanent Eraser is one of the best files to erase software for macOS 10.12 Sierra. The application uses additional scanning techniques such as 3-pass DoE or 35 Gutmann pass algorithms. This tool overwrites data, encrypts the source file name, and shortens the file size to zero. With this application, once the information on your macOS 10.12 Sierra has been deleted, it never is recovered.

AweCleaner for Mac is a powerful Mac cleaning software. It offers 9 tools to help in cleaning Mac and managing data on Mac. One of the 9 tools is file shredder. This software is fully compatible with macOS 10.12 Sierra. So, it can help you permanently and securely shred files/folders under macOS 10.12 High Sierra.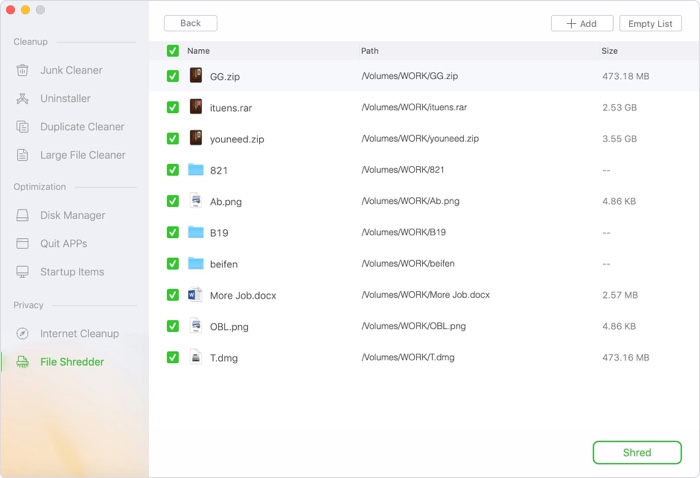 So, in conclusion, above is the top list of the five best Shredder files for Sierra MacOS 10.12, so, go ahead and install file shredder and keep deleting confidential data as permanent.
---
Easy way to shred files on macOS Sierra permanently
AweEraser for Mac is one of the best file shredders for macOS Sierra. It offers military & government data erasure standards to help macOS Sierra users securely and permanently erase data. It also can help you wipe data on macOS 10.13, 10.14, 10.15, 10.16, etc. It offers three data erasure modes.
Mode 1. Shred files and folders on macOS Sierra.
Just add files/folders to the erasure list, then click on Erase Now button. This mode will securely and permanently erase all the selected files/folders.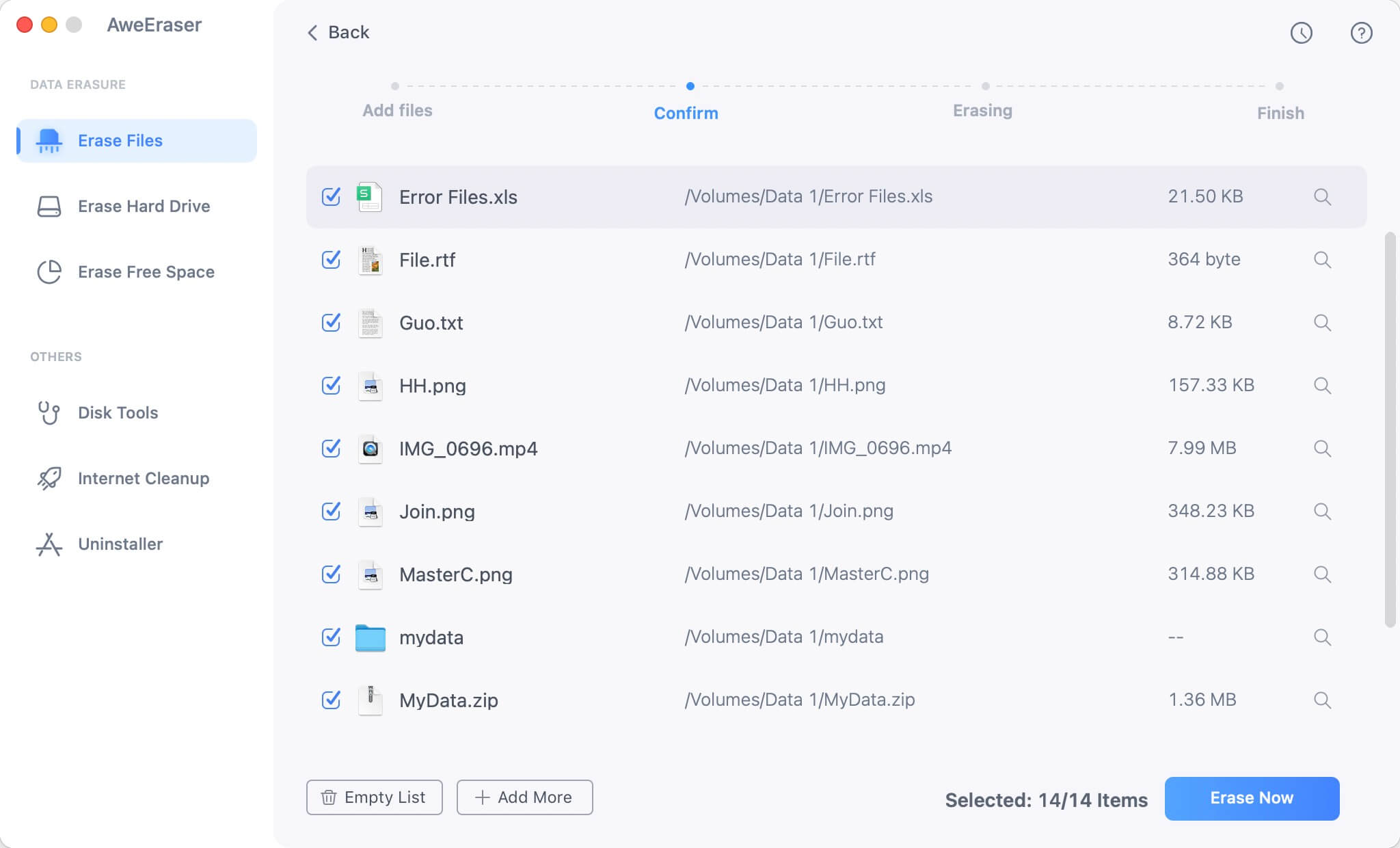 Mode 2. Wipe entire hard drive on macOS Sierra.
This mode will wipe an entire hard drive on macOS Sierra, all data on the hard drive will be permanently erased.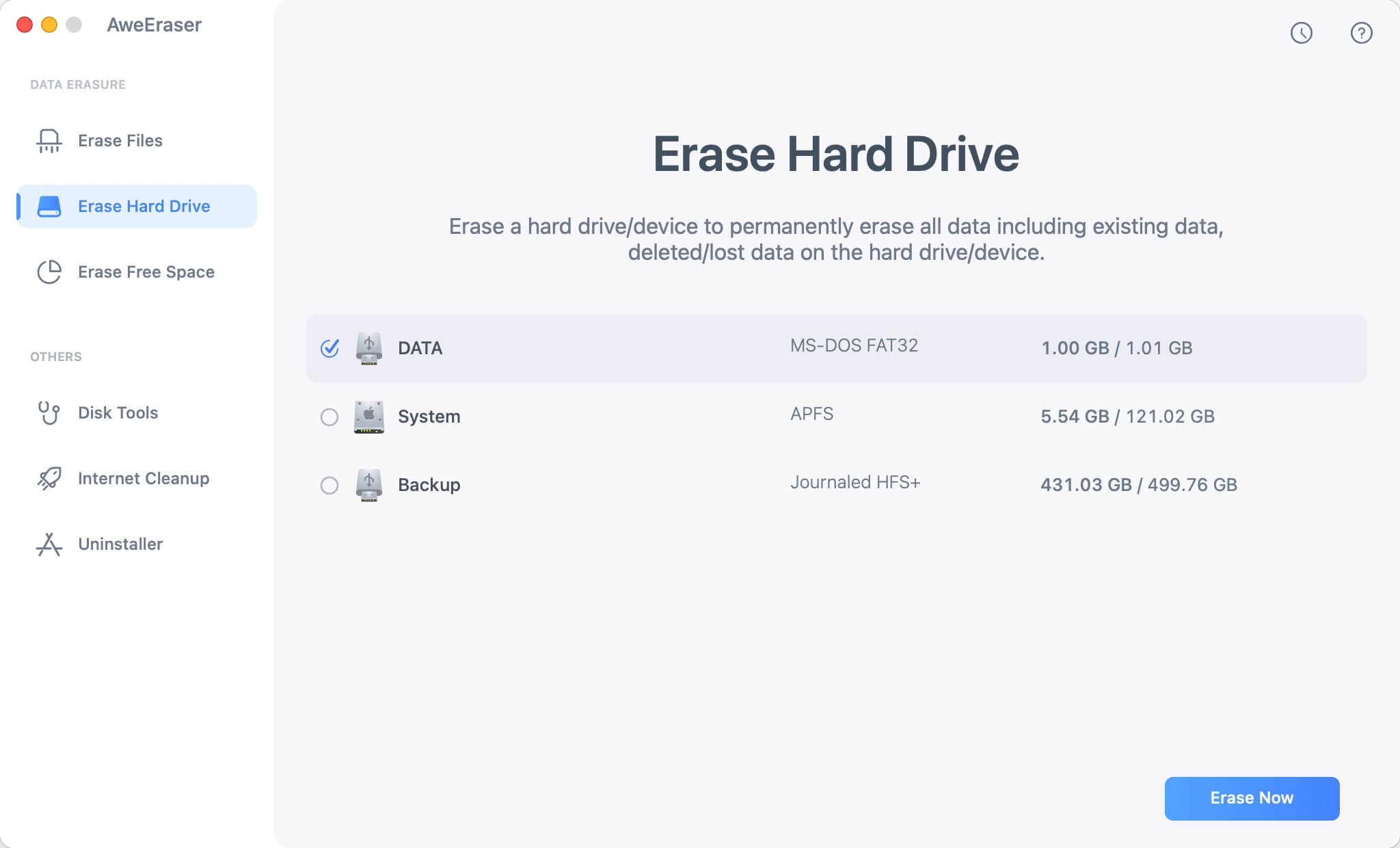 Mode 3. Wipe free disk space on macOS Sierra.
If you only want to erase deleted data, just try this mode. It will wipe the free disk space of your hard drive, and permanently erase all already deleted files.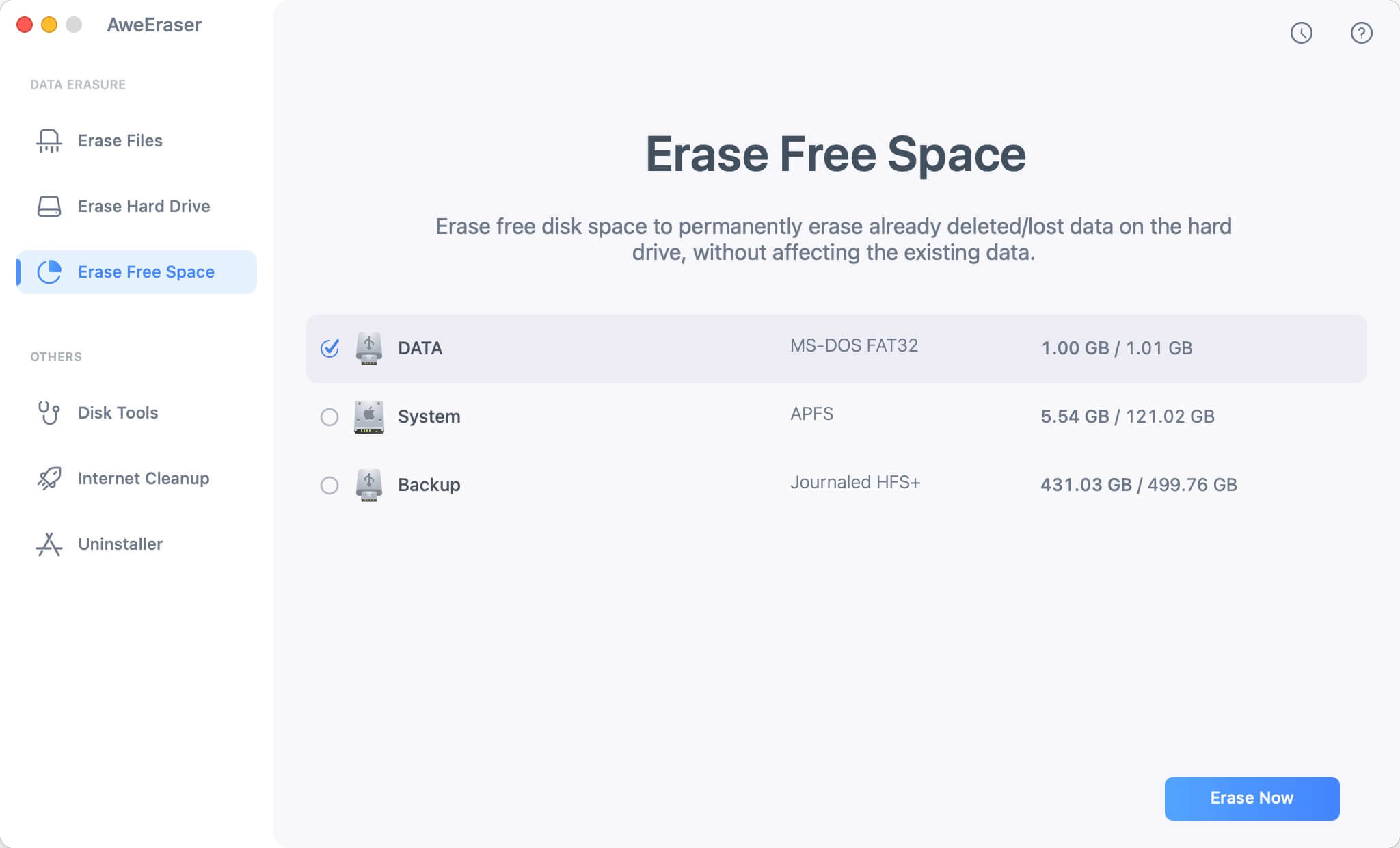 AweEraser for Mac can help you securely and permanently erase sensitive data on macOS Sierra. It is strongly recommended to erase data before you sell or donate your Mac computer. Download AweEraser for Mac here: