Unformat HDD on Mac
People sometimes format the hard disk drive on Mac and that could be a problem if they do not have any backup. Formatting can happen because the HDDs are infected by some viruses or they are not working well. The idea is saving the information first in order to avoid losing documents, pictures, videos, music, or any other important files. Although the situation sounds very complicated and worrying, there is still chance to restore and recover your files or documents using a Mac unformat recovery software. Through this article, we will explain how to unformat HDD on Mac and recover lost data.
How to recover formatted HDD on Mac?
When formatting hard disk drives on Mac, we can restore the relevant information we need back. There are several recovery programs we can use to get the data back. Here, we will recommend powerful unformat software for Mac – Magoshare Data Recovery for Mac. It is an easy and powerful software to recover files, images, photos, videos, messages, and audios, among other files. In this case, this program will help us recover a formatted HDD on Mac, though it is used to restore information on Windows as well. It is necessary to follow a series of steps to recover an unformat HDD on Mac, so continue reading to get more information.
Step 1: Download HDD unformat software on your Mac.
The first thing you have to do is downloading and installing this great data recovery software in order to start unformatting the HDD. Just download Magoshare Data Recovery for Mac and install it on your Mac computer:
Step 2: Choose the HDD on your Mac.
Once the software has been installed on the computer, we have to run it. This program will list all the hard drive and the other devices on the Mac. Then we have to select the HDD we want to unformat. Once we have chosen it, we start scanning in order to find lost files: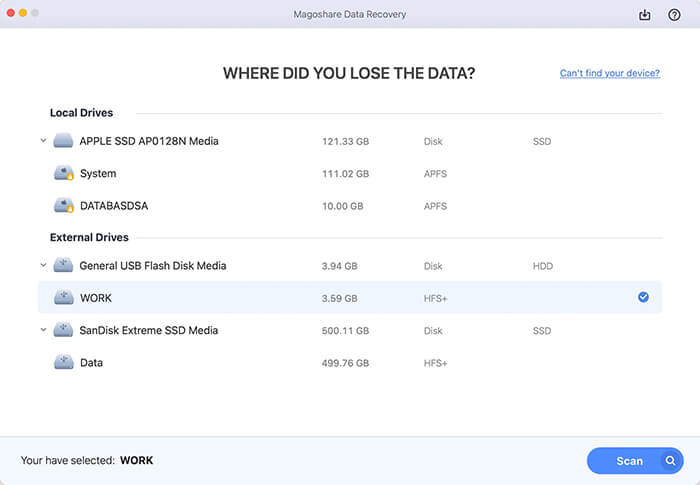 Step 3: Scan the formatted HDD on Mac.
Click on "Scan" button to scan the formatted HDD on your Mac. It will deeply scan the formatted HDD and find all lost files: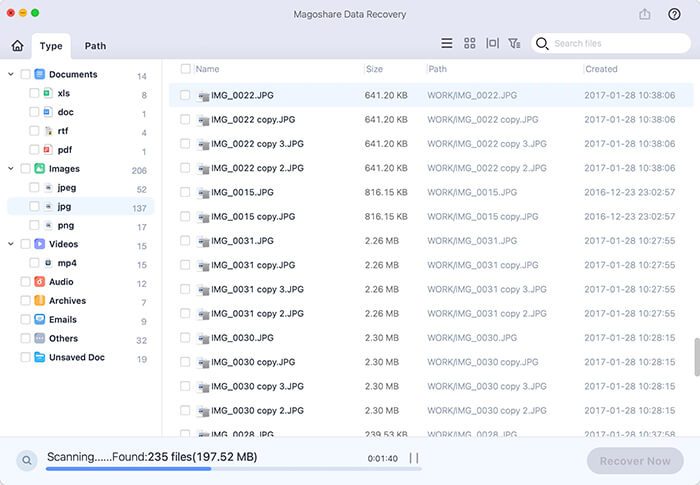 Step 4: Preview and recover lost files from formatted HDD.
Once the scan has finished, all the files can be recovered. You only have to preview and select the files you need back and click on Recover button.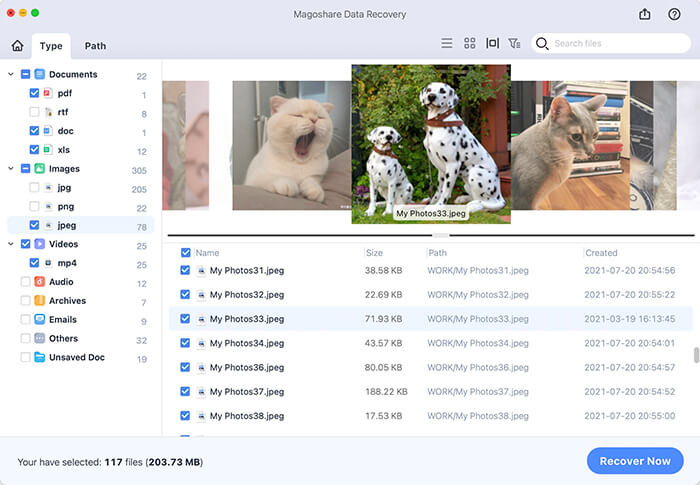 With Magoshare Data Recovery for Mac, you can easily unformat HDD on Mac to recover all your lost data. This HDD unformat software for Mac will recover lost data from formatted, reformatted or erased HDD under Mac OS. Just follow the steps above to quickly recover all lost data from your HDD which is formatted or reformatted.
In some cases, the Mac system may asks you to format the HDD. Whether you have formatted the HDD or not, this software can help you completely recover or export data from the HDD which is to be formatted or has been formatted.