How to Recover Deleted WhatsApp Messages from iPhone 13 Device?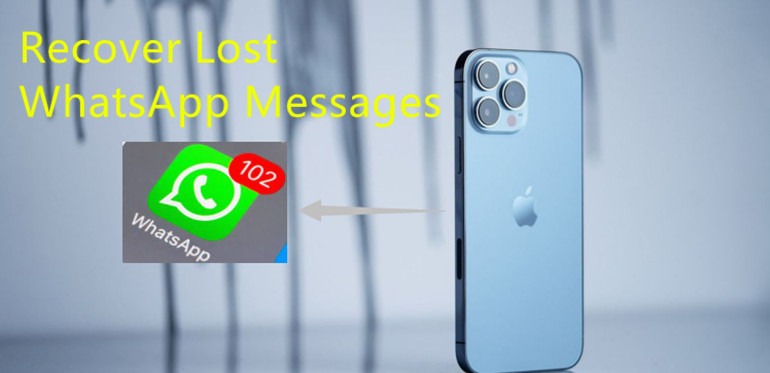 Quick Navigation:
"Hi, I deleted some important WhatsApp messages on my new iPhone 13 without backing up them. Is there any method to recover the deleted WhatsApp messages?" - Jeremy
WhatsApp is the quickest and most convenient way to communicate with friends, family, and co-workers. The loss of WhatsApp messages on a smartphone is a common problem. How many times have you unintentionally erased a WhatsApp conversation, only to immediately regret it? Just curious as to if it's possible to retrieve it again.
If you've accidentally deleted WhatsApp messages and need to recover them, restoring a backup is the best option. On the other hand, many users may not have the habit of regularly backing up their data. Even if you create regular backups of your WhatsApp conversations, these backups may fail to contain the deleted messages.
We're here to assist you, so don't worry. Strategies to recover deleted WhatsApp messages will discuss and bring back deleted WhatsApp chats from the latest iPhone 13 device. We'd like to demonstrate how you can restore deleted WhatsApp messages without creating a backup.
#1 Recover WhatsApp Messages from iPhone 13 Using Recovery Tool
When you delete WhatsApp data from your iPhone 13 device, it doesn't actually remove it until other data overwrites it. In other words, you can still recover deleted or lost WhatsApp data on your iPhone; all you need is an iPhone WhatsApp Recovery software.
To recover lost WhatsApp messages from your iPhone 13, use Magoshare iPhone Data Recovery, which may help in various scenarios like accidentally deleting chat history or losing or damaging your iPhone. It's possible to get your WhatsApp chat history back with this efficient iPhone data recovery tool.
Step 1. Download and install Magoshare iPhone Data Recovery on your computer, it is fully compatible with most of Windows systems and Mac systems.
Recover 15+ file formats from iPhone 13/13mini/13Pro/13Pro Max.
Recover lost data from iPhone 13 due to deletion, OS upgrade, factory reset, etc.
Very easy to use - three steps to get all lost WhatsApp messages back.
Step 2. Connect your iPhone 13 to your computer using USB. Once the Magoshare iPhone Data Recovery has detected your device, click the "Scan" button to continue scanning.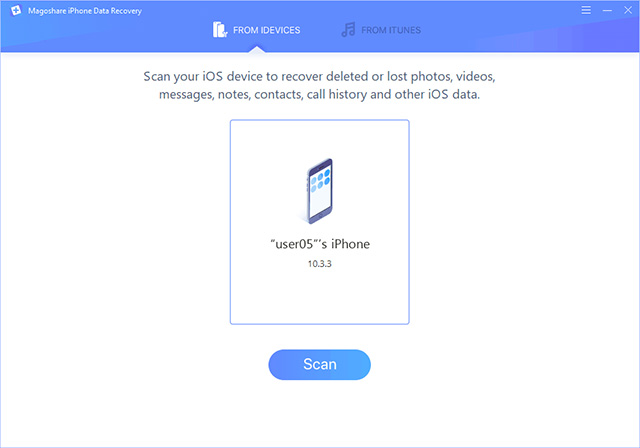 Step 3. The results will appear in a variety of formats once the scan is complete. You can preview all recoverable files including WhatsApp messages. Then select the files you want to recover and save them.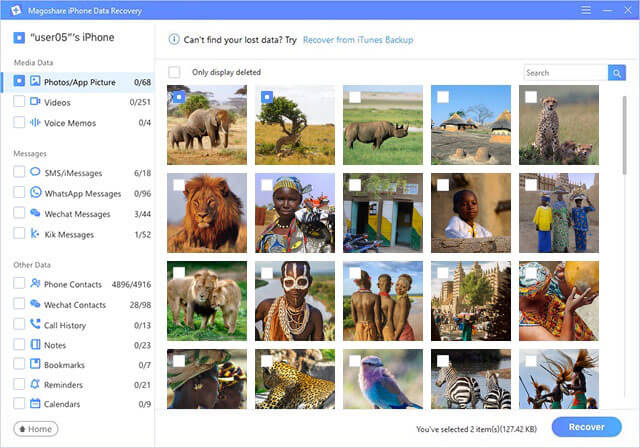 #2 Recover iPhone 13 WhatsApp Chats from iCloud Backup
iCloud backups might contain deleted communications if you deleted them mistakenly. Consider a scenario in which your iCloud Backup occurred at midnight, and you discovered the next day that you'd mistakenly removed a chat from your phone's contact list. You can recover the conversation from the cloud backup. Here's how it accomplish:
WhatsApp should uninstall from your Android or iPhone.
Reinstall WhatsApp and enter your phone number to begin using it again.
Once you've installed the app, you'll prompt to restore your messages from a cloud backup, which you can do. It would be an iCloud backup on an iOS device. Press the Restore button.
It will restore messages that you removed by mistake. Be aware that you can't restore messages you received after your most recent iCloud Backup and then delete them.
Steps to restore WhatsApp messages:
You need to check that your iPhone has enough storage to save the iCloud backup file before proceeding. To begin, follow the steps outlined below:
Step 1. Open Settings > General > Reset > Erase all Contents and Settings.
Step 2. Click Erase Now and confirm your password by typing it in on the next screen.
Step 3. Restore from iCloud Backup, then sign in to iCloud.
Step 4. Choose the backup file containing the restored WhatsApp messages from the one previously deleted.
#3 Recover Deleted iPhone 13 WhatsApp Messages via iTunes
Recovering deleted WhatsApp messages on iPhone using iTunes, or the Finder is another option, and this is how you go about it.
Step 1. Launch Finder or iTunes on your Mac or PC.
Step 2. Connect your iPhone to the PC and select "Trust This Computer" in the "Trust" menu.
Step 3. Restoring your iPhone from a backup is as simple as selecting it and then selecting "Restore".
Step 4. Next, please select the most current or WhatsApp backup file you require and tap on Restore to bring it back to life. If the file is encrypt, you will need to input the password to decrypt the file.
There are certain limitations to using this method of recovering lost WhatsApp messages from an iPhone.
If you use this approach, you will only be able to restore the entire backup file and not individual WhatsApp messages.
Second, you won't be able to see any previews of your files.
Finally, to ensure that the messages successfully remove, you must perform an iTunes backup before erasing them.
Conclusion:
If you've just erased iPhone 13 WhatsApp messages inadvertently, there's no need to panic. A periodic or automatic WhatsApp backup can help you to avoid any problems or loss of essential data. If you don't have a backup, you can download Magoshare iPhone Data Recovery to help you quickly recover deleted/lost WhatsApp messages from iPhone 13 or other iPad, iPod touch devices.