How to Recover Deleted Data from SD Card under Mac OS?
"Hi, I have a SD card which I use to save the photos taken with my digital camera. And a few days back, there's a terrible thing happened. I accidentally deleted a folder which was full of photos of me and my family on our last vacation to the beach. Those are memorable photos for us, so I don't want to lose the photos. Can you help me to solve my problem? I need the easiest way to recover the deleted data from the SD card on my MacBook. Please help!"
First, if you're facing this issue, don't panic! It won't solve your problem anyway. And as long as you don't take new photos with the SD card, you can recover deleted data easily. Many of Mac users like you use SD card as a reliable media storage to save photo which taken with Digital Camera or Smartphone. But, when you deleted some files it won't go to the trash bin like what happens when you accidentally delete files on your computer.
So when you accidentally deleted some photos or other data from a SD card, you may become panic because you can't find the photo anywhere. Indeed, it could be found anywhere including in your SD card. But the truth is, it was still there until you overwrite them with new files. You just can't see them because it's invisible.
Like what you've read above, as long as you don't take new photos or save any other files, you can recover the lost files easily. There is various way you can try to recover your lost files. However the easiest one probably is by using Mac data recovery software. With Mac data recovery software, you can easily and quickly recover deleted data from SD card under Mac OS.
The most recommended software to recover your files from SD card on Mac is Magoshare Data Recovery for Mac. This one made specifically for Mac OS, and of course, it is perfectly suitable for almost all Mac OS versions. It means that you won't face any problem while using this software. Aside from that, this software is able to do a deep scan which will scan all the lost files on your SD card under Mac OS. Almost all type of files could be recovered using this software, including your lost photos, videos, audio, documents.
Easy guide: how to recover deleted data from SD card on Mac
Magoshare Data Recovery for Mac is powerful and easy-to-use data recovery software. It can easily and completely restore deleted data from SD card under Mac OS. It also can help you recover SD card when the SD card is formatted or erased. Now, you can follow the easy guide below to recover deleted SD card data under Mac OS.
Step 1: Choose the SD card.
Run Magoshare Data Recovery on your Mac computer, it will show you all the hard drives and external devices on this Mac. Select the SD card at first.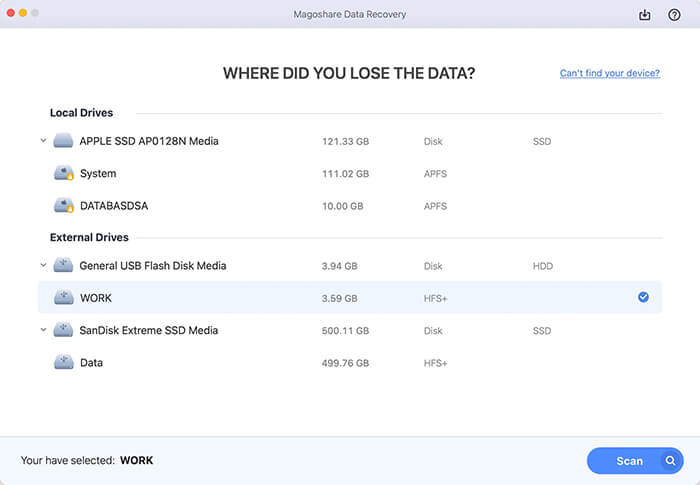 Step 2: Scan the SD card to find deleted data.
Click on "Scan" button to scan the SD card to find all deleted data.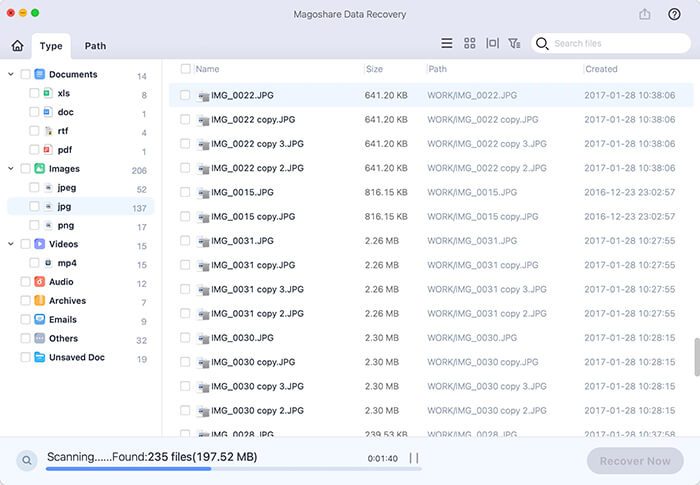 Step 3: Recover all the deleted data.
After the scanning process is complete, choose all the files you want to recover. Next, just click "Recover Now" button to start the recovery process. Now, just wait until the recovery process is complete. That's it. After the process is complete, it means you've recovered all your data. Good job!