Best CCleaner for Mac Alternative Download
About CCleaner
CCleaner is a very popular cleaning application for PC. It can scan the PC and find junk files. PC users can use CCleaner to clean up computer and shred files. Is there a CCleaner Mac version? Actually, there is no CCleaner for Mac. But, in this article, I will show you CCleaner for Mac alternative to help you clean junk on Mac.
Top CCleaner for Mac Alternative
CCleaner is one of the most popular cleaning software for PC. However, the interface of CCleaner is very old and it doesn't have all clean features to meet various data clean needs. Here we will recommend you the best CCleaner for Mac alternative that is much more powerful than CCleaner itself. AweCleaner – the most comprehensive yet easy-to-use Mac cleaner, is the best CCleaner for Mac alternative for Mac users to easily and quickly remove junk files inside a Mac.
Free Download

CCleaner for Mac alternative has 9 main features:
Mac Cleaner – easily and quickly find all junk files in your Mac. You can remove all junk files with only 1 click.
Mac Uninstaller – uninstall Mac apps one by one or in batches and remove all associated files.
Duplicate Finder – find and remove duplicate files to free up disk space. Large File Finder – find and remove large files on your Mac.
Disk Manager – format disk on Mac. Quit APPs – quit all running apps and process to free up memory.
Manage Startup Items – add or remove startup items.
Internet cleanup – clean up internet traces and junk.
File Shredder – permanently shred files and folders that contain sensitive information.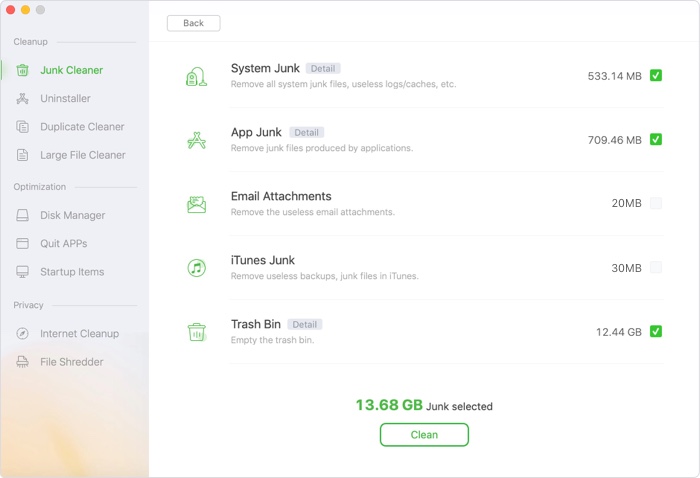 CCleaner for Mac alternative can not only clean up junk files on Mac, but it also can find duplicates, manage disk, clean up internet privacy, etc. It can do much more things than CCleaner. It is very easy-to-use, any of us can use it on Mac to do cleaning job. It supports all popular Mac operating systems.
Free download CCleaner for Mac alternative now:
Free Download