How to Find and Remove Duplicate Files on Mac?
Disk space of SSD is very precious for Mac users. However, duplicate files take up great deal of disk space on your Mac. Your photograph library is full of same photos and images. Your music organizers are loaded with such a variety of copies that you can't tell what's new and what's left over from Napster. How to find and remove these duplicate files inside your Mac to free up disk space?
Most of Mac users know how to find and download duplicate finders to help remove duplicate files on Mac. This is the most common way to clean up unnecessary copies or identical documents from Mac computer. The quality of duplicate finder is very important. You never want the duplicate cleaner to remove wrong files on your Mac.
Smart duplicate finder download
AweCleaner is a comprehensive Mac cleaner. It offers reliable duplicate finder to help Mac users to find and remove duplicate files on Mac. It offers advanced scan mode to find all duplicate files on your Mac such as photos, documents, videos, audio, archives, etc. Free download it here.
Free Download

AweCleaner is pretty simple to use. It will quickly find all the duplicate files on your Mac. You can decide to remove these duplicate files or not. The steps: open AweCleaner – click "Duplicate Cleaner" – Scan your Mac – remove duplicate files.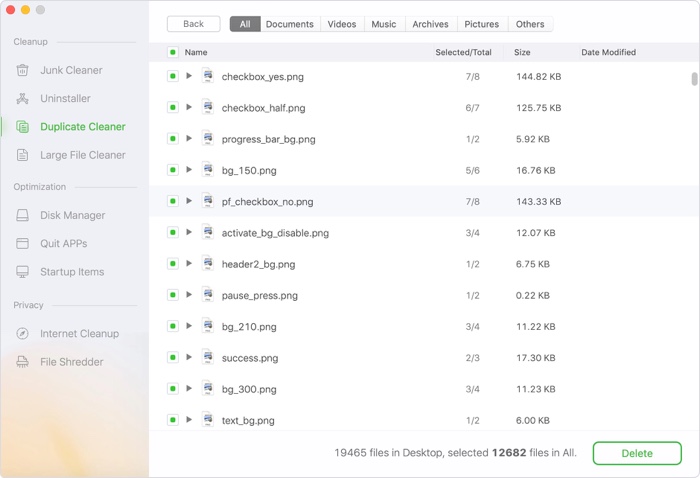 It is very easy to find and remove duplicates on Mac with AweCleaner. It offers precise and safe scan to ensure find useless duplicate files on your Mac. You can preview the duplicate files to check if you want to remove them.
AweCleaner also can help you clean up junk files, find and remove large files, shred sensitive data on your Mac. It is the most popular Mac cleaner on the market. If you want a fast and clean Mac, just download it to help you clean up useless junk and data.
Free Download