Top 5 EaseUS BitWiper Alternatives for Windows and Mac [Free Data Eraser Included]
EaseUS BitWiper is an easy-to-use data erasure program. But this software is very expensive. If you want to permanently erase data, but don't want to pay for EaseUS BitWiper, just try the alternatives.

Recycle bin is the default location for files and folders that have been deleted from your computer. Until you empty the recycling bin, they will be there. The problem is that data may still be recovered using file recovery software even after the recycle bin has been cleared. As a result, data erasure software is always recommended, EaseUS BitWiper is such a data erasure program which is able to securely and permanently shred data.
Data erasure is the process of permanently deleting sensitive data and overwriting the data that has been deleted. After data erasure, it won't be easy to retrieve the information. The data must be erased before the computer is sold, donated, or disposed of in order to prevent anybody from accessing it.
You may use data erasure software such as EaseUS BitWiper if you want to fully erase the hard drive and make the data unrecoverable and impossible to retrieve. For permanently wiping data on Windows 11/10/8/7/Vista or Mac OS, we've compiled a list of the best data erasing software to replace EaseUS BitWiper.
Best 5 EaseUS BitWiper alternatives
EaseUS BitWiper only provides a Windows version for erasure. In the list of EaseUS BitWiper alternatives, you also can download Mac data erasure software to help you permanently wipe data on Mac.
No.1 EaseUS BitWiper alternative - AweEraser
AweEraser is a famous data erasure program which is able to securely and permanently erase data from HDD, SSD, PC, Mac, USB flash drive, memory card, digital camera, etc. It offers military & government data erasure standards including HMG Infosec Standard 5 (1 pass), Peter Gutmann's algorithm 2 (2 passes), U.S. Army AR380-19 (3 passes), DoD 5220.22-M ECE (7 passes), Peter Gutmann's algorithm 35 (35 passes).
Three data erasure modes: erase files, erase hard drive, erase free space.
Permanently wipe any kind of data.
Very easy to use.
Whether you want to permanently delete a private file, or wipe an entire hard drive, AweEraser is a good choice. Once your data is erased by AweEraser, the data will be lost forever, can't be recovered by any data recovery software.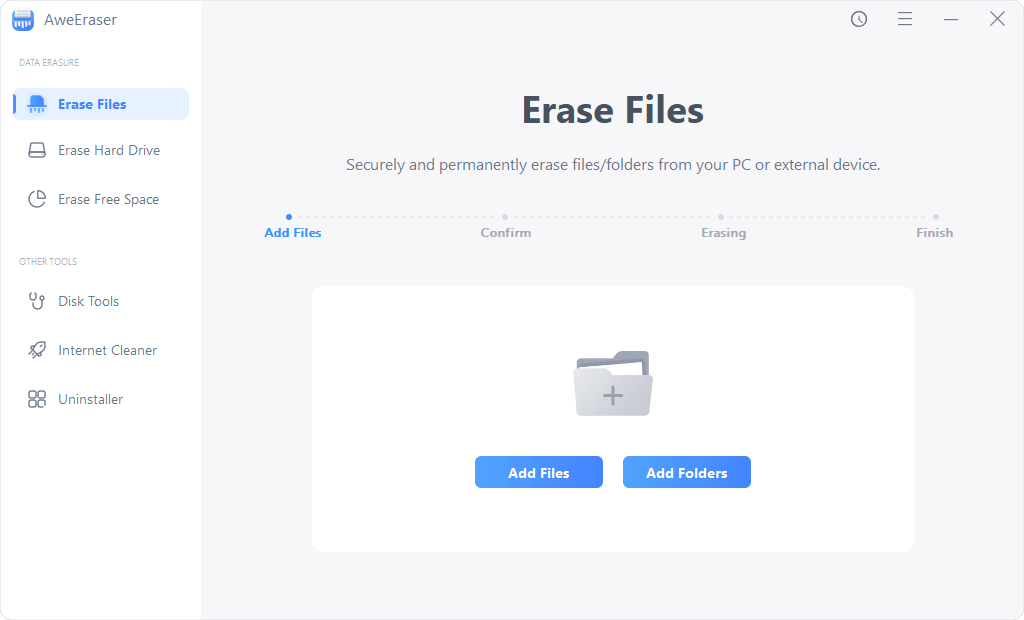 NO.2 CBL Data Shredder
CBL Data Shredder may be used both within and outside Windows as a free and open-source application, making it an extremely useful tool. Any operating system on a hard disk may be erased with this tool when executed from outside of Windows.
This free utility allows you to wipe clean any external or internal disk other than the C: drive, which is often the one you use for Windows. Create your own wipe method by specifying a string of zeros, ones, or other text to be overwritten. This option is available for those who want more thorough cleaning.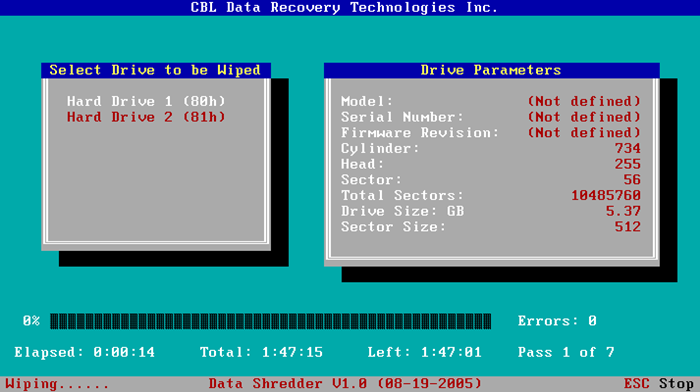 NO.3 Bitraser File Eraser
When using Bitraser File Eraser, all data on a computer or laptop is completely erased, making it impossible for anybody to retrieve the data in any way. The program primarily serves as a file shredder, ensuring that no data can be recovered in the case of a crisis.
It is possible to completely erase files, directories, drive partitions, and internet history using BitRaser File Eraser. It is equipped with the most advanced erasing algorithms globally, ensuring that the data is quickly and completely destroyed.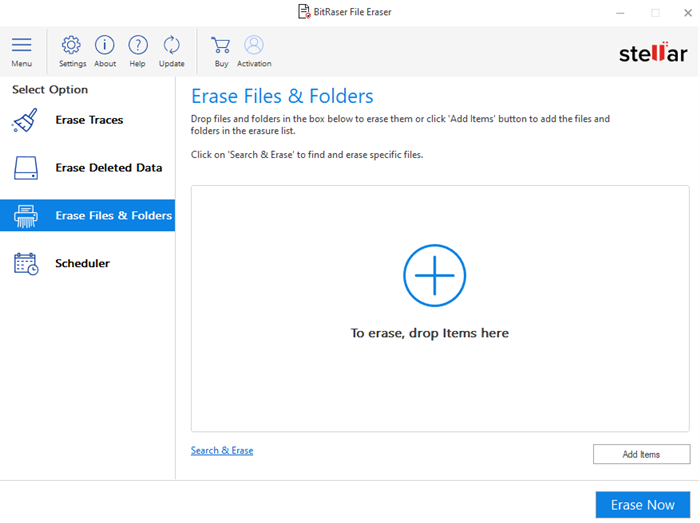 NO.4 KillDisk
KillDisk is a free data erasing tool that can wipe all of the files on a hard disk in a safe manner. Windows, Linux, and Macintosh computers may be used to install and boot from the disc. KillDisk may be run as a regular application inside the operating system or from a disc. To create a bootable application, you'll need to launch Boot Disk Creator.
However, if you're using the bootable version, you can only see text and cannot wipe a whole hard disk at once (even if it already has an operating system on it). Solid-state drives and traditional hard drives may both be used with KillDisk.
Only the professional edition of KillDisk has access to all of KillDisk's options. In Windows 7, 8, 9, 10, XP, and Vista, you may use KillDisk to delete files. There are also Linux and Mac versions available.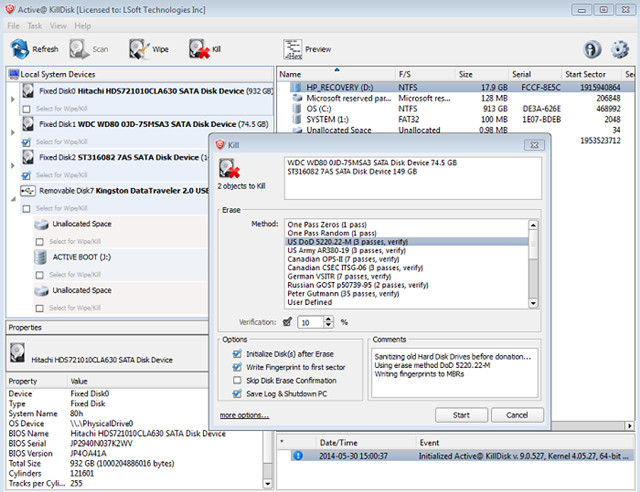 NO.5 Disk Wipe
Disk Wipe is a portable Windows data destruction tool that can wipe any hard disk using many data wiping techniques to erase all of its contents. It is not necessary to install Disk Wipe in order to utilize it. Once the application has been executed, all of your hard disks, internal and external, as well as flash drives, will be shown.
Due to its operating system-based nature, Disk Wipe can only be used to delete the drive on which the operating system is installed, rather than a disc-based one. You may choose a default volume label from the settings for freshly formatted disks. Once the process begins, choose a hard disk and click Wipe Disk.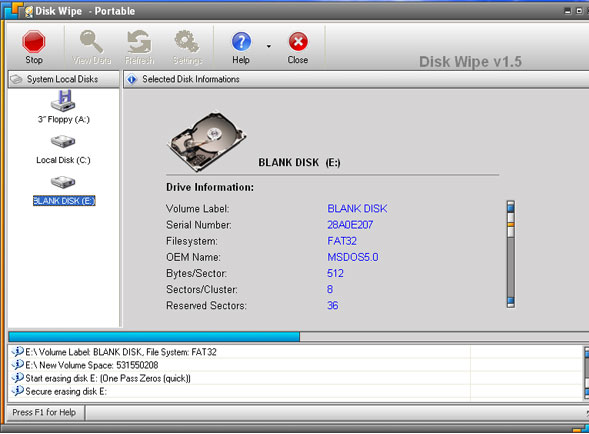 Caution: You must use extreme caution while utilizing the data erasing program. Unintentional deletion of crucial data would make it hard to restore it.
Conclusion
It would be great if you took all necessary safeguards to protect your sensitive data in this era of massive data transfers. If you intend to recycle or dispose of your computer or hard drive, the easiest method to protect yourself is to use data destruction software to wipe your disk clean.
You may be certain that each of the programs mentioned above has been carefully selected to meet your data-erasing requirements. You may look at the characteristics of many programs and choose the one that best meets your needs.