How to Delete Photos Permanently from a Digital Camera?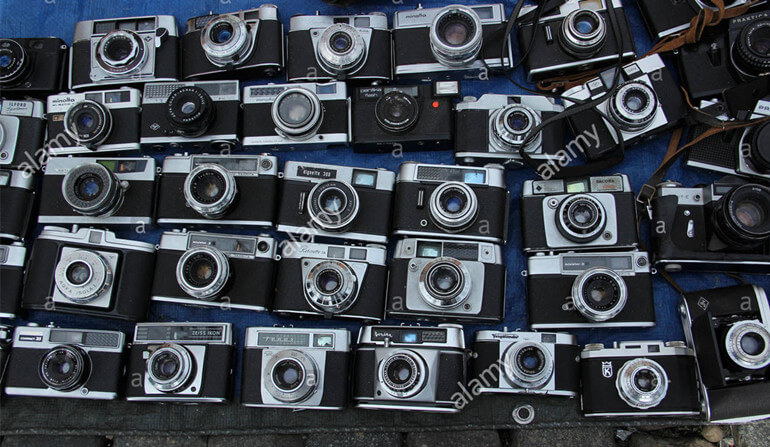 Digital cameras have revolutionized the world of photography. Unlike traditional cameras, digital cameras have a built-in computer that records images electronically. Being one of the most remarkable inventions, modern digital cameras include sophisticated features that are very useful. Powerful optical zoom, megapixel image resolution, full image processing, high resolution, built-in memory cards, reading and many more.
Digital camera memory is an essential part of digital photography equipment. As a general rule, the internal memory of digital cameras does not support storing huge amount of photos/videos, so digital camera memory cards are used. These memory cards store all the photos and videos taken with the digital camera. If your card is full of photos and you need more space, you can erase/delete pictures from it. On the other hand, if the performance of your digital camera becomes slow, you can format the memory card. However, a memory card must be formatted several times a year for good performance.
Erasing/deleting images from your digital camera, does not actually delete the data it contains. If you plan to get rid of your digital camera or memory card, you will have to permanently delete the photos on it. In this situation, to permanently delete photos you need good shredding drive software. File Shredder can help you shred files from a digital camera memory card beyond recovery. File Shredder completely erases the files from your memory card, with no possibility of recovery by any software or practical material methods. It also makes it easier for the user to shred hard drive folders in a few mouse clicks.
Download the best file shredder software - AweEraser
AweEraser is one of the best file shredders. This tool can help you securely and permanently delete photos from any brand of digital camera.
Certified data erasure standards including HMG Infosec Standard 5 (1 pass), Peter Gutmann's algorithm 2 (2 passes), U.S. Army AR380-19 (3 passes), DoD 5220.22-M ECE (7 passes), Peter Gutmann's algorithm 35 (35 passes).
Three flexible data erasure modes.
Once your photos in a digital camera are erased by AweEraser, the photos will be gone forever, can't be recovered by any data recovery software.
AweEraser is a 100% safe data erasure program. It will not cause any damage to your digital camera or memory card. With this software, you can securely shred & erase data from HDD, SSD, memory card, digital camera, external disk, etc. Download it here:
Permanently delete digital camera photos with AweEraser
Step 1: Download and install AweEraser on your Windows computer or Mac computer. Launch it either by selecting the program from the Start menu or by double-clicking the shortcut on the desktop. Once the File Shredder software is started, it starts loading the drives to the left tree pane. Select Erase Files option to wipe the digital camera files.
Step 2: Select the photos from your digital camera or drag photos from digital camera to the erasure area.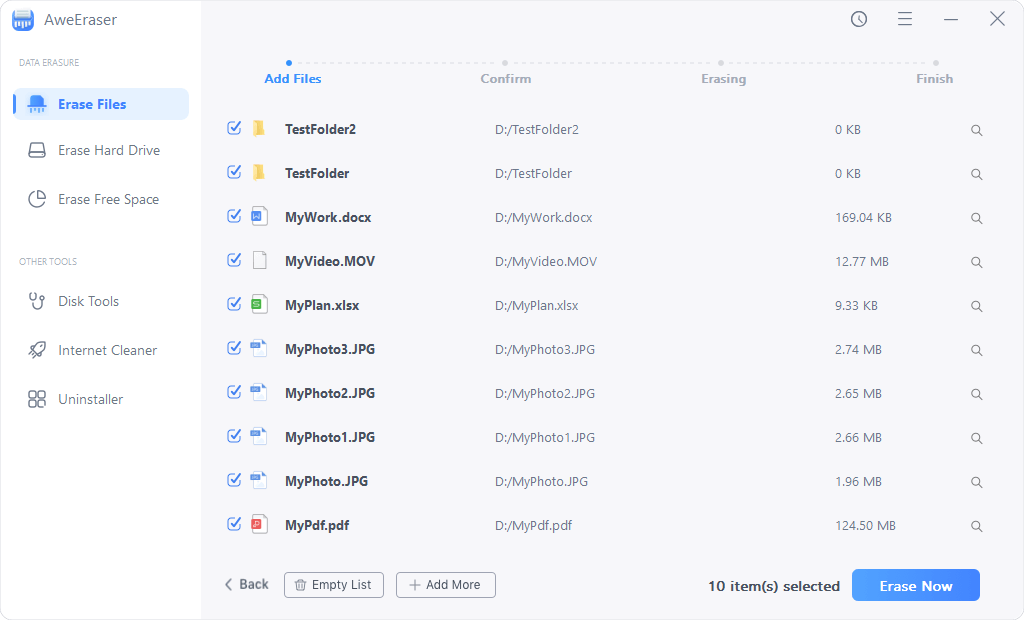 Step 3: File Shredder tools provides 5 deleting methods and they are categorized into different levels to clear the data that is based on the security model. Choose the shredding pattern and click "Erase" button.
Step 4: Once the erase method is selected, a file destruction process will start based on the selected wipe method.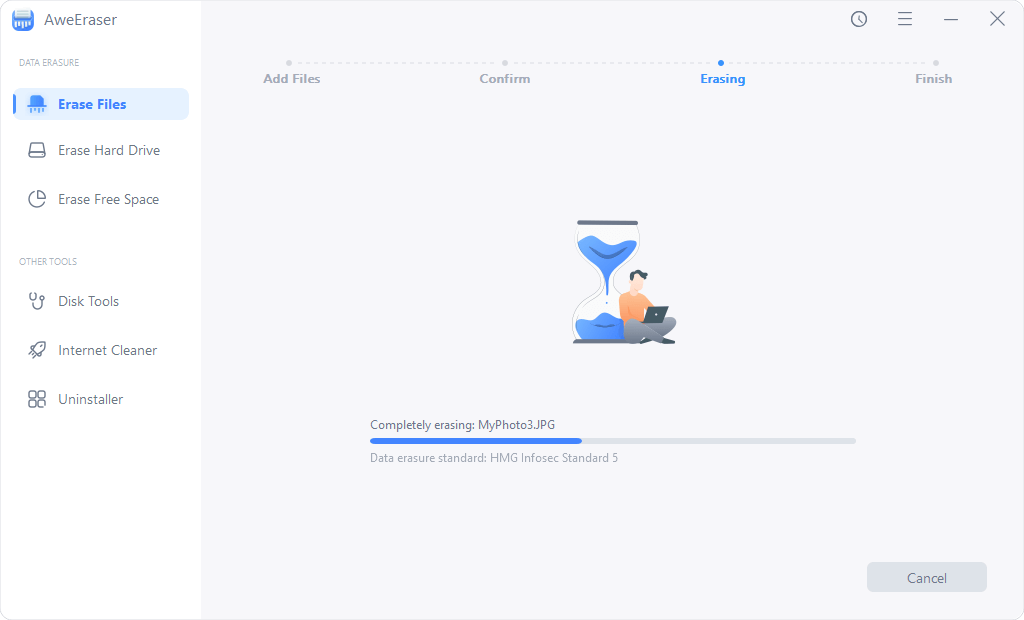 Step 5: After the successful deleting process of digital camera photos, a message would pop confirming the completion of the deleting process.
AweEraser will permanently delete selected photos from your digital camera. Once the photos are erased, they are lost forever, can't be recovered by data recovery software or manual data recovery service. It also can help you wipe all photos from digital camera. Just select the digital camera and wipe it thoroughly. AweEraser offers another tool called "Erase Free Space". This tool will help you permanently erase already deleted photos on your digital camera without affecting the existing photos.