How to Shred Sensitive Data on a Hard Drive?
If you are the trusted person in your company who work with a lot of sensitive data files which should not be seen, read or accessed by other people who shouldn't see your company's sensitive data, then you must make sure all the data is shredded, destroyed, and gone forever once it isn't needed anymore. Or before you sell or donate your computer, you also should permanently delete or shred all sensitive data on your hard drive.
After you protect all the data by using anything to make sure it's safe and secured inside the hard drive, you must be want to make sure it was shredded securely when it comes to deleting the data from the hard drive. However, you may already know that it wasn't that easy to securely shred sensitive data on hard drive. Yes, what I mean is, there are various ways to recover deleted, erased, or shredded data easily. Not to mention that there are also many data recovery software that could be downloaded for free. For instance, Magoshare Data Recovery can easily and quickly recover formatted, deleted data from any kind of hard drive.
Permanently delete or shred sensitive data on hard drive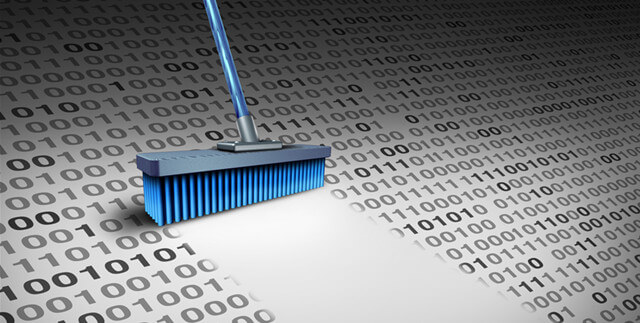 To permanently shred sensitive data on hard drive, you need special data shredding software, like AweEraser. AweEraser is an award-winning data erasure software. It offers government & military data erasure algorithms including HMG Infosec Standard 5, DOD 5220.22-M, U.S. Army AR380-19, Peter Gutmann's algorithm, to help in permanently destroying & shredding data information. AweEraser can help you:
Permanently shred any kind of sensitive data like videos, documents, voice recordings, pictures, archives, emails, etc.
Permanently shred sensitive data on SSD, HDD, external hard drive, USB flash drive, memory card, etc.
Permanently shred sensitive data on hard drive under Windows OS and Mac OS.
Once the data is shredded by AweEraser, the data will be permanently destroyed, can't be recovered by any data recovery method. And it will not affect the operating life of the hard drive. It is the reliable tool to permanently shred files on a hard drive.
Three sensitive data shredding modes
AweEraser offers three modes to help you securely shred sensitive data on a hard drive.
Mode 1: shred targeted files and folders on hard drive.
"Erase Files" can help you permanently shred targeted files or folders on a hard drive. You just need to add or select the files/folders from the hard drive, then click on "Erase" button to permanently erase these sensitive files/folders.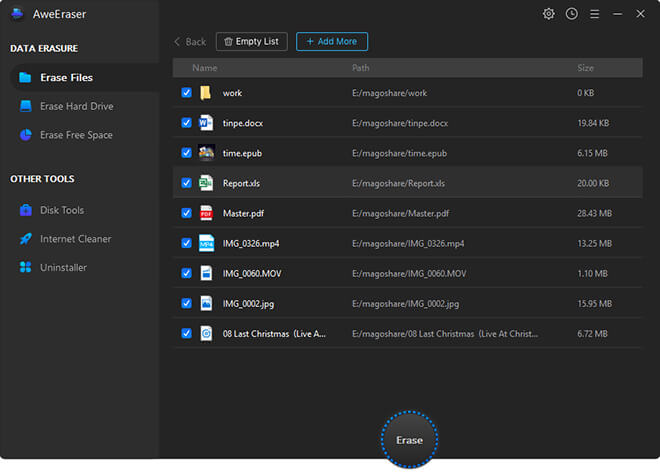 Mode 2: erase entire hard drive.
If all your sensitive data is stored on a hard drive and you will give your hard drive to other people, you can try this mode "Erase Hard Drive" to permanently erase all sensitive data on the hard drive. Please note that all the data on the hard drive will be permanently erased.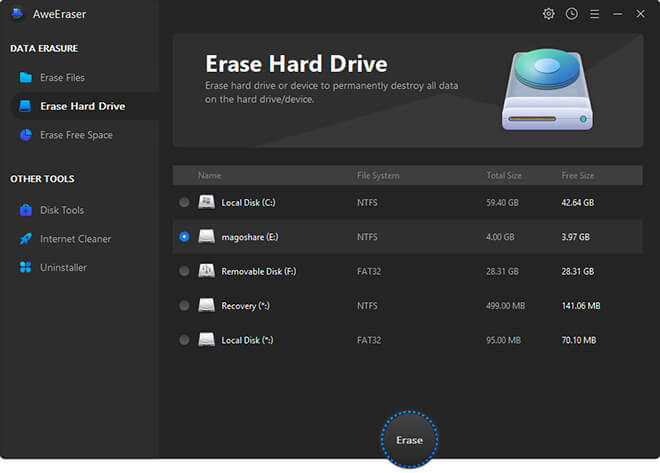 Mode 3: erase already data on the hard drive.
You delete some sensitive files, empty the recycle bin, and don't want to any people have the chance to recover the deleted files. This mode "Erase Free Space" can help you erase free disk space of the hard drive to permanently erase all deleted files/data on the hard drive.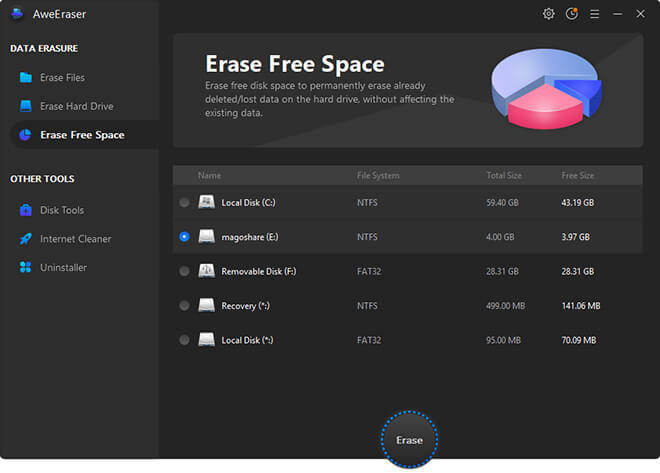 As you've seen, you can quickly and permanently shred sensitive data on a hard drive with AweEraser. This powerful file shredder can help you permanently shred your data before you donate, give away, sell or lend your hard drive/computer to other person. Don't let your sensitive data fall into the wrong hands!
Related Products
Securely shred files and wipe hard drive with military data erasure standards.
Download

Securely and permanently erase data from Mac hard drive or storage media.
Download