How to Recover Lost Data on ASUS Computer?
ASUS is one of the best multinational companies, which offers users high quality personal computers, monitors, WIFI routers, projectors, notebooks, graphic cards, peripherals, servers, tablets, motherboards, and even some technology solutions. After this brief description about the company, it is time to focus on our main topic. If you have one ASUS computer, you may store a lot of important data as well. This information should be saved, just in case of unexpected problems. People often feel very upset and even anxious when they lose important data from their computers, but there are several alternatives to recover what they need.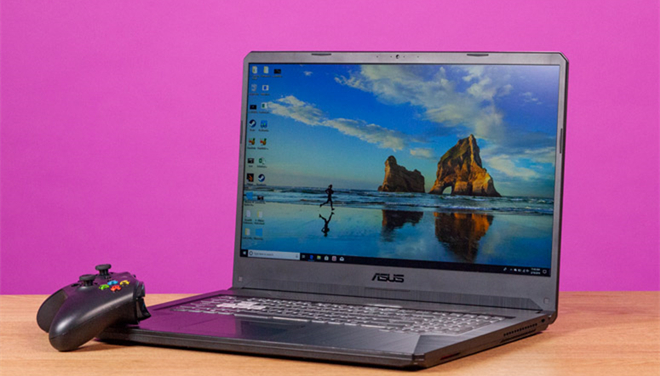 Steps to recover lost data from ASUS computer
If you lose data from ASUS computer, you may get that information back using different options, such us checking the recycle bin, a temporary folder, an external hard drive, or using a professional data recovery software. This last alternative is very convenient if you do not have any previous backup, which might make you feel terrified. Although it seems to be the end of your files, it is not totally true because you may choose a powerful ASUS data recovery program, and here we will recommend using Magoshare Data Recovery Software.
Magoshare Data Recovery can help you retrieve lost, deleted, formatted, and even corrupted information from diverse devices. Among these gadgets, we can mention the following ones: memory cards, MP3, MP4, local hard drives, external hard drives, digital cameras, smartphones, and other storage media. Magoshare is very easy to use; just follow these steps to recover lost data from ASUS computer.
Step 1: Download and install Magoshare Data Recovery Software.
The first thing you need to do is getting Magoshare ASUS data recovery software. Just download and install it on ASUS computer.
Step 2: Select ASUS computer hard drive.
Once you have run Magoshare Data Recovery on ASUS computer, choose the location where you lose your data. It could be a particular hard drive partition or the whole hard drive.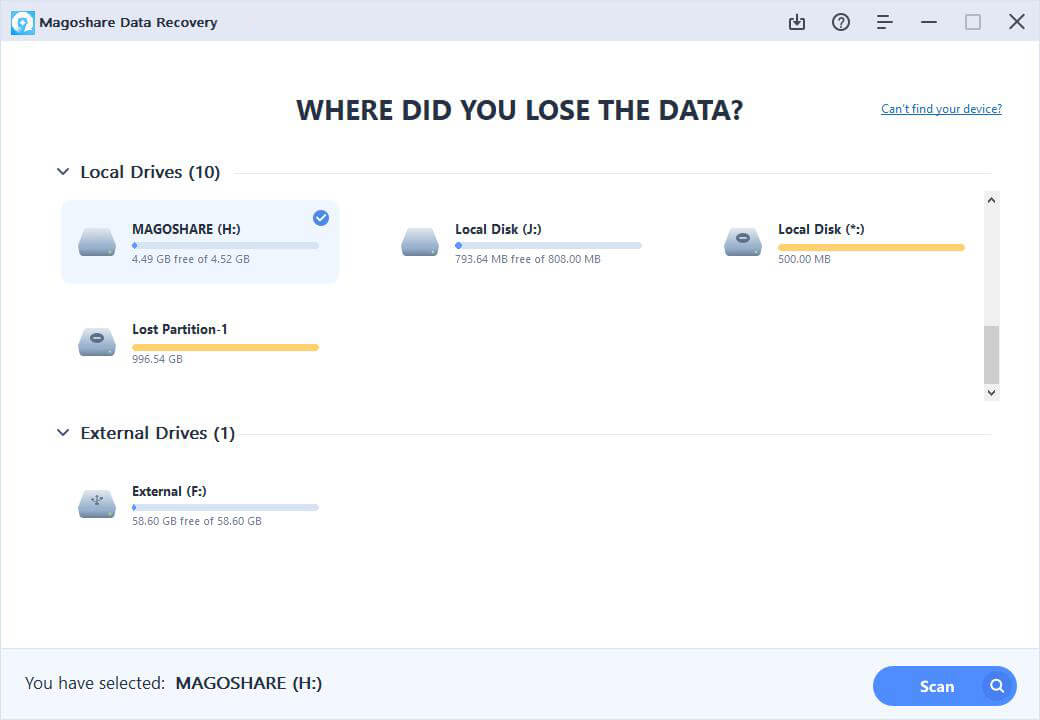 Step 3: Scan ASUS computer hard drive.
The next step is carrying out the hard drive scan. Click on the Scan button and be patient until the process is over. You can pause the scan, but it is not recommended; it is better to wait and then select the files you need back.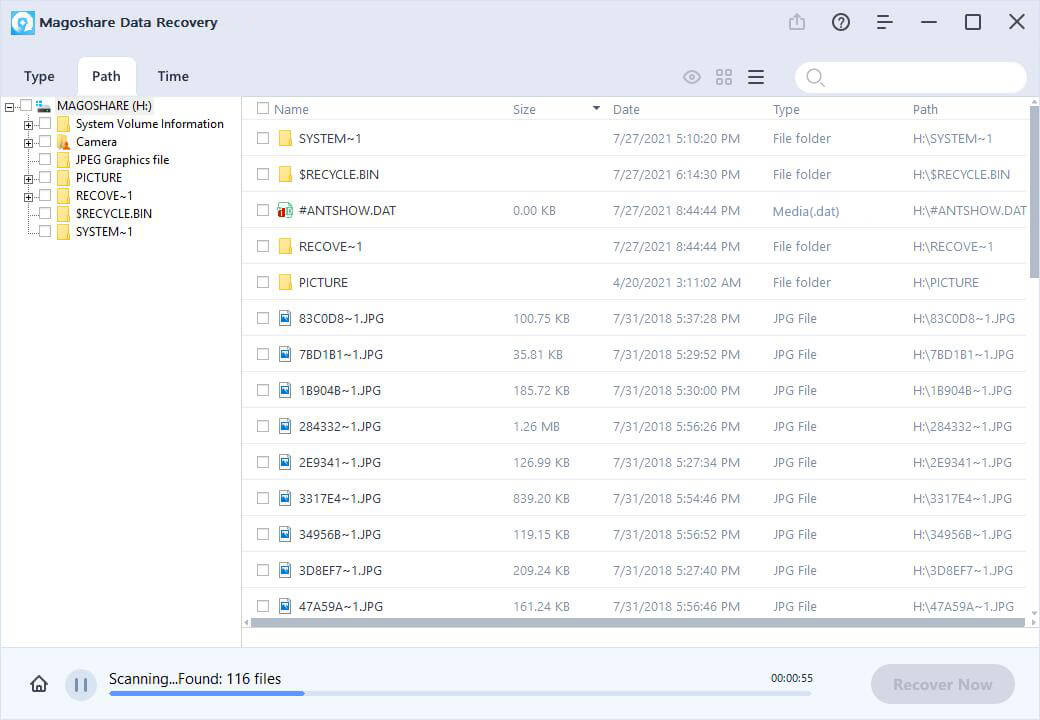 Step 4: Preview and recover lost data from ASUS computer.
When the scan is completed, preview, select and get the files you want. Click on the Recover Now button to save your files.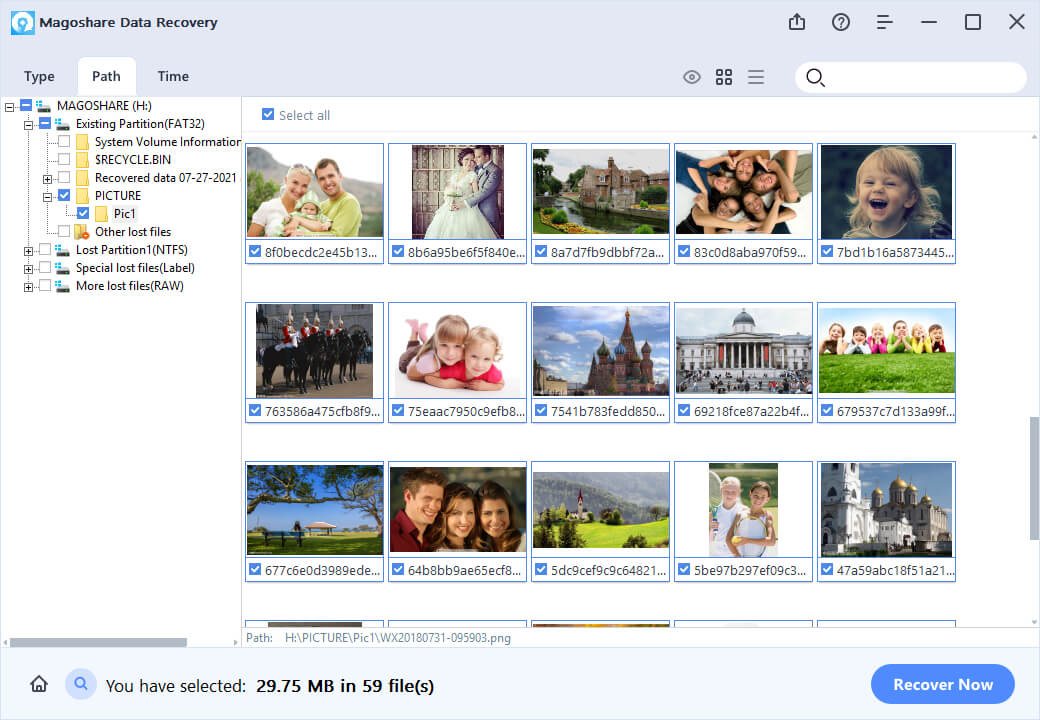 What seems to be the end of your information becomes something easy to solve. Just download Magoshare Data Recovery program and follow the simple steps we described previously. This program can be very useful and it is highly recommended by many users because they have had a satisfying and successful experience. You can retrieve lost or deleted photos, videos, PDF files, word documents, audios, music files, images, among other files. As you can notice, Magoshare is a great data recovery software. Download Magoshare Data Recovery here:
Some useful tips for ASUS computer data recovery:
1. Don't save new files to the hard drive where you lose your files before you get all lost files back.
2. Magoshare Data Recovery offers deep scan to scan your hard drive. Recover your data till the scan is completed.
3. If you want to recover deleted hard drive partition, just select the lost hard drive partition to scan.
Permanently erase sensitive data on ASUS computer
If you are going to sell your ASUS computer, you should permanently erase all data on your ASUS hard drive to prevent data recovery. AweEraser is a reliable data erasure program. It is able to permanently erase data on ASUS computer. Once the data is erased by AweEraser, the data is lost forever, can't be recovered by any data recovery software.