Microsoft Unformat Utility: Download and Unformat Hard Drive
Quick Navigation:
When you format a hard drive with data on purpose or by accident, you overwrite the existing file system database. The hard drive's file system database containing the deleted files is also deleted. As a result, the information and files on the formatted drive are permanently lost.
After formatting, you can save data to the drive. However, doing so could irretrievably lose data that could otherwise be salvaged. Stop using the computer or immediately reduce your workload if you want to unformat the hard drive you mistakenly formatted. If you do this, you'll have a better chance of restoring data through the unformatting process. In this article, we will introduce a Microsoft unformat utility to help you unformat hard drive.
What does it mean to unformat a hard drive?
If you want to know what unformat means, you need to know what format means. High-level formatting, or format, is a procedure that deletes all data from the selected partition on the drive and creates a new file system in preparation for its subsequent use.
When you unformat a hard drive, such as a USB flash drive, a hard drive, a memory card, etc., you restore the file system to its original state and attempt to retrieve any data that may have been lost during the formatting process. In Windows or Mac computers, the high-level format is the process of erasing all data from a storage device and resetting the file system for a targeted task.
Windows File Explorer, Disk Management, and the format command in the command prompt allow regular users to perform advanced formatting tasks. What should you do if you accidentally formatted the wrong drive? Users can retrieve their lost data immediately by following the steps below to unformat their drive safely.
Download the best Microsoft unformat utility
A common reason for data loss is formatting a hard drive or USB flash drive, memory card, etc. Microsoft unformat utility can help you securely and completely recover lost data from the formatted hard drive, USB flash drive, memory card, etc. Magoshare Data Recovery is one of the best Microsoft unformat utilities which is able to recover deleted, formatted and inaccessible data on Windows PC or from external storage device. Download this Microsoft unformat utility:
Magoshare Data Recovery
Unformat any hard drive or external storage device.
Recover inaccessible or crashed data.
Unformat hard drive using Microsoft unformat utility
Magoshare Data Recovery is DIY data recovery tool. After data loss, don't use your hard drive. Immediately run this Microsoft unformat utility to scan the formatted hard drive and find all lost data.
Step 1. Download and install Magoshare Data Recovery on your computer. Then open it and select the formatted hard drive to start data recovery.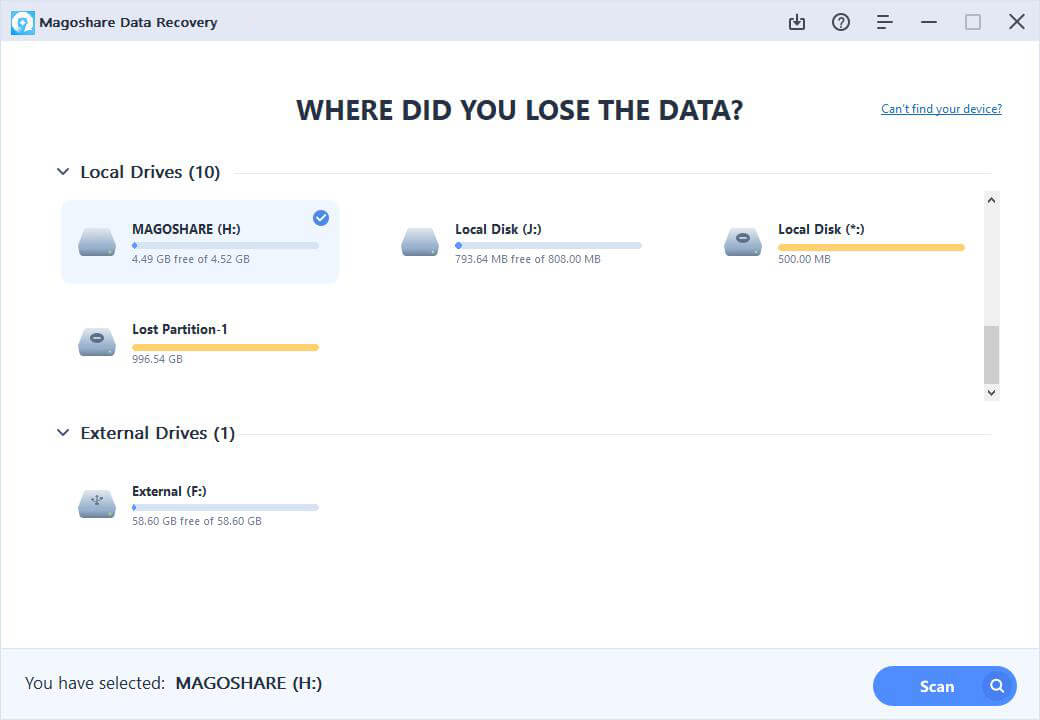 Step 2. Click on Scan button to deeply scan the formatted hard drive and find all recoverable files.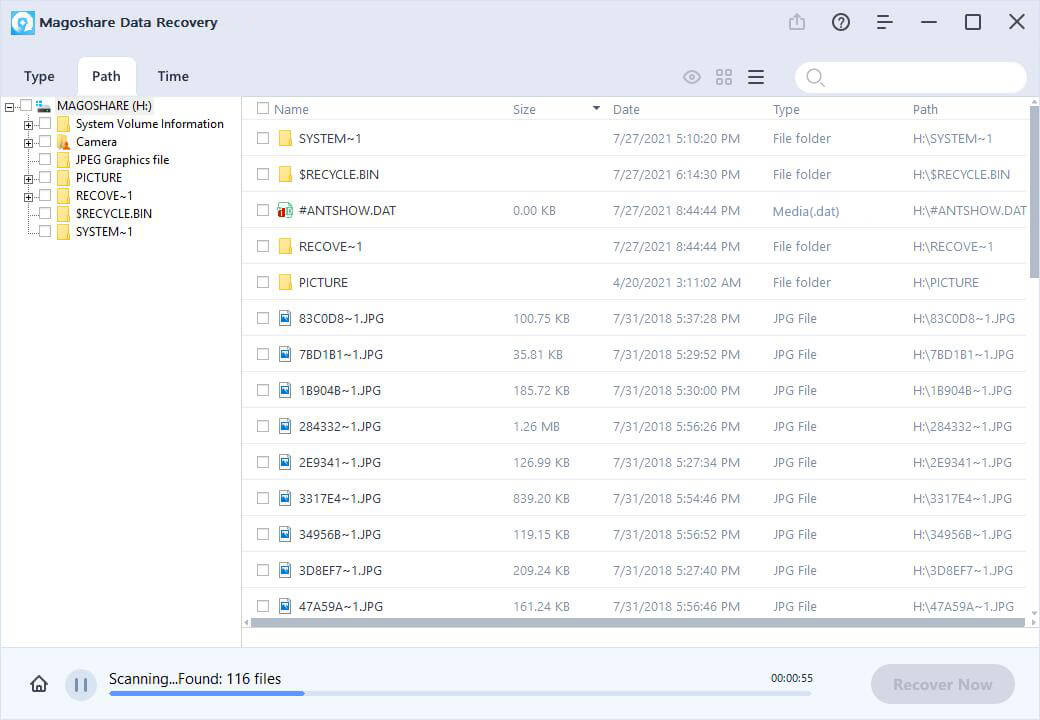 Step 3. Once the scan is completed, you can preview all recoverable files. Then select the wanted files and click on Recover Now button to save them.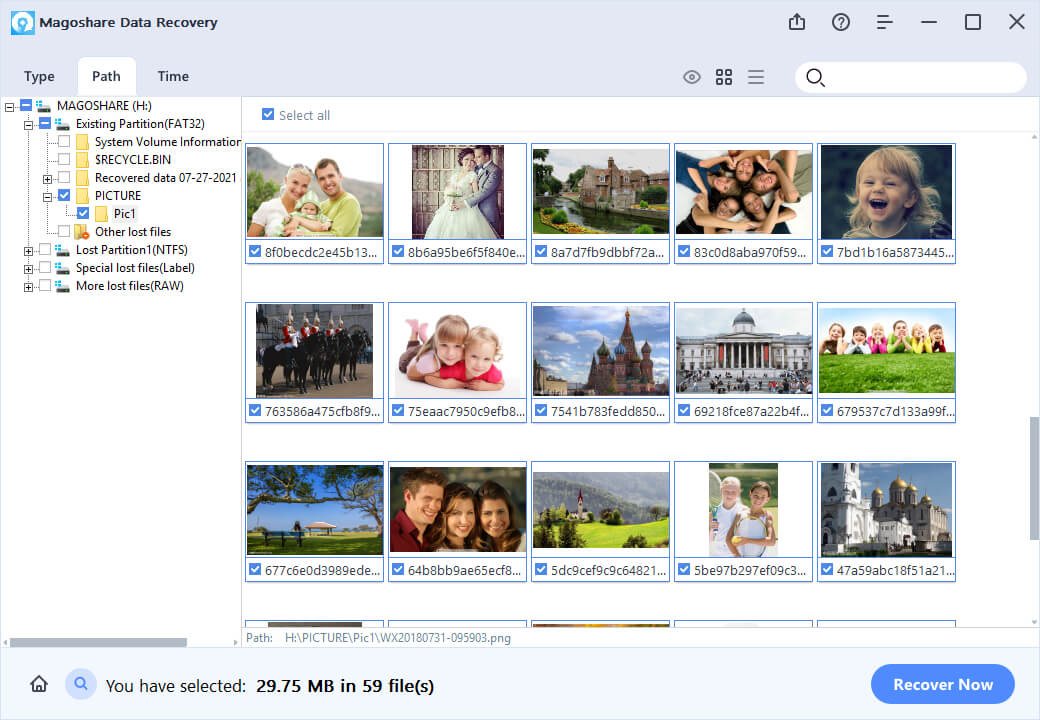 That's how to unformat a hard drive using Microsoft unformat utility. This hard drive unformat software is able to deeply scan the formatted hard drive, USB flash drive, SD card and find all recoverable files.
How to avoid data loss due to accidental disk formatting?
There are a few tricks you may employ to keep your data safe from the dangers of formatting. Any one or more of the following can be followed:
Put an end to writing to the formatted drive so no more data is lost.
You should get anti-virus software and run scans regularly.
Make an instant disk backup of all your data. Everything on a disk will be included. You should schedule a backup process to save all the data that has been modified on this drive.
When disconnecting an external USB hard drive, eject it first.
Unformat a disk on Windows 10 or 11 using reputable data recovery tools.
The ideal method is to set up automatic file duplication. It would help to have trustworthy Windows backup software to complete the task and incorporate all necessary adjustments.
Step 1. Acquire a Windows backup program and set it up. Then, select the disk you want to back up and go to its Backup menu > Disk Backup.
Step 2. Make use of Task Name to tell your backup tasks apart. To add a disk to be backed up, select it by clicking the "Add Disk" button.
Step 3. Decide where you want to put everything on your external disk. Disk backups can be moved to any external media, including another disk, a USB drive, a network drive, a NAS, the cloud, etc.
Step 4. Back up your Windows disk by clicking the Start Backup button. If you change the disk, it will automatically back up only the modified files.
FAQs about Microsoft unformat utility:
Conclusion:
We reviewed the steps necessary to retrieve information from a formatted hard drive and defined the term unformat. If you have accidentally formatted a hard drive, you should immediately cease using it and seek assistance from reputable unformat software, such as Microsoft unformat utility. All data stored on a hard drive volume will be deleted after formatting.
Preventing data loss due to accidental formatting and other blunders is as simple as backing up your files regularly to an external storage device, network drive, or the cloud. And if the backup is old or unavailable, utilize Magoshare Data Recovery.