SAS Hard Drive Data Recovery
Quick Navigation:
The high availability, dependability, and data security requirements of today's computer users are met by the SAS (Serial Attached SCSI) hard disk drive. However, it can also cause a lot of problems at times. If you lose data on your SAS drive due to a virus, a system crash, or a power outage, you're in for a world of hurt. Since retrieving lost data from a SAS disk is no simple task. However, in the event of data loss on a Windows PC, using Magoshare SAS disk data recovery software is a quick and simple process.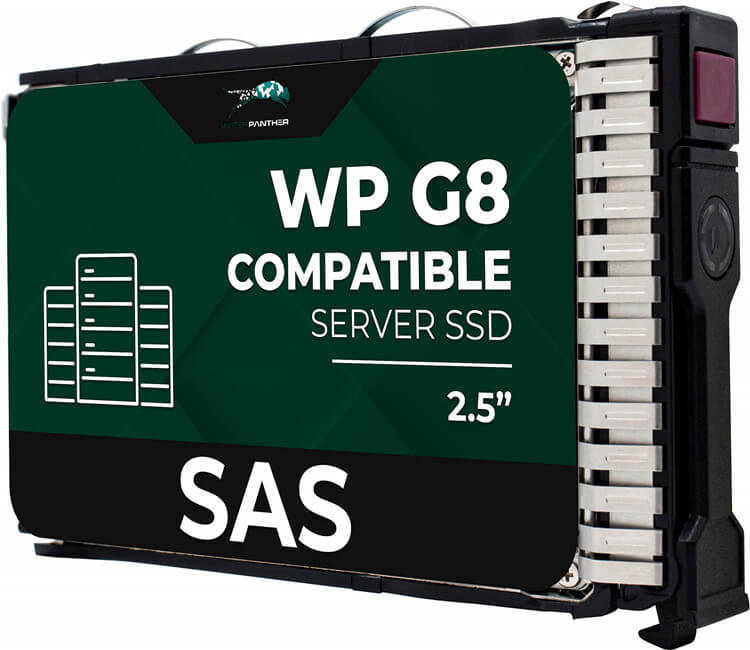 How Realistic Is SAS Hard Drive Recovery?
SAS hard drive recovery is doable using a trusted and expert program like Magoshare data recovery. It is impossible to recover files from a corrupted SAS hard drive manually, and you should not attempt any diagnostic methods. When trying to recover data from a corrupted SAS drive, it's important not to use any methods that could further damage the disk.
The deep scan function of the Magoshare Data Recovery software thoroughly examines your SAS hard disk and returns useful results. Files on your SAS hard drive can be successfully recovered using the Magoshare data recovery program equipped with an adaptive algorithm.
What Can Lead to SAS Hard Drive Data Loss?
Even if you've taken every possible action to protect your SAS hard drive, there's still a chance that it could fail due to factors you haven't even considered. Consider a few of the potential causes of data loss:
SAS HD Corruption: Corrupted SAS hard drives cause significant data loss due to factors including operating system failure, virus attacks, RAW file system, and so on.
OS-Related Issues: Data loss from SAS HDD is likely if you don't back up your Windows system before installing, reinstalling, or upgrading the operating system.
Bad sectors on SAS hard drives: When a SAS hard drive has a read-write head crash, prolonged use, or overclocking, it can cause faulty media spots or bad sectors to appear, resulting in catastrophic data loss.
Key Steps for SAS Hard Drive Data Recovery:
When a server has physically failed, the data recovery technique is typically "invasive," meaning that the hard disk case must be opened, diagnosed in a lab, and any damaged parts, such as the head assembly, must be replaced. The following procedures are carried out only in a laboratory equipped with a Class 100 Clean Room:
Checking for Functions:
The RAID server's SAS hard drives are tested for functionality and failure indicators like clicking or beeping noises at this stage. The suspected hard drives are separated for further analysis and potential data retrieval.
Lab-based analysis:
The hard drive's head assembly, arms, actuators, servo controller, etc., are examined once the case has been opened in the Class 100 Clean Room. The breakdown of mechanical parts like the head assembly is a common cause of hard disk failures.
Replace head assembly and clone disk:
Data recovery from the SAS disks of a dead server requires this procedure. Here, we use state-of-the-art lab techniques to transplant new parts onto the physically damaged hard drive, such as a new head assembly. Finding the right replacement part is a major challenge in this stage that ranks up there with the knowledge, skills, and equipment required to replace the head assembly.
How Does Magoshare Recovery Tool Recover SAS Hard Drive Data?
If your SAS HDD gets fully formatted or corrupted, you can access your data by plugging it into a computer running a clean version of Windows. Get the Windows version of Magoshare Data Recovery and install it. Launch the program and discover simple data recovery from a SAS drive.
Magoshare Data Recovery
Recover lost data from SAS HDD or SSD.
Unformat a hard drive.
Recover deleted files or inaccessible data.
Step 1. Select the SAS hard drive.
Download and install Magoshare Data Recovery on your computer, then connect the SAS hard drive to your computer. On the first interface of Magoshare Data Recovery, select the SAS hard drive to start data recovery.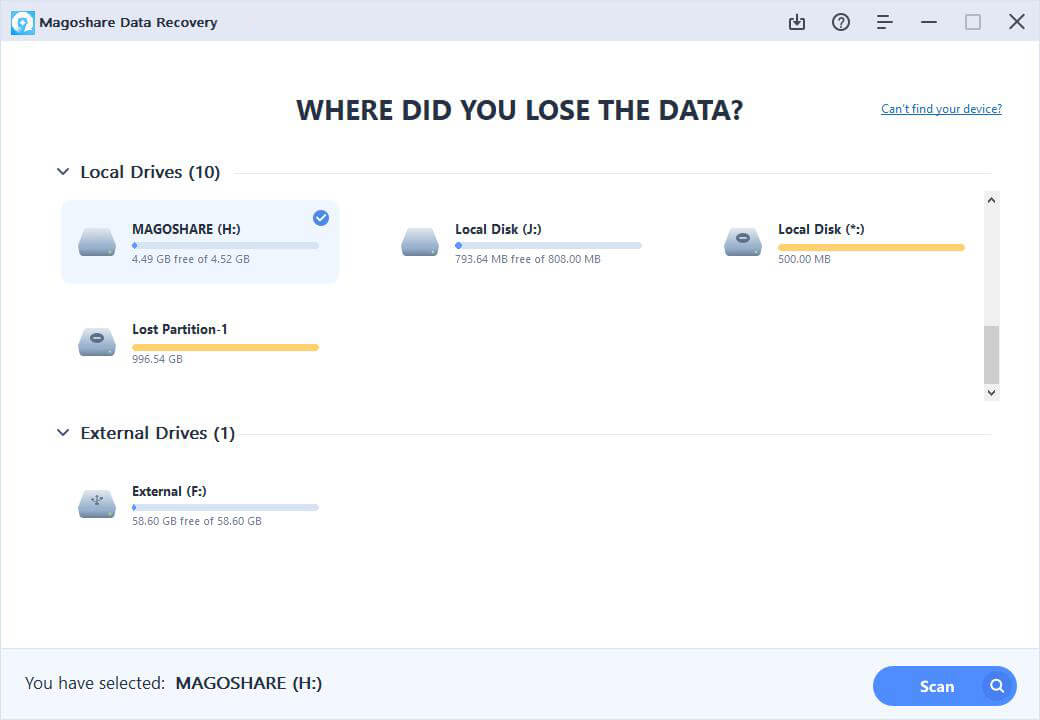 Step 2. Scan the SAS hard drive.
Click on Scan button. This SAS hard drive recovery software will deeply scan the SAS hard drive and find all recoverable files.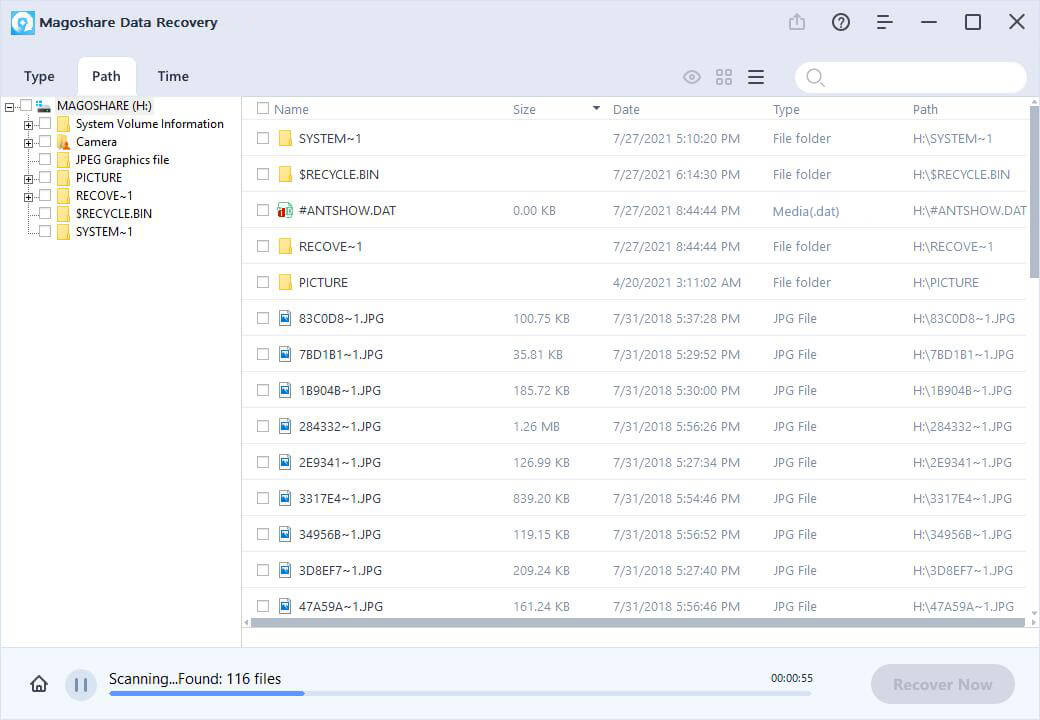 Step 3. Recover lost files.
Once the scan is completed, you can preview the recoverable files. Then select the wanted files and save them by clicking on Recover Now button.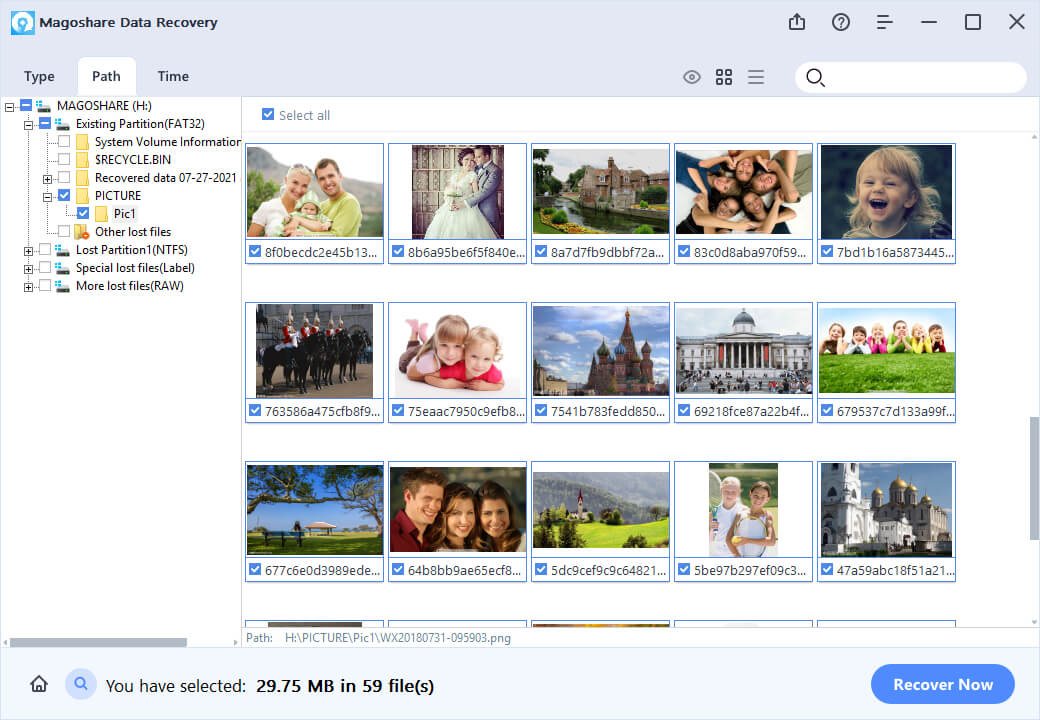 SAS Hard Drive Data Recovery FAQs:
Conclusion:
Fortunately, SAS hard disk data recovery software like Magoshare hard drive recovery may be used to rescue lost or deleted files in many cases. When data is lost or deleted from a SAS hard drive on a Windows computer, this is the best option to get it back. The software can recover data from corrupted and inaccessible volumes on SAS hard drives, including documents, MS Office files, compressed files, images, movies, audio, and games.