Can't Find Recycle Bin on Desktop? Here's What to Do
Quick Navigation:
Windows Recycle Bin is a useful feature to recover files or folders you previously deleted from your PC or device. You can empty the Recycle Bin to permanently delete the files or restore the deleted files from Recycle Bin.
Sometimes, Recycle Bin icon is missing from your desktop. You might remove the icon by accident. Can the Recycle Bin icon be found? Yes, of course. There is no need to panic if Recycle Bin suddenly goes missing on desktop. We will show you everything about Recycle Bin, why the icon is missing, how to find the missing Recycle Bin.
Why is your Recycle Bin missing?
Generally, the Recycle Bin is missing due to accidental deletion, configuration change, system corruption or malware attack. Besides, Windows updates that make changes to your Windows settings can also cause the Recycle Bin to suddenly disappear from your desktop.
How to Restore Recycle Bin on Your Desktop?
There are several ways to help you find Recycle Bin. You can just following the instructions, and then will get Recycle Bin back quickly.
Method 1: Set up Desktop icon settings
It is the simplest and most used way to restore Recycle Bin in Windows by using Desktop icon settings. If your Windows operating system is Windows 10, please try the following steps:
Step 1. Right-click anywhere on your desktop and click on "personalize."
Step 2. Switch to the Themes tab and click Desktop icon settings under Related Settings.
Step 3. Select "Recycle Bin" checkbox.
Step 4. Click "Apply", and then "OK".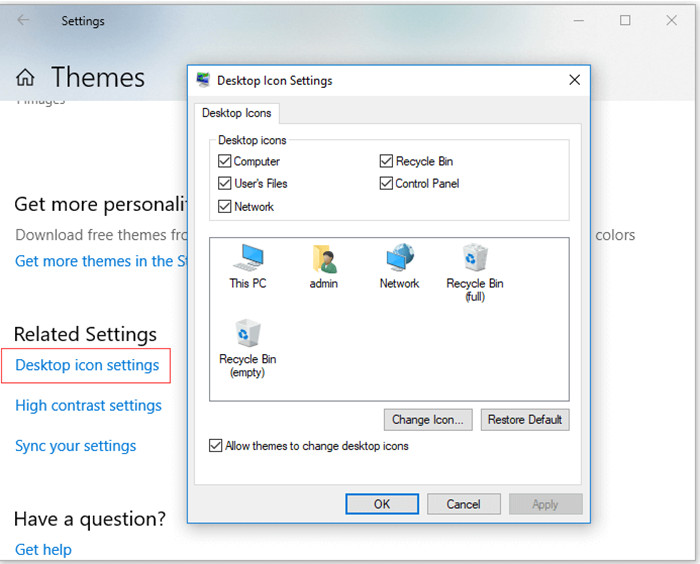 If your Windows operating system is older version, you can also try the same method, but here are something different about details. Don't worry, you just need to be careful and will restore your Recycle Bin.
Method 2: Restore Desktop Icons by adding a shortcut
When your install a new software, you can create a shortcut to the desktop for quick access. It's the same for Recycle Bin. You can create a new Recycle Bin icon on the desktop with just few steps.
Step 1. Click to open "This PC", go to "View" tab and choose "Options".
Step 2. Go to the "View" tab in the "Options" windows.
Step 3. Check "Show hidden files, folders, and drives" and uncheck "Hide protected operating system files".
Step 4. Go back to "This PC", open C drive, and you will see "$Recycle.Bin" folder.
Step 5. Open the folder, right-click "Recycle Bin" icon and choose "Send to" > "Desktop (create shortcut).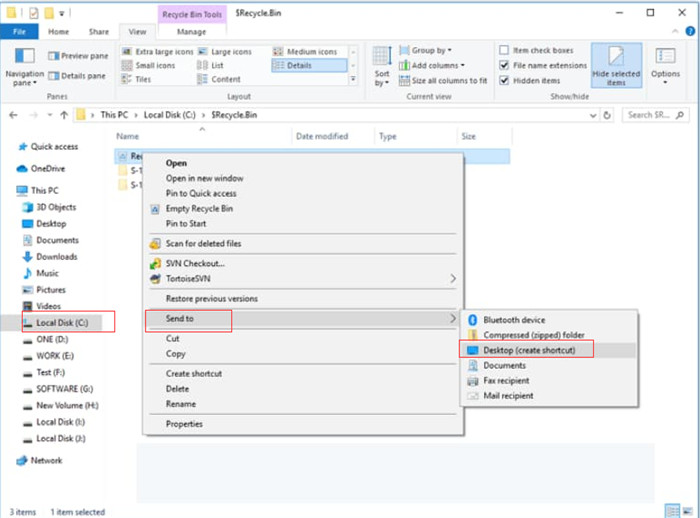 Note: To avoid the accidental deletion of the system files, it is recommended for you to go back to the folder options to check "Hide protected operating system files (Recommended)".
Method 3: Repair Recycle Bin with System File Checker
If your system files is missing or corrupted, it may cause Recycle Bin missing. But, this problem can be solved with Built-in Windows System File Checker Tool. You can easily repair the system files to restore your Recycle Bin.
Step 1. Right-click the Windows logo in the taskbar to open the command-line tool.
Step 2. Right-click "Command Prompt" and choose "Run as administrator".
Step 3. Enter the following command lines in sequence:
DISM.exe /Oline /Cleanup-image /Restorehealth
sfc/scannown
If you try the above steps, your system files will be repaired. This method may be complex. If you want to recover the files from Recycle Bin, you can can try the following tool.
How to Recover Deleted Files from Recycle Bin?
When your Recycle Bin is missing, you won't restore the deleted files. Here is a simple method to help your find the deleted files: Magoshare Data Recovery which is the powerful data recovery tool.
Step 1: Download and install Magoshare Data Recovery on your PC.
First of all, download Magoshare Data Recovery on your computer. It can help you recover deleted files after you empty the recycle bin or format your hard drive.
Step 2: Select the Recycle Bin to scan.
Select the hard drive where you delete or lose your files. It even can help you recover the deleted files which were deleted a few years ago.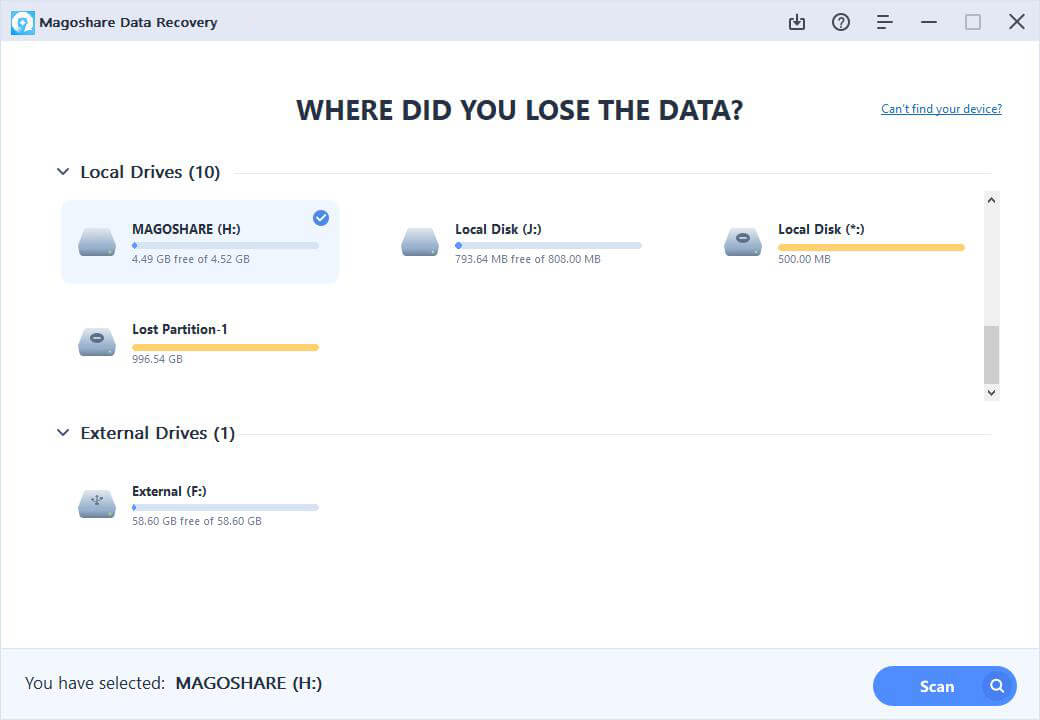 Step 3. Scan the hard drive.
Just click on Scan button. Magoshare Data Recovery will deeply scan the hard drive and find every recoverable file.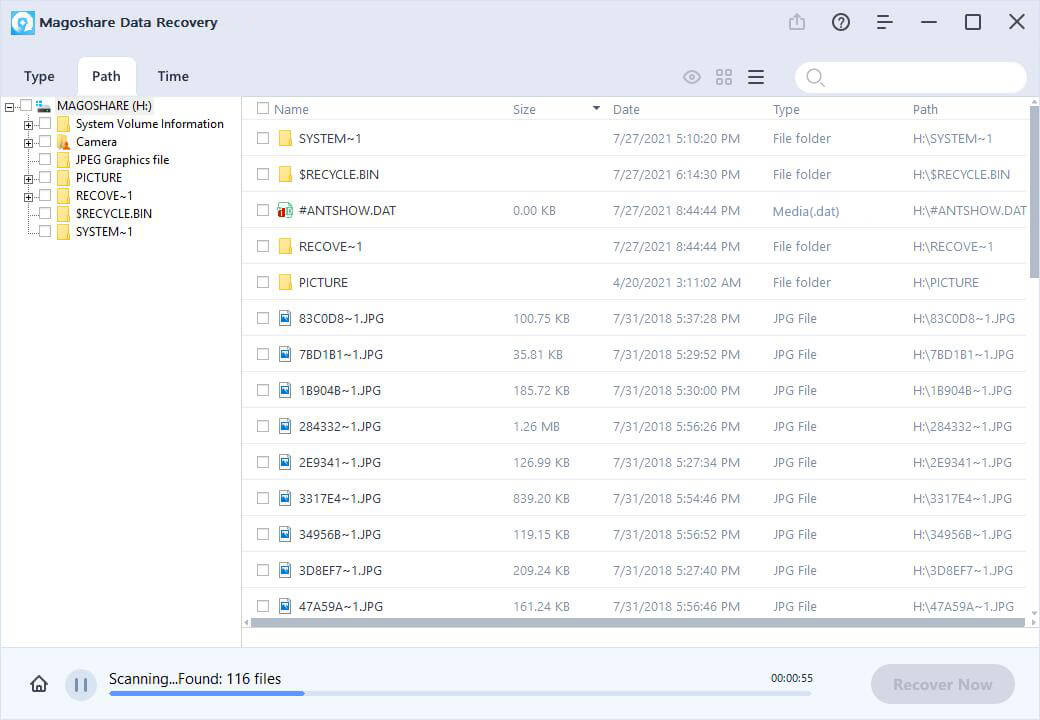 Step 4. Filter the found files you want to restore.
You can filter the found files after scan completed by Filter feature. You can specify the file type such as pictures, documents, videos, etc. And you will easily found the desired files.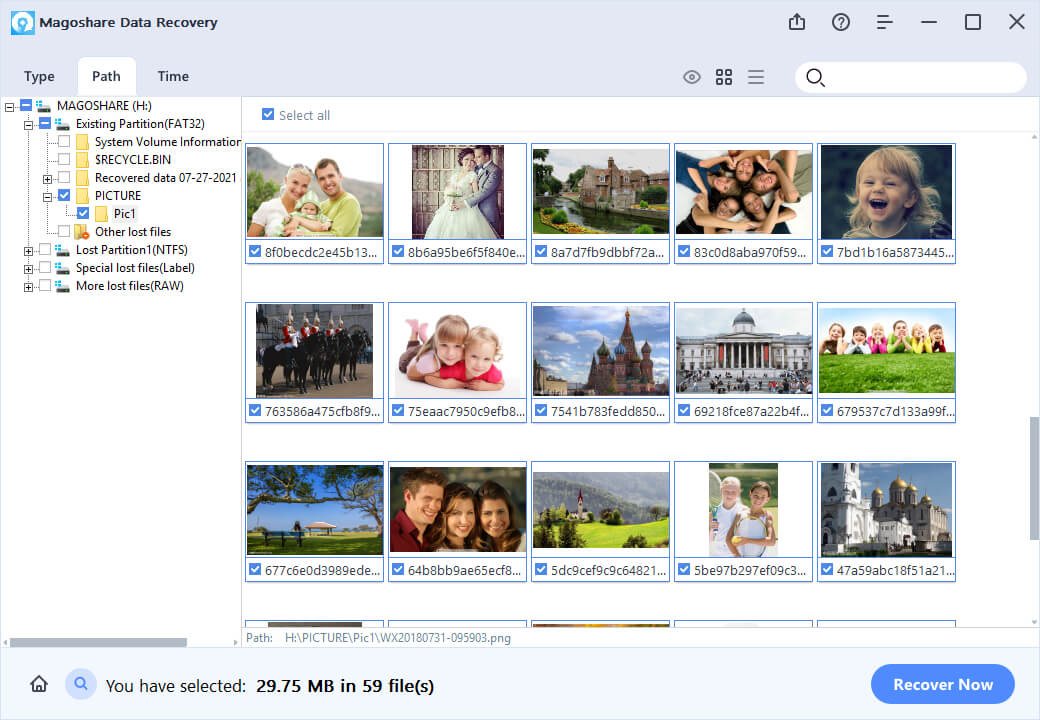 Step 5. Preview and recover the files.
When you found the desired files, you can double-click on a file to view. Then, select the file and click "Recover" button. Now, you get your lost files back easily. It is recommended to choose a different drive or an external USB drive to save the recovered files in order to avoid data overwriting.