How to Recover Audio Files from Mac with Freeware?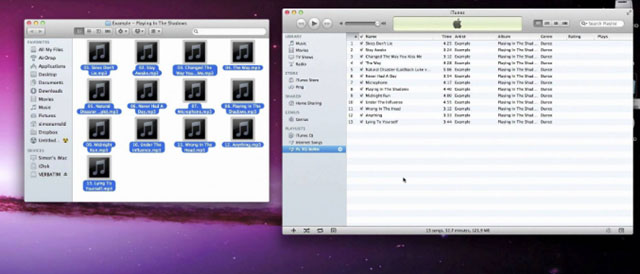 To delete any file from the Mac there is a reason behind. Most of the Mac users want to increase the space in the Mac that is the reason why they prefer to delete the file from the drive so that some space could appear. Some Mac users mistakenly delete the file and could not recognize that it was an important file. For example, they delete important audio, music or voice files from Mac by mistake. Fortunately, there is easy solution to recover deleted files. Here, we are going to tell how to recover audio files from Mac with free data recovery application.
Free solution to recover deleted/lost audio files from Mac
When you search the solution for recovering audio files from Mac computer, then you will find the number of websites. You have to visit individually and find the best software that you could install on your Mac computer, but now after reading this article, you do not need to worry about the data recovery because we are going to tell you about one of the best data recovery software that would take your all audio files back again on your Mac computer.
Our recommendation is Magoshare Data Recovery for Mac. This comprehensive data recovery freeware is fully capable of recovering deleted or lost audio files, music files and voice memos from any kind of hard drive or media device under Mac OS. You may worry about how to use it. Actually, Magoshare Data Recovery for Mac is pretty simple to use. After you download and install it on your Mac, you can recover all lost audio files on you Mac within easy steps.
Step 1: Select the location to scan.
If you lose your audio files on your Mac, just select your Mac hard drive as the targeted hard drive to start data recovery. If you lose audio files from external hard drive/device, you should connect the external hard drive or device with your Mac at first, then select it. After you click on "Scan" button, Magoshare Data Recovery for Mac will scan your hard drive to find lost audio files.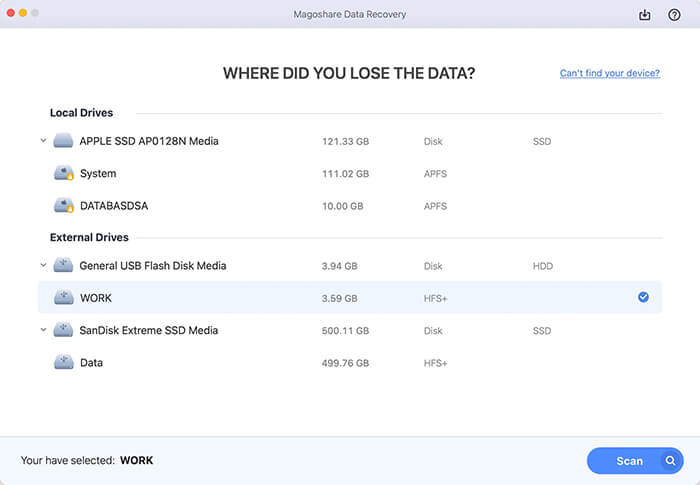 Step 2: Save recoverable audio files.
When the scan is complete, you can preview all the recoverable audio files with built-in preview mode. After finding the files you want to recover, just select them and save them to your Mac.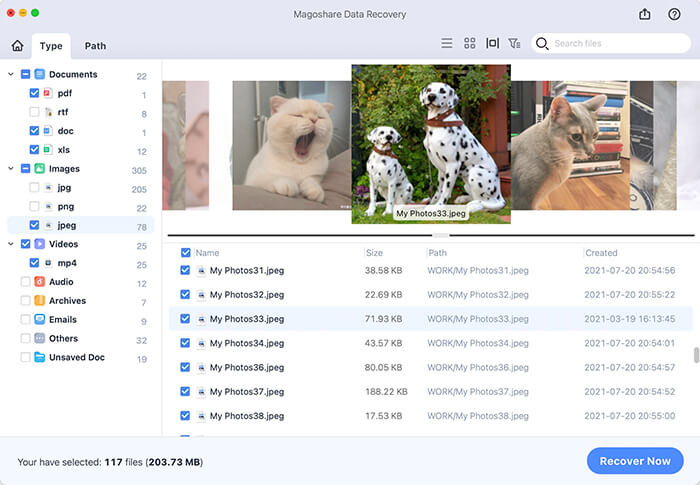 Magoshare Data Recovery for Mac offers free solution to recover lost audio files from Mac hard drive or storage media. It takes easy steps to get all lost all audio files back. If you are looking for a free application to recover deleted/lost audio files on Mac after emptying trash bin, Magoshare Data Recovery for Mac is a good option.
Tips for Mac audio file recovery
Don't put new data to the hard drive where your files are lost before recovery in case that the disk space of the lost data would overwritten by new data.
Recover audio files when the scan is complete.
In some cases, the file name of the lost files may be changed.