How to Clone the Hard Drive on A Laptop?
One of its main benefits is the ability to update the individual components of a desktop computer. You would want to update to a new SSD because more contemporary storage options provide higher reliability and efficiency.
But doing so requires moving all of your data from your old hard drive to the new one. Although Windows doesn't have native capabilities, the procedure is rather straightforward if you have the correct gear and software.
It is still feasible to copy the data between drives even if your new drive has a lesser capacity than your old one, which is typical when replacing an outdated laptop or PC drive with a more current SSD. The new drive's capacity is greater than the amount of data saved on the previous one.
A hard disk can be copied in one of two methods. You may first purchase a hard disk cloner, connect two drives, and press a button. It's not the simplest approach, and it didn't come if the new drive's space is less than the old one, but if both drives have the same size or the new drive is greater, it's the easiest technique.
Disk cloning software for Laptop
AweClone is a safe, powerful and easy-to-use disk cloning program which can help you clone hard drive on both laptops and desktop PCs. Now download and install it on your laptop:
AweClone - Disk Clone Software
Securely clone hard drive on laptop.
Create bootable clone for laptop.
Upgrade HDD to SSD on laptop.
Clone hard drive on laptop using AweClone
AweClone is very easy-to-use. You can download and install it on your Windows laptop or Mac laptop. Then open it to clone a hard drive to another hard drive.
Step 1. Run AweClone on your laptop, then select the source drive and destination drive. It will clone the source drive to the destination drive.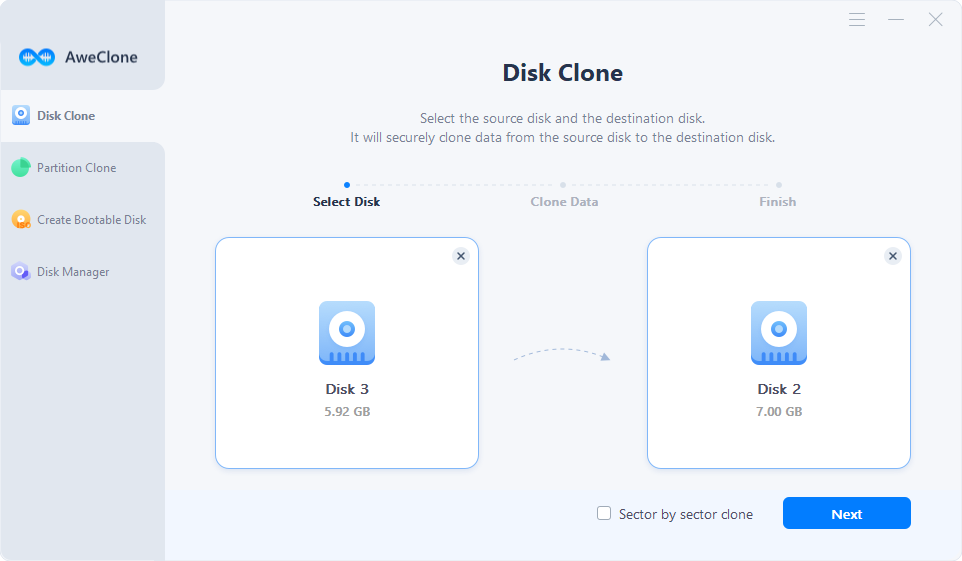 Step 2. Click Next, then you can check the clone layout. You can edit the layout and click on Clone button to start disk cloning.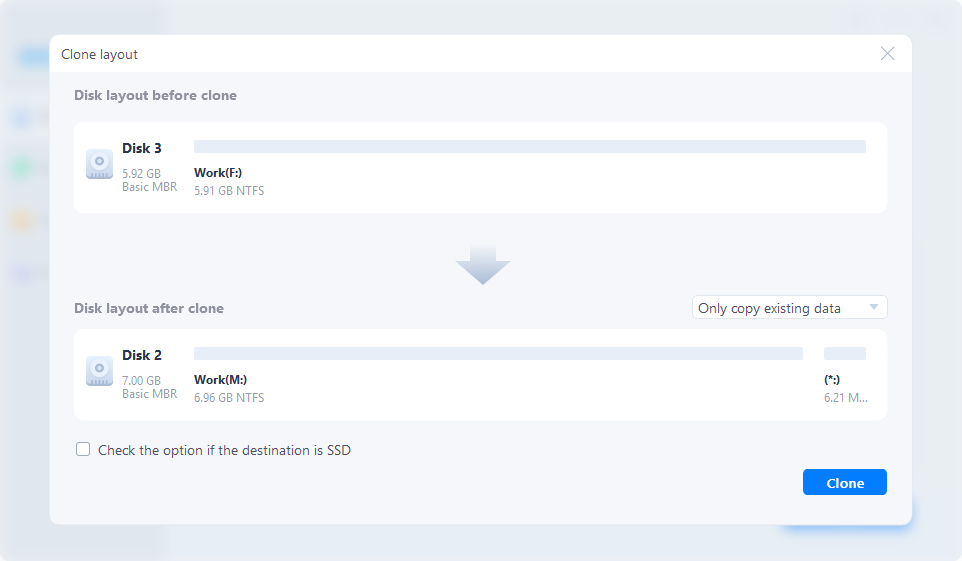 "Autofit the disk" resizes the layout on destination disk according to the size of it to make the disk as the best status.
"Copy as the source" does not change anything on destination disk and the layout is same as source disk.
"Edit disk layout" allows you to manually edit disk partition layout on this destination disk.
If the destination disk is SSD, select 'check the option if the target is SSD'.
Once the process gets finished, you can use the external hard drive as a bootable disk.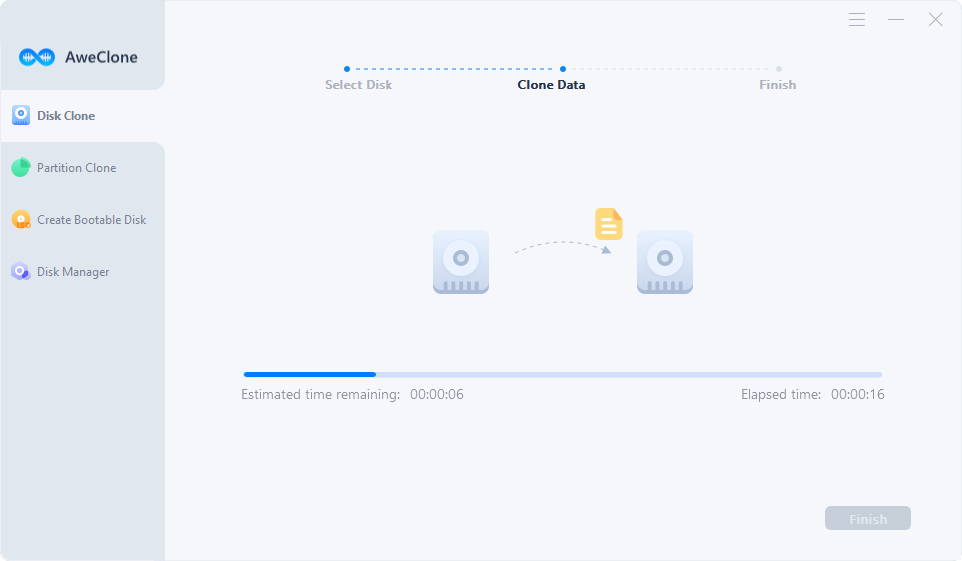 What can the clone backup do for laptop? If you lose important data on your laptop, you can restore the lost data from the clone backup. And you also can use the clone backup as a bootable disk if you laptop got crashed. Then use the bootable disk to recover lost data.
FAQs about laptop disk clone:
1. Can we clone HDD to an advanced SSD on a laptop?
Yes, AweClone can help you quickly clone HDD to SSD without any data loss. It also can help you clone SSD to HDD, or clone HDD to HDD, clone SSD to SSD.
2. Can I create a bootable clone for my laptop?
Yes, AweClone can help you clone system disk to an external hard drive and make it be bootable. Check how to set the clone backup as the boot disk on laptop >>
3. Can I clone an inaccessible partition to an external hard drive?
Yes, if you can't access to an partition, just clone it to an external hard drive. Then you can restore all data via the external hard drive.