The Best Disk Cloning or Disk Copy Software for macOS Big Sur
Mac OS Big Sur is the latest offering of the Mac version from Apple for its Mac computers. Many of the users will be looking forward to updating their Mac computers to the latest version. In the process of update, there might happen a mishap where one may lose the data OR a part of data from their Mac computers.
Even if they survive, there can still arise cases where users may face the failure of their Mac computers due to technical issues. Another possibility is that with the passage of time, your Mac may feel old and tired, and then, you may look somewhere to make a backup of your data. All of these cases can be taken care of if a timely backup is made using cloning software. In this article, we will discuss disk cloning software for Mac OS to help our users with their backup chores, especially for the Big Sur users.
A cloning software basically makes a copy of the hard drive so that it can be used later in moments of crisis. After all, it can be heartbreaking for someone to lose their data knowing that they had an option to keep it saved, yet they didn't do anything. So, without any delay, let us discuss some cloning software that, hopefully, will also be compatible with the latest version of the Mac that is, Big Sur.
Top 5 disk cloning software for macOS Big Sur
Since its debut in 2017, AweClone for Mac has become one of the most popular disk cloning applications. It offers three disk cloning modes:
Copy hard drive - copy data from one hard drive to another without data loss.
Clone OS - securely clone Mac startup disk to an external hard drive and make it be bootable.
Create disk image - create a disk image of a hard drive and save it to another hard drive or computer.
AweClone for Mac is a very easy-to-use disk cloning software. It supports for macOS 11 Big Sur and other Mac operating systems. Here, follow the steps below to copy hard drive with AweClone for Mac Big Sur.
Step 1. Download and install AweClone for Mac on a Big Sur Mac computer. Then open it when you are going to clone a hard drive.
Step 2. Choose disk clone mode - Disk Copy. Then select the source drive and destination drive.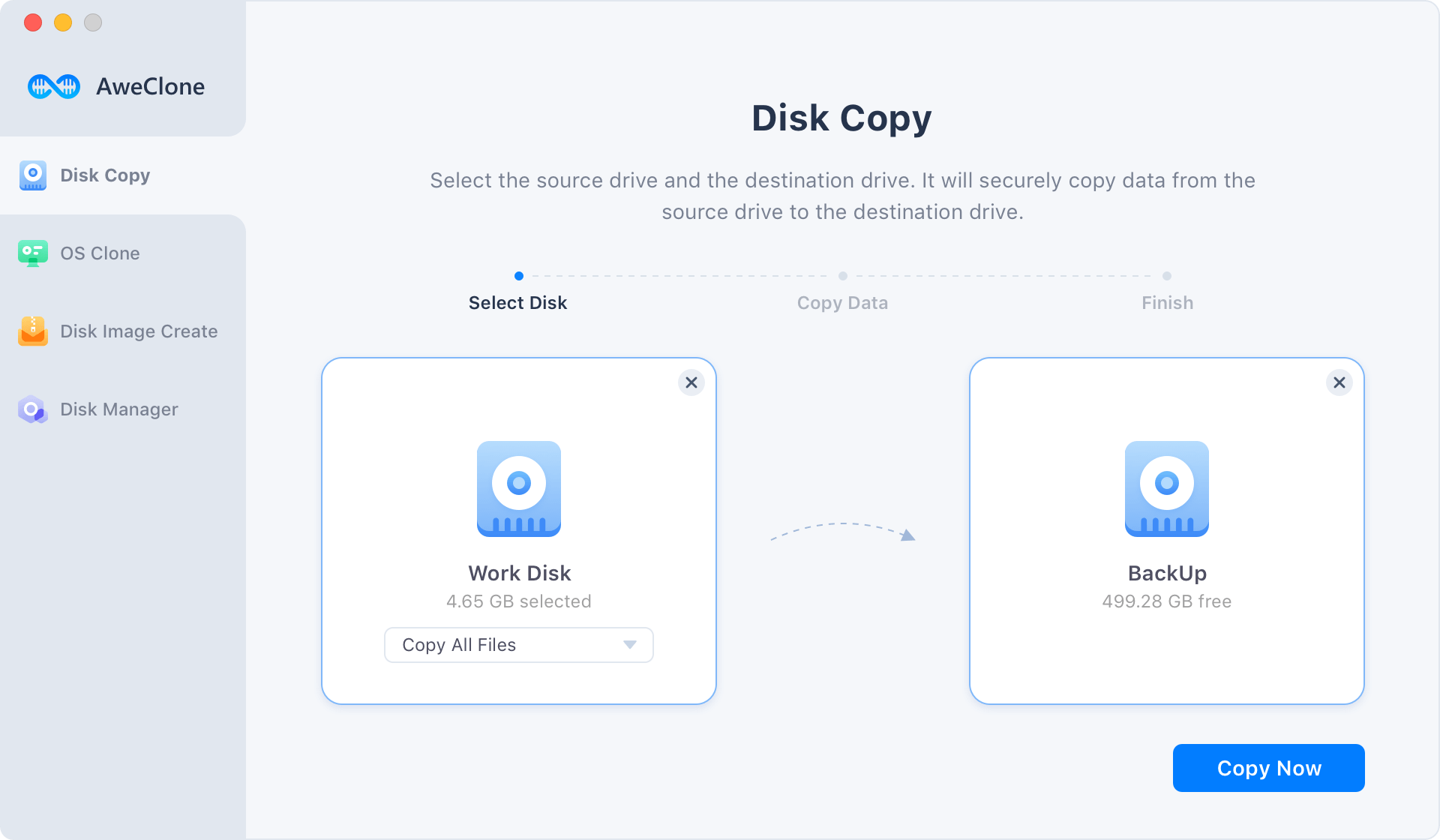 Step 3. Click on Copy Now button to securely clone the source drive to the destination drive.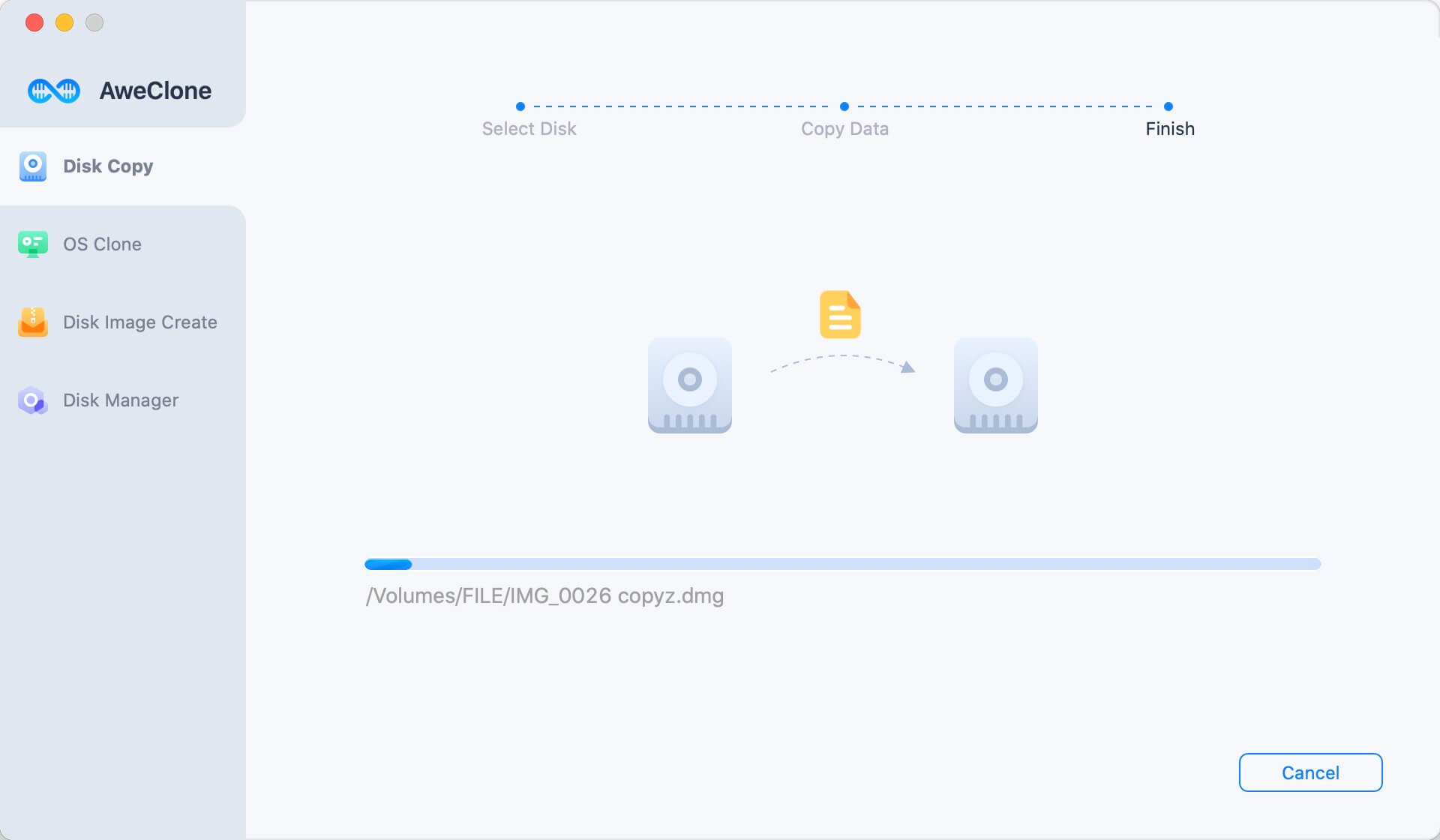 Once the process gets finished, you can check the cloned data on the destination drive. You can can use AweClone for Mac to create a disk image of the source drive and save it to the destination drive.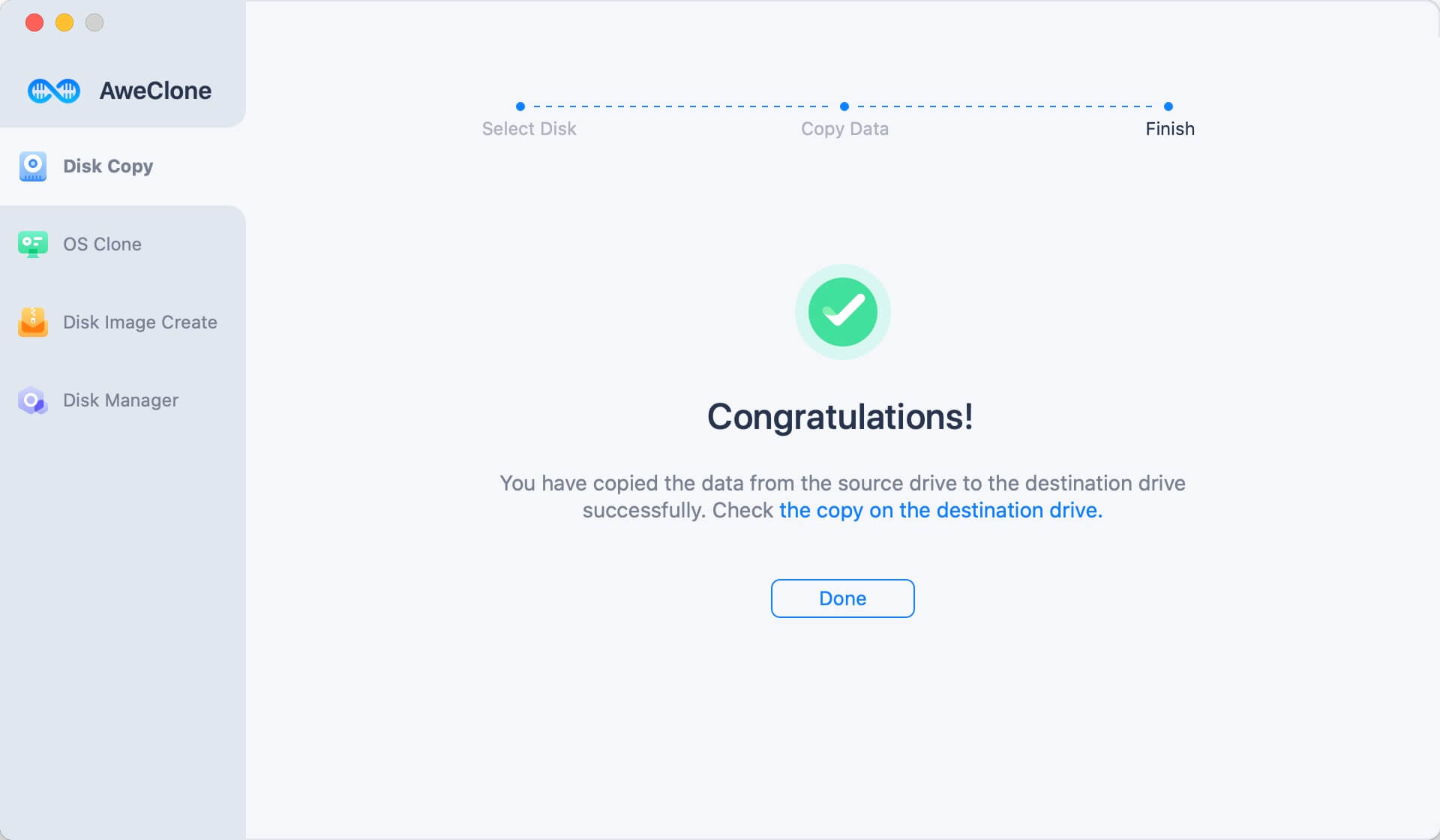 NO.2 Acronis True Image 2021
I am starting with Acronis True Image as it is also listed to support the current major release of Mac OS which is Big Sur. Basically, Acronis True Image is a bit more than just a backup software as it can also help users with Anti-Malware features.
Acronis True Image lets the user save the system backup in the flash drives. It can be used to store a single file or a full system file that can later be restored in the moment of crisis.
Acronis calls this backup facility with a particular name that is Acronis Survival Kit. At times, when the system crashes and leaves your data at the bay of extinction, Acronis True Image can help you with its claimed backup utilities. For an external backup to be made, an external hard drive is needed in which a single partition or a whole system can be copied for later use.
Acronis supports various versions of Mac OS with its latest support being for Big Sur. However, it can also be used for iOS 10.3 or later versions.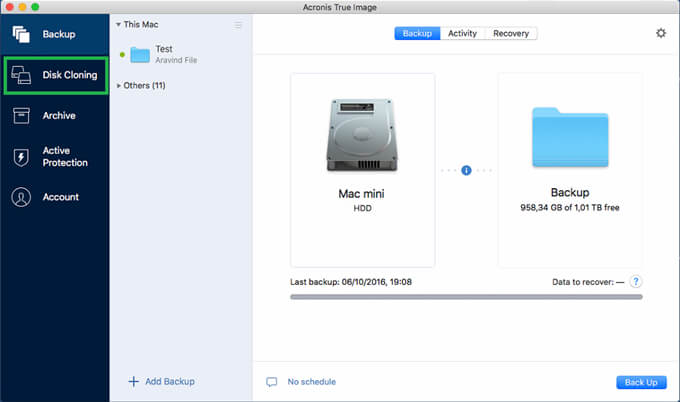 NO.3 Stellar Drive Clone
Stellar Drive Clone is another name when it comes to the cloning software. It affirms to offer a complete hard drive cloning solution for the needful users. It can create the disk images of Mac Hard Drive, Solid State Drives as well as External Hard Drives.
This software from Stellar can also be used to create the backup of a Mac hard drive even if it is encrypted. Moreover, it supports multiple Mac OS versions up to Mac OS High Sierra which is the 10.13th version of the Mac OS. We hope that Stellar will release an update for the latest Big Sur soon.
Coming back to this software, what it does is that it creates the clone of volume/s of a Mac OS computer. These clones, created with this software, are claimed to be the exact copy of a user's Mac computer hard drive. This copy can later be used to cope with the harsh circumstances where a complete loss of the data may occur. In addition, Stellar Drive Clone can also be used to create the backups to Solid State Drives that are otherwise known as SSDs. SSDs are faster than conventional hard drives and hence, can prove to be more effective while restoring the data to your Mac.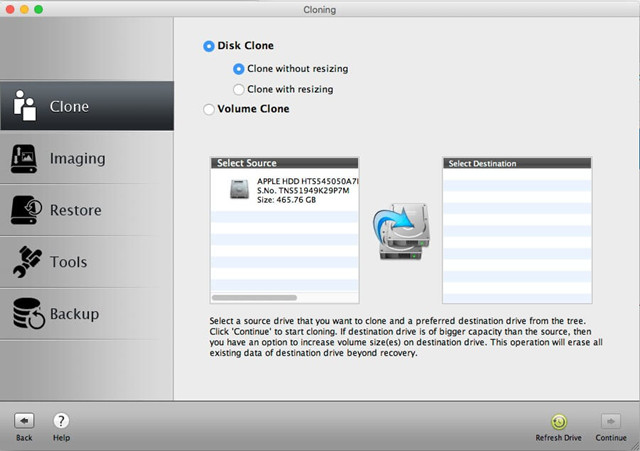 NNO.4 EaseUS Todo Backup
EaseUS is a pretty familiar name when it comes to back up or data recovery software. It can make backups of the data of a Mac computer and hence, can decrease the chances of data loss. Apart from providing a backup of different files on the Mac, it also asserts to provide the Disk Cloning services. If your Mac fails at some point, then EaseUS has got your back as it can back up the disk to restore it for later use.
Moving on, EaseUS Todo Backup can also be used to synchronize files and folders on the Mac with another computer. Hence, you can keep your two machines updated at the same time.
For now, EaseUS only supports Mac OS versions up to macOS 11 which is known as Big Sur. It remains to be seen when EaseUS will take the step to enhance its support for the Big Sur as it has been released for public use now.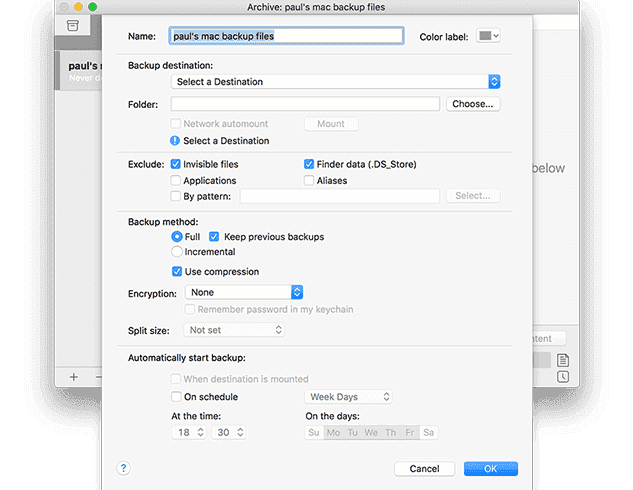 NO.5 SuperDuper
The last name that we would like to add to this list of disk cloning software for Mac OS is SuperDuper. It can make a fully bootable backup of your Mac's data. SuperDuper has a couple of unique features named Smart Wake and Smart Delete.
Smart Wake is actually a feature that helps your Mac make backups even if it is asleep. And, Smart Delete makes it possible to minimize disk full errors on the Mac.
SuperDuper is currently compatible with Mac OS Catalina only but as time passes, the developers should release the update to support Mac OS Big Sur as well.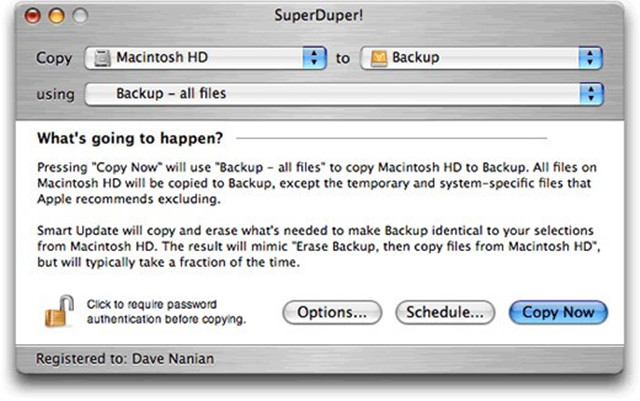 Concluding Remarks
Mac OS is a widely used operating system across the world. Millions of people are using the Mac notebooks as well as Mac PC's today. As there is a limitation to the data that a computer can store, a backup can be helpful while upgrading the Mac or for resetting it. Moreover, one should stay ready ahead of time for a disastrous moment that may happen to take their important files from their Mac.
Hence, it can be very handy to make a backup of the files or of the whole hard drive of the Mac. Through this article, we tried to cover the disk cloning software for Mac OS, especially for Mac OS Big Sur. We hope that this article will help the needful to some extent. Thanks for reading. Click here to learn more about best disk cloning software for macOS Big Sur - AweClone for Mac.