How to Check Mac's Chip?
Apple began converting its Macs from Intel CPUs to its M1 Apple silicon chips in late 2020. Many Intel and Apple silicon Mac models look very identical, making them challenging to distinguish despite significant changes in processing speed.
As we all know, nothing Apple provides is flawless; its goods have unique defects. One of them is the way the product was created. I can't tell the difference between the 2018 and 2021 MacBooks; this is true for many products (hello, Samsung!) This is an issue for Mac customers because Intel-based Macs will continue to prosper long before Apple Silicon takes over. Additionally, Mac computers do not come with Intel stickers, making it difficult to distinguish between Macs with and without Intel processors.
Although it may seem strange, many customers want to know the secret to find their Mac's processor. Hey, I'm here to help those who struggle with technology. This short article will assist you if you are one of them and want to know how to determine if your Mac has an M1 chip.
Why Do I Need to Know?
Knowing what chip your Mac utilizes is crucial when comparing the hardware specifications for various software, aside from the quicker processing speed, longer battery life, and superior performance for demanding jobs like graphic design and video editing.
You need an Intel Mac since some software won't run on M1 or Apple silicon chips. In contrast, there will likely be an increase in the amount of software that requires an Apple silicon Mac rather than an Intel chip.
Programs must be rewritten for M1 because it uses a different processor than the old chip. Therefore, while Apple's applications like Safari, Pages, FinalCut Pro, and Logic Pro have been updated to work with M1, those created by other developers need to receive updates from working with Apple silicon.
Along with many other frequently used programs, including Microsoft Office, Adobe Photoshop, DaVinci Resolve, VLC, Slack, and Discord, browsers like Chrome, Firefox, and Opera have also received updates.
Mac computers with Apple silicon
The M1 series of CPUs are now available in the following Mac desktops and notebooks from Apple:
MacBook Pro (M1, 2020, 13-inch)
Mac mini (M1, 2020)
MacBook Air (M1, 2020, 13-inch)
iMac (M1, 2021, 24-inch)
Mac Studio (M1 Max or M1 Ultra, 2022)
MacBook Pro (M1 Pro or M1 Max, 2021, 14-inch)
MacBook Pro (M1 Pro or M1 Max, 2021, 16-inch)
Here are detailed instructions on recognizing Mac models with Intel- and Apple silicon-based processors.
How do you identify Macs with Intel or Apple chip?
Using the About This Mac function found under the Apple menu, you may determine whether an Intel processor or Apple silicon powers your Mac.
1. About This Mac can be found by clicking the Apple menu.
2. Find the "Processor" or "Chip" item in the About This Mac pane.
3. Remember that macOS Big Sur is required to recognize M1 Mac models.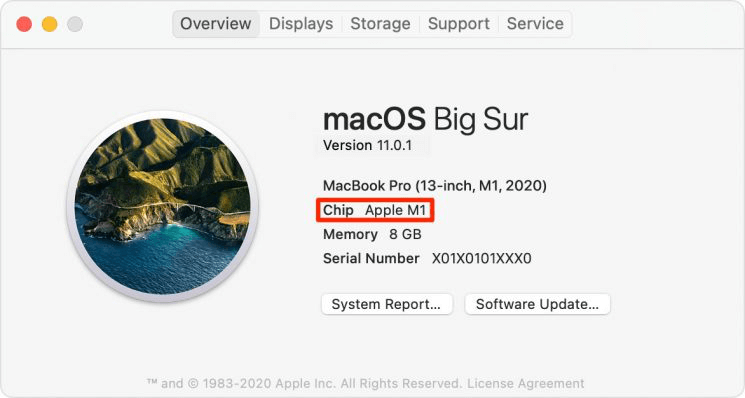 4. The results should be interpreted as follows:
Apple silicon: If an M1 chip or another Apple silicon is powering your computer, About This Mac displays an item with the heading "Chip," followed by the name of the Apple silicon.
Intel: If your computer is powered by an Intel chip, About This Mac displays a section titled "Processor," followed by the specific name and model number of the Intel processor doing the work.
"A Mac with an Intel processor is also known as an Intel-based Mac," claims Apple.
Advantages and Disadvantages of M1 Mac
Advantages:
Low price!
The M1 Mac does not require an SMC, NVRAM, or PRAM reset. Every time M1 Mac restarts, a fresh Updated value is loaded. Restarting your Mac is the only way to resolve some internal software problems automatically.
More movie playback and battery life. Additionally, the M1 Chip is faster, more powerful, capable of running demanding iOS applications on M1 Macs, and integrates macOS technologies like Metal. All M1 Mac Apps are Performance Optimized for Speed.
Run iOS and iPadOS apps and games directly on a Mac. Purchased iPhone, iPad, and M1 Silicon Mac, all compatible.
Disadvantages:
Not every app is accessible on M1 Mac. Users must therefore wait until developers are ready for error-free operation. You can ask the developer to fix any M1 problems in this situation.
Conclusion
This will tell you whether your Mac is powered by an Apple or Intel CPU. From the surface, many Macs are identical, but I don't think you'd want to open one up to see the differences.
FAQs
1. How do I know if my Mac has an M1 chip?
In the window that appears after choosing "About This Mac" from the Apple menu, look for "Processor" or "Chip."
2. Is Apple M1 chip good for gaming?
Critics agree that Apple's M1 processor is excellent for gaming. Apple produced the first generation of in-house silicon. So anticipate quicker and better hardware from the forthcoming generations than Intel.
3. Which Macs have the M1 chip?
The M1 processors replace the Intel processor in all 2020 MacBook models, including the MacBook Air, 13-inch MacBook Pro, and Mac mini. Additionally, Apple released the iMac and iPad Pro with M1 CPUs.
4. What is the Apple M1 chip equivalent to?
Apple claims that the M1 chip outperforms Intel CPUs in terms of performance and speed. The M1 MacBook Air performs on average 3.5 times faster than Intel-based models. Additionally, the graphics performance is five times quicker.
5. Is the Apple M1 chip better than Intel?
Detractors claim that the Apple M1 chip outperforms Intel in several areas, including performance, everyday use, and gaming. Even though not all applications are supported, developers are working on them.
6. Does my Mac have Intel Processor or Apple M1?
Apple's latest Macs do not include Intel processors. Instead, they use the brand-new Apple M1 chip, a strong alternative for the several generations of Intel CPUs that have powered Apple computers since 2006. The M1 is the first manifestation of Apple Silicon, the company's new paradigm.
7. What kind of processor do I have?
Start typing after selecting Windows on your keyboard. System, select System Information, which will display Processor information, including the processor's name, number, and speed.
Hot Magoshare Products
Securely and permanently erase data before selling, donating or giving away Mac.
Free Trial
Clone startup disk, external disk, USB flash drive, memory card and more on Mac.
Free Trial