Permanently Delete Videos from Mac
When you need permanently delete videos from your Mac?
If you stored your personal videos on a Mac, then the first thing you have to do before selling your Mac or give it to your family or friends is to delete all the videos permanently from the Mac. Why? Because your personal videos like a video that shows you and your lover having a good time on your last vacation to Bali shouldn't be viewed by other people. It's your private time with your lover, and other people shouldn't view it, right?
But remember, when I said you have to delete all the videos, what I mean is to delete the videos permanently from your Mac. FYI, it's not something you can do easily. In fact, there is a lot of information about recovery deleted files (including video) from Mac available on the internet. And more importantly, almost anyone can follow the method to recover the video from your Mac.
Yes, it was easy to recover deleted files from Mac. It's even a lot easier if you do it using a free data recovery software. So what you should do is delete all the videos on your Mac permanently before you let your Mac go, especially, if you have a plan to sell your Mac. But you shouldn't worry about it will be a hard thing to do. Because on this article, I'll show you how to permanently delete videos from Mac using the easiest method.
Easy steps to permanently delete videos on Mac
All you need to do is following the guide properly. So, are you ready to permanently delete all of your videos from Mac? If so, then let's get started!
Step 1: back up important videos to a secondary hard drive.
Once the videos are permanently deleted from your Mac, they can't be recovered. So, please make sure you have backed up your important videos to a secondary hard drive.
Step 2: Download and install Mac video eraser.
This method will be done using an easy-to-use data erasure software called AweEraser for Mac. This software is a tiny but effective software. Just download and install it on your Mac, then run it on your Mac.
Step 3: Permanently delete videos on Mac.
Choose this mode "Erase Files". Add or drop the videos to the erasure area, and click on "Erase" button at the bottom of the screen. Now the process will run the Data Erasure process. Just wait until the process is done.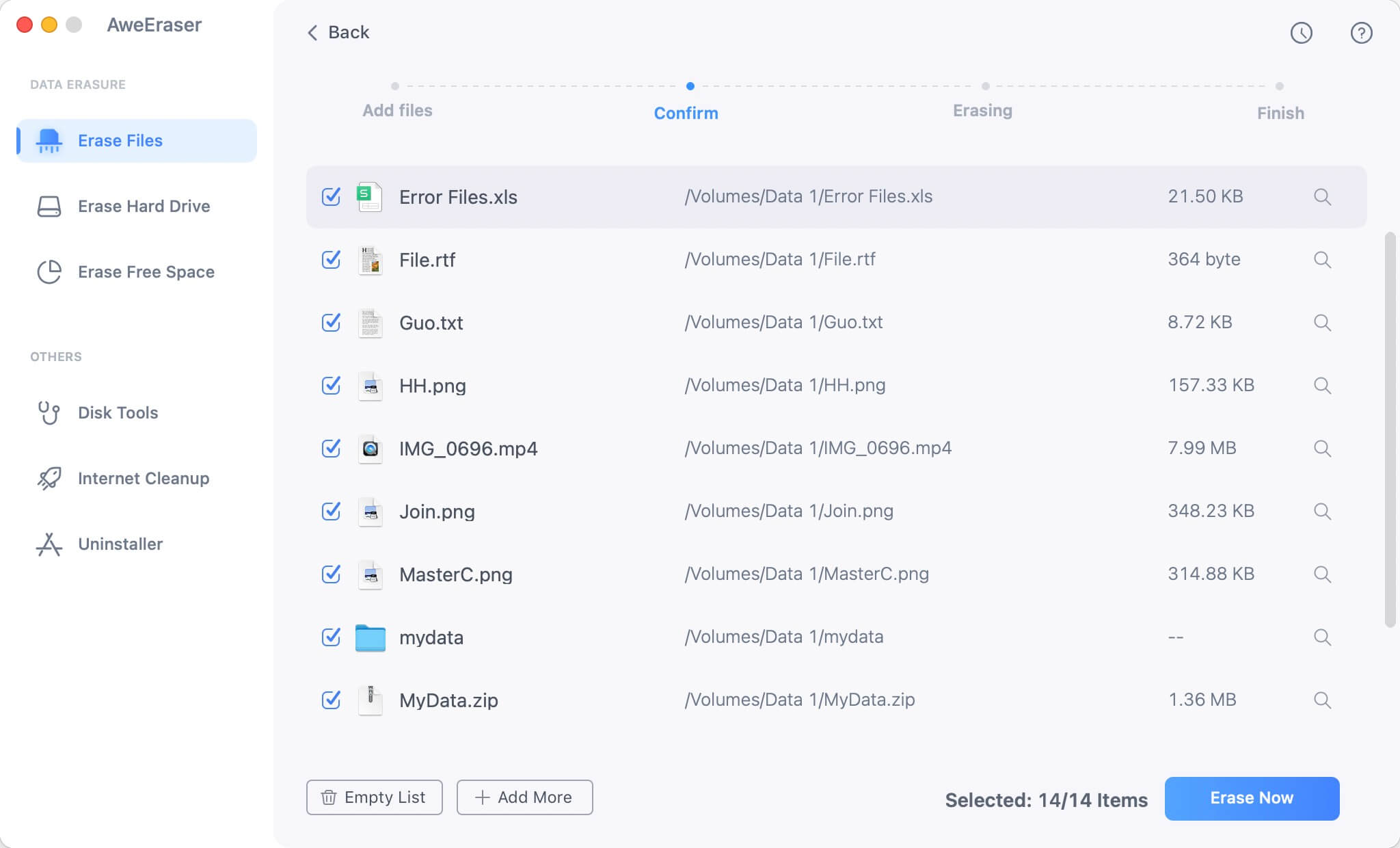 Once the erasure process gets finished, the selected videos will permanently lost from your Mac. There is no way to recover the erased Mac videos because they are lost forever. AweEraser for Mac also can help you erase entire hard drive to permanently erase all videos and other data on a hard drive. Moreover, this software also can help you erase already deleted videos on your Mac - the tool is "Erase Free Space". This tool can help you permanently erase already deleted videos and other data on your Mac. It will not affect the existing data on your Mac.