How to Shred An App on Mac?
Most Mac users will need to install a variety of applications to satisfy their business, leisure, and other demands. Some apps, such as banking apps, may become extremely private for their proprietors. Before selling or donating a Mac, users should ensure that any critical apps and associated files have been completely deleted from the Mac and cannot be retrieved by any means.
Of course, there are several ways to remove an application from your Mac. For example, you may simply drag the program to the Trash and then empty it, or you can remove it from Launchpad or the Applications folder. Please keep in mind that these techniques will not erase all files associated with uninstalled apps; you will need to delete the files manually. Simply go discover the remains and remove them on your own - this would, of course, be a tiring experience.
Also, even if you have deleted all connected files and emptied the trash bin, certain strong data recovery tools, such as Magoshare Data Recovery, can still retrieve all lost data/traces.
What does it mean to securely delete an app or software on a Mac?
Secure erasing a file means entirely deleting it from your Mac. This implies that a file that has been safely deleted cannot be retrieved by you or any third-party software; it is the most effective approach to delete files altogether.
When you empty the Trash, you're essentially eliminating the file's access point. Consider this... When you write a file in pencil on paper (on your Mac), then erase it with an eraser, you can still see the markings on the paper! When you secure erase, however, you recreate nonsense over the original pencil traces and then erase it, making it impossible to read.
What is the simplest way to permanently remove sensitive software on a Mac?
You can use a specific data erasing and uninstalling application like AweEraser for Mac to thoroughly remove sensitive applications and destroy all related files forever. This is a strong and easy-to-use tool that may help you remove critical apps and eliminate all remnants quickly and thoroughly.
Data Eraser - AweEraser for Mac
Permanently shred data, wipe hard drive on Mac.
Certified data erasure mode.
An easy-to-use uninstaller & eraser for Mac.
All you have to do now is downloading this software on your Mac. It is completely safe software.
Then, to thoroughly remove sensitive apps and destroy all associated data, follow the procedures below.
Step 1: On your Mac computer, launch AweEraser for Mac. There are numerous tools available. To begin, simply choose the Uninstaller tool.
Step 2: Select the apps you wish to remove, then click the Uninstall option. This utility will uninstall the specified applications fast and eliminate all related files, such as app rubbish, logs, caches, registry files, and so on.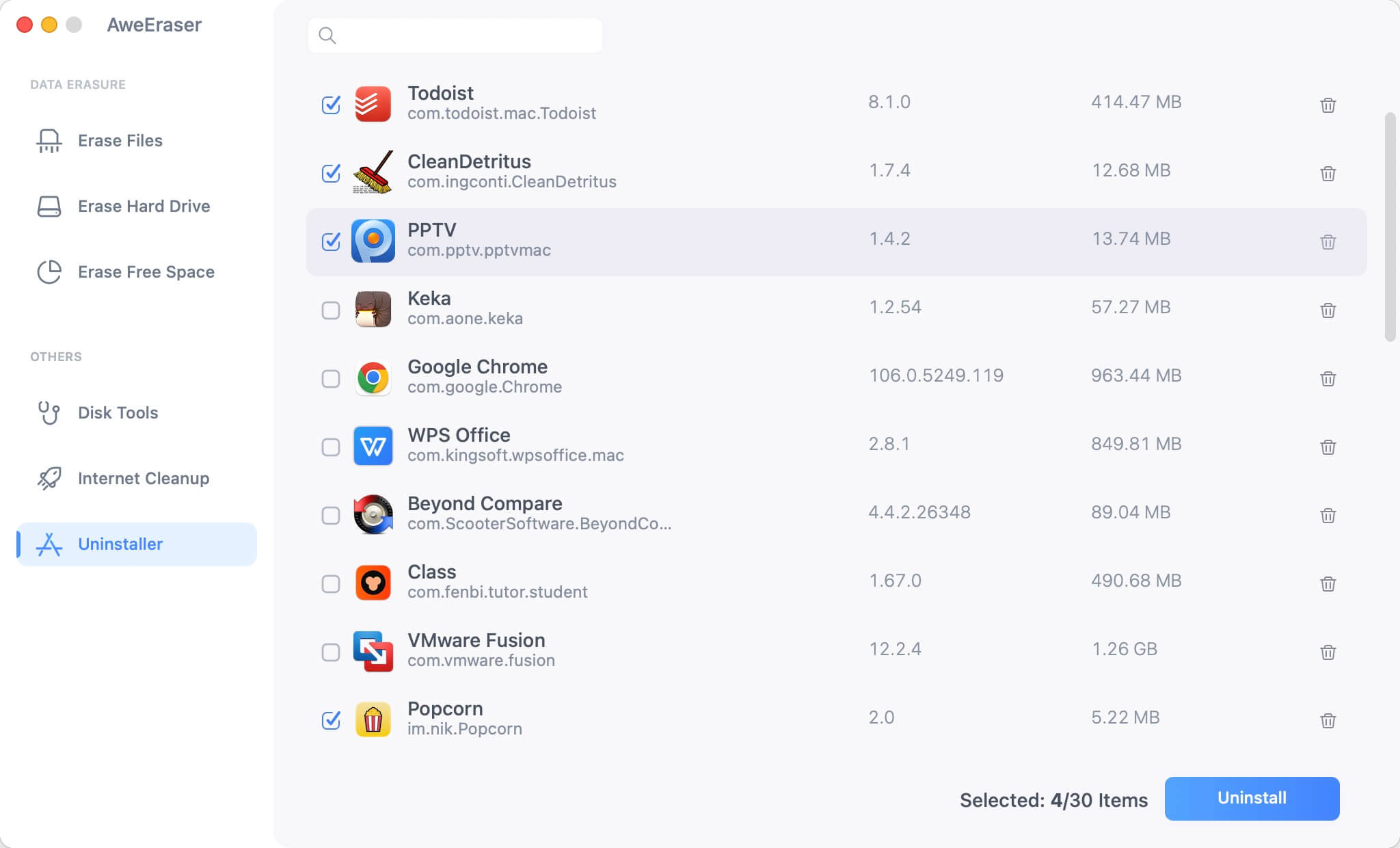 Step 3: Select the Erase Free Space tool. This utility will clean your Mac's free disk space, permanently erasing all removed data, including uninstalling apps. This is the most effective approach to prevent data recovery apps from recovering your uninstalled application.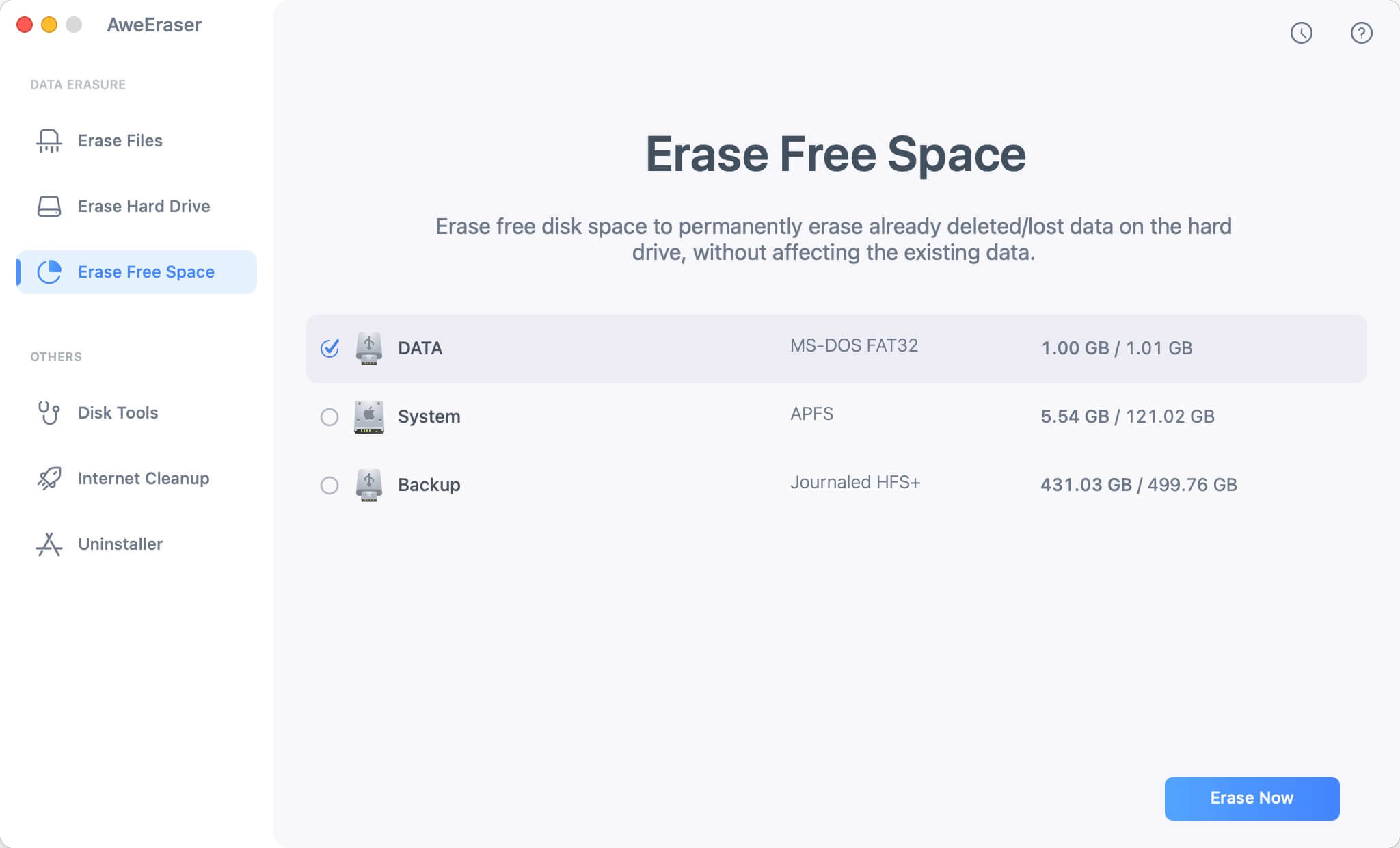 Step 4: Click the Erase button after selecting the Mac hard disk. Your Mac's deleted/lost data will be permanently destroyed. Existing data and programs on your Mac will not be affected.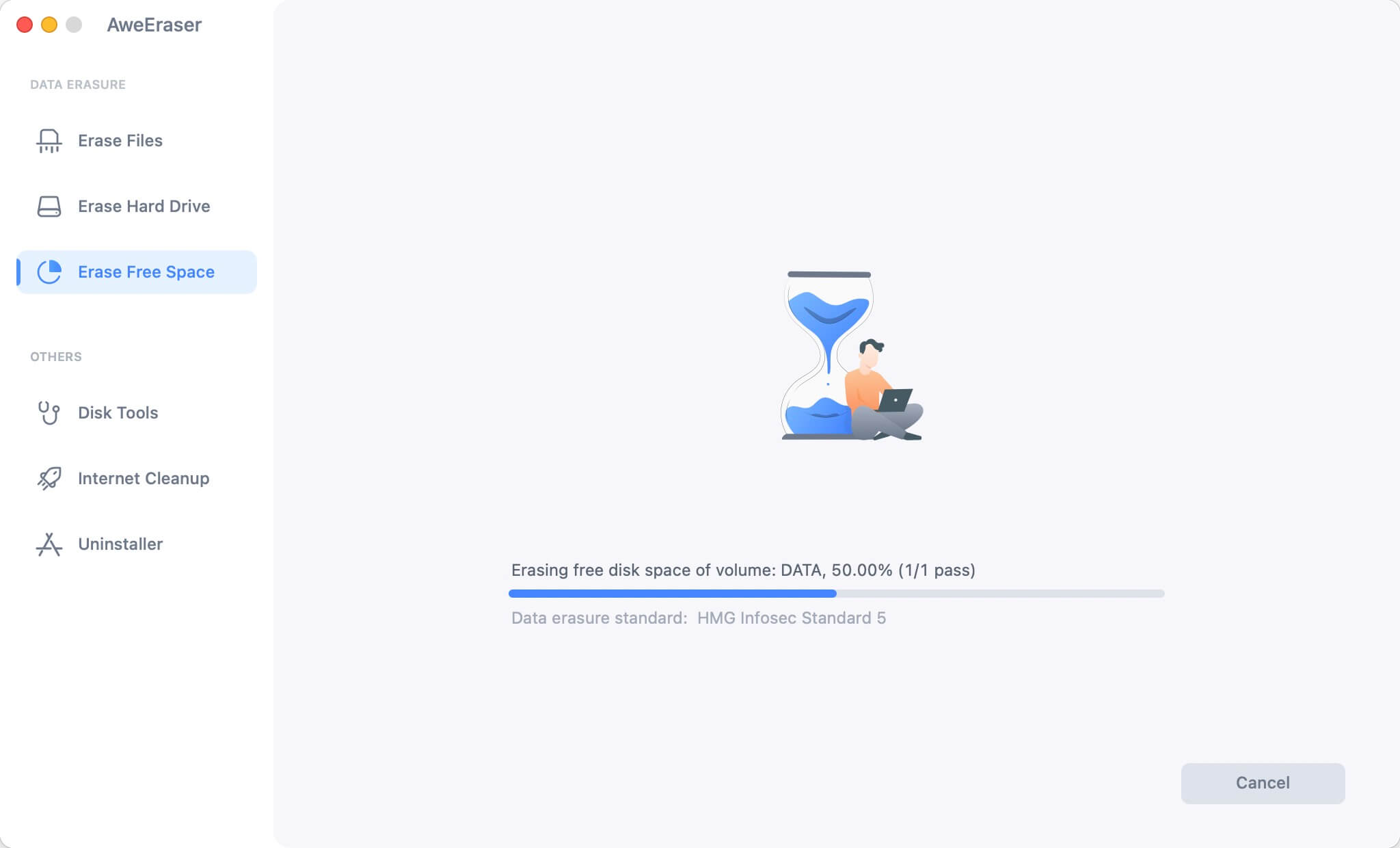 You may effortlessly remove sensitive or worthless apps on your Mac using AweEraser for Mac, and all data associated with the uninstalled applications will be completely deleted. AweEraser for Mac is a Mac data erasing application that has been certified. It may also help you remove data from your Mac hard drive, external hard drive, memory card, USB flash drive, and other devices. AweEraser for Mac may be downloaded.
On Mac OS X, how can you safely delete files?
A ghost file is one that cannot be removed using standard methods. The error message is usually something along the lines of "cannot remove folder" or "cannot delete file." System corruption, the system locking the ghost file, or a virus instantly reproducing the ghost file once it is erased are the most common causes of ghost files.
Although it is not difficult, it does take some time. Just keep in mind that safely erasing a file will take a little longer than just emptying your Trash. To safely delete files from the Trash, follow these steps:
Control-click the Trash icon on your Dock, which is located at the bottom of your screen.
Press and hold the Command key.
Secure Empty Trash is selected.
Select Secure Empty Trash once again.
The third-party software make securely wiping files easier. There are no hold buttons or the ability to delete one (or all) files at a time. Simply choose or drag your files to the Shredder and press the Shred button. That's all there is to it! They also do a lot more than simply safely deleting files. It cleans your entire Mac, does basic Mac maintenance, monitors the health of its hardware, and even entirely uninstalls programs.