How to Recover Corrupted Files on Mac?
Summary: Do you want to recover corrupted files on Mac? Just read this article. In this article, we will show you an easy solution to restore corrupted files on Mac. Download free data recovery software to scan your Mac hard drive and easily recover all corrupted files within minutes. Just follow this guide.
Many times for errors of reading or writing on a hard drive or drive connected to our Mac or unforeseen situations such as power failure, system malfunction, update or uninstall any application on Mac OS results in some of the files we have stored are damaged to the point of being totally illegible. Something that can make us lose our cool especially if we do not have a backup of our data, but fortunately there is a solution.
Is it possible to recover corrupt files on Mac?
While corrupt files originate through the factors mentioned above, you no longer have to despair because there is a quick and effective solution to recover those files without having to go to Apple technical service to do the work for you since you will not need advanced technical knowledge in computer science.
The name of this wonderful solution is Magoshare Data Recovery for Mac, which is an application specially developed for Mac OS that includes a powerful data detection algorithm that will examine your drives in depth in search of corrupt files to recover them in a very effective in a short time.
Help you recover corrupt files on Mac in a few simple steps
With Magoshare Data Recovery for Mac you will be able to recover corrupt files without any problem since just downloading it, installing it and following these simple steps will get away with that annoying problem:
Step 1: Choose the hard drive where the corrupted files are located.
Start Magoshare Data Recovery for Mac and select the hard drive or storage device where the corrupt files you want to recover are located. The hard drive or device connected to your Mac will be displayed in the main interface: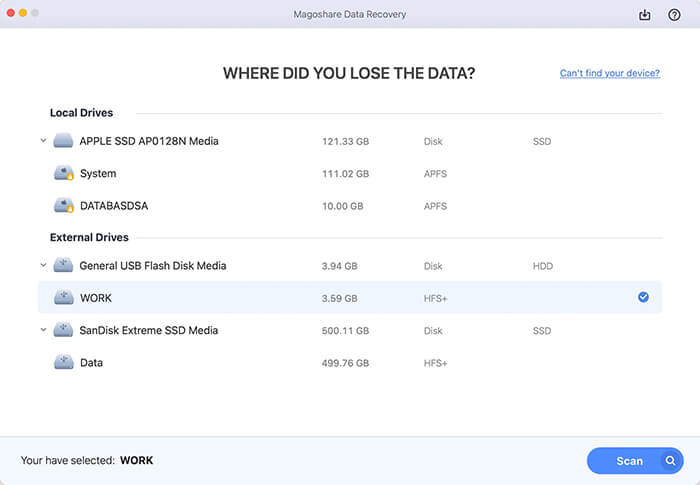 Step 2: Scan your hard drive or device to look for corrupt files.
Once the location is selected, you only have to click on "Scan" button so that Magoshare Data Recovery for Mac starts scanning the hard drive or external drive in search of the lost files that ended up corrupted in order to recover them: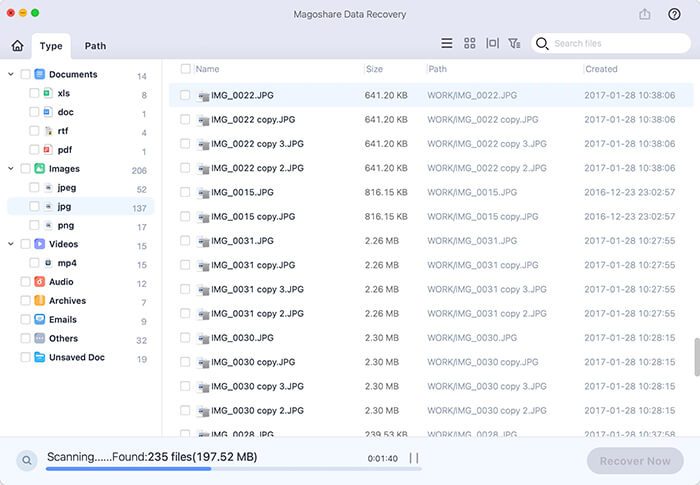 Step 3: Preview and recover corrupt files on Mac.
After finishing the scan, Magoshare Data Recovery for Mac will show you a list of all the lost and corrupted files that can be recovered. You only have to mark the data you want to recover and then click on "Recover Now" to have them back.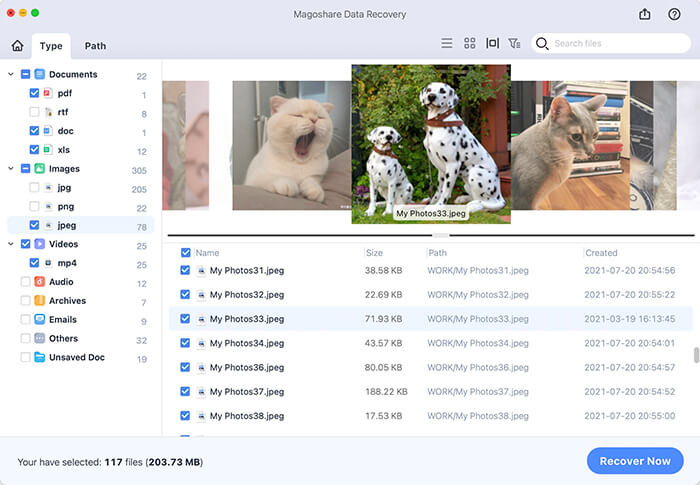 This is the best way to recover corrupted files on Mac. Magoshare free data recovery software can help you easily and completely recover all corrupted documents, videos, audio files, photos, archives or other corrupted files on Mac. If you want to recover corrupted files or lost files on Mac, you just need to download it.