Full Ways to Recover Deleted WeChat Messages from iPhone 14/14 Pro
Quick Navigation:
These days, chatting isn't restricted to phone conversations and text messages. We can now express ourselves more accurately in our interactions with one another, thanks to platforms like WeChat.
WeChat's ability to facilitate the rapid exchange of text messages, images, music, video, documents, and other information has made it a favorite among users of all ages. You may lose important WeChat conversations, videos, or photos due to unintentional deletion, malware assaults, update failures, system crashes, or other unforeseen circumstances.
Many iPhone 14 users want to know whether and how they may retrieve lost WeChat conversations. If you fall into such a category, read to learn alternative ways to recover lost WeChat messages on an iPhone 14 or 14 Pro.
Method 1: Restore iPhone WeChat Messages from An iTunes Backup
Whatever method you choose, if you need to get your lost WeChat history back, you may restore your iPhone from an iTunes backup. Make sure you have an iTunes backup before attempting this method.
Additionally, be aware that iTunes will compel you to restore the entire backup to your iPhone, overwriting all of the data on the device. Read on if you want to get your WeChat messages back on your iPhone and don't mind wiping your existing data.
Connect your iPhone to your computer through its USB cable and open iTunes. (Updating the iTunes software on your computer can speed up the repair procedure.)
Until iTunes finds your device, please be patient. When the iPhone symbol displays in iTunes, click it.
Select the necessary backup from the list under "Backups," and click "Restore Backup." When selecting a backup, it is possible to choose the most current one by checking the date and time. Then, after that, choose "Restore."
To proceed, you must wait till completion. Don't disconnect your iPhone from your computer until the task is complete.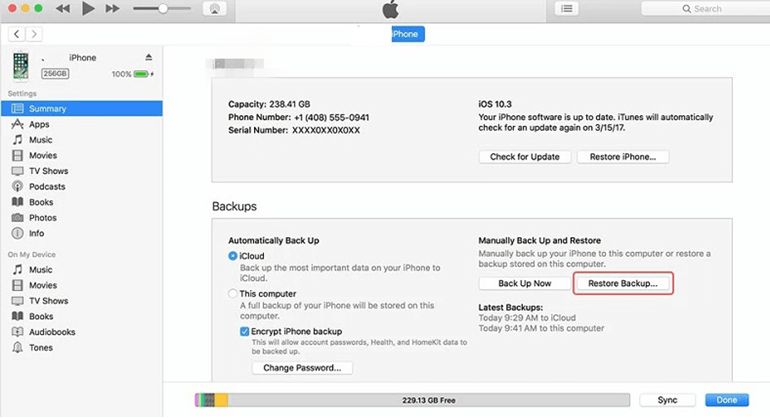 Method 2: Restore iPhone WeChat Messages from An iCloud Backup
If you've backed up your iPhone to iCloud in the same way you would an iTunes backup, you may be able to retrieve deleted WeChat messages and other information on your iPhone by accessing the backup. The steps that you should take are as follows.
First, go to the iCloud website and log in using your Apple ID and password.
Click Settings.
Afterward, a slew of documents, such as your WeChat conversations and chat logs, will be shown. Select the information that needs to be restored.
Select Restore Files and wait for the recovery to be completed.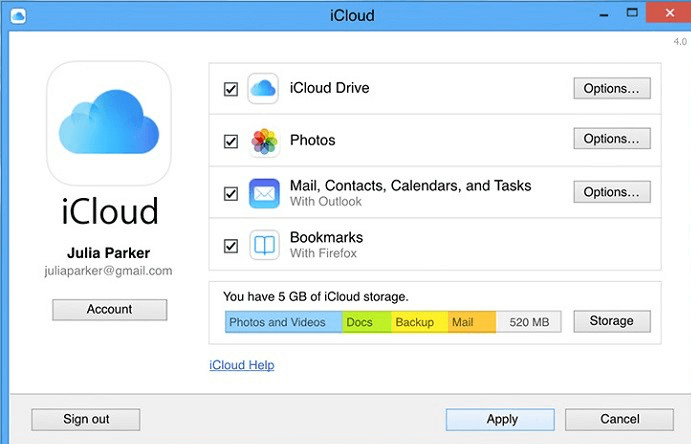 Method 3: Restore iPhone WeChat Messages from Another iPhone
This strategy works if you have already exported your WeChat conversations to the associated application for safekeeping. It's more like a transfer than a backup and restore. Using this approach, you may copy your WeChat conversation history from one iPhone to another.
The end result, however, has not changed. Use the Chat Log Migration feature to transfer specific conversations to another gadget. If you want deeper knowledge, the procedures for retrieving your WeChat history are below.
First, launch WeChat on your iOS device, and select the Me tab.
Select the Settings option to open a new page with a menu. On this menu, select General.
Click the "Chat Log Migration" "Select Chat Transcript" option on this screen. At that point, a QR code will appear.
After activating the WeChat migration, use another iOS device to scan the QR code shown on the main screen to access your WeChat account. Your old WeChat conversations on the iPhone may be successfully imported onto the new iPhone.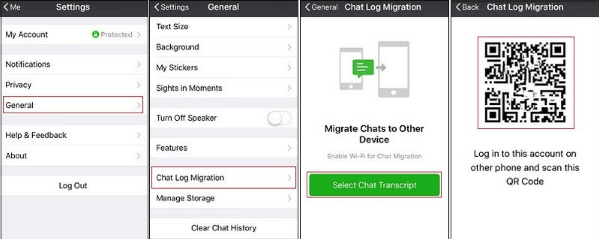 Method 4: Restore iPhone WeChat Messages from WeChat Desktop
Let's say you regularly back up your WeChat conversations on your PC, and one day you discover that one of those backups includes a message that you thought you had erased. This will allow you to rapidly retrieve any lost WeChat messages by restoring them from an existing backup.
Here is how can recover deleted files from the desktop version of WeChat:
First, ensure your iPhone and computer are connected to the same Wi-Fi network, and then launch the WeChat desktop software on your PC.
Click the Menu button in the bottom-left corner, choose Backup and Restore, then Restore on Phone.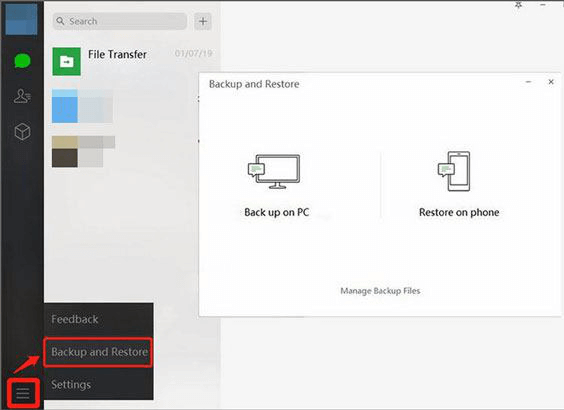 Click the conversation whose history you want to recover, tap More Options, and pick Text messages only or a date.
Then, after making your selection, press OK to begin restoring your iPhone from a backup.
Method 5: Use iPhone Recovery Tool to Recover Deleted WeChat Messages
iPhone data recovery software can scan the iPhone device and find all deleted data including deleted WeChat messages. Here, just download Magoshare iPhone Data Recovery, a powerful and easy-to-use data recovery tool.
Recover deleted or lost WeChat messages from iPhone 14/14 Pro or other iOS device.
Recover deleted group messages in WeChat.
Recover deleted WeChat Contacts.
Just download and install Magoshare iPhone Data Recovery on your PC or Mac. Then open it, follow the steps below to recover deleted WeChat messages from iPhone 14/14 Pro.
Step 1. Connect the iPhone 14 to your computer, it will be recognized by Magoshare iPhone Data Recovery automatically. Select the iPhone 14.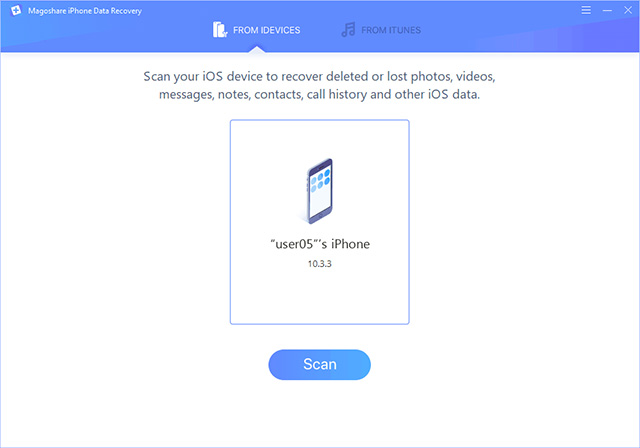 Step 2. Click on Scan button. Magoshare iPhone Data Recovery will scan the iPhone 14 device and find all deleted/lost files.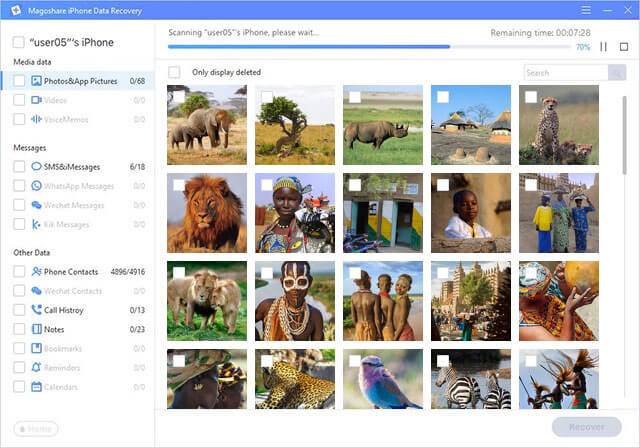 Step 3. Once the scan is completed, click the WeChat messages and find the deleted/lost WeChat messages. Recover them.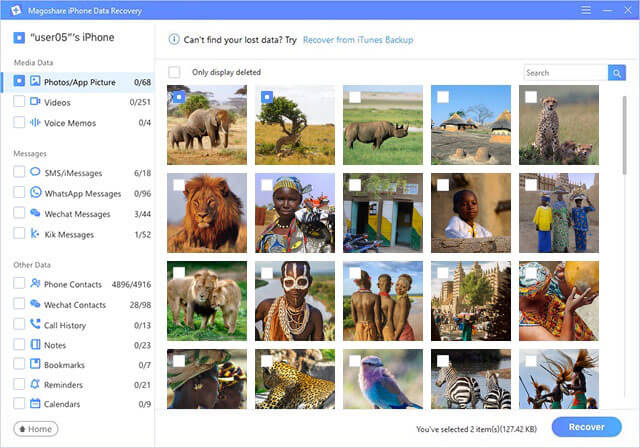 Conclusion
The aforementioned methods may retrieve lost WeChat messages on an iPhone. Ultimately, we expect the techniques above to be useful. Thus, it is clear that data loss is a common occurrence in our daily lives. Therefore, it is critical to back up the information on your iPhone to a computer.