Uninstall Anti-Virus Software On Windows 11/10/8
All of your online and offline data will be safe if your computer is well-protected, and anyone attempting to access it will struggle to do so. Because of this, it's crucial to have the latest and finest browsers installed on your computer, along with antivirus software, which is even more critical.
You can browse the internet with the help of secure browsers without being concerned about security and privacy issues. Additionally, by installing an antivirus program on your computer, you can ensure that all of the data you save there and access online is entirely safe.
On the market, there are numerous different antivirus applications. If your computer currently has an antivirus program installed and you want to install another antivirus, you must first uninstall the existing antivirus application. The steps for uninstalling an antivirus program are listed below.
Does Windows 11 need third-party antivirus software?
Microsoft argued that Windows 11 was their most secure and protective operating system yet, citing a trusted platform module (TPM) 2.0 and Secure Boot to achieve complete compatibility.
However, Windows 11 won't shield you from every danger a modern computer faces daily. Keep in mind that TPM 2.0 and Secure Boot will only protect you from hazards that they can handle; for protection against additional threats, your Windows 11 computer will still require antivirus software to be installed.
This antivirus program guards you against both current threats and those that are still there from the past. Microsoft Defender in Windows 11 can also defend you against some attacks, but not all of them.
What is a computer virus?
A computer virus is a fragment of software that travels from computer to computer and obstructs regular operation. A computer virus may corrupt or remove data on a computer, spread to other computers via email, or even delete all data on the hard drive.
Email attachments and instant message communications are common ways that computer infections spread. As a result, you must never open an email attachment unless you are confident of the sender or have been anticipating it. Greeting cards, amusing picture attachments, audio files, and video files can all be used as virus covers. Internet downloads can potentially propagate computer infections. They can be disguised in unauthorized software, additional files, or software packages.
How to remove or uninstall an antivirus program?
Conflicts between antivirus programs that are running simultaneously on a computer sometimes lead to errors, sluggish performance, and improper virus detection.
Uninstalling from Safe Mode
In some instances, the antivirus product may already be loaded and running in Windows, preventing the removal procedure from moving forward. Install the antivirus in Windows Safe Mode and remove it if the application cannot be turned off. Since the antivirus program is neither loaded nor active in Safe Mode, either of the methods above can be used to remove it.
Uninstall through the Start menu
Find the antivirus program's folder in your Windows Start menu to first use the program's built-in uninstall feature. To do this, select All Programs from the Start menu and search for the antivirus program.
Locate the uninstall option for the antivirus product, which ought to be in the same folder after you find it in the list. If this is an option, select it, then follow the on-screen instructions to finish the antivirus removal.

Uninstall through Add or Remove programs
Additionally, you can remove antivirus software via Add or Remove Programs.
1. Launch the software Add or Remove Programs.
2. Locate the antivirus program in the list of installed programs, then click it once with the left mouse button to select it. Once the antivirus program has been chosen, click the Uninstall option as indicated in the image below to start the uninstall procedure above the column headers.
If an error prevents you from removing the antivirus using Add or Remove Programs, move on to uninstalling from Safe Mode. You can have a faulty antivirus install or a malicious antivirus if the antivirus program is not displayed in the Add or Remove Programs.
The list of programs may contain multiple listings for some antivirus programs. Before restarting the computer or installing another antivirus, be sure you've removed all related components of the current antivirus.
Windows XP Users
1. Activate the Add or Remove Programs window.
2. Locate the antivirus program in the list of installed programs, then click it once with the left mouse button to select it. To begin the uninstall procedure, click the Change/Remove or Uninstall button to the right of the program's name.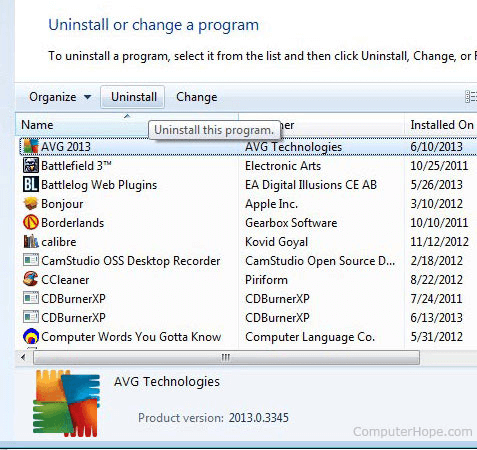 Rogue antivirus programs
The antivirus product attempting to be removed can be spyware or malware. On the Internet, there exist bogus antivirus apps that may damage a computer or aid in information theft. AntiVirus 2011 is one of the more well-known ones that has afflicted many computer users.
It is strongly advised that you uninstall any malware apps infecting your computer and masquerading as antivirus programs. To rid your computer of any further potential spyware or malware apps, you should run a spyware removal tool like Malwarebytes.
What to do after uninstalling the antivirus from my Windows 11 PC?
You are likely a proactive person and already had a backup antivirus program installed on your Windows 11 computer before you uninstalled the original.
However, some people are ill-prepared and want to know what to do after uninstalling antivirus software from their computer. You can activate Microsoft Defender on your PC to keep it safe from threats while you continue to look into antivirus choices.
Learn how to activate Microsoft Defender on your Windows 11 laptop or computer by referring to the instructions listed below:
1. You can access the Settings menu by pressing your keyboard's Win + I buttons.
2. Pick Security & privacy.
3. Select Windows Security from the Security menu.
4. Open Windows Security by clicking the button.
5. Choose threat & virus protection.
6. Go to Manage settings and click.
7. Turn on the Real-time protection toggle and any additional toggles as needed.
Until you install the antivirus software of your choice from a third party, your PC will have good offline and online security.
You also can try free uninstaller - such as Magoshare Uninstaller to help you quickly remove Anti-virus software on Windows 11 and delete all leftovers.
Magoshare Uninstaller - Powerful Free Uninstaller
100% free uninstaller to help in uninstalling programs on Windows and Mac OS.
1-click to uninstall all selected programs and delete all leftovers including app junk, caches, logs, registry files, etc.
Uninstall Windows apps, third-party software, crashed programs, stubborn software, malware, and more.