How to Permanently Delete Files in Windows 7 with File Shredder?
Want to permanently delete files in Windows 7?
The reason you come to this article, it may be because you stored some sensitive files in your Windows 10 computer, but you don't know how to securely delete them, right? If so, then you just come into the right place. On this article, you'll find the easiest and the most reliable way to permanently delete files in Windows 7 with file shredder software.
Although there are many other sites that promise you can permanently delete your files by following their methods, what you'll find here is the fastest and easiest method which could be done within a few clicks on your mouse. Not to mention that it also the special method for Windows 7.
So if you looking for the fastest, safest, and easiest method to permanently delete file, and you're using Windows 7 as the OS on your computer, then look no further, simply follow this method properly.
Fastest and Easiest Way to Permanently Delete Files in Windows 7
Before we get started, for you who are using a Laptop, please charge it first until the battery is fully charged. You can also charge your laptop throughout the process but it isn't recommended. Then free download Windows 7 file shredder – AweEraser. This powerful file shredding software can help you quickly and permanently delete files in Windows 7. Here is the guide:
Step 1: Run AweEraser on your computer.
Once AweEraser is installed on your computer, it will run automatically, and you can see a list of three Data Erasure Options. Next, simply click on the first options – "Erase Files".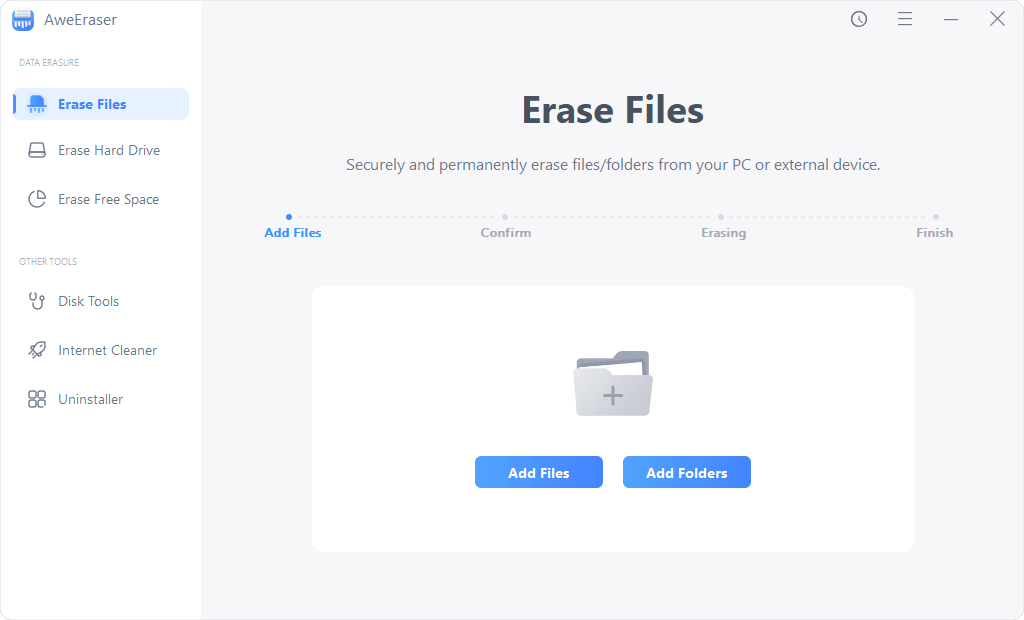 Step 2: Add or select files for shredding.
Add or select the files/folders from the Windows 7 computer. You can check the list carefully before erasing.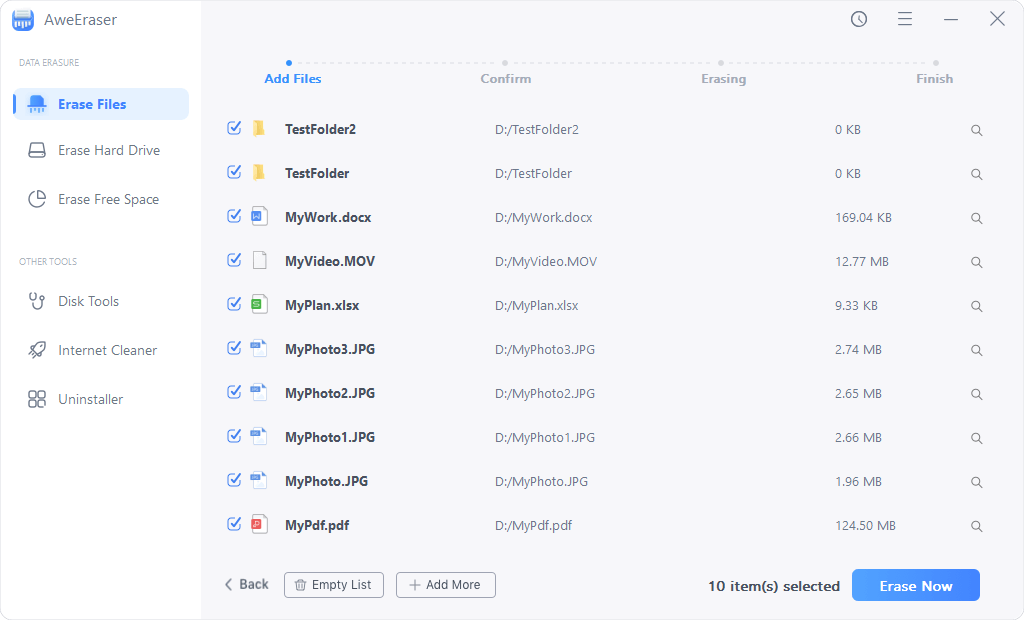 Step 3: Permanently erase files from Windows 7.
Click on the "Erase" button at the bottom of the screen. The deleting process will run automatically. Just wait until the process is finished. It shouldn't take much time unless you're deleting big files or too many small files. Once the process gets finished, the files are erased permanently.
AweEraser offers other two data erasure modes to help you erase or delete files permanently in Windows 7. "Erase Hard Drive" mode can help you erase an entire hard drive in Windows 7 to permanently erase all data on the hard drive.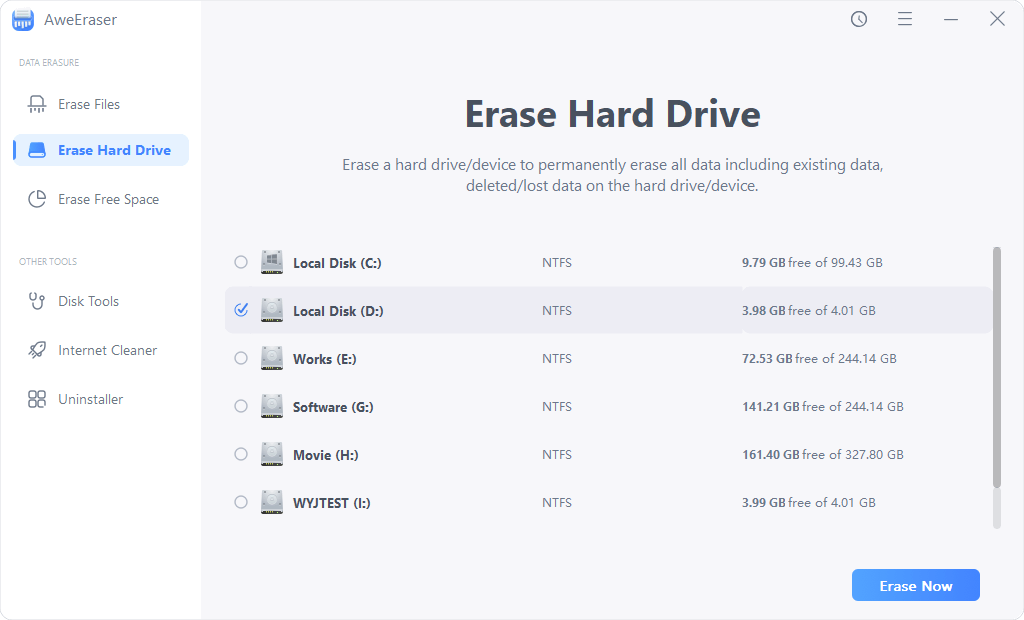 "Erase Free Space" mode is designed for permanently erasing already deleted or lost data on Windows 7 hard drive. If you want to prevent deleted file recovery on Windows 7, this mode is perfect for you.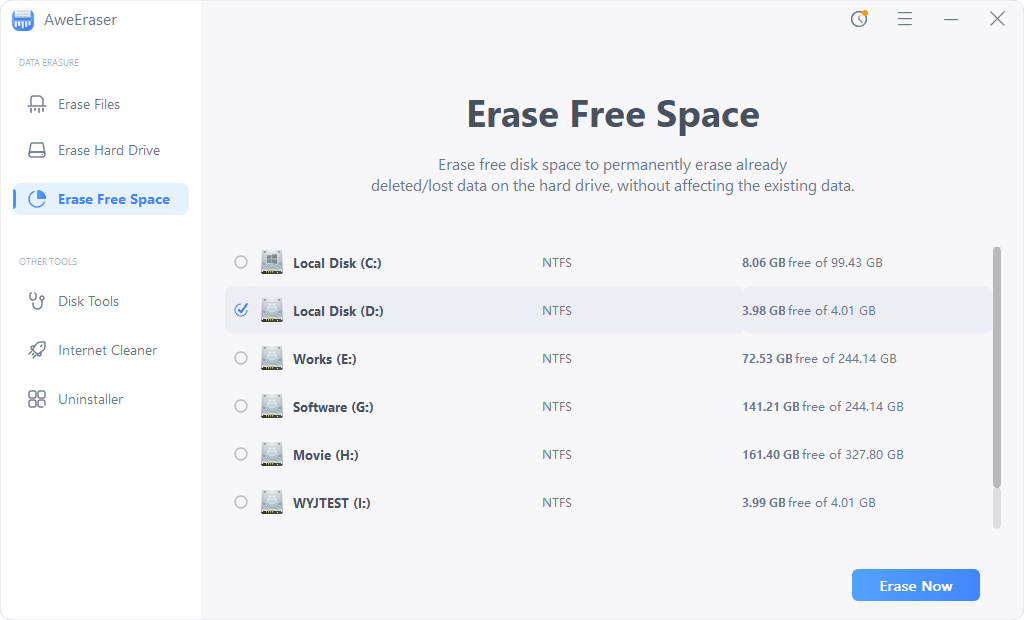 AweEraser has been trusted as the best file shredder for Windows 7. Whether you want to permanent delete files in Windows 7 or erase hard drive under Windows 7, this file shredder can help you do all you want. Please note that once the files are deleted by AweEraser. The files will be lost forever, can't be recovered by any data recovery method. So, be carefully when you use AweEraser to erase your files/folders in Windows 7.