How to Delete Instagram Account On iPhone?
Are you sick and tired of social media and want to deactivate your Instagram account for good? The fact that you've arrived at this page indicates that you're looking for information, so consider yourself fortunate.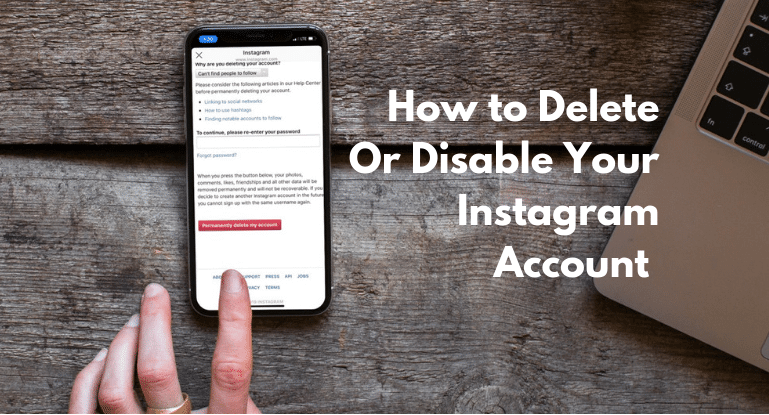 It's no secret that Instagram is the most popular social media platform used by millions of individuals across the globe.
There's no better platform than Instagram when it comes to connecting with people virtually.
It is one of the fast-growing social networking platforms because of its stunning photos and ever-expanding features. On the other hand, Instagram has recently been under fire for its privacy policies, which has led some users to uninstall the program. Instagram users now have the option of deleting or disabling their accounts. This article will go through the specifics of deleting an Instagram account on an iPhone.
A Few Noteworthy Points Kept In Mind Before Deleting
Sharing photos and videos on Instagram has become an everyday routine for millions of people. There are times when a break from this site could be necessary. It doesn't matter why, but you've chosen to spend some time on your own. Things to consider before deleting:
Before deleting your Instagram account, consider obtaining a copy of your data using the Data Download tool provided by Instagram.
Your account may have been deleted by you or someone else with access to your password, and there is no method to retrieve it. 'A new account may be established using the same email address; however, the same username may not be accessible'.
Because Facebook owns Instagram, uninstalling one app while retaining the other might expose your data to the same corporation.
Although it may take Instagram 30 or even 90 days to remove your data, it will be inaccessible to others throughout this timeframe. Instagram has said that certain information may stay in their backup storage, which you should investigate according to existing legislation in the field and your area.
How To Temporary Delete Instagram Accounts From iPhone?
By disabling your Instagram account, you may take an indefinite break from the social media platform without deleting your account from your phone's app. You can't see anything until you log in again on another computer or mobile device to Instagram.
You must use a computer or mobile browser to disable your Instagram account temporarily. To get started, follow these instructions.
Go to the Instagram log-in page using your smartphone or PC browser. Ensure that you're signed in to the account you intend to disable. Enter the correct username and password if you've previously signed into another account.
Go to the top-right corner of the screen and choose your "profile icon".
Select "Profile" from the drop-down menu.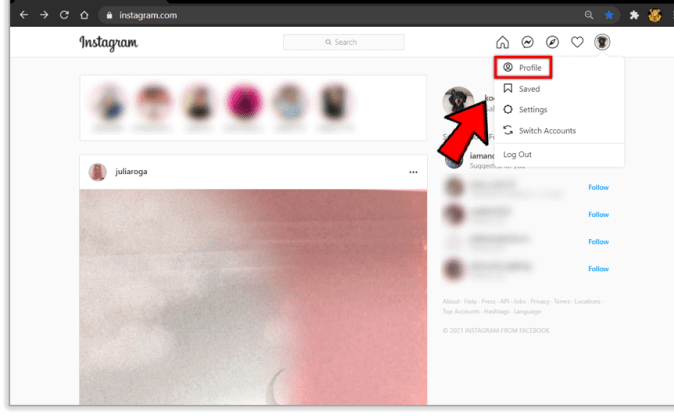 Next to your username, you'll see an option to "Edit Profile." Click on it.
Take a look at the bottom-right corner and choose "Temporarily disable my account".
Instagram will inquire as to why you're disabling your account. You may choose a choice from the drop-down menu.
Re-enter your password.
Temporarily disable my account by tapping or clicking on the option.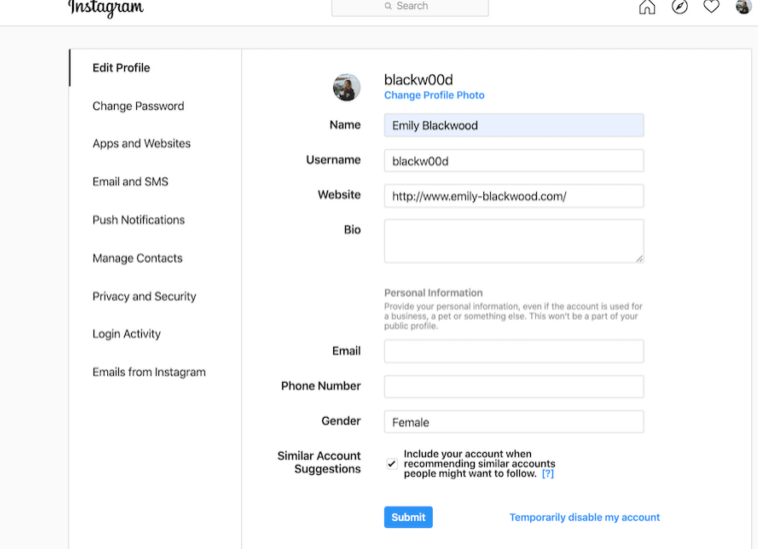 How To Permanently Delete Instagram Accounts From iPhone?
This guide will teach you how to delete your existing Instagram account on your iPhone if you've grown tired of the app and want a fresh start. Even if you've already tried temporarily deactivating Instagram (or removing the app from your phone), there are still options available. When you permanently deactivate your account, there's no going back.
In order to remove your account, you'll need to have your correct log-in details available. To do so, follow the following steps.
To permanently delete your Instagram account, first launch the Instagram app on your computer, Android, or iPhone and sign in to your Instagram account.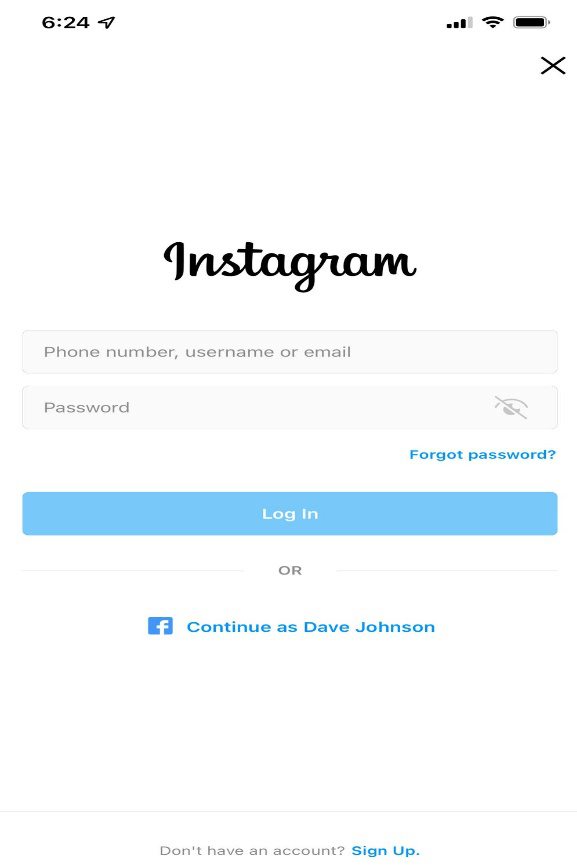 As soon as you've logged in, head to the menu option and click on it; here, you'll see the Instagram help center option, so touch on it.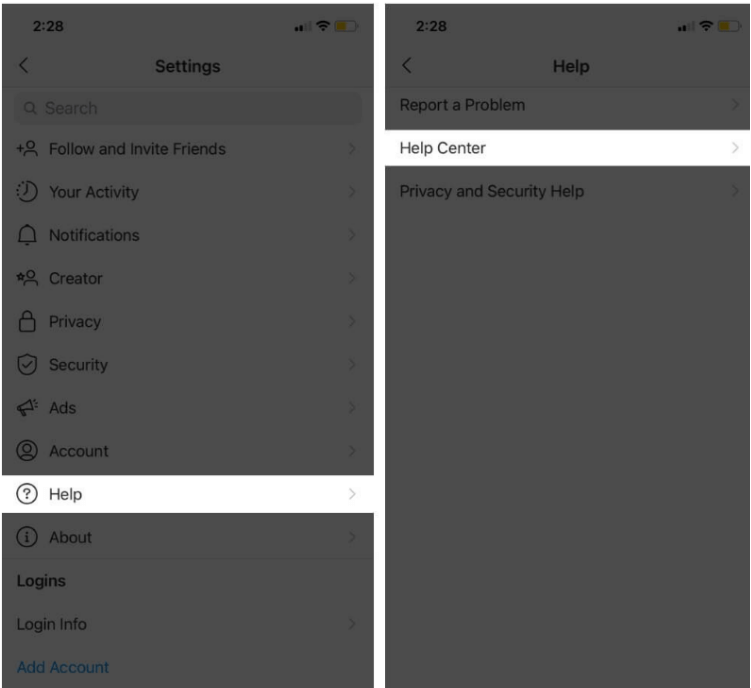 Then, under the 'Manage your account section, click on the 'Delete your Account' link to complete the process of deleting your account.
At this point, you will be offered three questions to consider. The 'How do I delete my account?' option in the center will guide you through the process of deleting your Instagram account.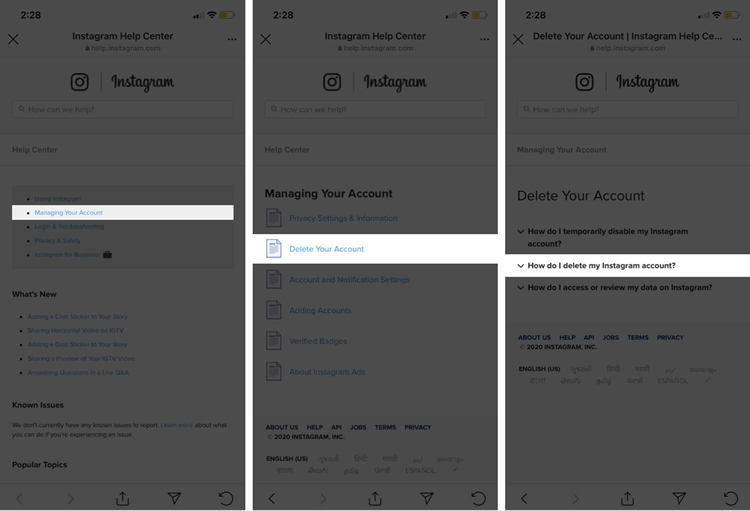 When you've finished all of that, you should click on the "Delete Your Account" page by clicking the link there and then choose "Why are you deleting your account? ", which is an option on the page. A drop-down menu may be found here.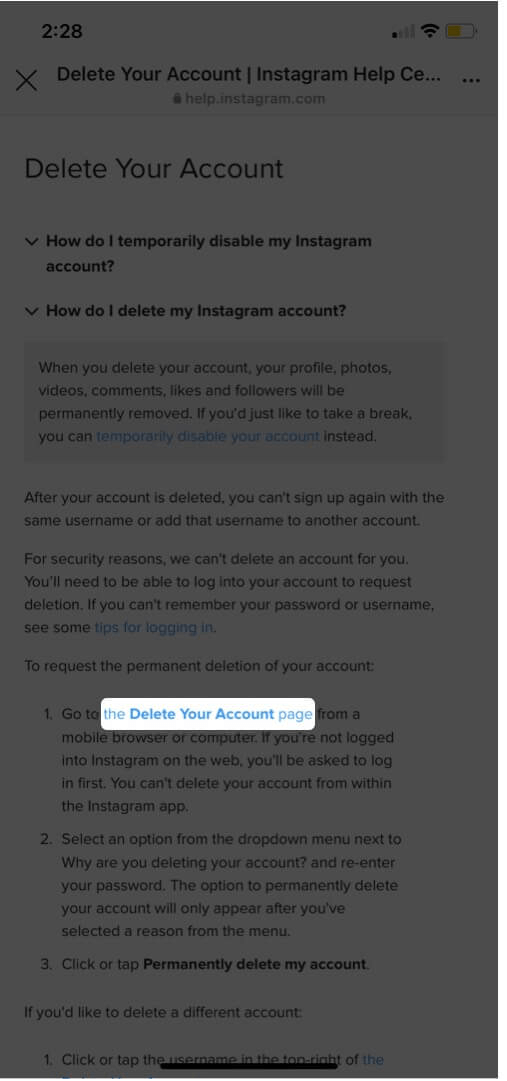 Here choose whatever reason you came up with and go on to the next step. You may choose the something else' option if you can't locate your explanation in the list and go to the next stage.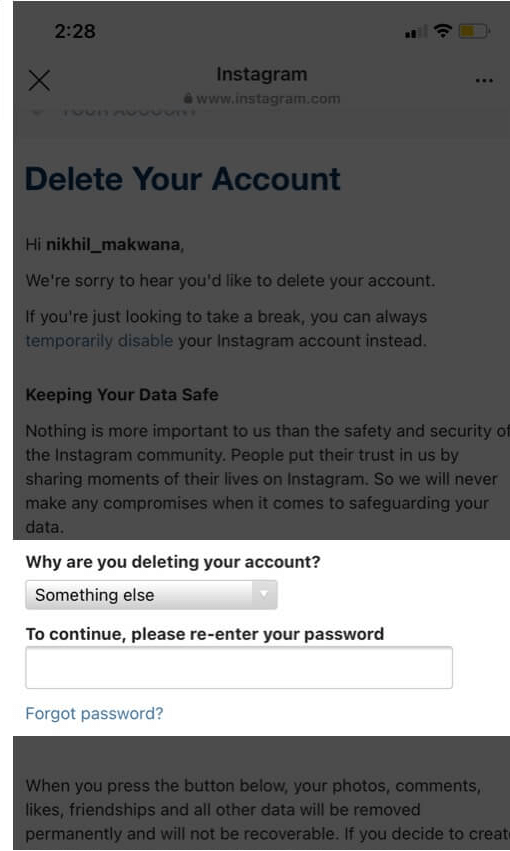 To permanently deactivate your Instagram account, re-enter your account password in the area after choosing the reason and confirming that you want to delete it.
You'll be allowed to permanently deactivate your account after you've selected a reason and input your password.
Your account and all of your data will be permanently wiped when you click on the 'Permanently Delete My Account' button.

Conclusion
Hope this article convinces you that you may safely delete your Instagram account. Once your account is deleted, you won't be able to get it back, so if you don't want it on your phone, try removing the app and keeping your account.