Steps to Create A Bootable Clone Backup for macOS Big Sur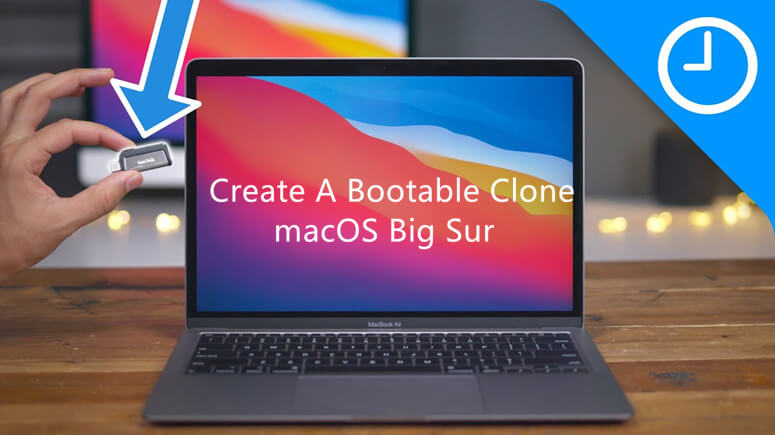 "Hi, I have an old macOS Big Sur MacBook, I will sell it. Before selling it, I want to make a full backup of my data. Is it possible to create a bootable backup and how to do that?" - Jeremy
Time Machine is a great tool to back up your Mac data regularly. But, it is not flexible and not easy-to-use. If you want to continue your work or restore data after selling/donating your Mac, you'd better make a bootable clone for your Mac. In this article, we will show you an easy method to create a bootable clone backup for macOS Big Sur.
Download the reliable disk cloning software for macOS Big Sur
First of all, you need to download a disk cloning application - such as AweClone for Mac. This disk cloning application can help you make a full copy of macOS Big Sur. It also can help you clone data on macOS Mojave, macOS Catalina, macOS Monterey...
Clone HDD/SSD/Memory card/USB flash drive on Mac.
Create disk image of any hard drive on Mac.
Steps to create a bootable clone for macOS Big Sur
First of all, download and install AweClone for Mac on your Mac which installs macOS Big Sur. Then open this software from Launchpad. Follow these steps to create a bootable clone for macOS Big Sur.
Step 1. Open AweClone for Mac, choose disk clone mode - OS Clone. This mode can help you securely and quickly clone system drive to a external hard drive/USB flash drive.
Step 2. Connect the external hard drive to your Mac. The source drive is selected - it is the macOS Big Sur startup disk. Select the external hard drive as the destination drive.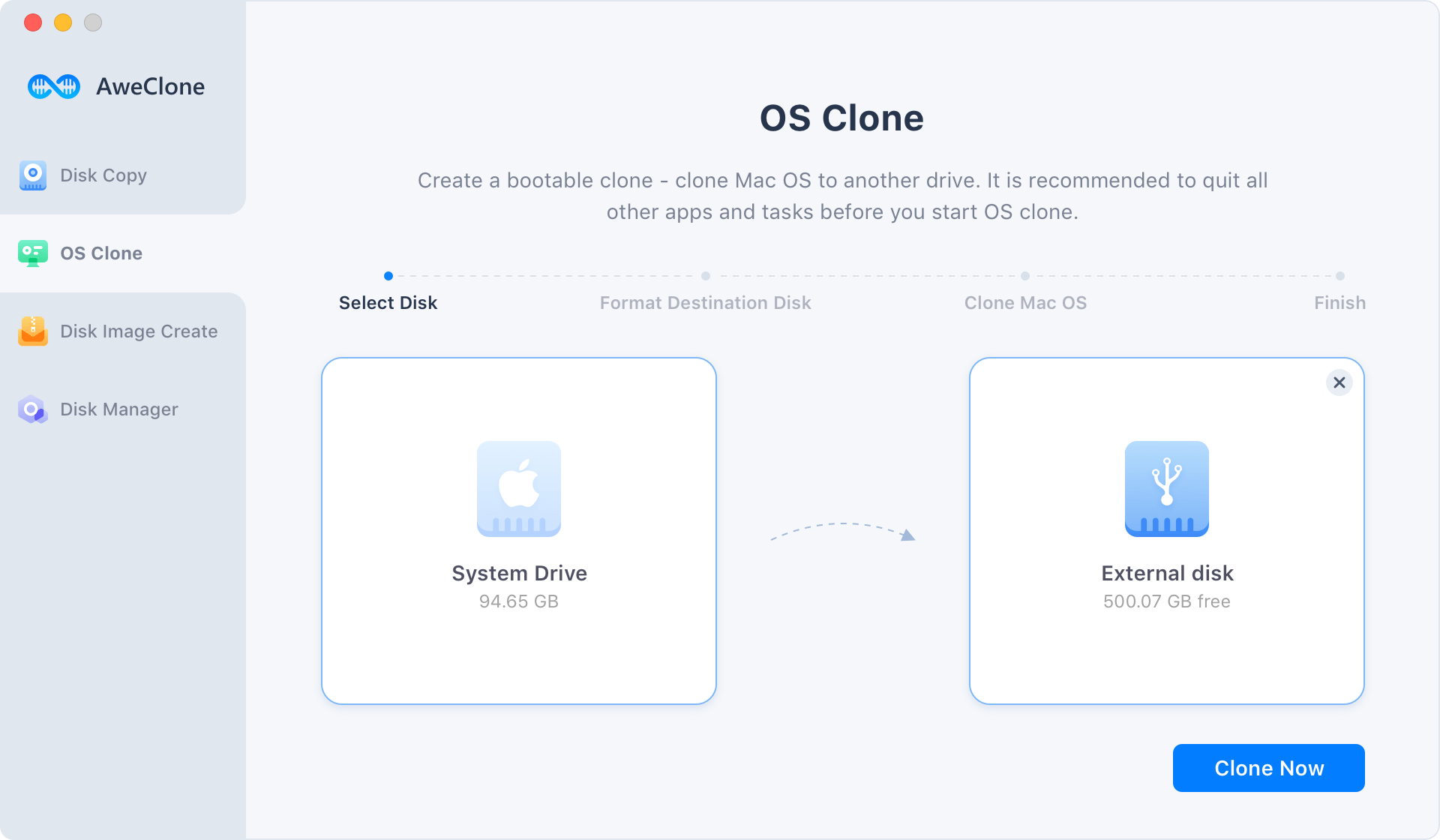 Step 3. Click on Clone Now button. This tool will format the external hard drive, and then clone the system drive to the external hard drive.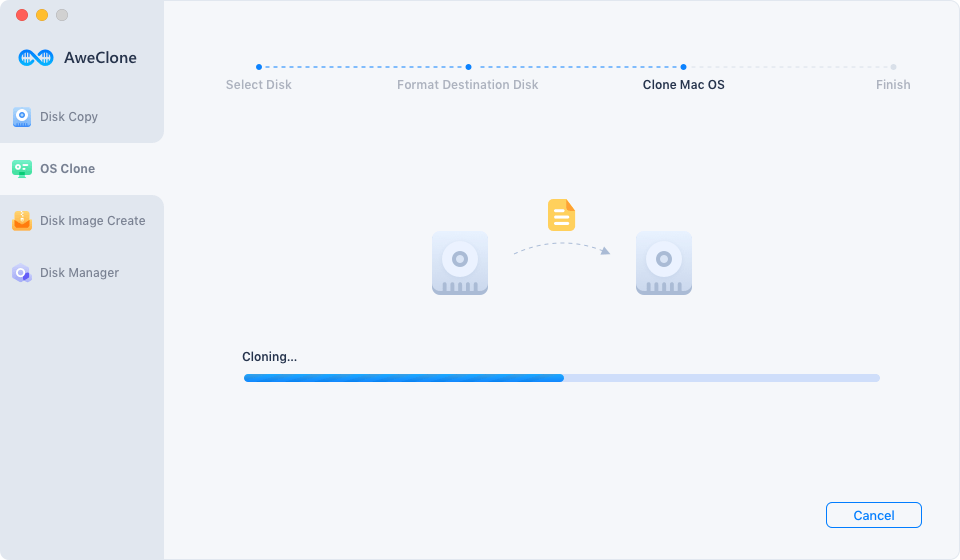 Once the process gets finished, you've created a full bootable backup for your macOS Big Sur Mac.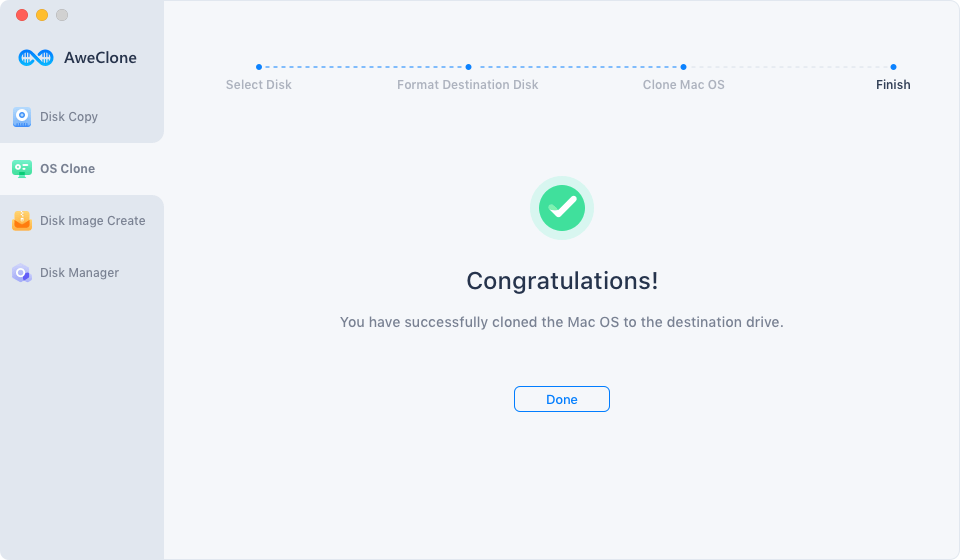 How to use the macOS Big Sur bootable clone?
If you send your old Mac to be repaired, you can insert the clone disk to a new Mac. Then you can boot into macOS Big Sur with the clone disk, and you can continue your work or recover data with the bootable clone.
You also can use the clone disk to restore macOS Big Sur or restore data in macOS Recovery mode.
In the past, most of macOS Big Sur users don't know how to create a bootable clone for APFS volume. macOS Big Sur is different from macOS 10.X. It is not easy to create a bootable copy without third-party software.
AweClone for Mac makes disk clone become easy. With this software, you can easily clone HDD to SSD or clone SSD to HDD. As you've seen, it can securely clone macOS Big Sur to an external hard drive within a few steps. You don't need to check the differences between macOS Big Sur and macOS Catalina, just download this software to quickly complete the OS clone.
AweClone for Mac also can help you 1:1 clone hard drive from one location to another, and create a disk image of your hard drive. It supports for both Intel chip Mac and Apple Silicon chip Mac.