Top 5 Best Backup & OS Clone Software for Mac
To many of us, backing up a Mac entails configuring Time Machine to do incremental backups and enrolling in different iCloud services to save copies of images, music, files, and other data in the cloud.
However, while Time Machine and iCloud are fantastic resources, they aren't flawless, and depending on them alone to keep your data secure is a risky move.
An ideal plan includes at least two independent backup schedules, with at least one of them back up to an offsite drive.
That includes purchasing and utilizing a backup solution before you lose data. When it comes to backup software, there are several solutions to choose.
The most effective method for backing up a Mac
AweClone for Mac is a simple and affordable backup tool among the tools and services we look at here, whereas ChronoSync, Carbon Copy Cloner, and SuperDuper all allow you to conduct incremental backups but are focused on other purposes. Backblaze, Carbonite, and IDrive are all good online backup services, but Backblaze has the advantage.
However, for a mix of ease of use, functionality, and the option to combine local backups with backup to the cloud, Acronis Cyber Protect Home Office is the big favorite.
5 Best Mac Backup Software for Mac Backup and OS Clone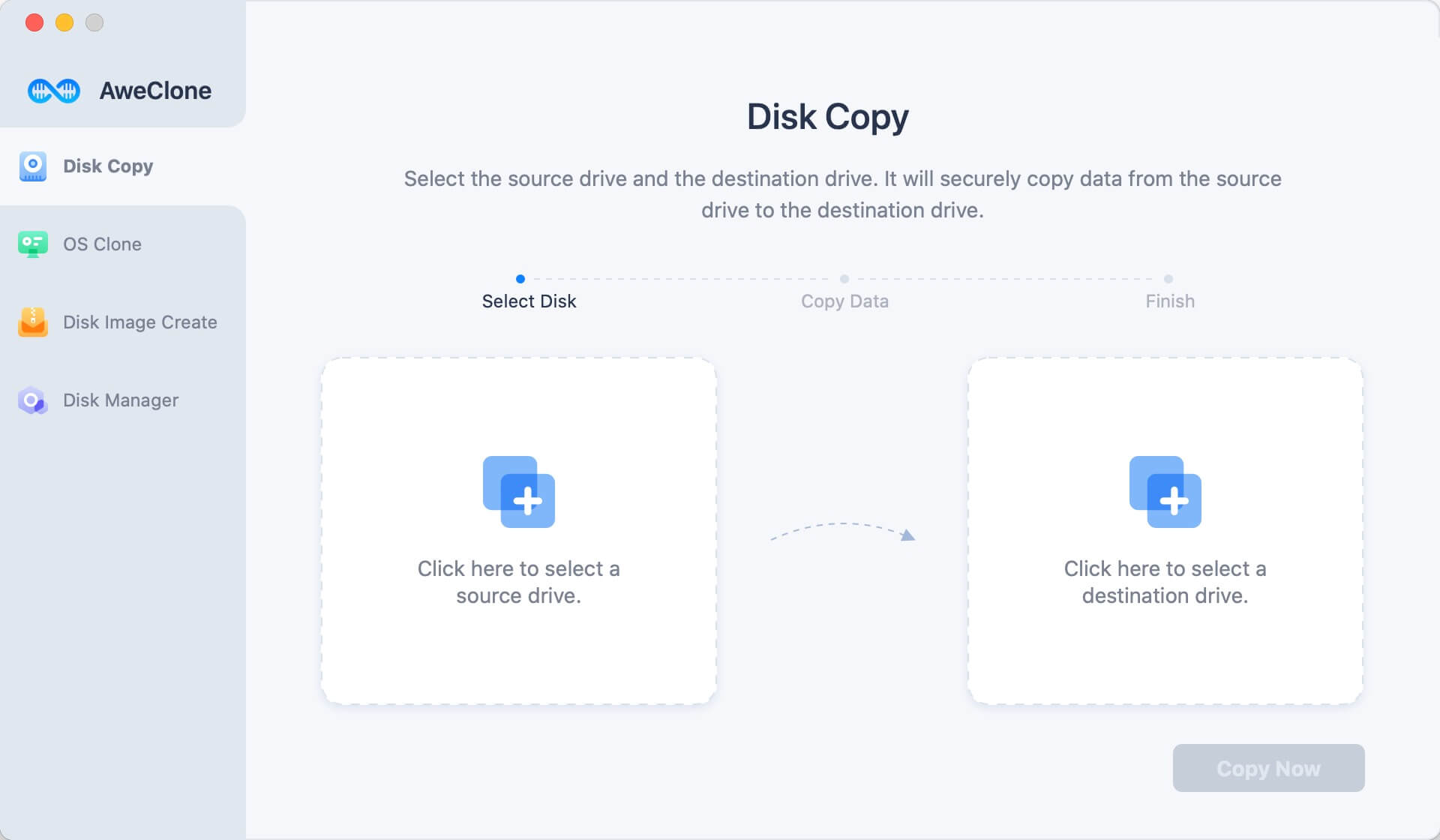 As one of the best Mac cloning software, AweClone for Mac has all the features of backup & clone for Mac OS. The clean interface makes it very easy to use and it supports for most macOS versions and OS X versions.
Outstanding Features:
Disk Copy - copy data from one hard drive to another hard drive.
OS Clone - securely clone Mac OS and create a bootable disk. The clone data also can be used as a backup to restore macOS.
Disk Image Create - Create disk image of a hard drive and save it to any location.
AweClone supports to clone HDD, SSD, USB flash drive, memory card, and any other storage device. It can help you securely create a bootable disk clone for Mac OS and use it to restore data on any Mac.
Create a bootable disk clone for Mac.
Fully compatible with Intel chip Mac and Apple Silicon chip Mac.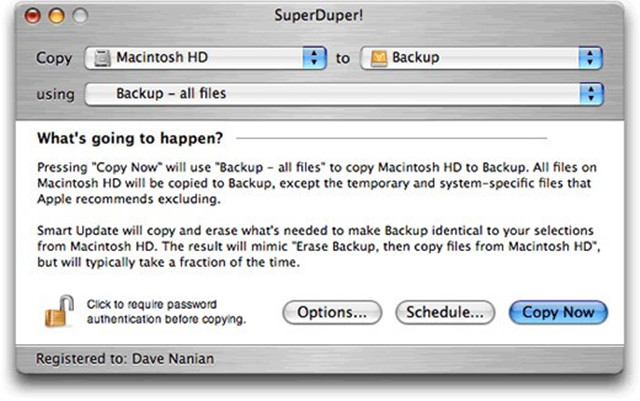 In a world where even the smallest error may result in data loss, SuperDuper! is a must-have program. It's simple enough for anyone with basic computer abilities to utilize. Simply choose your source and destination drives and watch as it successfully clones them. There will be no more lost photographs or papers as a result of unintentional deletions or formatting errors.
SuperDuper! offers a Smart Wake function that allows you to backup your Mac without turning it on. It does this by recognizing when backups begin and turning off displays so that no modifications are made once the initial backups are completed.
You may even choose which kind of data you want to be backed up, such as simply music or certain programs.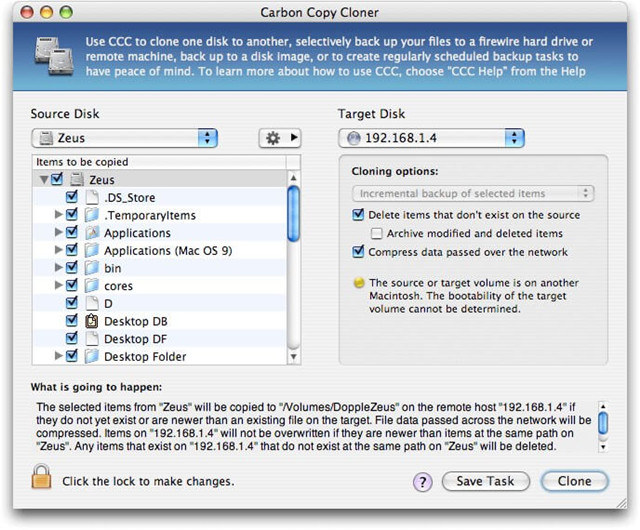 Carbon Copy Cloner is no stranger to data backup. With its tagline 'Casually Confront Catastrophe' the firm immediately makes you pleased. Carbon Copy Cloner is a straightforward cloning utility for backing up internal hard drives.
With this application, you may boot from the backup disk or clone and install a new drive, and you can pick which files and folders to back up.
It has clever updates that backup just what has changed since the previous time it checked. You can also schedule backups and even halt an ongoing backup if you need to do anything on your Mac while it's busy.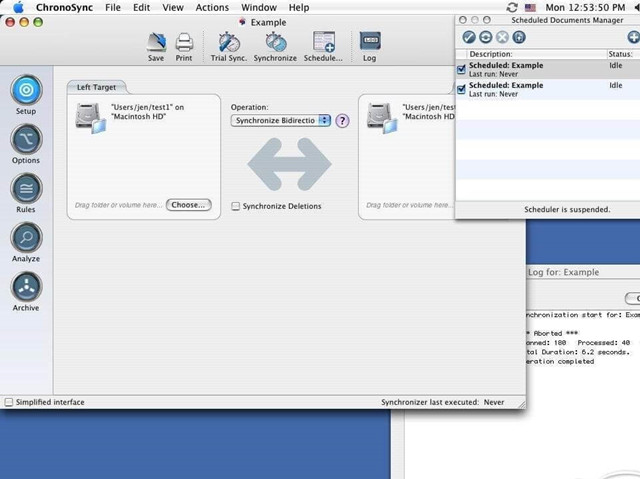 ChronoSync is more than just a backup solution; it also has synchronization features. It enables you to backup to practically any outside device or application, including iPads, iPhones, Windows PCs, and certain online services, including bootable backups. Rules, manual exclusions, filters, and much more can be configured, making this one of the most customized backup programs available.
ChronoSync is currently being developed, and it has been updated more than 70 times since 2002. That's fantastic news since it suggests the developer will most likely support Apple's most recent upgrades.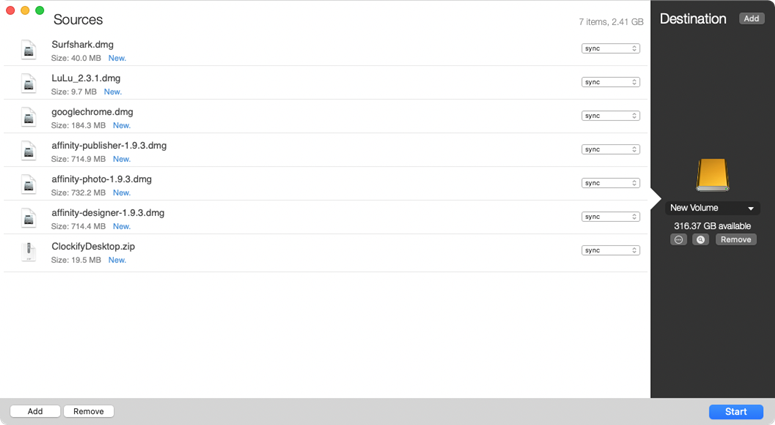 SmartBackup is a useful program for macOS that allows you to sync and backup folders, files, or volumes. SmartBackup supports several destination options as well as the ability to exclude certain objects from backup.
The program includes built-in automation, allowing it to run on its own without your intervention. This function also assures secure backups in the event of a power outage at an inconvenient moment!
SmartBackup may archive updated or deleted data in time-stamped folders if desired.
It's also quite affordable: it's absolutely free. It is a useful backup tool that is free of charge. One disadvantage is that it lacks several sophisticated functions that may be obtained elsewhere. The trial period is also free. There is no cost, and you may use it totally for free.
In conclusion
The best backup software for macOS is determined by your requirements. AweClone for Mac is ideal if you want a straightforward, user-friendly solution for creating an exact clone of your hard drive every time it is plugged in. ChronoSync can automate backups from different sources, so you never have to worry about forgetting to back up your data again.
Carbon Copy Cloner is a more advanced tool that offers a plethora of scheduling and encryption settings for your hard disk. That's fantastic if you need something that can be run on a schedule while yet allowing you to personalize what you back up. SmartBackup offers a lot to offer for a free choice as well, so it's worth investigating.