How to Create A Bootable Clone for Mac?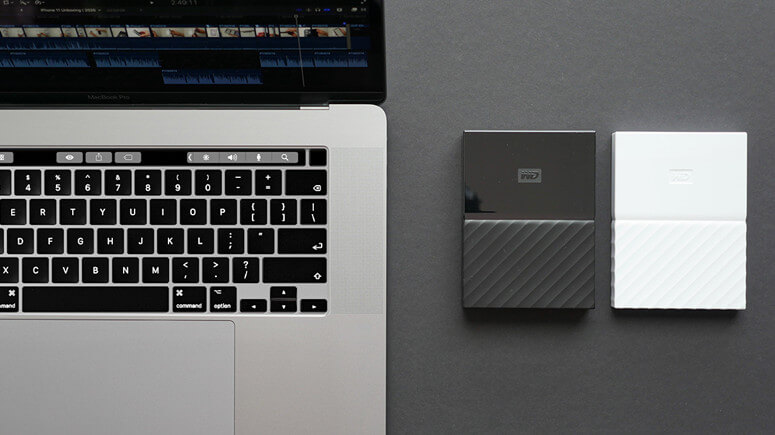 You must make a backup of your Mac. The technique is the same whether you perform it locally using Time Machine, transmit it to a cloud service, or install a replica creation tool (or all three). Nothing is more important than backing up your computer in case anything terrible happens and you lose all of your important data.
Using Time Machine locally is one of the easiest solutions. Another alternative is to use a cloud-based service like Backblaze or CrashPlan to back up your data. We'll teach you how to clone your Mac with a disk cloning application like AweClone for Mac or AweClone for Mac in this part.
The distinction between cloning and employing Time Machine
Local backups through Time Machine, cloud-based backups, and clones all serve an important role in keeping your data secure in the event of an unforeseen event that leaves your Mac inoperable (even temporarily). What distinguishes cloning is the ability to generate a bootable clone of your complete hard drive, allowing you to access anything on one Mac through another simply by transferring it to an external drive, attaching the drive to the second Mac, and then picking it from the Startup menu.
Most cloning applications contain extra capabilities, such as the ability to create prescheduled copies. This is great because, if anything really goes wrong with your laptop, you won't exactly want to recover from a year-old backup. We strongly advise you to invest in these extra capabilities if they are available with the cloning application you use (for example, SuperDuper! is free to clone but requires a $28 license charge for management, smart upgrades, sandboxes, and programming).
The most effective method for backing up a Mac
AweClone for Mac is a simple and affordable backup tool among the tools and services we look at here, whereas ChronoSync, Carbon Copy Cloner, and SuperDuper all allow you to conduct incremental backups but are focused on other purposes. Backblaze, Carbonite, and IDrive are all good online backup services, but Backblaze has the advantage.
However, for a mix of ease of use, functionality, and the option to combine local backups with backup to the cloud, Acronis Cyber Protect Home Office is the big favorite.
Find a disk cloning application for Mac OS clone
Only disk cloning application can help you create a bootable clone of Mac OS. One of the best Mac disk cloning applications is AweClone for Mac. This disk cloning tool offers many excellent tool including OS Clone.
OS Clone is able to clone all Mac data including system data, applications and your files to an external hard drive or USB flash drive. You will easily get a bootable clone of your Mac. The disk clone can be booting on any of Mac and can help you restore macOS on your crashed Mac computer. Download AweClone for Mac:
Easily create bootable clone for Mac.
Clone HDD/SSD/USB flash drive and more on Mac.
Create a disk image on Mac.
Manage disks on Mac.
Steps to create a bootable Mac clone
To get underway, you'll have to launch your cloning application after you've successfully installed it. We created a clone for this tutorial using AweClone for Mac.
Step 1. Open AweClone for Mac and connect an external disk to your Mac (as the destination drive to create a bootable clone).
Step 2. Choose OS Clone, then select the external disk as the destination drive. (Please note that this tool will format the destination drive before OS cloning.)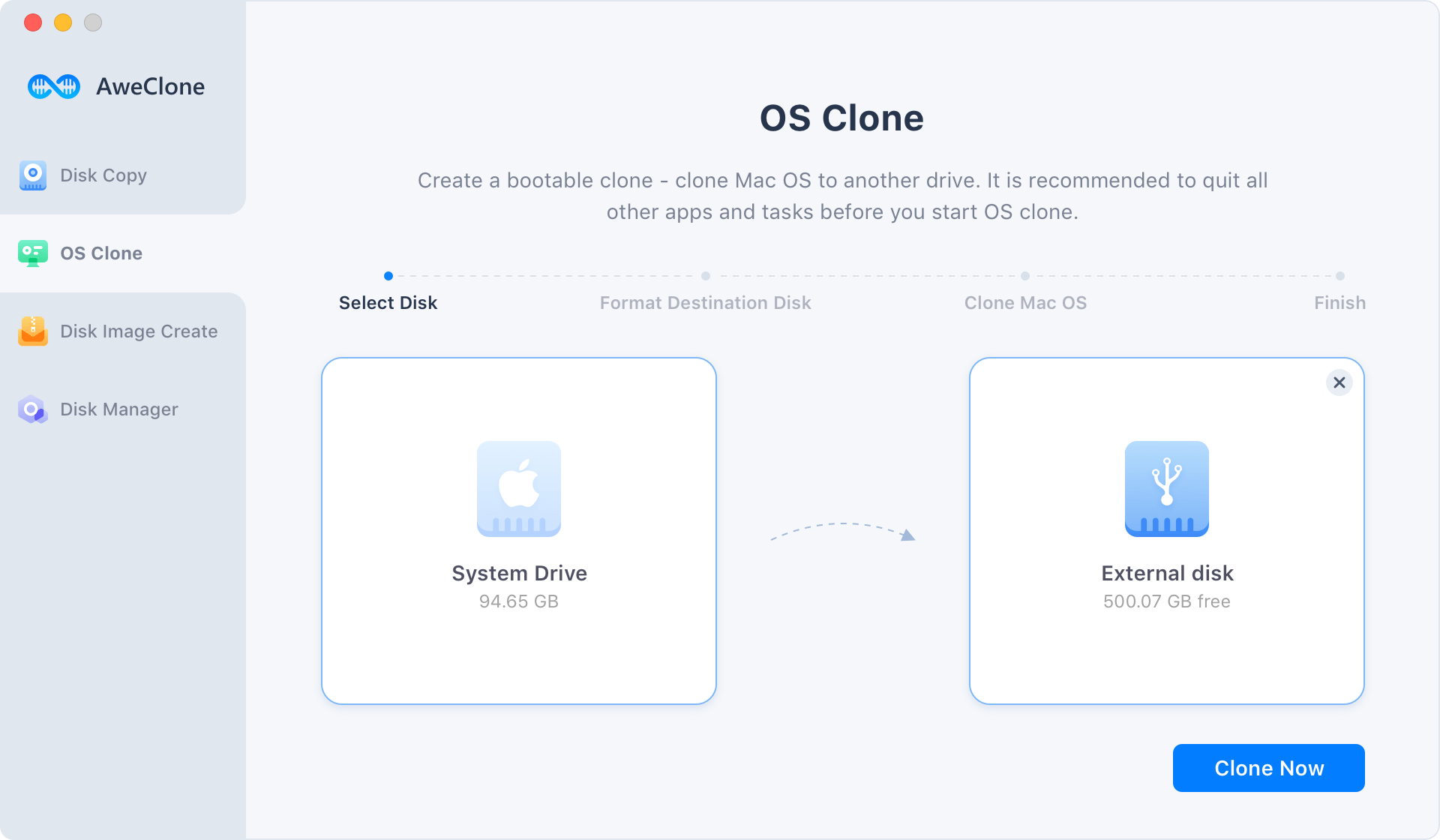 Step 3. Click on Clone Now button, it will asks you if you want to clone the Mac startup disk to the external disk, just click on Clone Now again.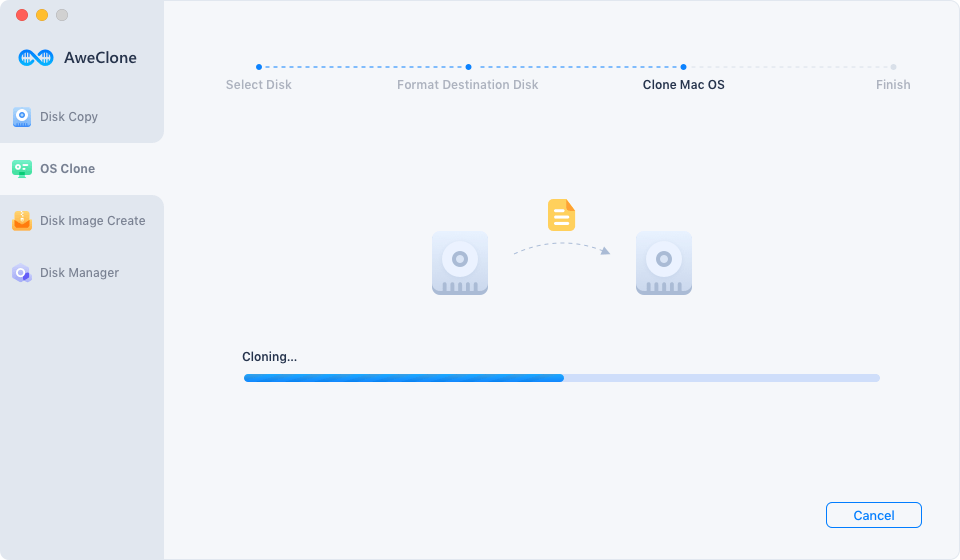 Step 4. Then it will securely clone the Mac startup disk to the destination drive. Once the process gets finished, you've successfully created a bootable clone for your Mac.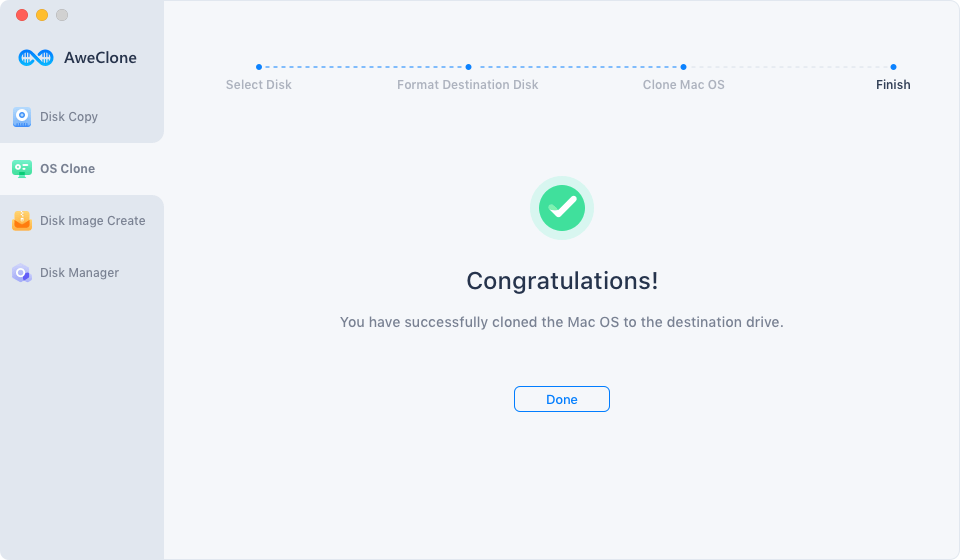 Most cloning applications will function the same, generic way. Refer to the user guide if you don't understand the process for the software you've chosen.
How to Restore a Cloned Mac
If you need to recover your Mac from a backup for whatever cause, you may utilize a clone to accomplish it.
Shut down your Mac.
Attach your external drive to the proper Mac port.
Start your Mac.
To access Recovery Mode, hold down the Command and R keys (hold Power button if you are using an Apple silicon chip Mac) as long as the user resumes. The macOS utility screen will appear when your Mac boots up.
Continue after selecting Disk Utility.
Choose your hard disk.
At the top of the Disk Utility window, select the Restore tab.
Next to "Restore From," choose your external drive.
Next to "Restore to," choose your Mac's hard disk.
Click the Restore button.
How to boot your clone from a different Mac
You may continue with your backup on another device while yours is in the shop by booting it up from the startup menu.
Important: In order to launch your clone as a distinct starting disk, you must segment your hard drive. Make sure you do that before proceeding with the instructions below.
Shut down your Mac.
Connect your external drive to the proper Mac port.
Start your Mac.
As soon as you hear the starting chime, hold down the Option key.
To start your computer, choose the external disk containing the clone backup from the list of systems.
You may now utilize the clone to recover files from your disk.
Check full guide: how to change Mac's startup disk >>
The bootable clone can be used as a backup to restore lost files or you can use it to continue work if you send your old Mac to be repaired. You also can use the bootable clone to restore macOS, the same as Time Machine backup.
AweClone for Mac also can help you 1:1 clone data from one hard drive to another and create a disk image of any hard drive. It even can help you format disk on Mac.