Reinstall macOS Monterey on Apple Silicon Chip Mac
A few troubleshooting processes, such as reinstalling macOS, forcing a restart, and starting in safe mode, vary from the departing Intel Macs because of the changes in system architecture. If you possess an Apple Silicon Mac, learn how to do these tasks.
It would be best to use extreme care while reinstalling macOS Monterey on Apple Silicon Mac since the outcome depends on it. No need to be concerned. Reinstalling macOS Monterey on Apple Silicon Mac is as simple as following the instructions provided in this article.
What Exactly Is The Apple Silicon Chip Mac?
In November, the new 2020 13-inch MacBook Pro, MacBook Air, and Mac mini versions featuring an Arm-based M1 processor were unveiled by Apple. M1 results from more than a decade of Apple's development of processors for the iPhone and the iPad, and it has earned glowing reviews for its performance and efficiency.
Because it is a so-called "System on a Chip," the M1 incorporates various components that enable Mac's many functions. It includes the CPU, Neural Engine, GPU, a unified memory architecture (RAM),  Secure Enclave, encodes/decode engines, solid-state drive controller, signal processor, Thunderbolt controller with USB 4 compatibility, etc.
To describe Apple chips, "Apple silicon" is used. These new CPUs will ultimately replace the AMD graphics processors that have been utilized in high-end Macs for 14 years. First, Apple silicon appeared in the initial iPad.
Apple's initial Mac processor was the M1. It has the following features:
Process technology at 5 nanometers
A processor with eight cores
Four high-efficiency cores
A graphics processor with seven or eight cores (GPU)
Neural Engine with 16 cores
The RAM may be either 8 GB or 16 GB
As a result of combining many components that are typically found on separate chips, Apple refers to this design as a "system on a chip" (SoC).
Preparation For Reinstalling macOS Monterey
To prevent problems with the reinstallation of macOS Monterey on your Apple Silicon chip Mac, you should do the following steps beforehand.
Stay connected to the power source of your Apple Silicon chip Mac.
If you need to reinstall macOS using Mac Recovery Mode, you should have a USB Flash Drive with appropriate storage capacity.
In addition, if you merely require a fresh copy of the OS, you don't need to back up your Mac before reinstalling it. Then erase the startup disk.
Reinstalling the macOS Monterey on a new, clean drive is a good option if you don't want to risk startup disk corruption or lack of space. You should back up all of your crucial information before deleting your hard drive since the operation will erase all of your data.
Steps to reinstall macOS Monterey on Apple Silicon chip Mac
If your Apple Silicon chip Mac starts up, but runs slowly, you may want to try Disk Utility First Aid. If that doesn't work, you may reinstall macOS 12 in Recovery Mode on M1 Mac to see if it helps.
Restart your Apple Silicon chip Mac, then enter macOS Recovery mode by pressing and holding the power button.
When you see the message "Loading startup options," release the keys.
Once you've selected Options and clicked on Continue, put in your admin password when prompted. The Mac Recovery Mode Utility window will emerge after waiting a few minutes.
After choosing Disk Utility, click on the Continue button. You may choose to erase the Macintosh HD by choosing Erase Volume Group and then Erase Mac. The Activate Mac window will appear when your Mac restarts. Click on Exit to Recovery Utilities once again when it says your Mac is enabled. (Optional)
As previously suggested, you may skip this step if you wish to preserve your personal information.
Click Continue after selecting Reinstall Monterey on your Mac. When asked whether you want to install macOS Monterey on Macintosh HD - Data or Macintosh HD, choose Macintosh HD.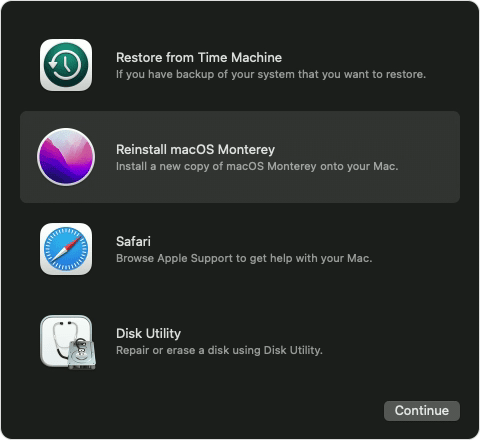 Take care not to shut down your Mac while it is in the process of being reinstalled.
It's possible that your Apple Silicon chip Mac may reboot into setup assistance once the macOS reinstallation has finished. This Apple Silicon Mac may be shut down if you wish to trade, sell, or give it away. In order to preserve it, you may just adjust the settings.
After reading this article, a reinstall macOS Monterey on apple silicon chip mac should be possible. Share this helpful article with your friends and colleagues if you think they'll benefit from it. You may not need to devote much time to this, but it will be quite helpful to us. I appreciate your assistance a lot!
Create a bootable clone backup for Apple Silicon chip Mac
If you want to create a bootable clone backup for Apple Silicon chip Mac, just download a disk cloning software to help you. AweClone for Mac is a powerful & easy-to-use disk cloning software. It can help you securely make a full backup of Mac data.
Create a bootable clone backup for Apple Silicon chip Mac and Intel chip Mac.
Support for all OS X and macOS versions.
Clone hard drive or create a disk image backup.