Choosing The Disk Repair Software for Mac
Have you noticed that one of your Mac drives has vanished? Are you frustrated by crashes that appear out of nowhere and interrupt your work? Is your Mac acting strangely, and you can't recall the last time you formatted your hard drive? If you answered yes to any of these questions, it's time to check your storage devices.
Fortunately, there are many great diagnostic and repair utilities for Macs. We investigated a number of competitors and compiled a list of the top 3 Mac hard drive repair software available. Let's get started.
What is the purpose of Mac Disk Repair Software?
Missing all of your data is a terrifying scenario. Approximately 2% of Mac hard drives fail each year. Thousands of dollars have been gone, not to mention the emotional value of your labor. Some items are simply irreplaceable, and you'll want to be ready if you need to recover them.
Aside from data loss, disc issues will cause your Mac to run slower. In the worst-case situation, your Mac will not turn on at all. As a result, running disk repair tools as part of routine maintenance is recommended.
Top Mac Disk Repair Software
Here are the top Mac disk repair tools.
#1 Disk Utility
Disk Utility is a built-in application in macOS. This utility can help Mac users to erase disk. The First Aid tool also can help Mac users to repair damaged hard drive on Mac. It is pretty simple to use. Just run this software, then select the damaged hard drive, click on First Aid button to repair the damaged hard drive.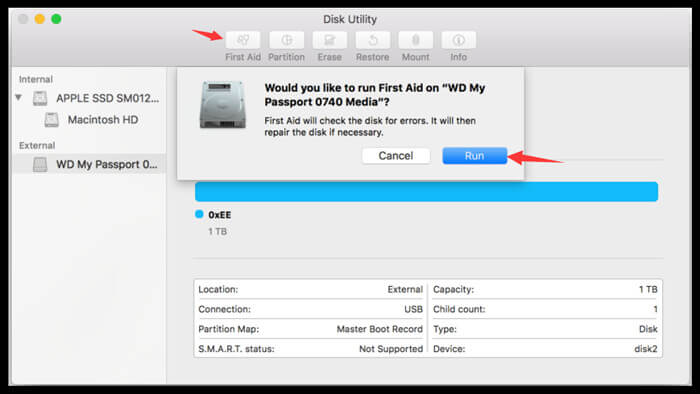 #2 AweEraser for Mac
AweEraser is a powerful disk wipe application. It offers three data erasure modes to help Mac users to securely and permanently erase data from Mac hard drive, external device. It also offers disk manager to help Mac users to repair & format hard drive on Mac. It also can help to remove external device in safe mode.
Data Eraser - AweEraser for Mac
Format and repair disk on Mac.
100% safe disk wipe software.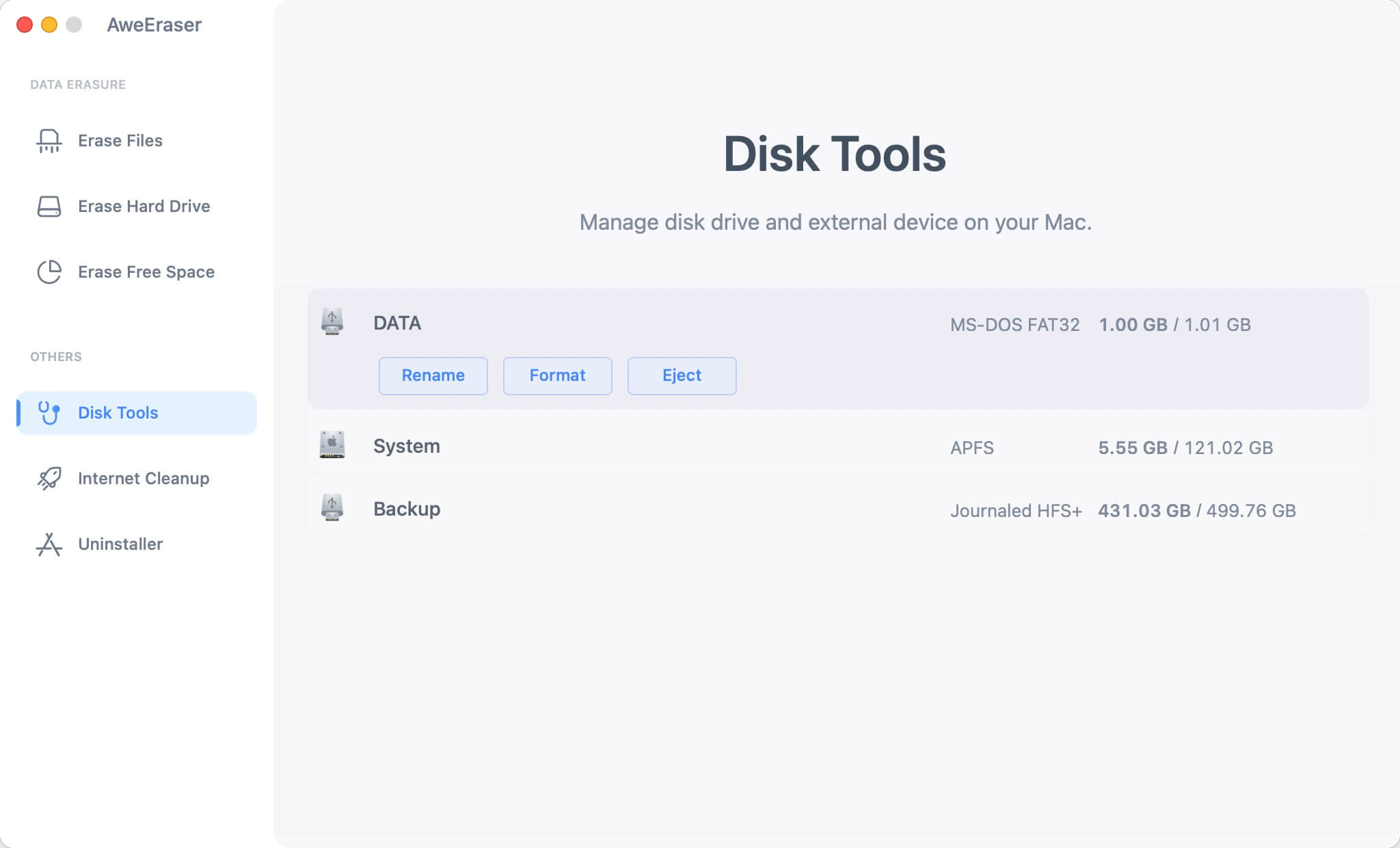 #3 Disk Warrior 5
The process of DiskWarrior is somewhat distinct. It will scan for damaged data and make healthy copies of it in order to prevent data loss. Your new files will be compared to the corrupted version in order to ensure that they are as close to the original as possible. Everything is accomplished with a single mouse click.
Disk Warrior can also analyze your drives for defective sectors, fix issues like Invalid node structure, and even recover data from faulty HDDs. Finally, the software allows you to optimize your directory in order to increase system efficiency and reduce the amount of time it takes to scan through it.
Back up Mac data
It is recommended to back up your Mac hard drive regularly. A backup can help you restore lost files after data loss on your Mac. AweClone for Mac is a powerful disk cloning software which is a able to securely clone hard drive or create a bootable clone on Mac.
Check full guide: securely create a bootable clone backup for Mac >>