Methods to Delete Files on Mac
File deletion on a Mac. It sounds simple, right? It is! Nevertheless, situationally and how you choose to use your Mac, there are so many alternative methods for deleting files that it is worthwhile to examine them. There are numerous other reasons why you would want to delete files. For instance, to make room. Then, how do you choose which files to remove in order to make the most space available? We will divulge. What happens, finally, if files simply won't delete? That's also taken care of.
Your Mac has a limited amount of capacity, so it's a great suggestion to delete any documents and folders you no longer use to make room for new ones. This might entail emptying the downloads folder, getting rid of outdated documents, or looking for hidden Mac files that are still using space. Before you sell or donate your Mac, you also need to permanently delete your private files.
Three traditional methods to delete a file on Mac
Normally, there are three simple ways to delete a file on Mac, these methods are very simple and the deleted files will be moved to the trash bin.
1. Right-click the file you want to delete, then choose move to Trash, the selected file will be deleted to Trash bin.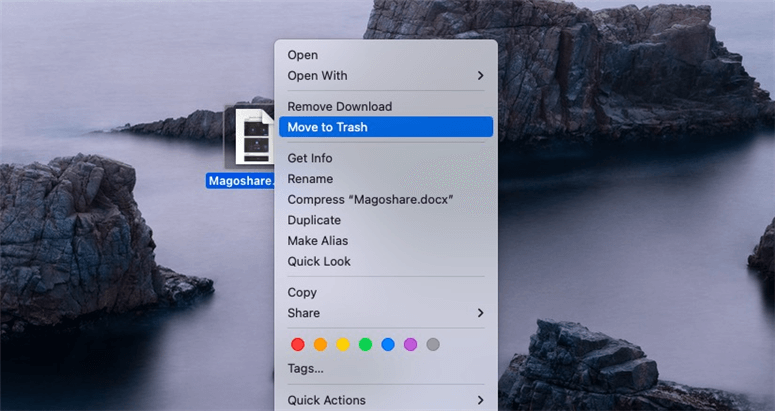 2. Just directly drag the file to the Trash.

3. Use Command + Delete to delete a file. The file will be moved to Trash.
If you want to empty the files from Trash, just right-click the Trash icon and select Empty Trash.

Delete junk files on Mac using Mac Cleaner
When you want to find and remove useless files on your Mac, you can try Mac cleaning software, such as AweCleaner for Mac. It can help you:
Find and delete duplicate files on Mac.
Find and remove old or large files on Mac.
You can quickly download and install AweCleaner for Mac, then run it to delete all junk data on Mac. It also can help you uninstall unwanted applications, removing all related files.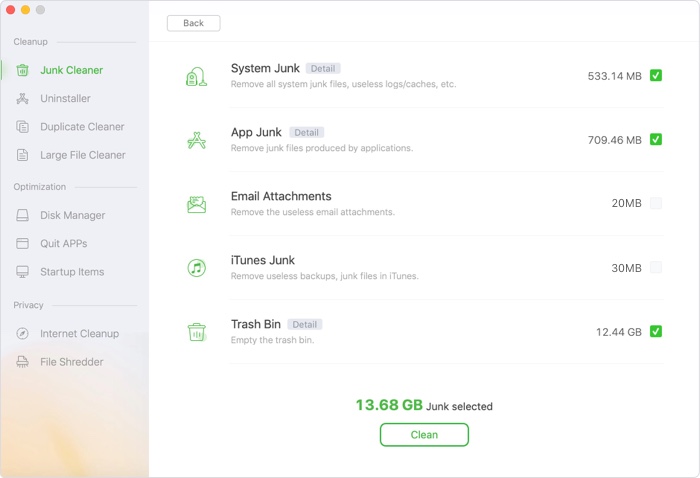 You also can optimize Mac storage by yourself. Most people don't frequently use the native Optimize Storage pane. If only they were aware of how simple it is to locate and remove files and even apps.
Go to the Apple menu and select About This Mac, Storage, and Manage.
Your files are organized into categories in the sidebar. A chosen file is sent to the Trash when you hit "Delete."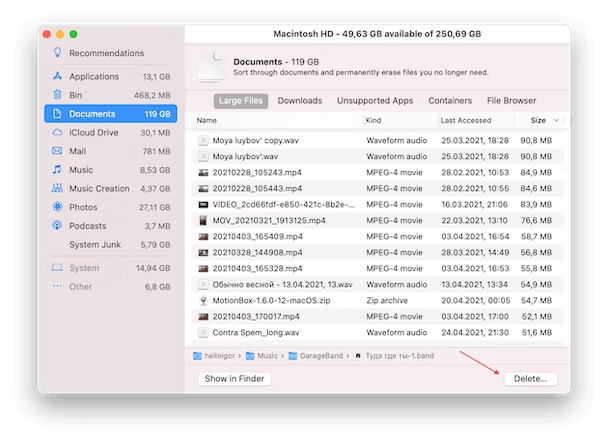 If you need to delete files to make room on your boot drive, starting with the ones that are taking up the most room and those you don't regularly access is a smart place to start. These huge, outdated files should be archived, then removed from your boot drive.
Recover deleted or lost files on Mac
If you delete a file by mistake, and can't find it in Trash, you can try data recovery software to get it back. Magoshare Data Recovery for Mac is a powerful data recovery application. It can help you recover deleted, formatted or lost files on Mac by a few clicks.
Magoshare Data Recovery for Mac
Recover deleted files after emptying trash bin.
Recover formatted or erased data on Mac.
Recover inaccessible and overwritten data on Mac.
Step 1. Download and install Magoshare Data Recovery for Mac on your Mac. Then open it from Launchpad, select the hard drive where you delete or lose your files.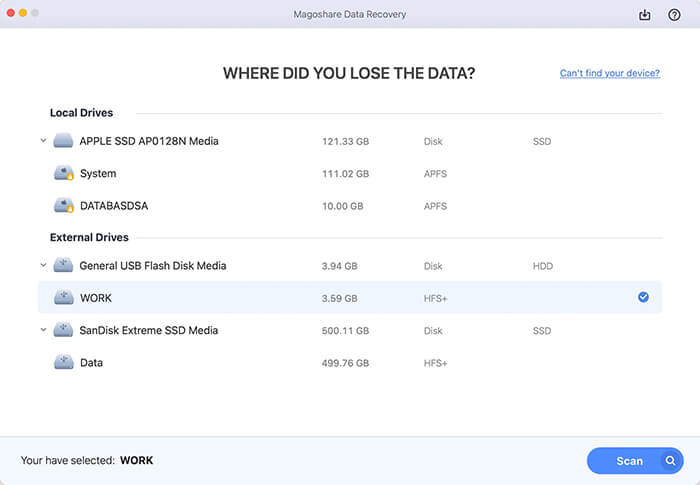 Step 2. Click on Scan button. Magoshare Data Recovery for Mac will deeply scan the hard drive and find all recoverable files.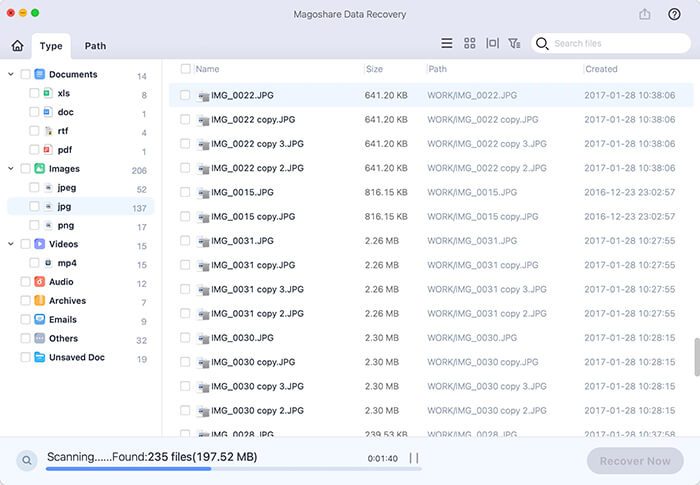 Step 3. Once the scan is completed, just find the files you want to recover. Select them and recover them.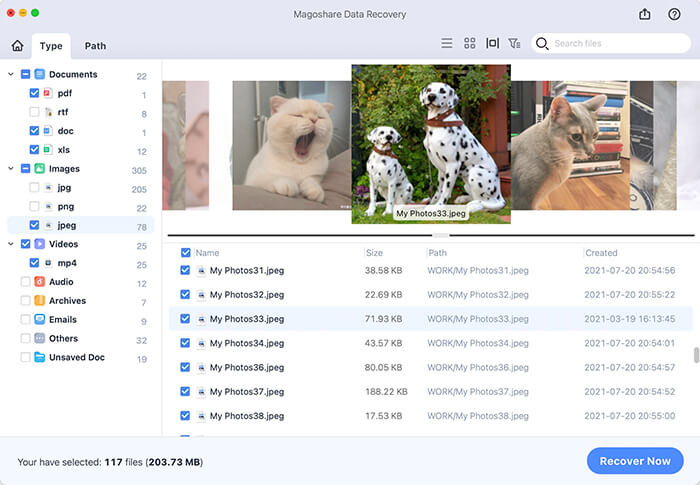 Permanently delete files on Mac
As you've seen, whether you have emptied the trash bin or run Cleaner software to clean up your Mac, all deleted and lost files still can be recovered by data recovery software. Before you sell, donate or dispose of an old Mac, you'd better permanently erase all sensitive documents.
AweEraser for Mac is a reliable data erasure application which is able to securely and permanently erase data on Mac beyond the scope of data recovery.
Data Eraser - AweEraser for Mac
Permanently delete files on Mac.
Wipe hard drive and free space on Mac.
Certified data erasure methods.
The erased data will be gone forever, can't be recovered by any method.
It offers three data erasure modes:
Erase Files - Permanently erase selected files on Mac.
Erase Hard Drive - Erase all data including the existing data and deleted/lost data on Mac.
Erase Free Space - Erase all deleted/lost data on Mac without affecting the existing data.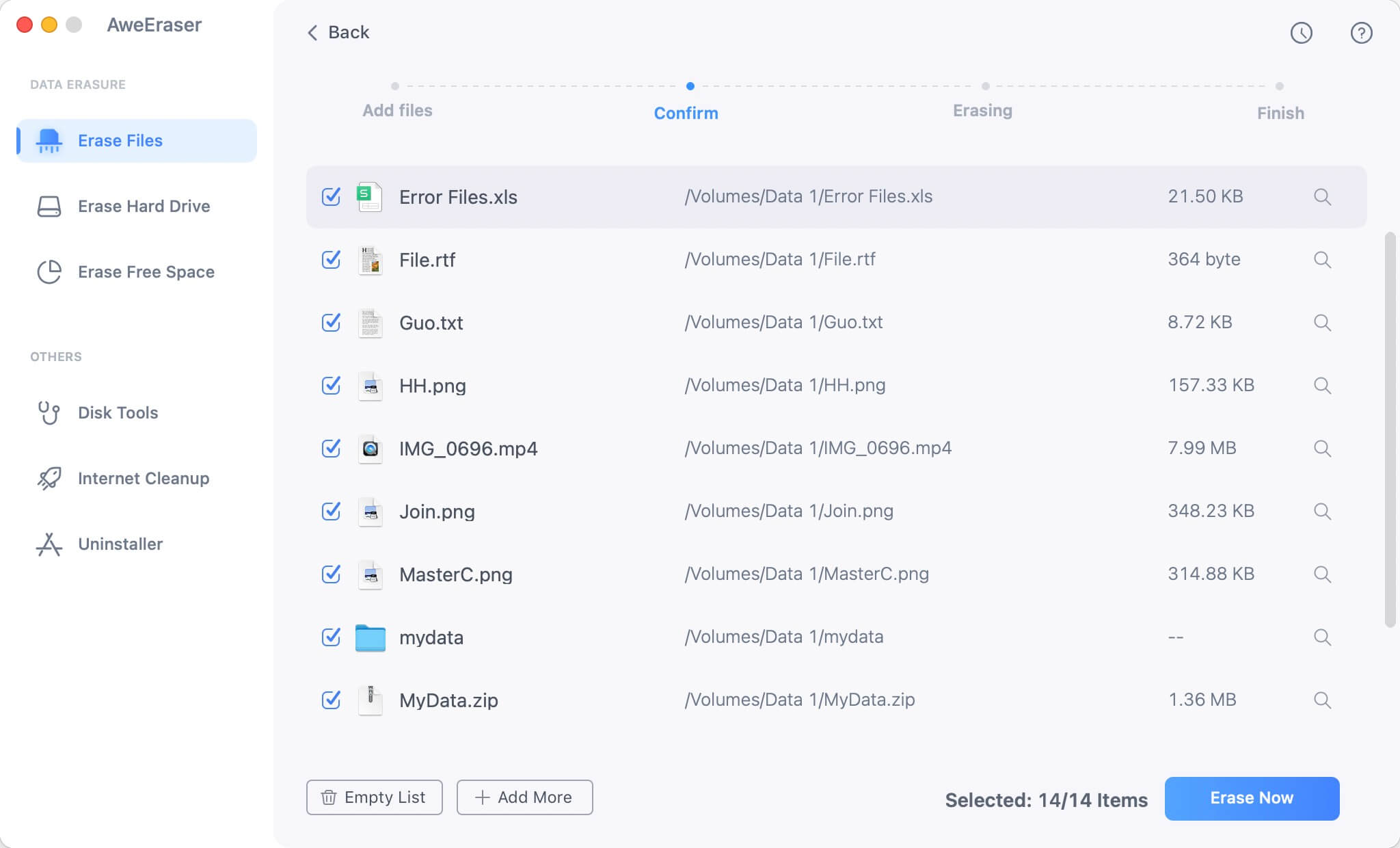 Note: Once the data is erased by AweEraser for Mac, the data will be gone forever, can't be recovered by any method.