Top 5 MacBook Pro Data Recovery Software [2023 Updated]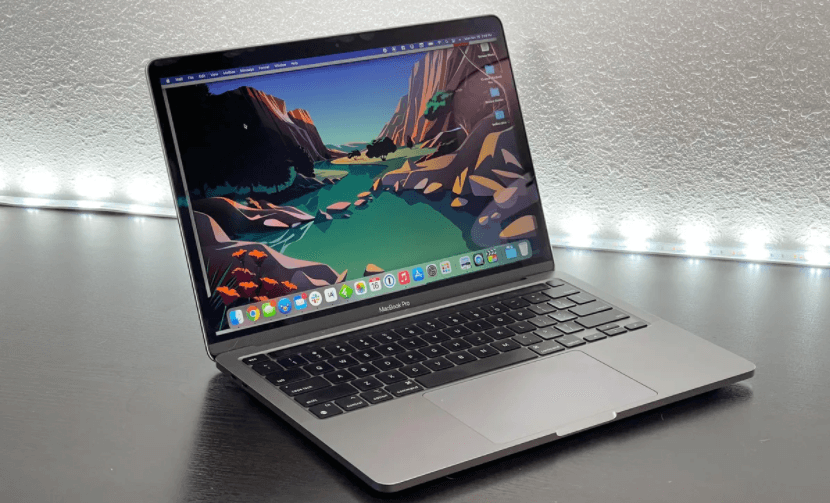 Summary: Data loss can happen on any type of device. In this article, we will focus on MacBook Pro data recovery. The best 5 data recovery software can help in recovering deleted, formatted, erased or lost data on MacBook Pro. All chips are supported.
Accidental deletions are a recurring issue that costs a lot of money to a lot of people and organizations every day. Worse, some data have both financial and psychological worth, rendering them irreversible and necessitating retrieval as the only viable option.
The excellent thing is that MacBook Pro users have a variety of data recovery tools from which to choose, and we've compiled a list of the top 5 best data recovery software for MacBook Po to assist you in recovering your lost information as swiftly and cheaply as possible.
What is MacBook Pro data recovery software?
When data loss happens on MacBook Pro, the first thing is to check the trash bin to see if the deleted files are still there. In most cases, the deleted files are emptied from the trash bin and can't be recovered by MacBook Pro users.
MacBook Pro data recovery software is the best tool to recover permanently deleted, formatted or lost data on MacBook Pro and most of MacBook Pro data recovery software also support to recover lost data from external hard drive, memory card, USB flash drive, digital camera, etc.
Best 5 MacBook Pro data recovery software
Whether you are using an Intel-chip MacBook Pro or a new Apple Silicon chip MacBook Pro, you can use the software listed below to help you recover lost data. Some MacBook Pro data recovery apps are freeware and some of them are not.
1. Magoshare Data Recovery for Mac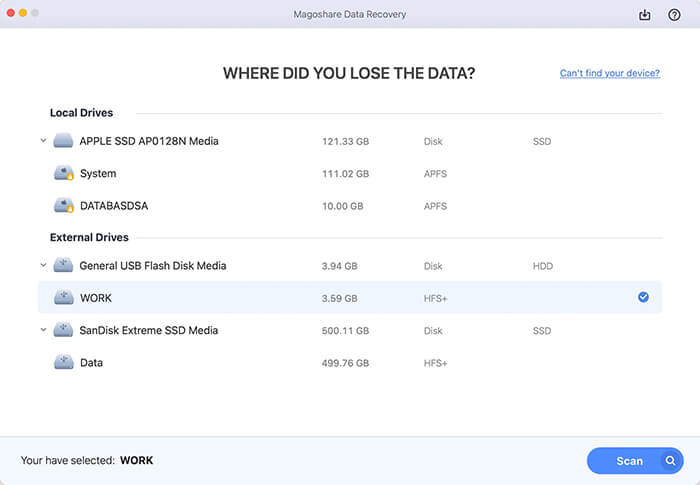 Magoshare Data Recovery for Mac is a powerful Mac data recovery application. It can help you recover lost data from MacBook Pro and recover lost data from iMac, MacBook, MacBook Air, USB flash drive, Mac Mini, Mac Studio, memory card, etc. Download here:
Magoshare Data Recovery for Mac
Recover all types of lost files on MacBook Pro.
Recover permanently deleted, formatted and lost data.
Recover overwritten data.
Magoshare Data Recovery for Mac is pretty simple to use. You only need to install it on your MacBook Pro and then run it to scan the disk where you lose your files. The deep scan mode is able to find every recoverable file on MacBook Pro or from external device.
2. Disk Drill for Mac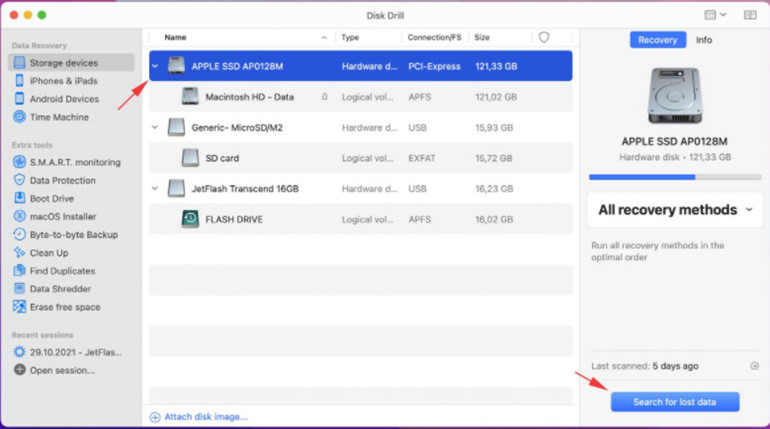 Disk Drill for Mac is a program that allows you to drill into your hard drive Good for: Data recovery that is both modern and strong.
Disk Drill is widely regarded as one of the best data recovery software tools for Mac, and it's simple to understand why.
Features:
No other software on our list is as simple to use as Disk Drill for Mac, which is a major compliment given Disk Drill for Mac's superior results. It not only supports over 300 file types, but it also scans all main devices, including your iPhone or Android smartphone. Let's have a look at some of the most useful features of Disk Drill.
Extra Disk Tools are available for free. Disk Drill for Mac comes with a number of free disc utilities, including Disk Health, Mac Cleanup, Duplicate Finder, Recovery Drive, Data Protection, and Data Backup, all of which are designed to help you keep your data organized and secured so you're less likely to lose them.
Scanning with a single click. Disk Drill for Mac's one-click approach to data recovery makes it considerably more accessible than competing data recovery tools for Mac. It only takes a single click to start the recovery process, allowing even total beginners to do their own data recovery and save paying for expert data recovery services.
Quick and effective. Quick Scan and Deep Scan are the two main data recovery methods in Disk Drill for Mac.
3. Data Rescue 6 for Mac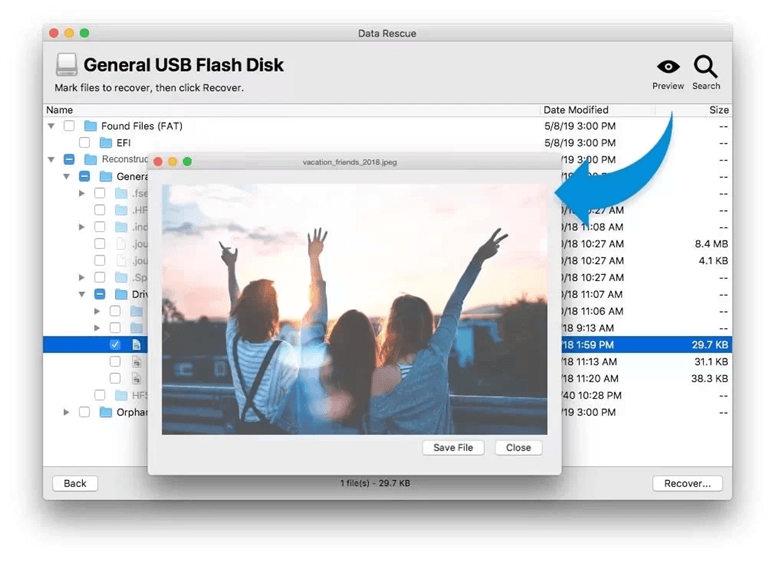 When it comes to data recovery, it's excellent.Data Rescue 6 for Mac is another well-rated recovery utility when it pertains to the finest Mac data recovery software available for Mac. It was built with ordinary customers in mind.
Features:
Data Rescue, like Disk Drill for Mac, lets you recover data from your Mac hard disc using two recovery methods: Quick Scan and Deep Scan. It also includes a simple graphical user interface that lets you see all of the capabilities at a glance.
If your hard disc looks to be suffering physical troubles, Data Rescue 6 for Mac has the ability to clone it. Instead of an internal or external hard disc, you may choose which source you want to scan data from.
4. Recoverit Data Recovery for Mac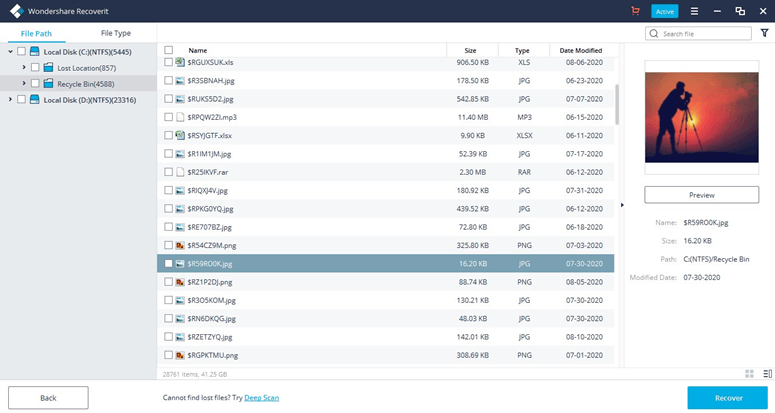 For Mac computers, Recoverit is a commercial data recovery tool. It has a three-step recovery technique that makes retrieving lost data painless.
Features:
Since 2003, this software program has assisted users in recovering deleted data. Throughout that time, millions of users have used it to recuperate from a wide range of data loss events. The program can recover data from unintentionally damaged drives and files removed from the bin, as well as data loss due to a virus assault. Data may be recovered from a variety of devices, including external disks, SSDs, and memory cards.
5. DiskWarrior for Mac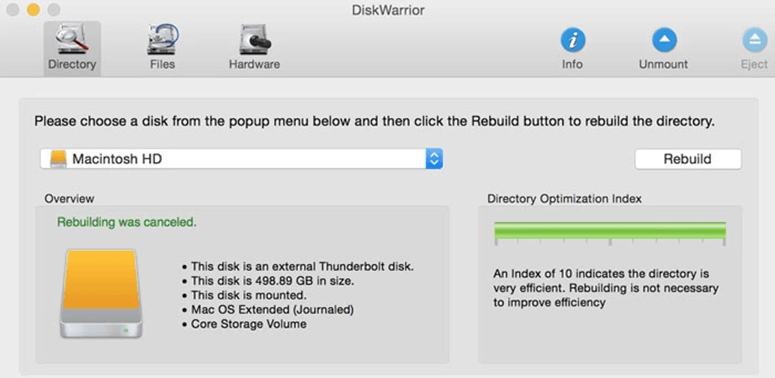 DiskWarrior for Mac bills itself as the world's most sophisticated data recovery and restoration software. We're not sure about that, but it does provide decent results, and it's especially useful for resolving the terrible "Initialize Disk" problem that so many Mac users have experienced.
Features:
When it comes to repairing damaged hard disks and locating all recoverable data and folders, DiskWarrior for Mac is unrivaled. If your MacBook Pro can't access a hard disk, all you have to do to reconstruct it using DiskWarrior for Mac is press the Rebuild button, and the rest will take care of itself.
We should all be able to recover data from our MacBook Pro hard drives in the event that something goes wrong. Now you have 5 choices to examine that can help you not only recover your data but also guarantee that you are prepared if something goes wrong!
Easy Steps to Recover Lost Data from MacBook Pro
First of all, download a MacBook Pro data recovery application - such as Magoshare Data Recovery and install it. Then run it from Launchpad.
Step 1. Select the hard drive where you delete or lose your files.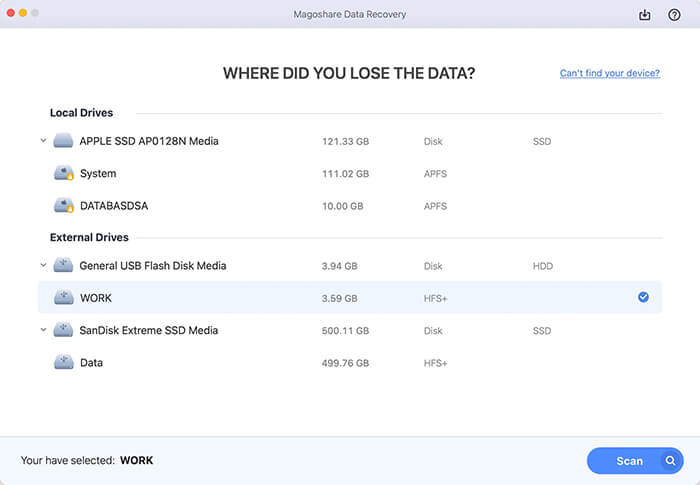 Step 2. Click on Scan button, Magoshare Data Recovery for Mac will deeply scan your MacBook Pro disk and find all lost files.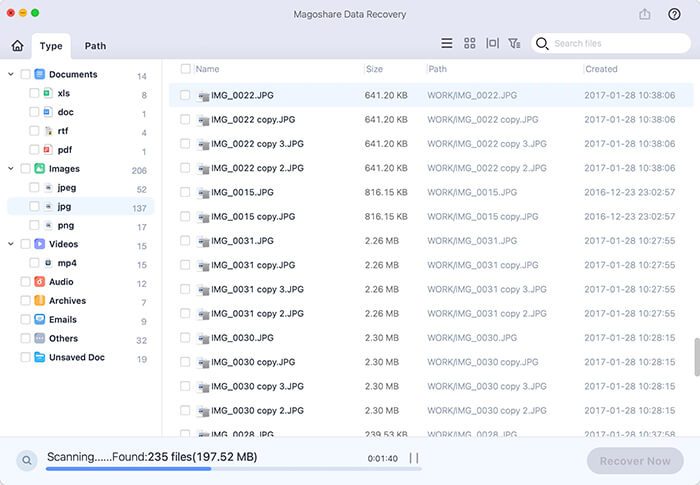 Step 3. Once the scan is completed, you can preview and recover lost files.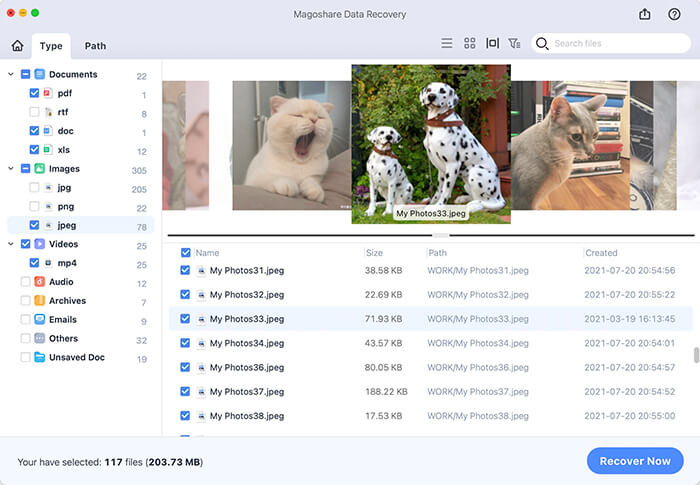 How to Avoid Data Loss on MacBook Pro?
Don't shut download your MacBook Pro before you close your Work app.
When you find you delete the wrong files, immediately check the trash bin and put the deleted files back.