Completely Uninstall Microsoft Office On Mac
Most individuals daily rely on Microsoft Office programs for their job or school. Despite using Office software frequently, likely, you don't know how to uninstall it. However, there are instances when you might wish to completely uninstall Office from your Mac to resolve flaws in the existing programs or reinstall the most recent version.
We will provide detailed directions on how to uninstall Microsoft Office for Mac in this post correctly. Here is where you can discover the uninstallation process for any version of Office.
What's the Difference Between Office 365 and Other Office Versions?
People occasionally might not understand the distinction between Office 365 and Office 2021/2019/2016. The primary difference between Office 365 and the others is that Office 365 is a subscription service, whereas the others are one-time purchase licenses.
That is to say, and you can subscribe to MS Office 365 on a monthly or annual basis and receive the most recent upgrades for the duration of your membership. Additionally, you can install it on up to 5 devices because the purchase information will be connected to your Office account.
You can only install one-time buy items on a fixed PC or Mac, and you won't receive significant updates about new features. However, if you buy the license, you can use the programs for an unlimited period.
If you experience issues following a license change and uninstalling the Office application from your Mac, you might also need to erase the licensing files for the Office subscription using the official license removal tool.
Is there a Microsoft Office Removal Tool for Mac?
Users can thoroughly uninstall any version of Microsoft Office as well as all of its programs, including Office 2007, 2010, 2013, and 2016, as well as Office 365, using the official uninstallation tool given by Microsoft.
If there is an official Microsoft Office uninstaller for Mac, you might be interested in finding out. Unfortunately, only Windows operating systems, including Windows 7, Windows 8/8.1, and Windows 10, support this removal tool. You can either manually remove Microsoft Office from a Mac or use a third-party uninstaller tool.
Uninstall Office 365 (2011/2016/2019/2021) on Mac Manually
The instructional method for uninstalling Office will be broken into two sections because your current version of Microsoft Office for Mac may vary. You can examine and use either of the ways as necessary.
Uninstalling Microsoft Office 2011 is simply because it is an older version. It is advised that you update to a subsequent version because it is no longer available for updating.
Step 1: First, close all of the Office programs, including Word, Excel, PowerPoint, and OneNote.
Step 2: Select Applications in the Finder.
Step 3: Find the folder for Microsoft Office 2011. After that, trash Office from Mac.
Step 4: Determine what you still want to keep in the trash. If not, dump the junk and reboot your Mac again.
Uninstall Office 365 (2021/2019/2016) on Mac
Office 365 and other more recent Office editions require more work to uninstall manually than Office 2011. Be mindful that you must remove the application's files and the application itself when uninstalling an application.
Part 1. Remove MS Office 365 Applications on Mac
Step 1: Open Finder > Applications.
Step 2: Click to select all of the Office 365 applications by pressing the "Command" button.
Step 3: Ctrl + Click the applications you've chosen, and select "Move to Trash."
Part 2. Delete Office 365 Files from Mac
Step 1: Open Finder, "Command + Shift + h" is pressed.
Step 2: Select "View > as List" in Finder.
Step 3: Next, select "View > Show View Options."
Step 4: Tick "Show Library Folder" and click "Save" in the dialogue box.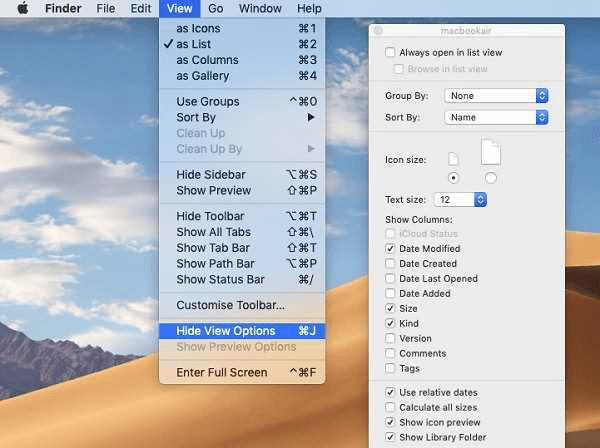 Step 5. Return to the Finder and select Library > Containers. If any of the following folders are present, control-click or right-click on each one and choose "Move to Trash."
Com.Microsoft.error reporting
Com.Microsoft.Excel
Com.microsoft.netlib.shipassertprocess
Com.Microsoft.Office365ServiceV2
Com.Microsoft.Outlook
Com.Microsoft.Powerpoint
Com.Microsoft.RMS-XPCService
Com.Microsoft.Word
Com.Microsoft.OneNote.mac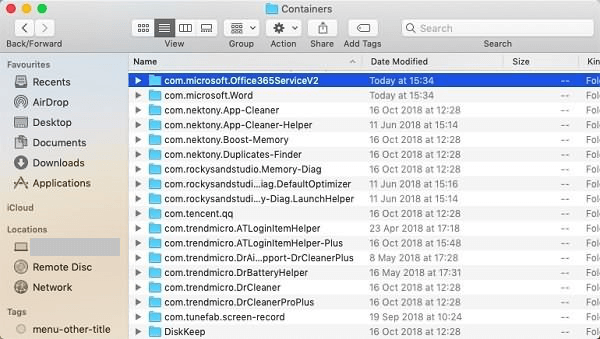 Step 6. Press the back arrow to return to the Library folder. Activate "Group Containters." If any of the following folders are present, control-click or right-click on each one and choose "Move to Trash."
UBF8T346G9.ms
UBF8T346G9.Office
UBF8T346G9.OfficeOsfWebHost
Part 3. Remove Office Apps from the Dock
Step 1: Check if any Office applications are docked on your Mac. Find every one of them.
Step 2: Press Ctrl and click "Options."
Step 3: Choose "Remove from Dock."
Restart your Mac after completing all of the procedures above to complete the uninstallation of MS Office.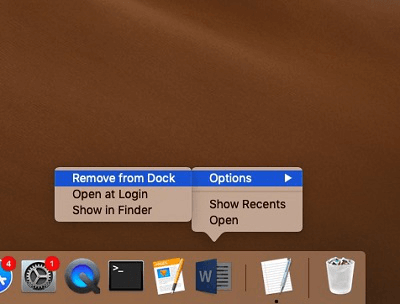 Uninstall Microsoft Office on Mac Easily
Despite the lack of an official uninstaller for Microsoft Office on Mac, some handy third-party tools are worthwhile to check out. The Office programs for Mac can also be removed entirely via this method, which is advised if you find the manual process difficult and time-consuming.
The most extraordinary suggestion is the Uninstaller in AweCleaner for Mac. With only a few clicks, you can swiftly remove Microsoft Office and all related files from Mac with this cleanup tool. When compared to deleting them manually, it is considerably simpler to use. Additionally, getting rid of programs helps clear up system caches and other troublesome items on your Mac.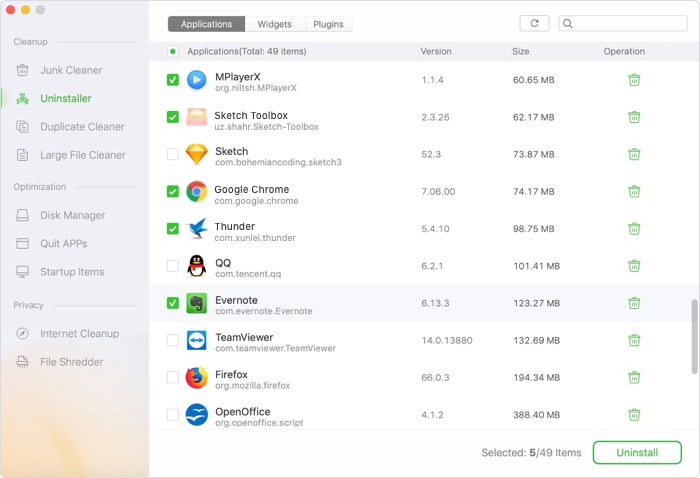 Permanently remove Microsoft Office from your Mac
If you will donate or sell your Mac and want to uninstall Microsoft Office permanently, just try AweEraser for Mac. It can help you uninstall Microsoft Office and delete all leftovers, then permanently wipe all traces, beyond the scope of data recovery.
Data Eraser - AweEraser for Mac
Permanently uninstall Microsoft Office on Mac.
Wipe hard drive on Mac.
Now, follow the steps below to securely and permanently remove Microsoft Office from your Mac.
Step 1. Open AweEraser for Mac, choose tool - Uninstaller. Find and select Microsoft Office application, click on Uninstall button. It will completely remove Microsoft Office from your Mac.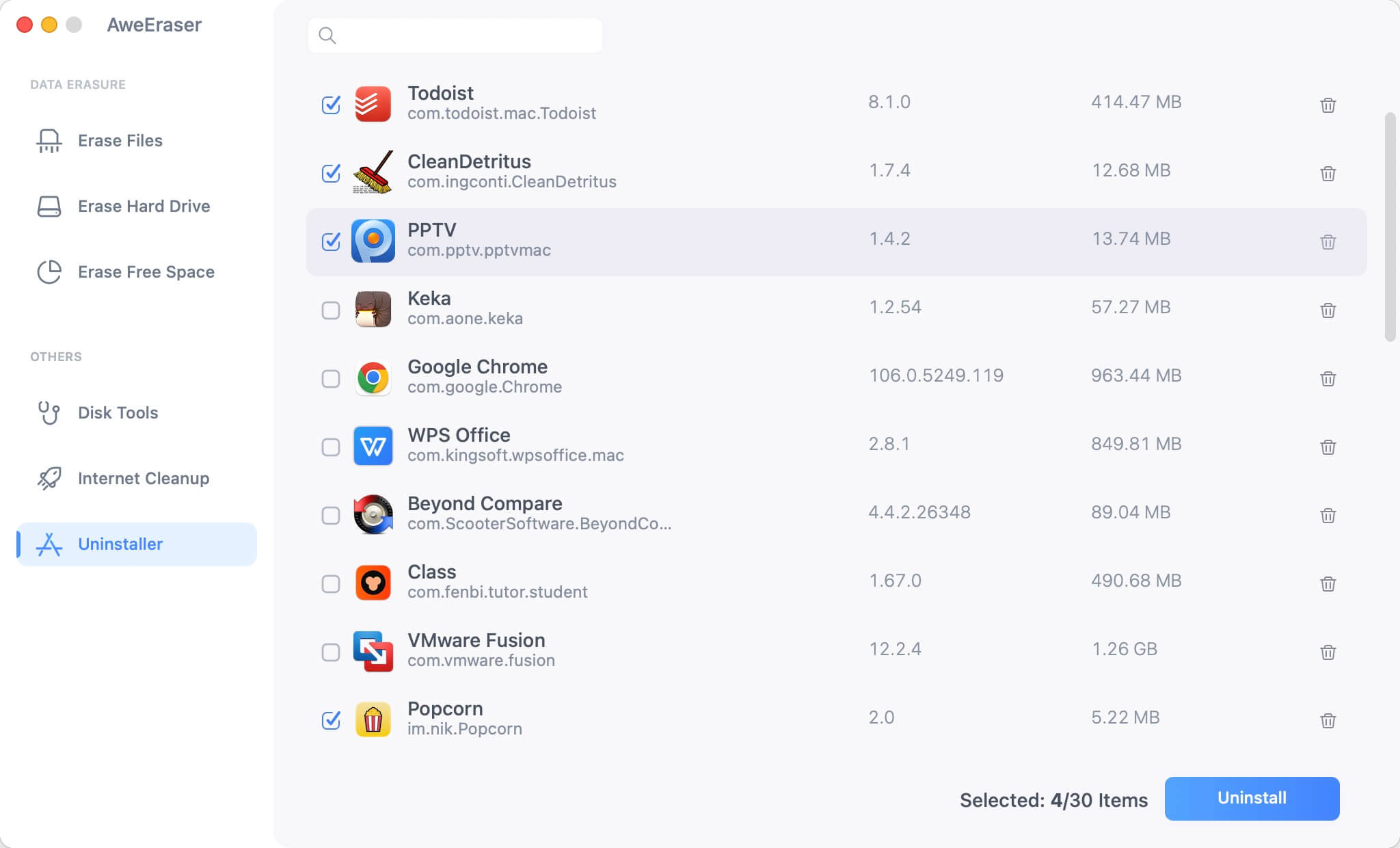 Step 2. Choose tool - Erase Free Space. This mode will wipe free disk space of your Mac and permanently erase all deleted/lost data including the uninstalled/deleted Microsoft Office.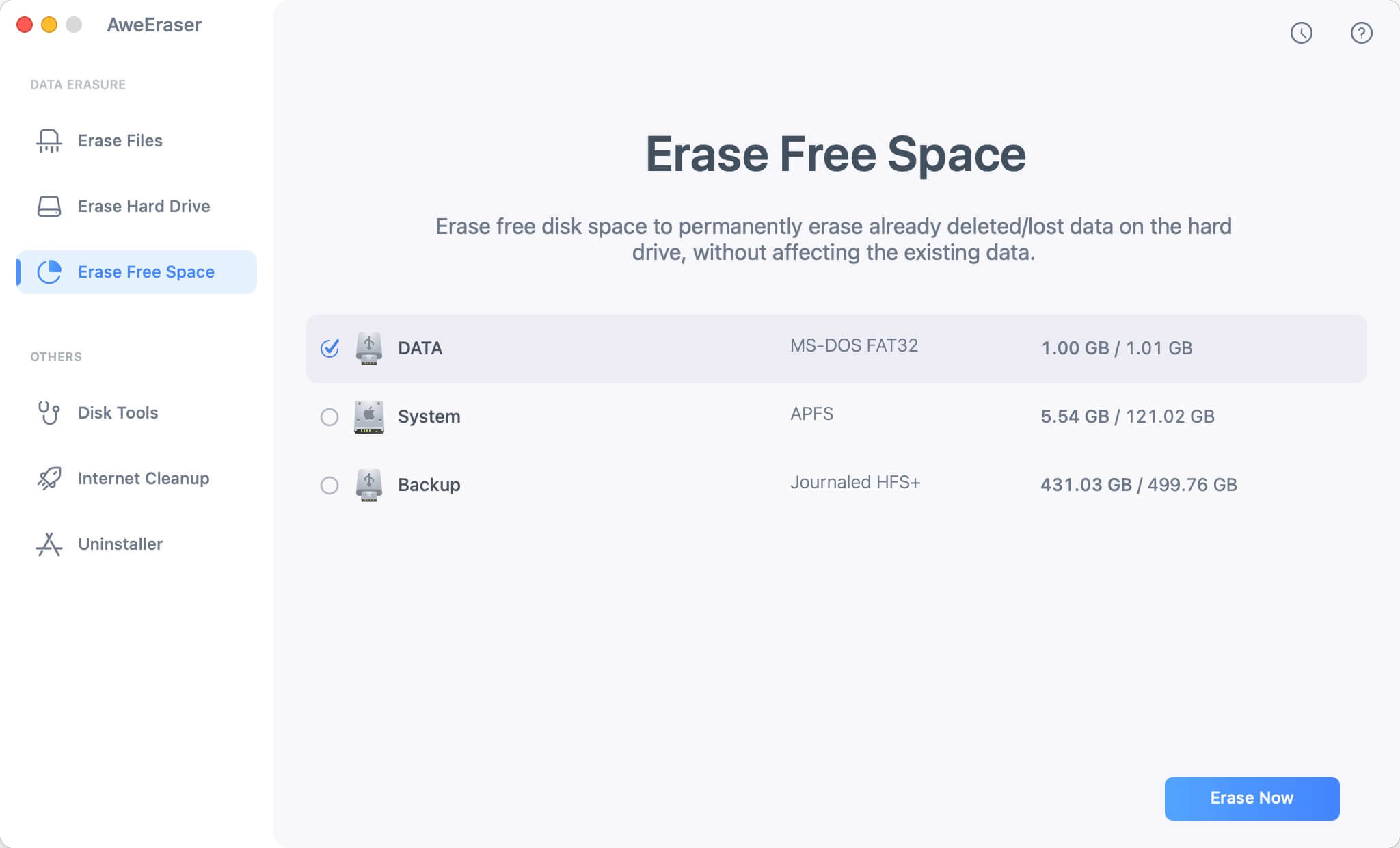 Step 3. Click on Erase Now button to securely and permanently wipe all deleted/lost data on your Mac. It will not erase the existing data on your Mac.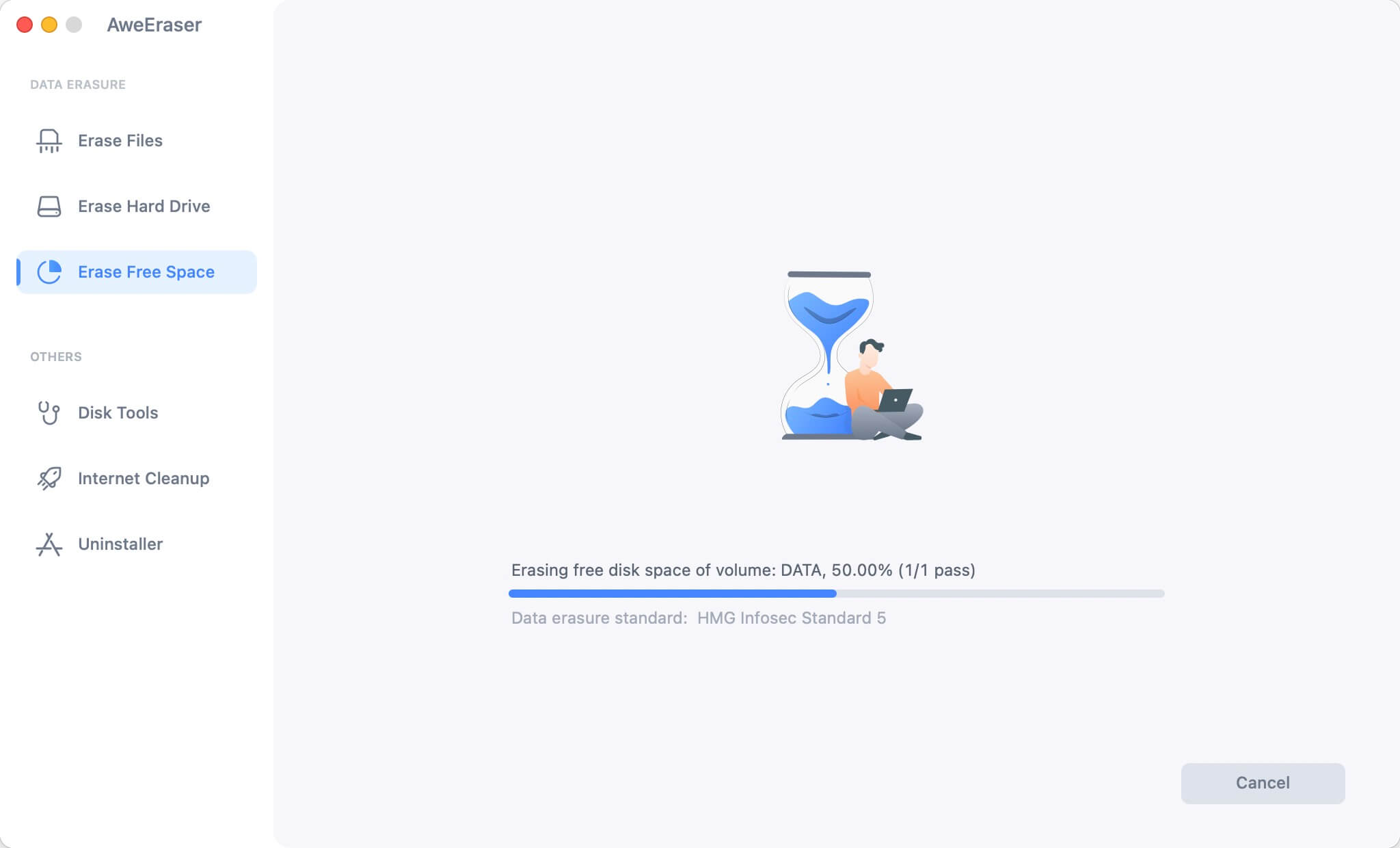 Conclusion
The instructions for entirely removing Microsoft Office from your Mac are concluded. You can attempt to uninstall it on your own or rapidly complete the procedure using an uninstaller tool. Try AweEraser for Mac without hesitation if you want to permanently remove Microsoft Office from your Mac.