How to Format RAW SSD Drive?
Quick Navigation:
Many users face the problem of "SSD drives not formatting on Windows 10 and 11". However, various solutions are available and you can use various tools and software that can solve the problem of SSD drive not formatting on Windows or Mac OS. It is due to this reason we have also come up with a solution so that you will learn how to format your SSD drive and solve the problem of "SSD drive not formatting" on your own.
Without further ado, let's get started.
Use Restoro PC Repair Tool to avoid the problem in advance
First of all, the most important thing is to fix all the PC problems including the formatting of the SSD drive so we recommend using the tool is known as the Restoro PC repair tool. It will repair all of the common computer errors including the malware or malware hardware failure file loss and will completely optimize and speed up the performance of your PC. In this way you will be able to get rid of not formatting of the SSD drive problem.
In three simple actions, you can immediately fix PC problems and eradicate viruses:
Download the Restoro PC Repair Tool, which includes patent-pending technologies.
To detect Windows faults that may be causing PC difficulties, click Start Scan.
To correct issues that are hurting your computer's security and performance, click Repair All.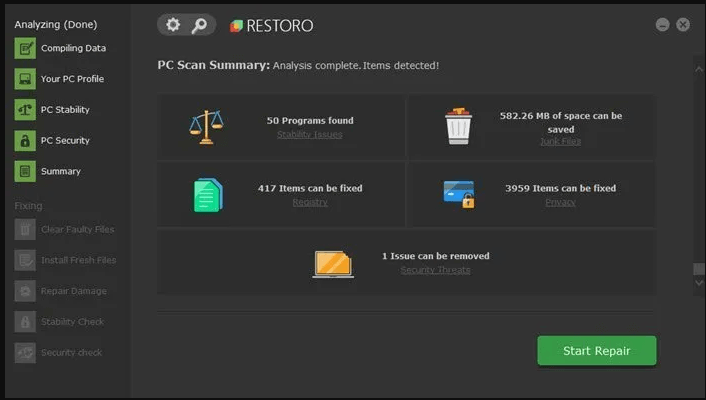 After following the above steps, there are strong chances that the problem of SSD drive, not formatting will not appear at all. However, if it does we will guide you through many other solutions.
Although utilizing an SSD should be much simpler than using a traditional hard drive, mistakes can occasionally happen regardless of drive format.
It is suggested that you always purchase and utilize branded SSDs, as generic SSDs can give you a lot of problems and have no support.
This means that if your hard disc dies for any reason, you'll have to replace it. Please be sure you thoroughly follow the given procedures in order to avoid any more issues.
We realize how aggravating it might be if you find yourself in the same predicament.
Remove write protection from your SSD drive
Take your SSD drive's writing security off.
You won't be capable of writing new data to your SSD if it's write-protected, and you won't be able to update the data that's currently there.
You may use the Diskpart utility to disable the write protection by following these steps:
To open the Run box, use the Win+R keys on your keyboard.
To launch Diskpart, type Diskpart and click Enter. Type and run each of these commands by hitting Enter within the Diskpart environment.
Press Enter after typing list disk.
Select the SSD from the list by typing select disc X and pressing Enter (where X is the name of your SSD).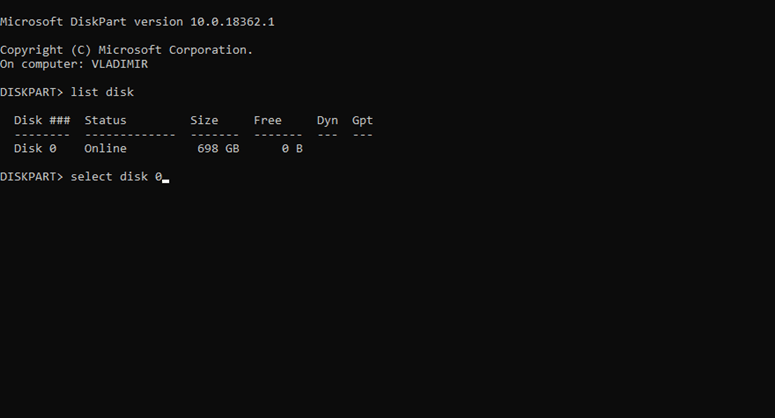 Run the properties disc clean read-only command.
Wait for the procedure to finish before typing Exit and press Enter to exit Diskpart.
Reformat your SSD drive if necessary. If this procedure does not resolve your problem, proceed to the next step.
Format the Raw SSD with Disk Management
To verify the state of your SSD, it is advised that you launch Disk Management. (Press Win+X and select Disk Management from the menu.) SSD disk won't format/SSD format issue occurred at offset in disk utility.
When the object in the Disk Management pane is marked as RAW, you can reformat the SSD by clicking Format button.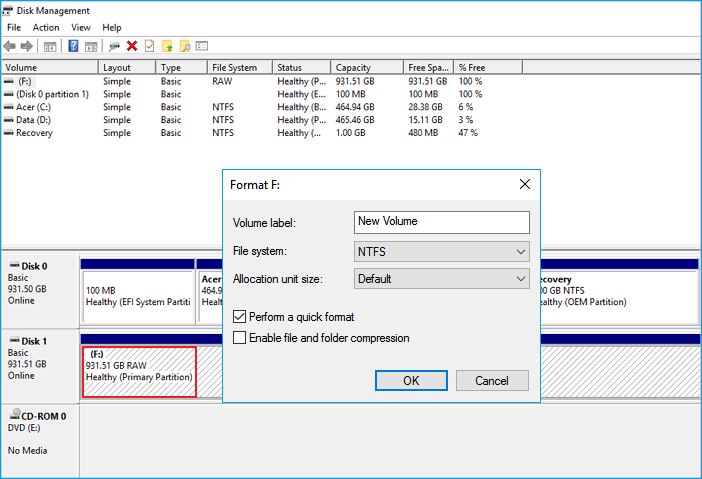 Format RAW SSD on Windows and Mac with AweEraser
AweEraser is a powerful data erasure program and it is able to help you format/wipe disk on both Windows OS and Mac OS. If you are facing "SSD is not formatted" issue, you can use this software to help you quickly format the SSD.
100% safe disk manager & data erasure program.
Format RAW SSD on Windows or Mac OS.
Wipe SSD to permanently erase all data from it
AweEraser can help you repair damaged SSD. Open it on your computer and make sure the RAW SSD is connected with your computer. Choose "Disk Tools", select the RAW SSD and click on Repair button. Then AweEraser will help you fix logical errors on the RAW SSD and format it.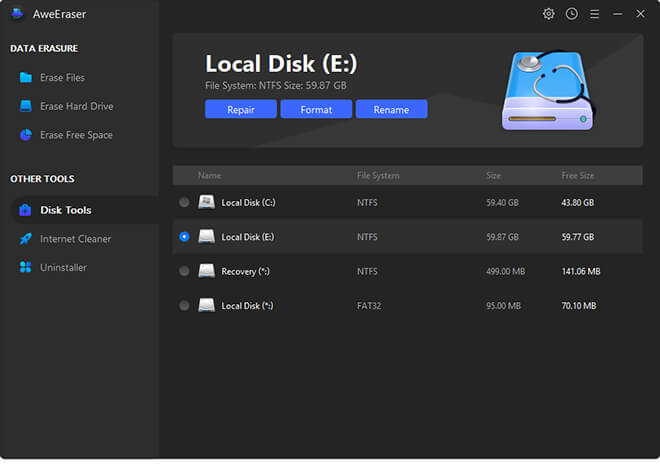 You also can directly click Format button to quickly format the SSD.
Another tool "Erase Hard Drive" can help you format and wipe RAW SSD. Please note that once your RAW SSD is erased by AweEraser, all data on the SSD will be lost forever, can't be recovered by any data recovery software.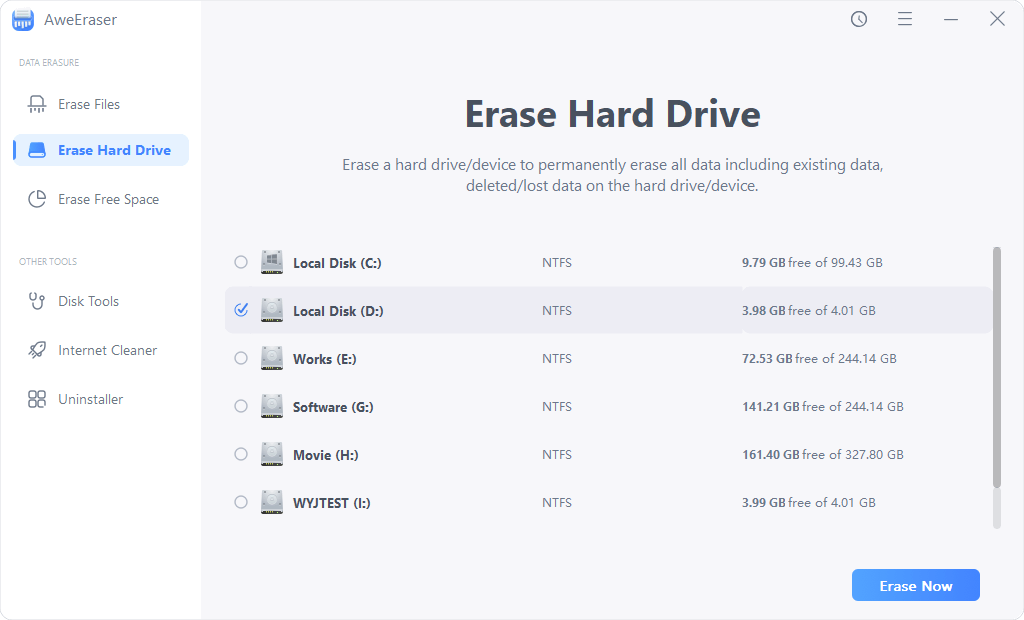 The erasure process is 100% safe, it will not shorten the service life of the SSD.
The bottom line
In this fix article on how to format a raw SSD drive, we have guided you about the fastest and easiest processes that will help you in the formatting of your SSD drive without paying even a single penny. So remember that all of these processes and methods are 100% free of cost and you can do them on your own.
Don't worry if the format error has occurred during the process of SSD formatting, you can simply get rid of it whenever you want. However the tool that we mentioned at the top will help you prevent the problem in advance. Still nothing can be said with certainty and you may face the problems. Thus, the important thing is to make sure that your SSD drive is not write-protected. If it is write protected then you will definitely face the problem of SSD drive not formatting. After that you remove the writing protection, you will be able to format your SSD by using some simple Diskpart commands.
If you want to recover lost data from RAW SSD or formatted SSD, try data recovery software - such as Magoshare Data Recovery. Guide: how to recover lost data from SSD >>