How to Shred Files and Wipe Hard Drive with CCleaner?
Quick Navigation:
Unlike what you may think, data deletion or disk formatting does not permanently erase files. We use a program called Data Shredder such as CCleaner file shredder. To permanently delete files, it overwrites them several times.
Recycling data on a computer leaves behind traces that can be recovered using data recovery software. But if you "shred" your data instead of just throwing it away in the trash, you can prevent this from happening.
Computers only have so much space on their hard drives for storing documents and pictures. But, when a file is no longer needed, the user can delete it, freeing up valuable storage space for new data.
The recycle bin stores files for 30 days before they are permanently removed. The fact that deleted files remain in the system is a mystery to many users. Newer files, however, replace the older ones. Drive formats like NTFS and FAT delete the file's address.
To permanently remove the file, the eraser or shredder tool is useful. It eliminates any possibility of data recovery. In this article, we will show you how to wipe hard drive or shred data using CCleaner.
Why File Shredder Software?
Use file shredder software to be confident that deleted files are completely gone and cannot be recovered. It's as easy as that, though it's worth mentioning that Windows 10 users can destroy numerous files and directories at once using file shredder software. File shredder programs make it easier to delete many files at once. So, using file shredders to delete your user files is a good idea, even if you don't need to erase data.
What is CCleaner?
CCleaner is an effective data and files cleaner that can identify and remove the junk that's eating up disk space. Whenever you use a computer, it creates many temporary and historical files that can be accessed later for reviewing past work and improving future experiences.
But, as time passes, these records can consume a disproportionate amount of storage space. One day you may notice that your system c drive is full or your computer is performing slowly. These records also include personally identifiable information that could be used for identity theft, a major concern. Thankfully, you can destroy files with CCleaner. These files can be removed to keep sensitive data safe and make room for other uses.
You can get CCleaner on any computer, mobile device, tablet, etc.; it has a stellar reputation as a file-erasing utility. There are various variants and price points for both private and commercial use.
Benefits:
For computer cleaners, the Pro version provides many advantages.
You can browse your data without worrying about any tracking software or files.
It is rapidly updated to meet any new threats.
In real-time, it scans for garbage files.
When you close your browser, it will clear any temporary files.
It includes Defraggler, which maintains the integrity and freshness of hard drive data.
The temporary files are deleted.
How to delete unwanted files with a CCleaner?
Follow these simple instructions to delete files with CCleaner permanently.
Start by getting CCleaner from their website and installing it on your computer.
Select a tab on the main interface to access either Windows or Apps. Next, select the folder you wish to search through and purge.
Remember that the "Windows" tab will show you a list of files from Windows' built-in utilities, while the "Applications" page will show you a list of files from your installed program.
Choose "Analyze" from the interface's leftmost menu.
Click "Run Cleaner" after reviewing the list of files to be removed.
A confirmation dialogue will pop up; click "Continue" to proceed.
Hang tight till CCleaner is done. It will prompt you to close any running apps using any files you want to delete.
How to wipe hard drive data permanently with CCleaner?
The cleanup tool can help you delete junk data on your computer. However, the deleted data is still there and can be recovered by data recovery software. CCleaner offers drive wiper tool to help in permanently wiping hard drive data and make files be unrecoverable.
CCleaner drive wiper can help you wipe all files or only deleted files from a hard drive. Just open CCleaner, select Tools, then you will lots of tools.
Click Drive Wiper, this tool can help you wipe a hard drive. You can select wipe mode and overwrite rounds. Then select a hard drive and click on Wipe button to securely and permanently wipe data from the selected hard drive.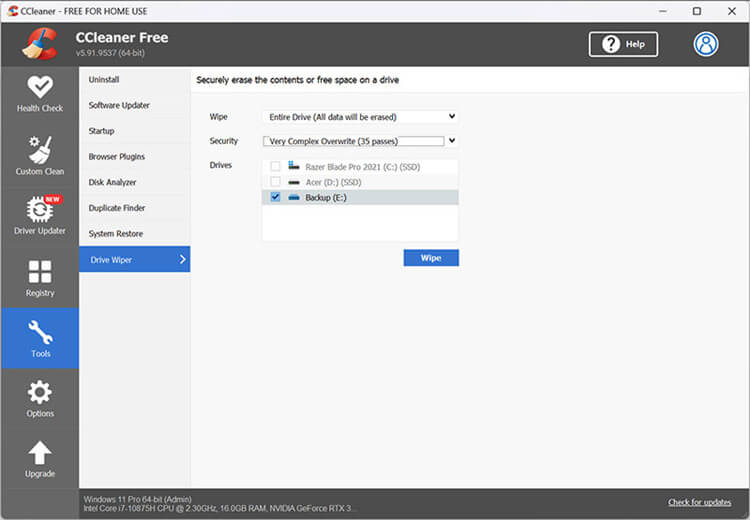 CCleaner alternative for Windows and Mac - data eraser
If you want to a powerful data erasure software which can replace CCleaner, you can try Magoshare AweEraser, a reliable & famous data eraser for Windows and Mac. Some features:
Permanently wipe data from HDD, SSD, USB flash drive, memory card, digital camera, etc.
Support for Windows and Mac OS.
Once the data is erased by AweEraser, the data is gone forever, can't be recovered by any method.
Three flexible data erasure modes.
Extra tools including uninstaller, disk format tool, internet cleaner.
Easy-to-understanding interface, very easy to use.
100% safe data erasure tool, no physical damage.
AweEraser is a great alternative to CCleaner. It can help you securely and permanently erase data or wipe hard drive on Windows or Mac. Download it here:
Data Eraser - AweEraser
Reliable & 100% safe data erasure software.
Certified data erasure standards, erasing from 1 pass to 35 passes.
Three data erasure modes: Erase Files, Erase Hard Drive, Erase Free Space.
Mode 1. Erase Files
This mode can help you erase specific files and folders. Just add files and folders to the erasure list and click on Erase Now button. It will securely and permanently erase the selected files and folders.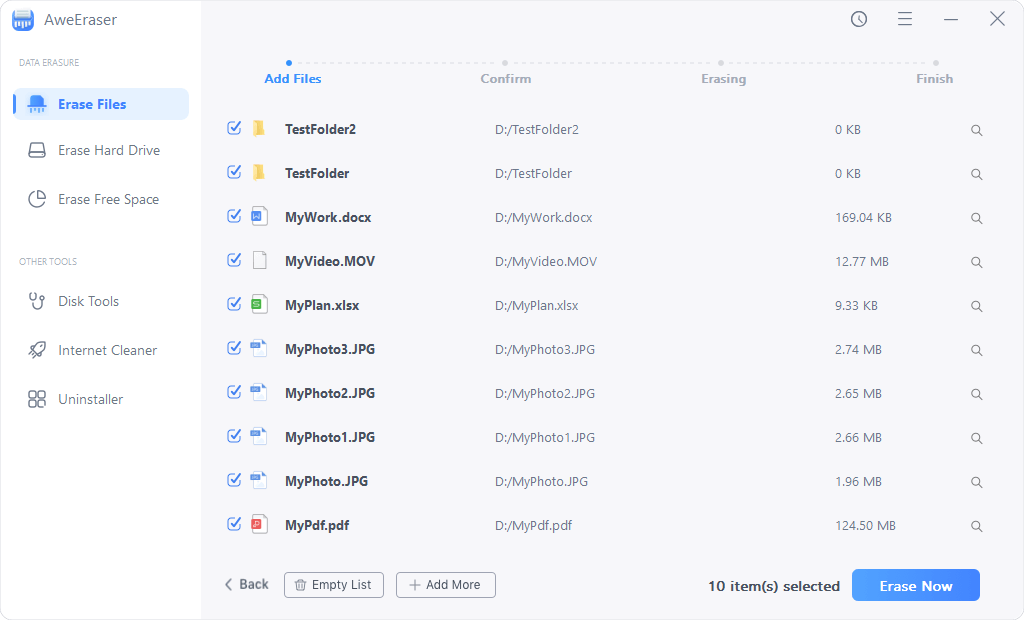 Mode 2. Erase Hard Drive
It will wipe all data from a hard drive. Just select the hard drive and click on Erase Now button. It will securely and permanently erase all data from the hard drive.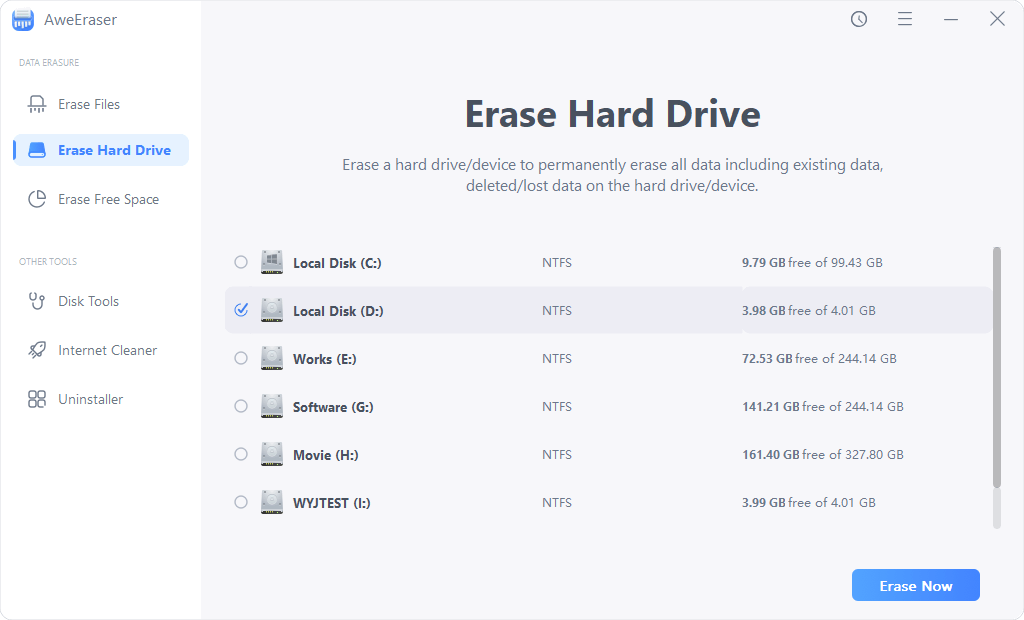 Mode 3. Erase Free Space
Wipe free disk space of a hard drive to permanently erase deleted/lost data on a hard drive. It will not erase the existing data on the hard drive.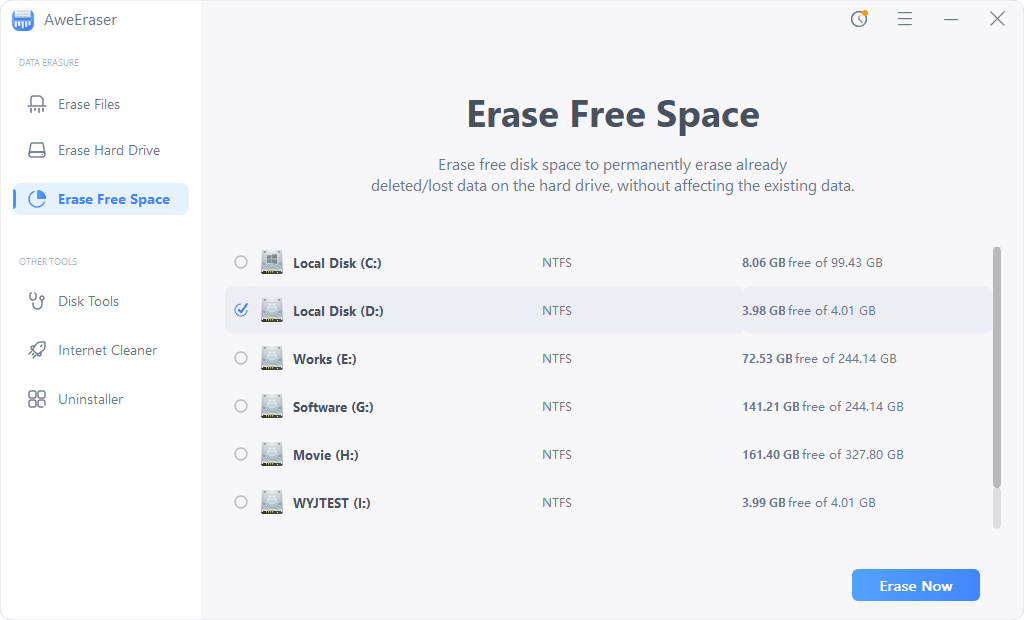 FAQs about CCleaner data eraser:
Conclusion:
It makes sense to overwrite data in preparation for selling, donating, or otherwise disposing of a computer. There's no need to overcomplicate things with paper shredders if you're not in the mood for anything. On the other hand, it takes more time for a computer to delete a file because it must be overwritten many times. You may relax knowing you'll always have full command of your gadget.
In contrast, CCleaner is one of the finest free file shredders for Windows or Mac since it provides four safe file deletion methods, the strongest of which is a 35-pass approach. CCleaner users have greater control over which unnecessary files and folders are removed from their systems. CCleaner is excellent freeware since it includes one of the complete disk clean-up utilities and many other tools.